Richtersveld Transfrontier Wildrun overview available here.
Waking up on Day 2 my left wrist and hand were bruised and swollen and I was unable to use it. It had caused me pain through the night and I hadn't slept well at all, being too lazy to start to look for pain relief. Jc reassured me it wasn't fractured and helped me strap it up for support. I couldn't put any weight on the wrist so another fall would with high likelihood mean further damage and the end of my race and I had to be very careful. JP, the other medic, put a protective dressing on my knee. All my morning admin took a long time as I couldn't even pull the zip of the tent with the left hand and getting changed into running gear was difficult.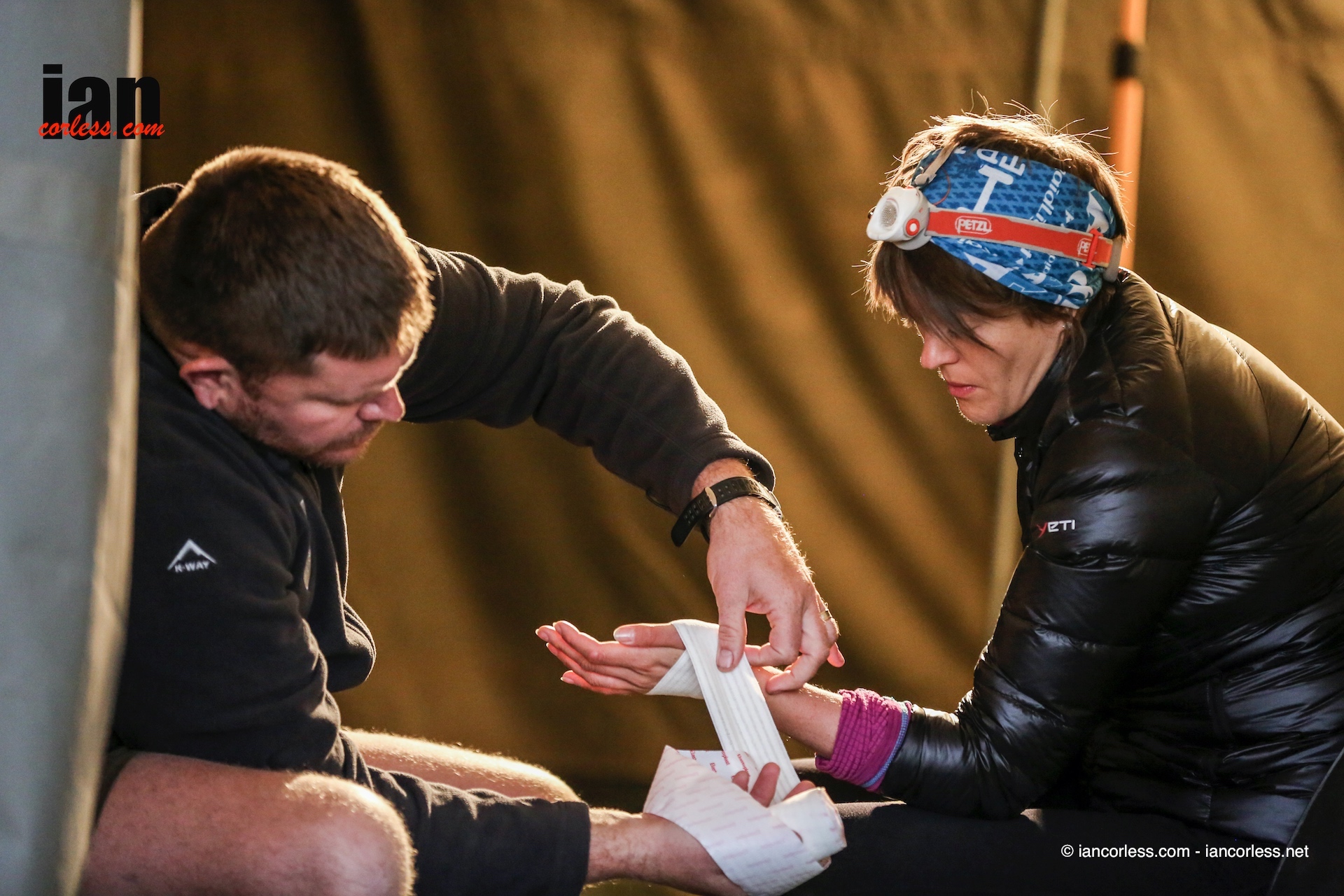 On Day 1 we had all started together but start times were now staggered based on the previous' day's finishing times and that was also the setup for the following days.
I ran much of the early stages weaving in and out with other people. We started on a dirt road, which was good for me and after the aid station we descended into a riverbed. Some people opted for a short cut over the mountains and possibly this paid off slightly.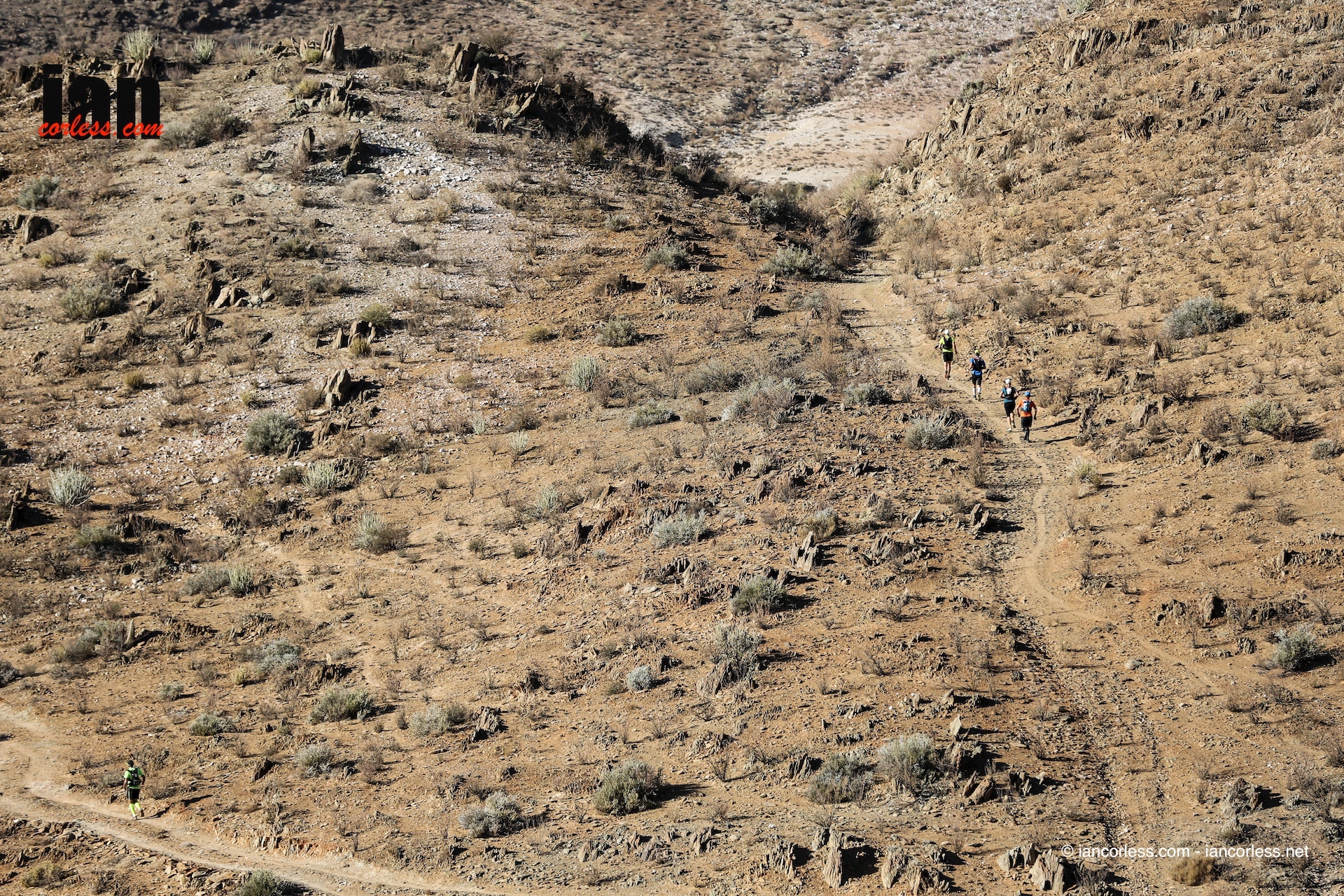 Departing from the aid station I soon fell into a group with Stephen Granger and Nell and we were working at similar pace over this terrain. It helped having the company and it made navigation easier too. At the Tswayisberge saddle, before starting a long descent into the Ganukouriep river valley, we caught up with Roland and Fran who were having a short picnic break. Roland offered me a boiled egg, which tasted amazing at this point in time. Marius (a South African runner who was doing this race as part of a charity project of his) thought this was hilarious and had us posing for photos with our eggs! We kept going and the terrain was now a mix of rock, barely distinguishable paths that seemed to emerge and disappear on the hills, and soft sand mixed with round rocks in the river valley. As the river valley got deeper we had to stay in it work our way through the sand until finally we reached the last RCP and a road junction. From here it was 2.5km to the finish and I stretched out my legs, happy to be able to switch from hiking and rock hopping to some fast running on the road.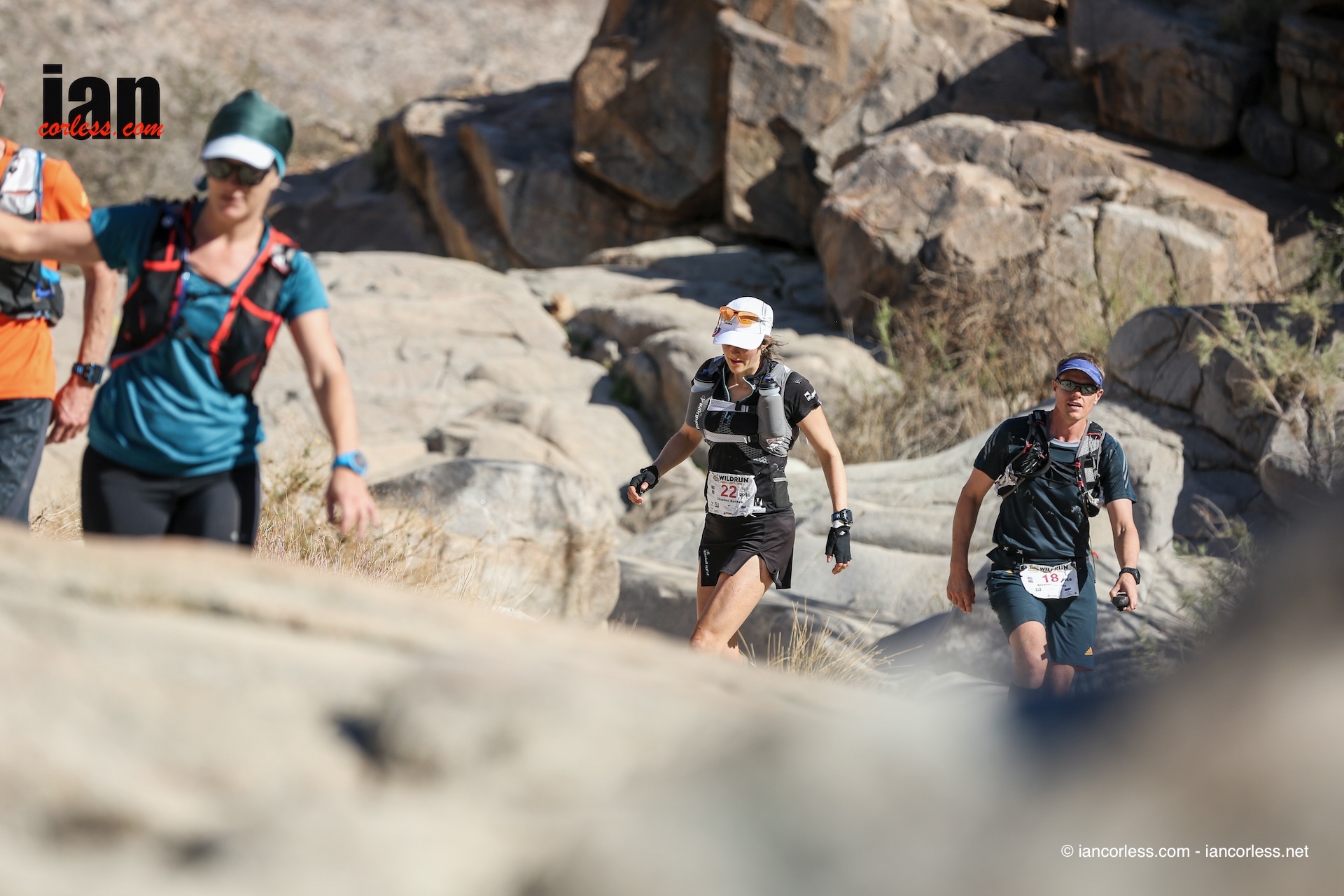 I lost a bit more time to the lead group on Day 2 but not as much as on Day 1 and I was pleased that my legs started to feel better and I hadn't fallen over.
We stayed in the Hakkiesdoring camp site. The facilities were great considering the remoteness of this camp and we could enjoy a campfire and more of Magda's and her team's delicious cooking.
Fran led a yoga session, just like she had done on Day 1, and this actually seemed to help with increasing mobility in my wrist which was positive although I had to adapt most of the postures as I couldn't rest on my left knee nor my left hand.
I was looking forward to Day 3 as apparently this would be more runnable in parts and maybe suit me better than the first two days.
All daily race reports & kit list: