With thanks to Raidlight, HOKA ONE ONE, myRaceKit, Wilson James, Sziols Sportsglasses, LYO Foods, Injinji toe socks. Photos by Ian Corless unless otherwise stated.
About the Big Red Run
The Big Red Run is a 250km / 6 day multi-stage race in Australia's outback. Created to race awareness and raise funds for Juvenile Diabetes, it takes place in the Simpson Desert, which contains the world's longest parallel sand dunes. The largest and most famous dune, Nappanerica, or more popularly Big Red, is 40 metres in height. The terrain consists more or less of four different elements: the sand dunes (which are either crossed or ran along), sandy areas of vegetation between the dunes, dirt roads and gibber plains ("desert pavement" formed of closely packed pebbles and cobbles). It is pretty flat and runnable.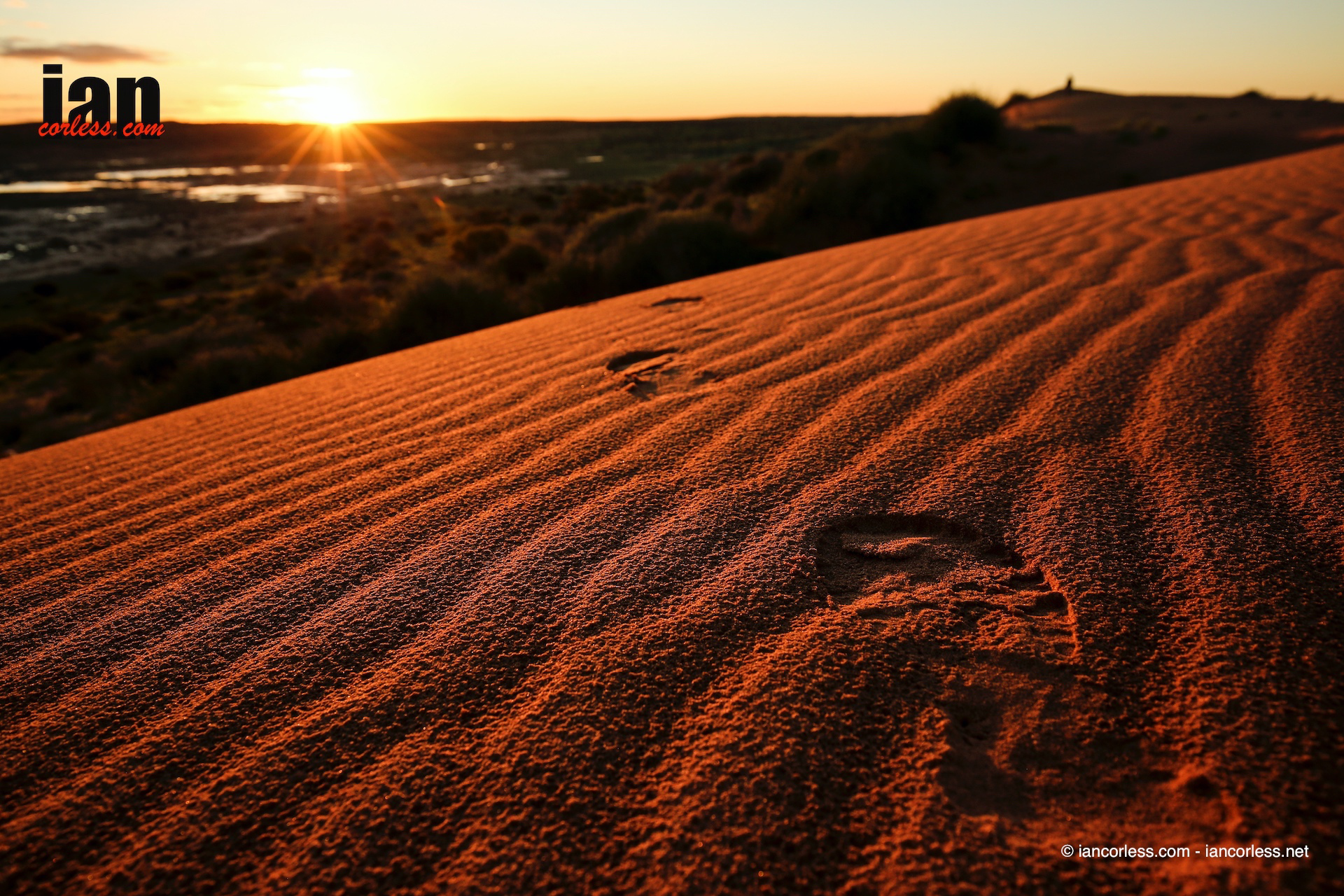 The race starts and finishes in Birdsville, a small town with a population of 115 people. Steeped in history this iconic place sees its population rise to 7000+ at a couple of occasions of the year when events such as horse races and music festivals are put on!
This year's edition would perhaps have been better labelled the "Big Green Run". Due to rainfall that is only seen every 6 years or so the desert was in full bloom. Although this changed the character of the race it certainly was a privilege to experience the desert like this.
Pre-Race
I had raced the Richtersveld Transfrontier Wildrun only a week before the Big Red Run. I flew from Cape Town to Brisbane and that enabled me to have a couple of days in a lovely spot on the Sunshine Coast to chill out and recover before returning to Brisbane to board a small plane to Birdsville and travel into the middle of this vast country. I didn't quite know what to expect.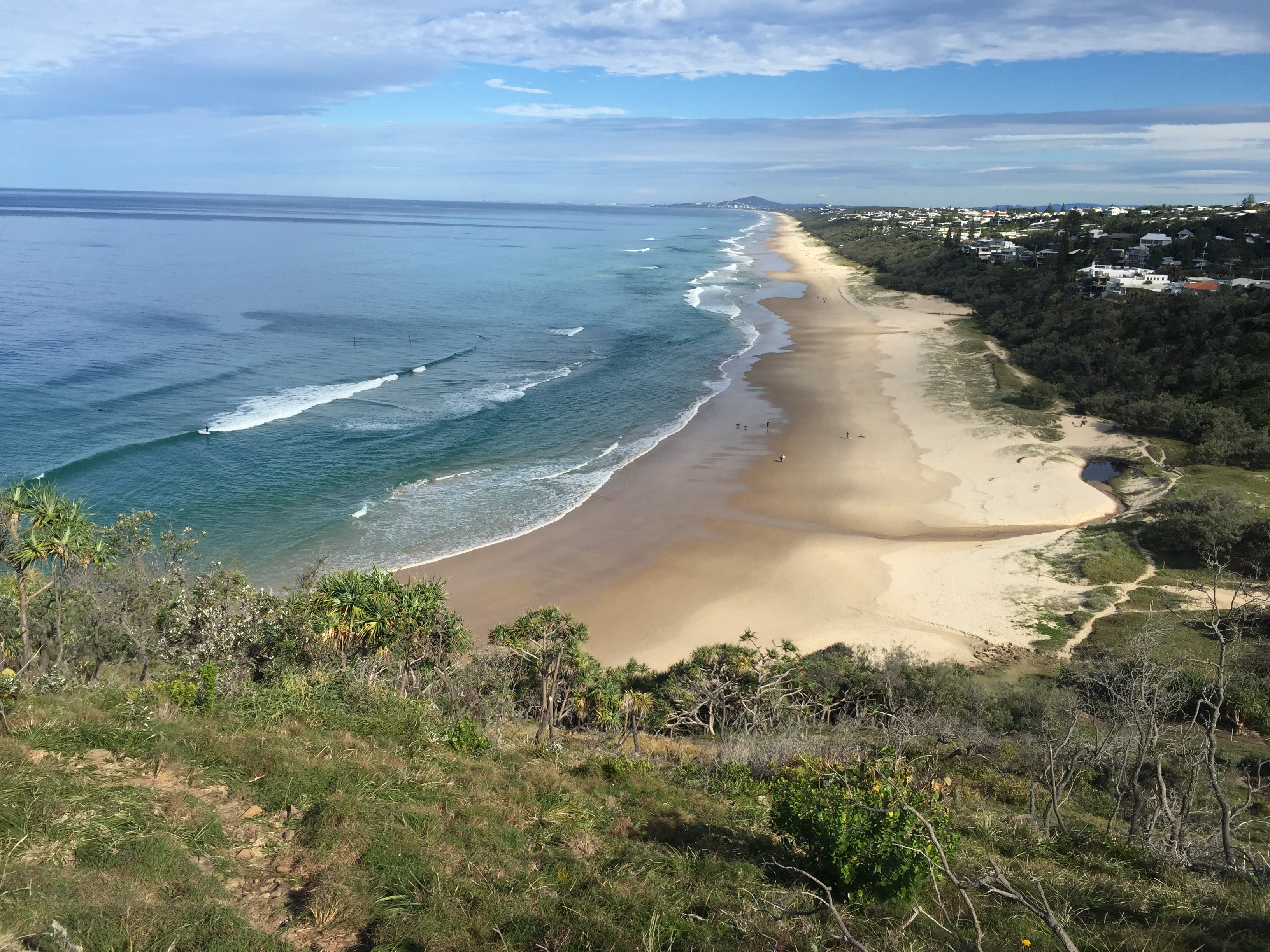 We landed and stepped out of the plane. It was flat, sandy, and dusty. A positive surprise was the gentle breeze and the moderate temperature. The airport was walking distance from the Birdsville Hotel and the other town amenities which included a bakery, a village hall, a sports hall, a petrol station and a camping ground. That was it. I couldn't help thinking about Crocodile Dundee as the perfect stereotype for this place. It was fascinating. I loved it but I would probably go crazy if I lived there.
After lunch in the iconic Birdsville Pub it was time for kit check, dinner and race briefing and all of a sudden the day had gone and it was bed time.

Day 1
I wasn't really sure how the body would respond but as we started early on the Saturday morning in Birdsville I felt good. After the technical running and hiking in South Africa and Namibia I really enjoyed stretching my legs out on a flat road! It wasn't long before I had opened up a few minutes' lead.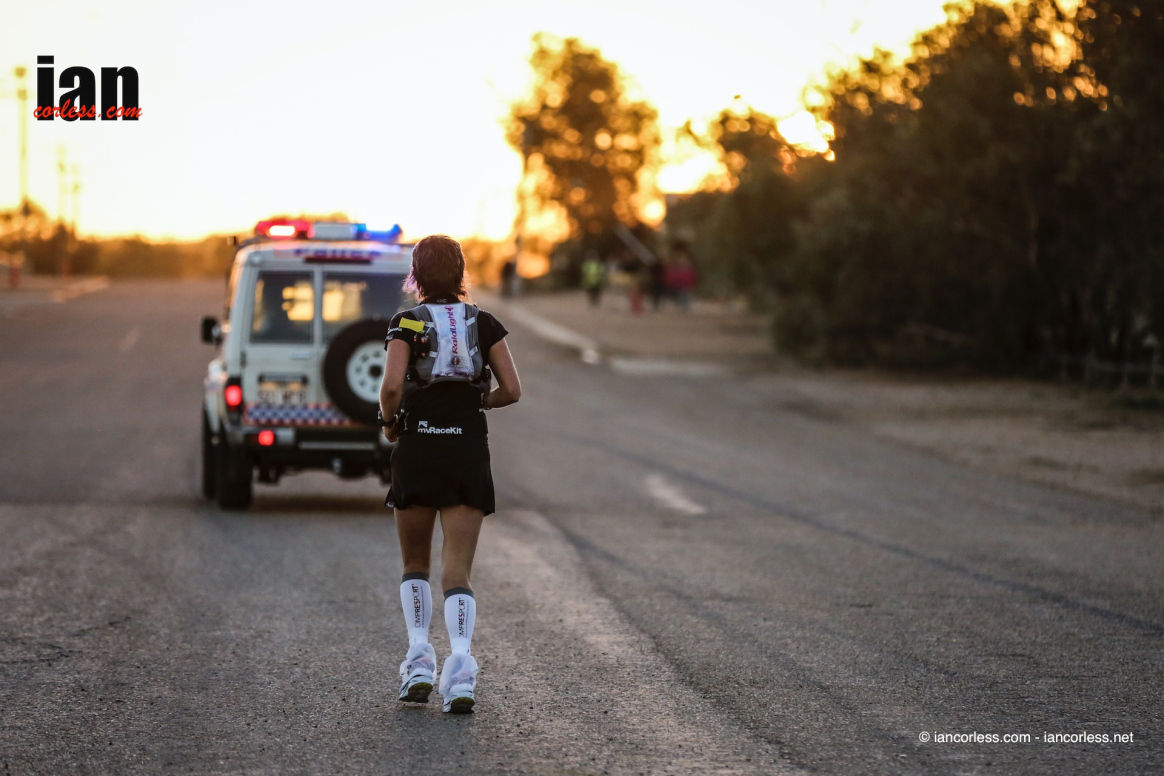 Although I could see a few people behind me when I got to CP1 I was able to extend the lead from there to win the stage outright by about 15 minutes. Andy Dubois was in second and Jamie Hildage in 3rd.
Had I gone out too hard? In multi-stage racing you can take several approaches to the race, all part of the race strategy you decide to adopt. Many unplanned things can happen over the course of a week and I usually prefer to race one day at the time and rely on my ability to recover, rather than saving myself too much in the beginning. This week turned out to become quite eventful and the strategy paid off.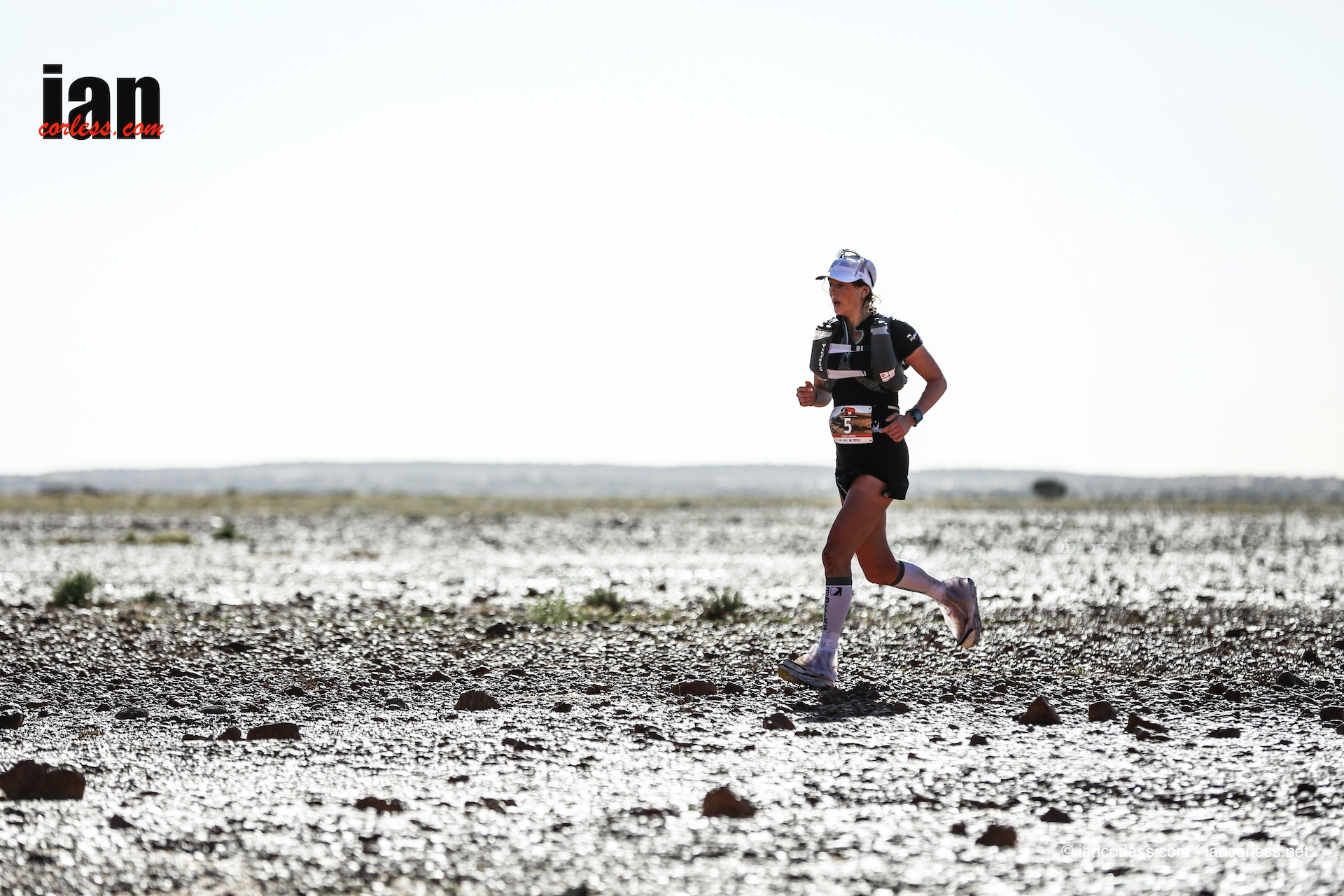 Day 2
During the night to Day 2 rain started to fall. It was a fairly light but very persistent drizzle that just kept going. In the morning our campsite had turned into a mud-bath and kilos of clay quickly gathered under my flip-flops. It was going to be a tough day out there! It was a bit chilly so gloves, wrist-warmers and waterproof jacket came in handy.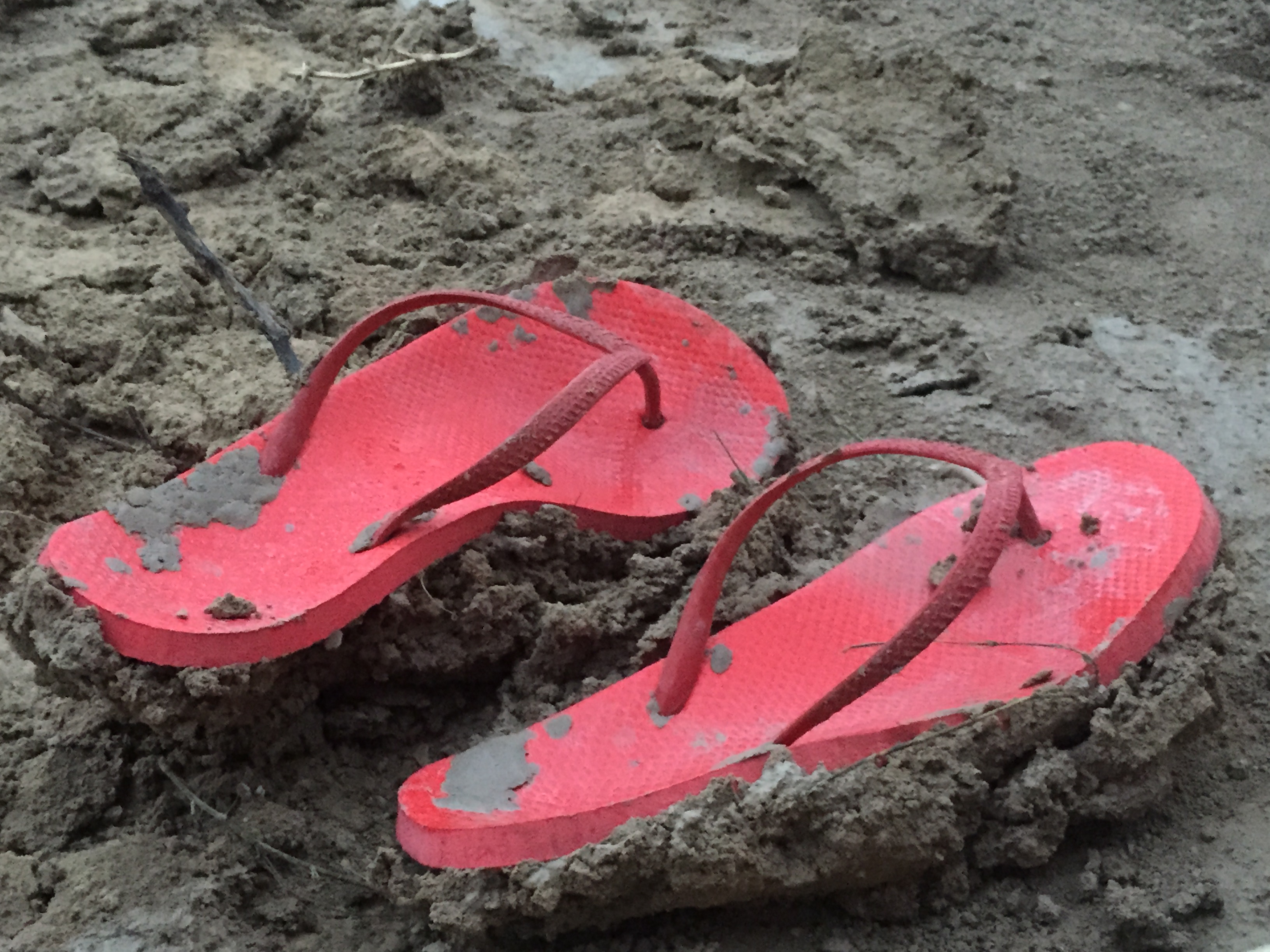 The stage started and it was tough going from the beginning. The same people who took the top places on Day 1 were running more or less together: Andy, Jamie, Braddan Johnson (5th on Day 1) and I. Eventually we reached CP3 where we had a sharp turn back on a dirt road and 18km to the finish. Although wet it was certainly easier than the slippery gibber plain and I was happy. It didn't last long however as sand gradually turned to clay and after about 3km on the road the going got very heavy. I was in the lead now and determined to keep going. Despite the kilos of clay that accumulated under my shoes I kept putting one foot in front of the other and refused to start walking. I didn't know whether to laugh or cry but burst out in loud laughter at a couple of occasions at the ridiculous situation. It was particularly surreal when the accumulated clay lumps got too heavy and just fell off from underneath the sole – only they never fell off from both shoes at the time resulting in the most comical limp! How many times have you run with a 5-10cm platform under one foot only?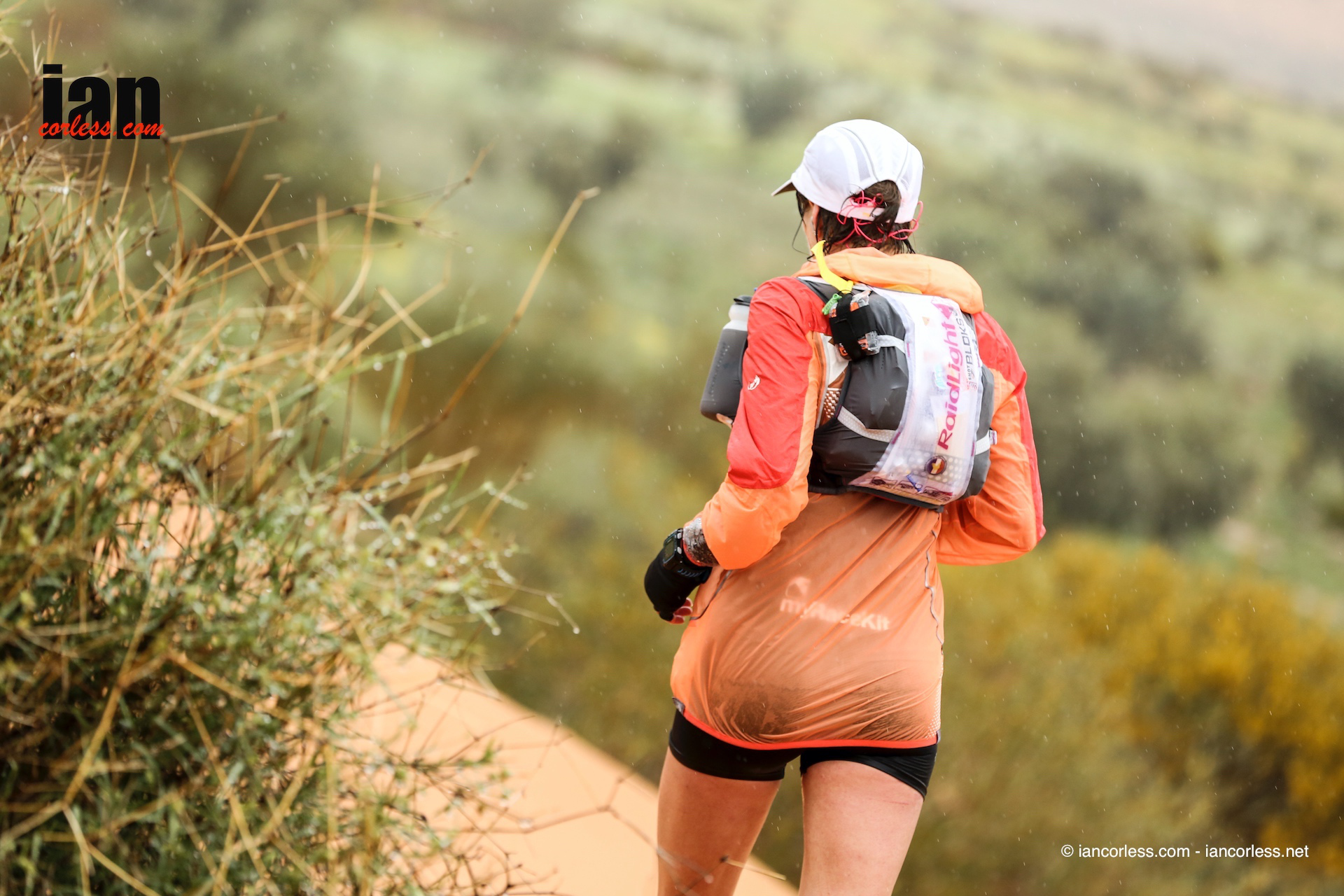 The rain continued until sometime in the afternoon and for those who finished later it was an even tougher day to battle through as the conditions worsened. In fact it got so bad that we were later informed the next day had to be cancelled. Vehicles couldn't get out on the course to re-mark the route or place out checkpoints and marshals. A rest day suited me fine as I had worked pretty hard for two days. In fact nobody complained.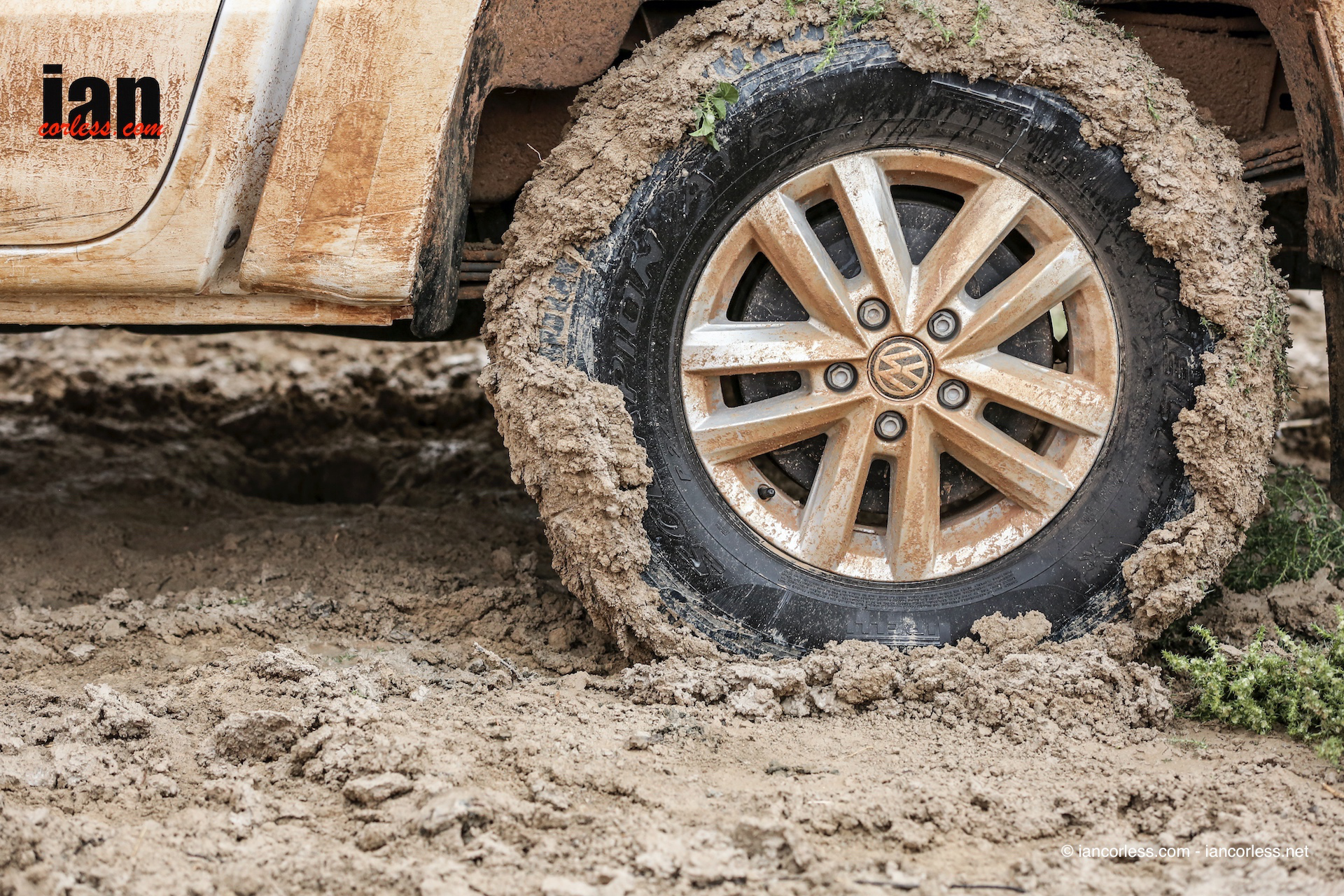 Day 3
On Day 3 the sun eventually came out and we could hang our clothes and sleeping bags out to dry. Moving around in camp was still a big challenge with the clay but everyone came together and within a couple of hours we had cleared paths between the different areas we needed to go to: toilets, medical tent, "kitchen & dining" area and our sleeping tents. Spirits were high. Some people took the opportunity to go for the included helicopter ride and others went on a 4×4 trip in the afternoon. I spent at least an hour cleaning my shoes from mud. The ground was drying up and we would be able to continue the race tomorrow, albeit on an amended route to avoid flooded areas. The sun returning sadly also meant the return of the flies but having experienced the total mud bath I decided that flies were preferred to that.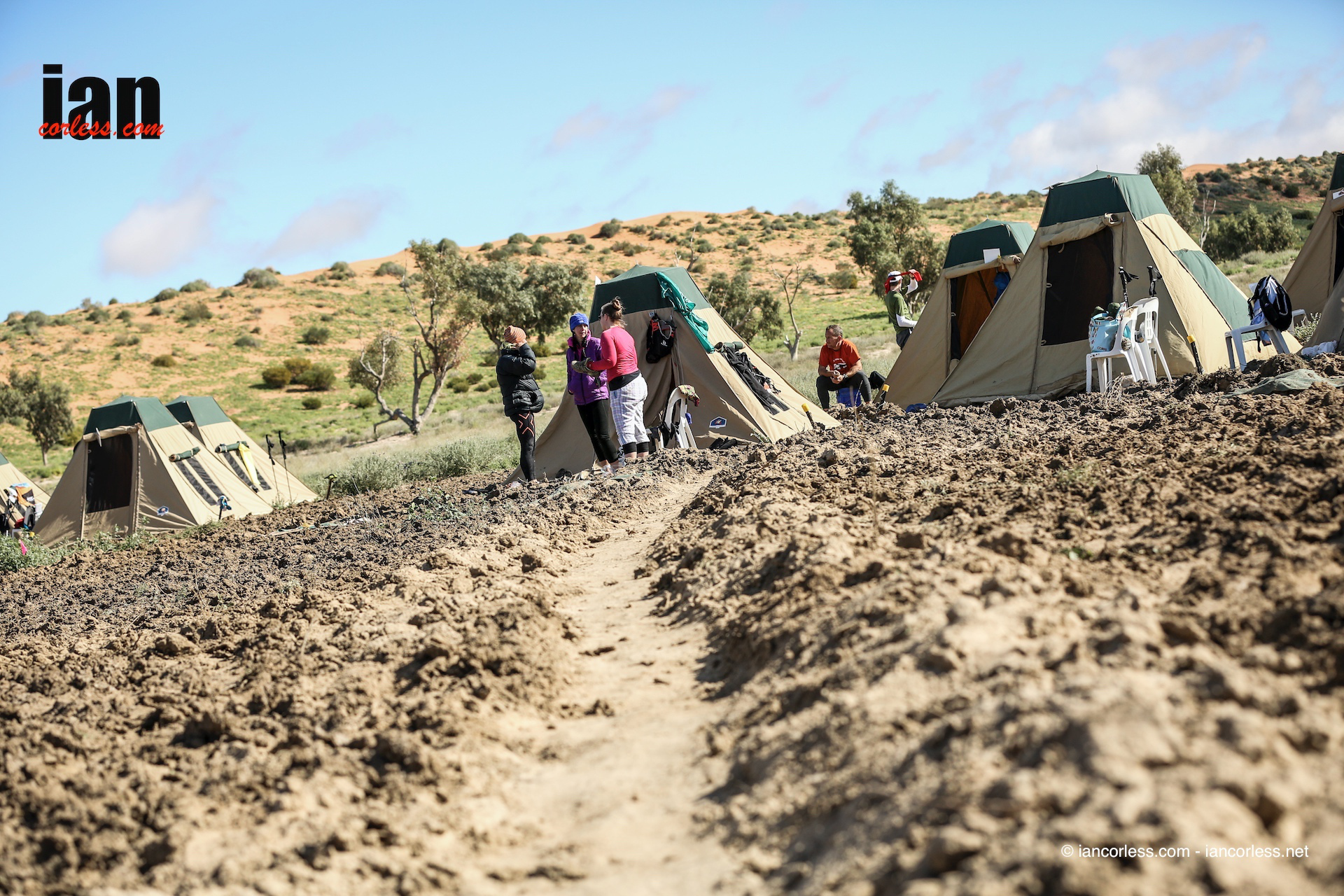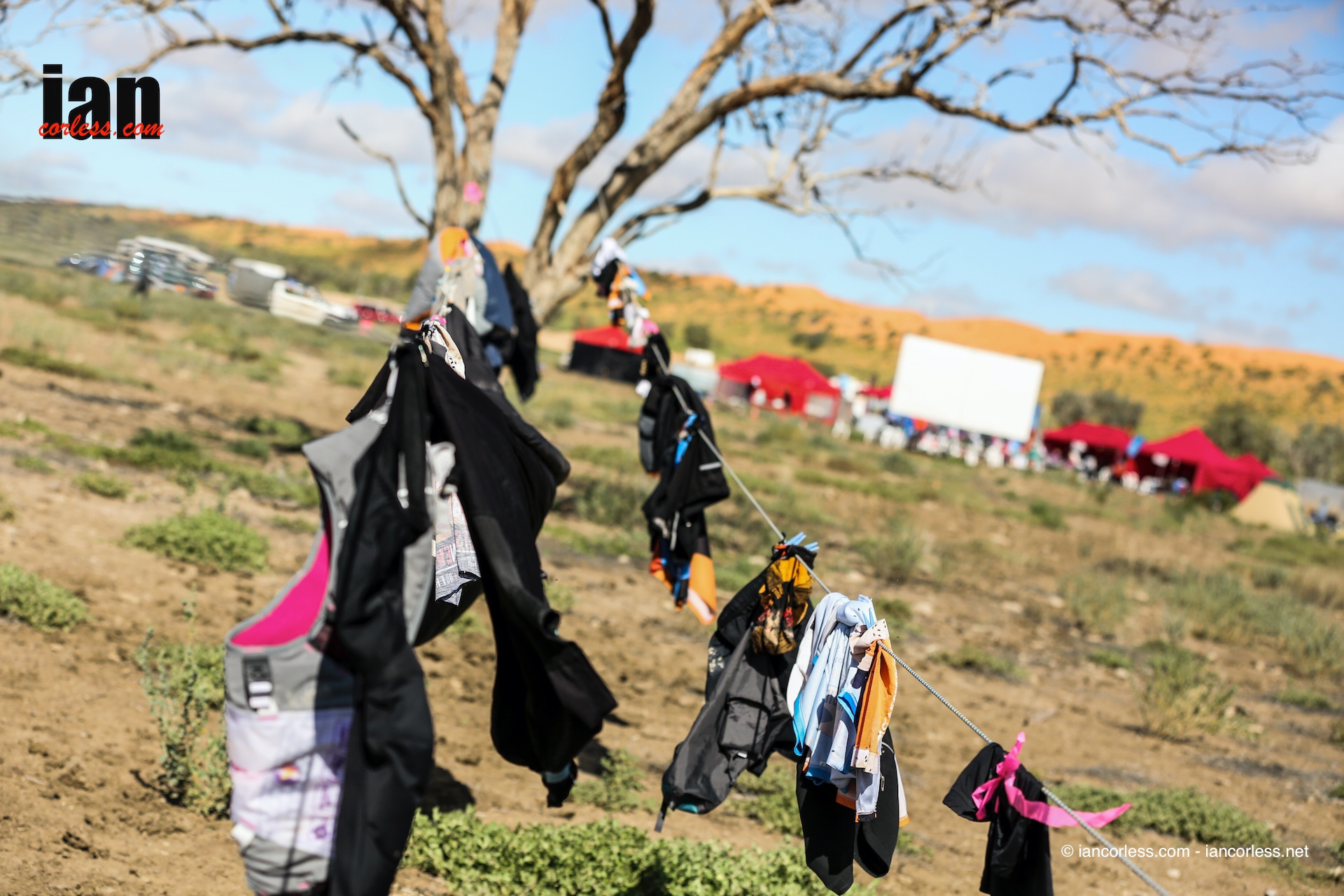 Day 4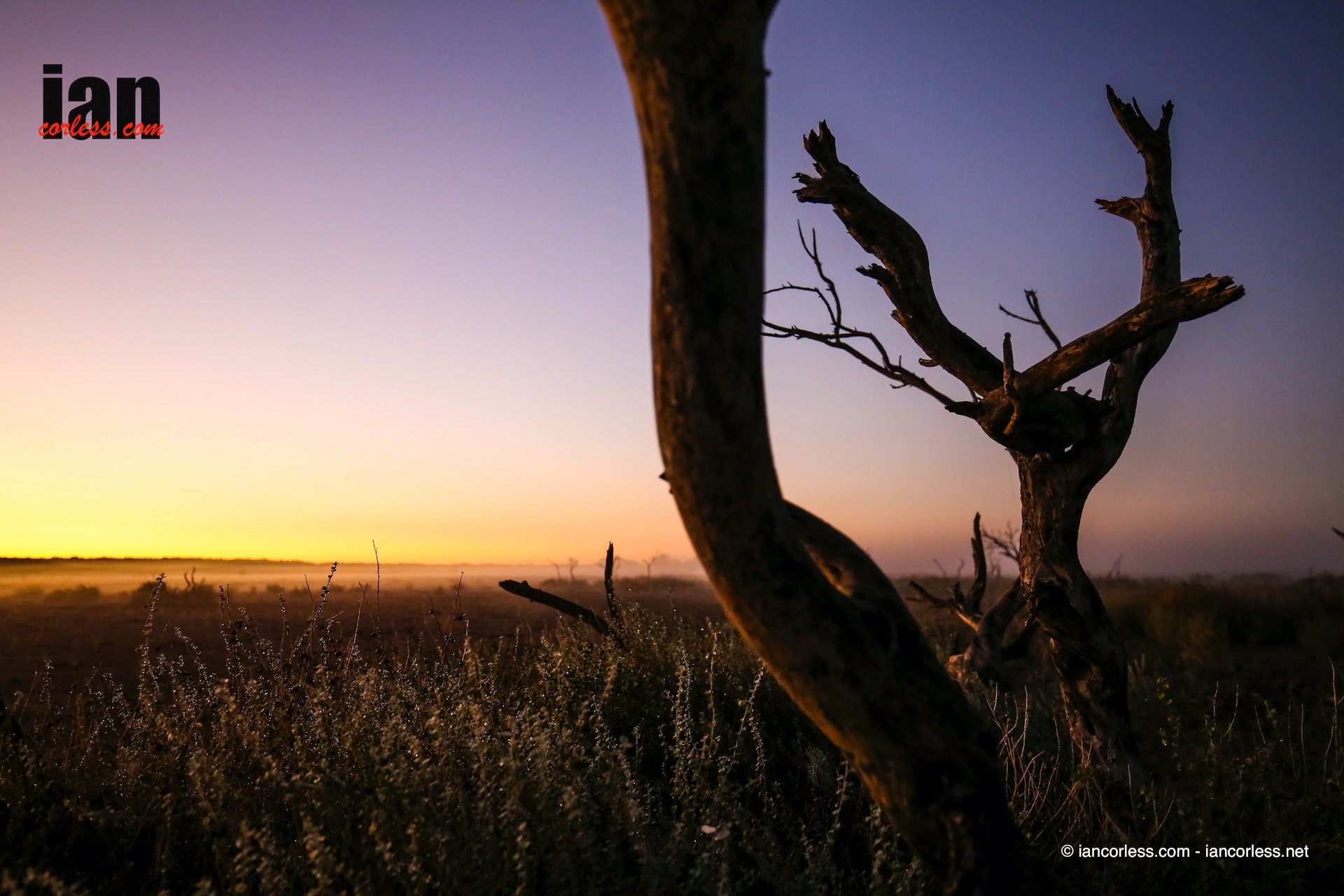 The amended route for the 30km stage on Day 4 was lovely and enjoyable. James Kohler had another go at winning a stage (he tried on Day 2), once again sprinting up the first sand dune. Andy, Jamie and I shook our heads and continued at a more sensible pace. Credit to James he executed the 30km to perfection and although I did make some effort to catch up (and thought I would), the distance today was short enough for him to hold on to his lead and he had a strong finish. If there is anytime in a multi-stage race to save yourself it is before the long stage and I had to bear this in mind.


In the afternoon we got a nice surprise in the form of barbeque and cake served by the Brook family who own the land the race is run on. It was enough for me to not want my dinner so I ended up munching on some snacks later on and then went to bed early.
Day 5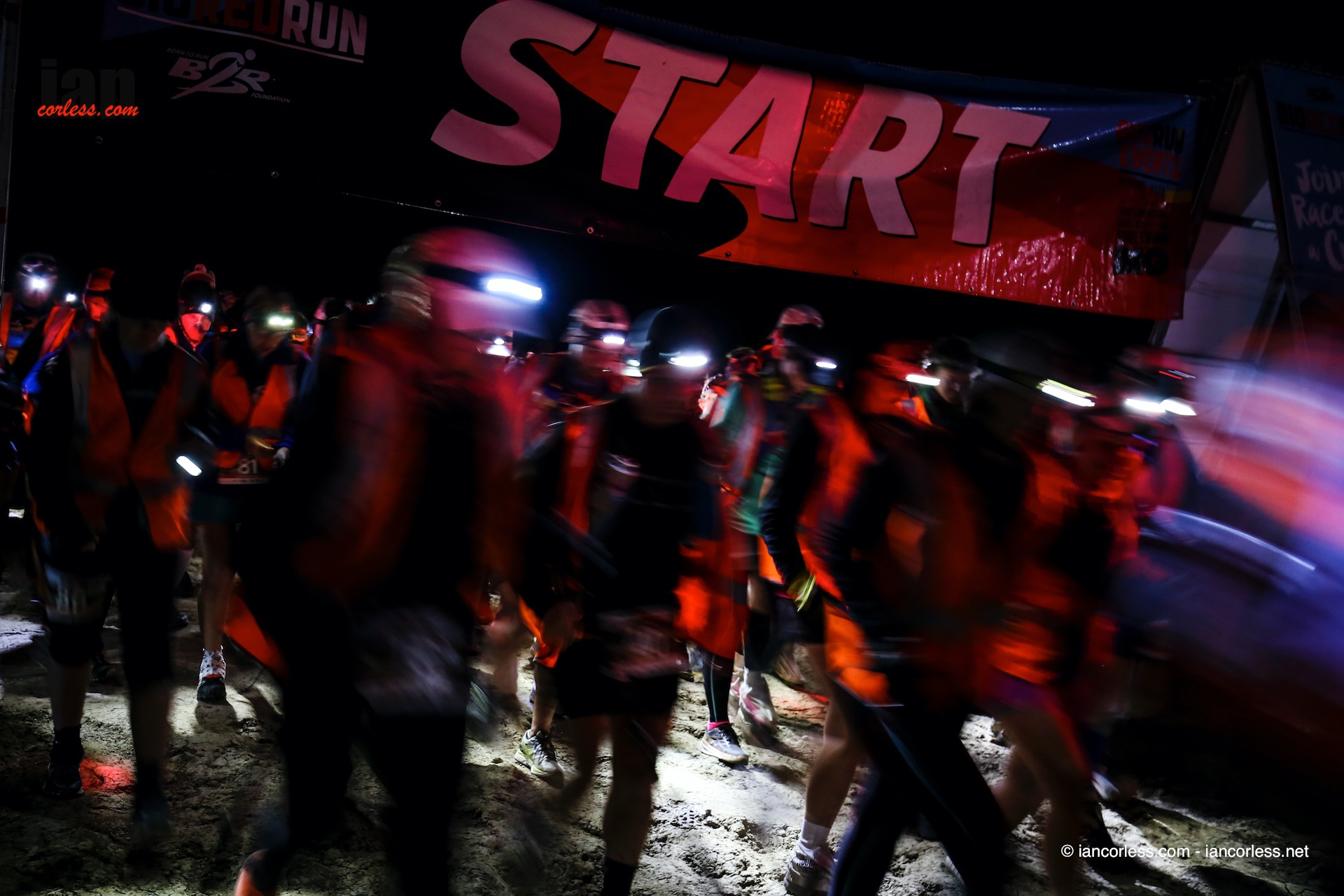 Going into the 84km long stage (which started in the dark in the early morning hours) I had a 24-minute lead on Jamie and 45 minutes to Andy. I thought that if I just stayed with them I would comfortably win the race. However, Andy had other plans. With 20 minutes up to 2nd place and able to smell the top of the podium he had set out a "nothing to lose" strategy for this stage. Whilst 45 minutes is not a bad lead, a lot of things can happen over the course of 84km and I wasn't comfortable losing sight of Andy. I therefore took the risky decision to follow his blistering pace. Jamie felt he also had to follow and a couple of times we looked at each other in disbelief: what was happening here? Would we survive the stage or would the three of us just break each other and someone else come up behind for the win?


As it happened I passed Andy at 30km as he had to see to a hotspot. This resulted in his 2 minute lead being erased and instead he now had to chase. We were in the dunes and I kept going with Jamie not far behind and Andy a few minutes back. I learnt later that Andy caught up with Jamie and they started running together but at this point we had hit a dirt road and with this being my strength I reached the halfway point in 4:07 with a 7-minute lead. I didn't know then how much the lead was and felt I had to just press on. The second Marathon was a relentless race against the clock over what in parts was quite challenging terrain as we had a long dune section. The heat was also noticeable now and at the 67km checkpoint I forgot to take enough water. It was a big struggle to the next checkpoint but once there I had 8km to go and pressed on. I had another goal that motivated me now which was to get my overall cumulative time to less than 20 hours. I had to finish in 8:42 to do this. As I crossed the line in 8:30 I was so happy it was over and that I had managed to put in a strong second half despite having run the first 30km faster than the previous day's 30km stage! It could have all gone terribly wrong. Jamie followed in 9:09 and Andy eventually in just under 9:23. So, in the end nothing changed but we all raced as if our lives were at stake. Well, thanks Andy for stirring things up, you made it interesting 🙂


Day 6
The last day was an 8km, untimed stage into Birdsville. It was nice and relaxed and as the tradition dictated the winners (Jamie and I) had to wear tutus.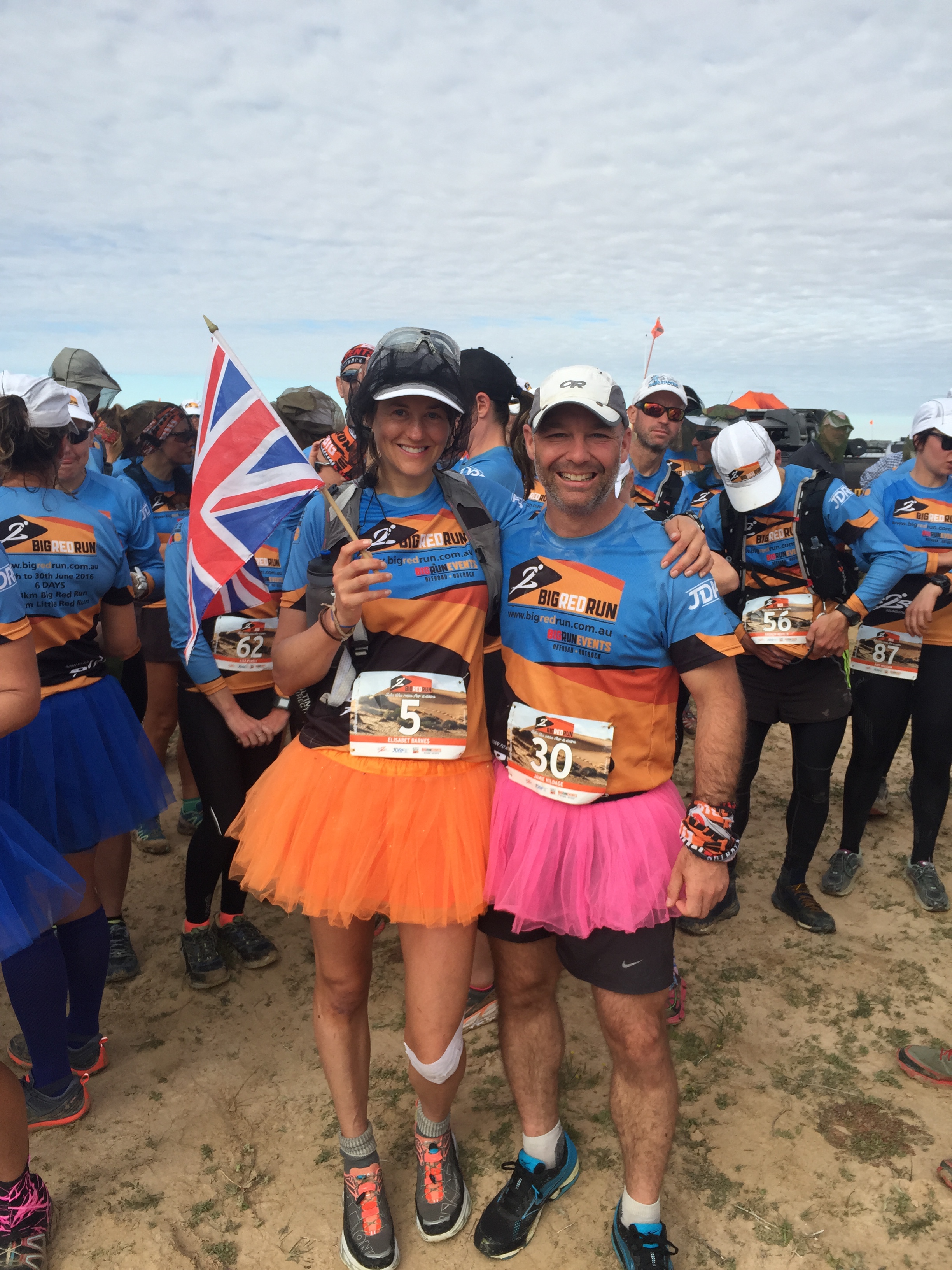 In the early evening we had a celebratory dinner followed by closing the Pub at some point in the early morning hours. The Aussie's surely know how to party! It was the perfect end to not only one but two back-to-back multi-stage races.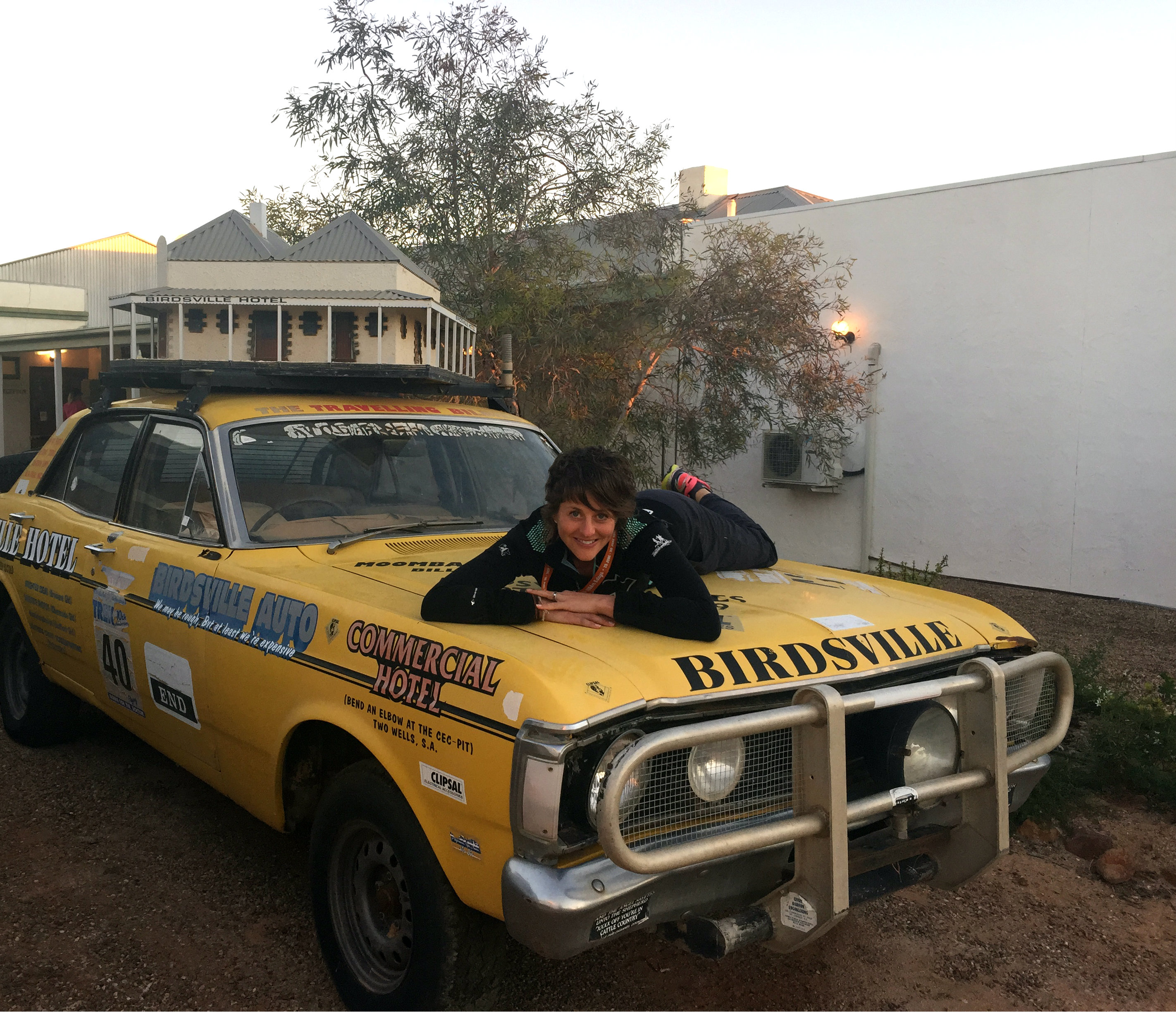 Going home I was most disappointed I couldn't find Crocodile Dundee amongst the selection of classics on the flight's movie menu… but hey, "no worries"…
Is it for you?
The Big Red Run falls into the category that I refer to as "luxurious" stage races. You have to bring your own food so its not catered but your luggage (max 14kg) is transported from one camp to the next. There is a fairly ample list of compulsory gear and if the weather is bad you carry some spare clothing while you run. If not, you carry first aid kit and few bits plus water. I had an 8l race vest (Raidlight Responsiv) and it was sufficient. Checkpoints are placed about 5km to 15km apart and supply water and sports drink. In the morning and during the day/evening hot water is provided in camp. Tents are provided and are shared by three people. There are also toilets available.
The Big Red Run is runnable and non-technical and therefore is a beginner-friendly race for those just getting into multi-stage races or suitable for those who like to run more than hike/walk. Equally, it is very achievable for walkers. The temperature is fairly comfortable as this race is stage in June in the winter months.
This is a very friendly race with lovely runners and volunteers. Friends and family are welcome to come along and stay in camp. It is also possible to stay on in Birdsville after the race for the Big Red Bash, which follows a few days later (I was gutted to miss it!).
The course is very well marked, and Spot Trackers are provided for every runner. It is without doubt one of the safest races I have done.
I thoroughly enjoyed the race, the atmosphere, the people and the fact the course suited me being more of a runner than a hiker. If the above appeals to you I can highly recommend it. And don't worry about the mud, this year was not normal…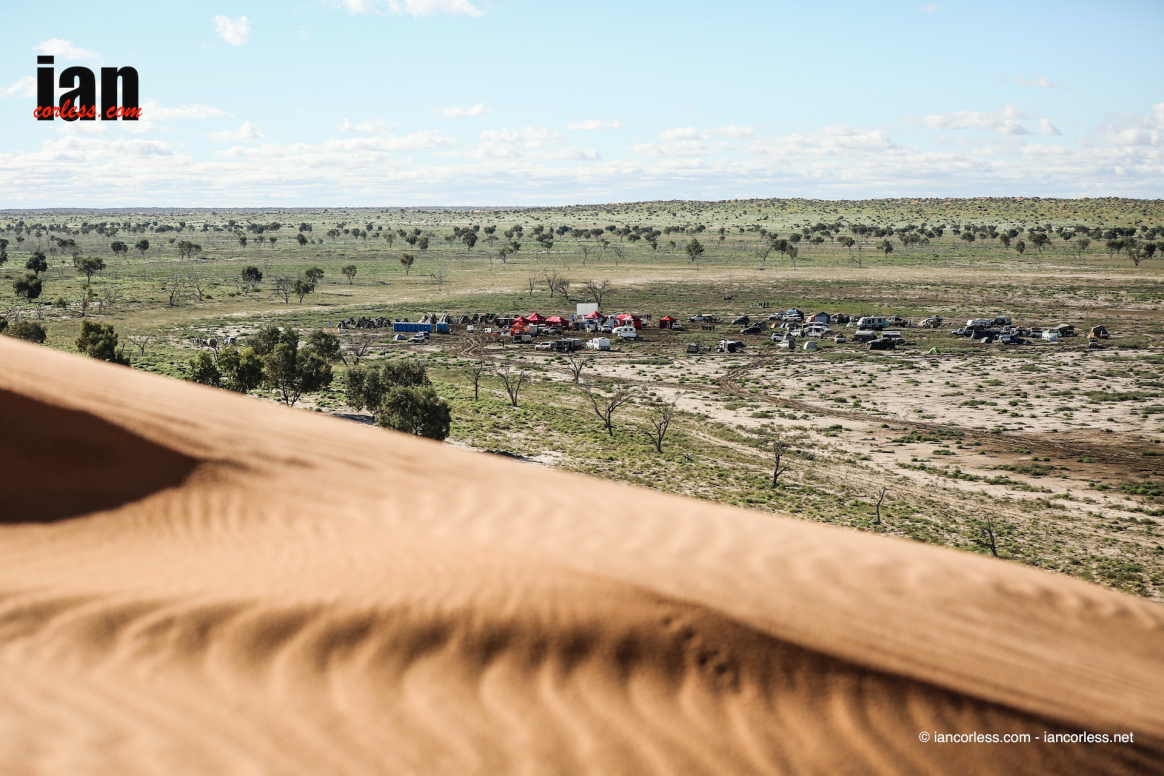 Results, Images & Media
Running picture of the day in the Guardian:
https://iancorless.org/2016/07/01/picture-of-the-day-big-red-run-the-guardian/
Daily reports by Ian Corless including photos:
Pre-race: https://iancorless.org/2016/06/24/birdsville-or-bust/
Day 1: https://iancorless.org/2016/06/25/big-red-run-2016-stage-1-birdsville-marathon-42-195km/
Day 2: https://iancorless.org/2016/06/26/big-red-run-2016-adria-downs-marathon-42-195km/
Day 3: https://iancorless.org/2016/06/27/big-red-run-2016-stage-3-arpilindika-marathon-42-195km%EF%BB%BF%EF%BB%BF-cancelled/
Day 4: https://iancorless.org/2016/06/29/big-red-run-2016-stage-4-sprigg-sprint-31km-revised-route/
Day 5: https://iancorless.org/2016/06/29/big-red-run-2016-stage-5-marathon-1-mohan-marathon-marathon-2-roseberth-marathon-84-39km/
Photo Gallery:
http://iancorless.photoshelter.com/gallery-collection/Big-Red-Run-2016/C0000tcT3nhC0ayY 
Full Results:
http://www.bigredrun.com.au/bigredrun/2016-final-results