Inspired by the beautiful Everest Trail Race in November, Sondre Amdahl and I decided to return to Nepal for our own adventure and to tick the box to go to Everest Base Camp (EBC). We had done a fast packing trip on the 440km long Kungsleden in Sweden in September, and thought that this would be the perfect follow-on adventure.
Seven days is faster than a normal trek to EBC which typically takes about 11 days. This was possible for three main reasons:
We were "pre-acclimatised" to altitude;
We did it during winter which I think made it easier to go faster as the trail is not packed with people;
We are ultra-runners and as such we are used to (and have the fitness to) progressing quickly whether running or fast hiking.
In addition, we know from our experience in self-sufficient multi-stage racing how to pack light and have the necessary but nothing unnecessary. As most people trekking to EBC have porters and guides they may not carry much anyway, but if you do carry all your gear yourself it has to be light and we had about 5kg each.
I have included a fair amount of detail in this article for those who might be interested in embarking on their own trek to base camp so you might need to read this in chunks or have a nice coffee and some quiet time available. It is organised under the sections outlined below. It really is a fantastic adventure in a beautiful country and I can't recommend it enough.
Trip and Logistics Summary
Duration and Altitude Considerations
Normally, a trek to Everest Base Camp takes 11 days from Lukla and back and many people do this in an organised fashion with guide, sherpas and in a group. The distance, approximately 130km return journey plus some acclimatisation days, is not significant by any means. However, Lukla is situated at 2,860m above sea level and Everest Base Camp at 5,364m. As such, a gradual ascent with acclimatisation days is necessary for most people in order to no get altitude sickness. AMS, HACE and HAPE are real concerns at these elevations and the risks should not be ignored.
I live at sea level and I have historically hardly spent any time at altitude. A few years ago I pulled out of a couple of mountain races due to altitude sickness at less than 3,000m and when I went to Tenerife in April this year to prepare for the Marathon des Sables, it took me 10 days to feel comfortable at 2,000m elevation. Therefore, wanting to become a more versatile runner and to expand my comfort zone, I set a goal to become better adapted to altitude during 2017. To achieve this I realised I couldn't stay at sea level so between late June and mid November, I spent 11 weeks at 2,100m or above. I ran the 6-Day Transrockies in the Colorado Rocky Mountains, preceded by living at 3,100m for two weeks just outside Leadville and climbing some of the highest Colorado peaks like Mount Elbert at 4,401m. In November I did the Everest Trail Race in Nepal which peaked at 4,068m. Before and between these races I lived and trained in Tenerife at between 2,100 and 3,500m.
We had seven days available for this Everest Base Camp trek with a contingency day (or two at a squeeze). As such we both relied on our pre-existing base of altitude acclimatisation in order for this to be successful. Still, it was a risky strategy as altitude sickness is sometimes unpredictable.
Time of Year – Considerations for the Winter Trekker
We did the trek between 29th December and 4th January. This is the off-season as far as trekking in Nepal is concerned. It can get bitterly cold high up and at night so it's understandable. However, this time of year brings many benefits. The weather is clear and dry and the air is fresh and crisp. There are also significantly fewer people on the trails. This in turn means there are also fewer animals as fewer transports of goods are required. What can be a congested trail in high season is effectively one you have almost to yourself. I think its a great time of year to go to EBC and would not hesitate to do this again. All advice in this blog refers to the winter season.
Summary of the Itinerary & General Logistics Advice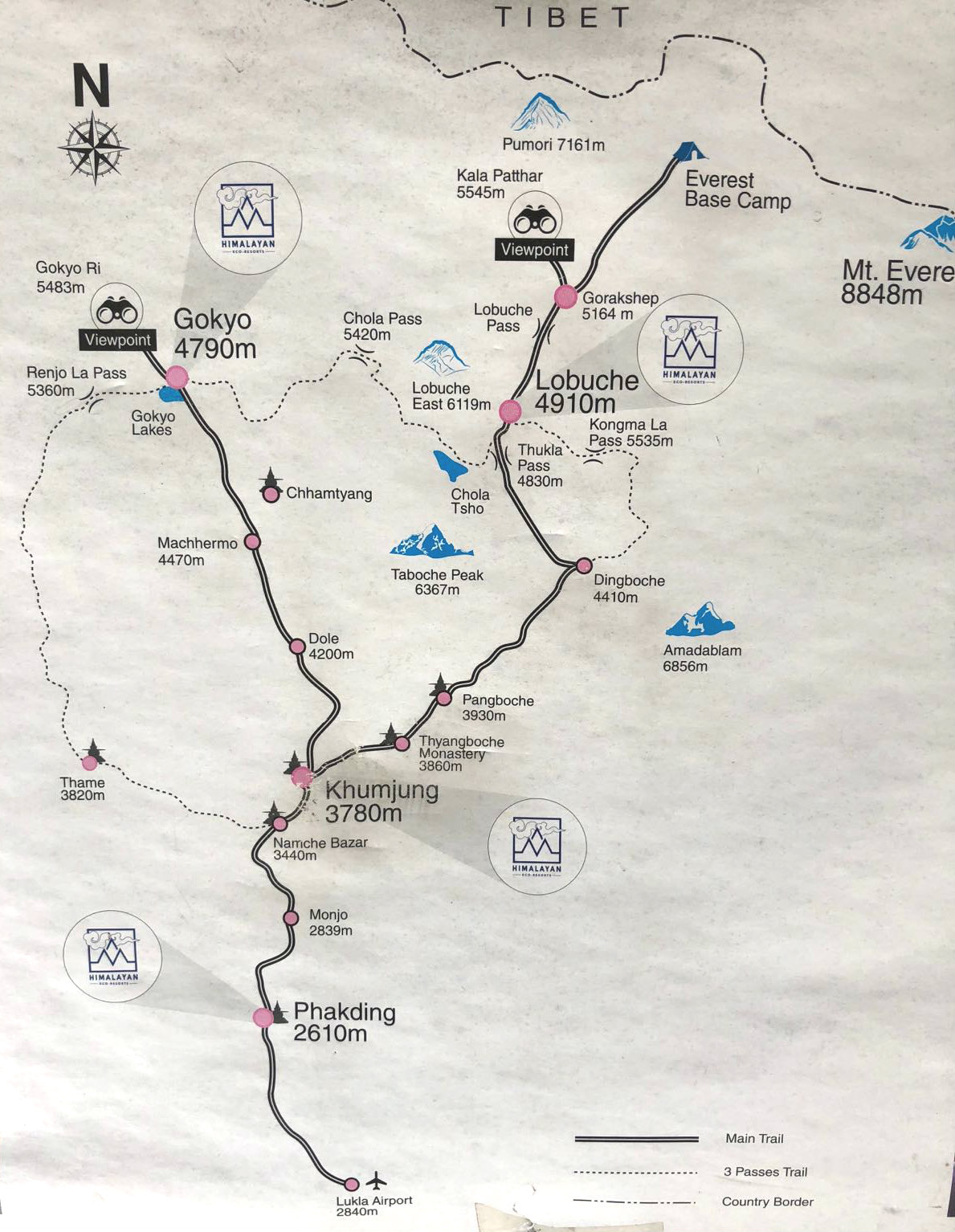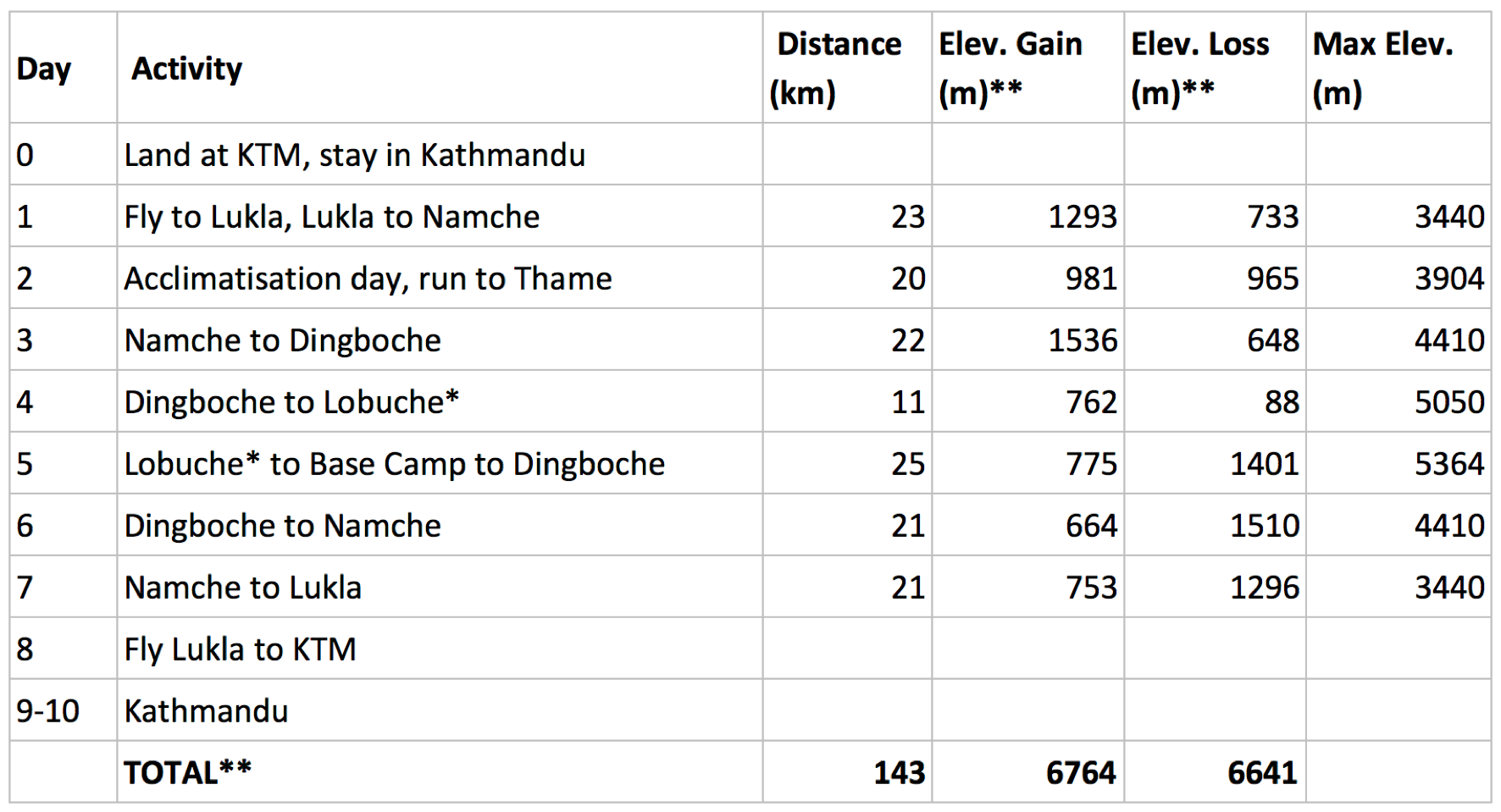 When planning a trip like this you have to bear in mind that flights to and from Lukla are highly dependent on weather and you need some flex in your travel schedule. We had booked international return flights but we only booked one way to Lukla. We then booked the return flight to Kathmandu along the way once we knew with more certainty when we would get back to Lukla. If your flight from Lukla back to Kathmandu gets cancelled, you might need to wait more than one day to get rescheduled onto another flight. Therefore, allowing some contingency for your return home from Kathmandu is advisable. We also did not book any lodges in advance except for one hotel in Namche. Due to altitude, weather conditions, potential illness etc it can be difficult to plan an exact itinerary in advance. Instead, if you can take it as it comes and have some flexibility it will probably be better. The lodges have plenty of space available in winter time so it is no problem at all to just turn up. If you are the type of person who finds that difficult, take a deep breath and embrace the challenge. You can't expect to go to Nepal and for everything to run like clock work! 😉
The Run/Trek to EBC – Day by Day
Day 1 – Lukla to Namche Bazaar
We left our hotel in Kathmandu in taxi at 6:15am for our 7:45am flight. They had kindly packed us a breakfast box. This came in handy at the airport as the flight was delayed. This is perfectly normal when flying to Lukla so nothing much to worry about. Once the departure announcement was made however, it all went very quickly and we were probably on the plane within 10 minutes of it.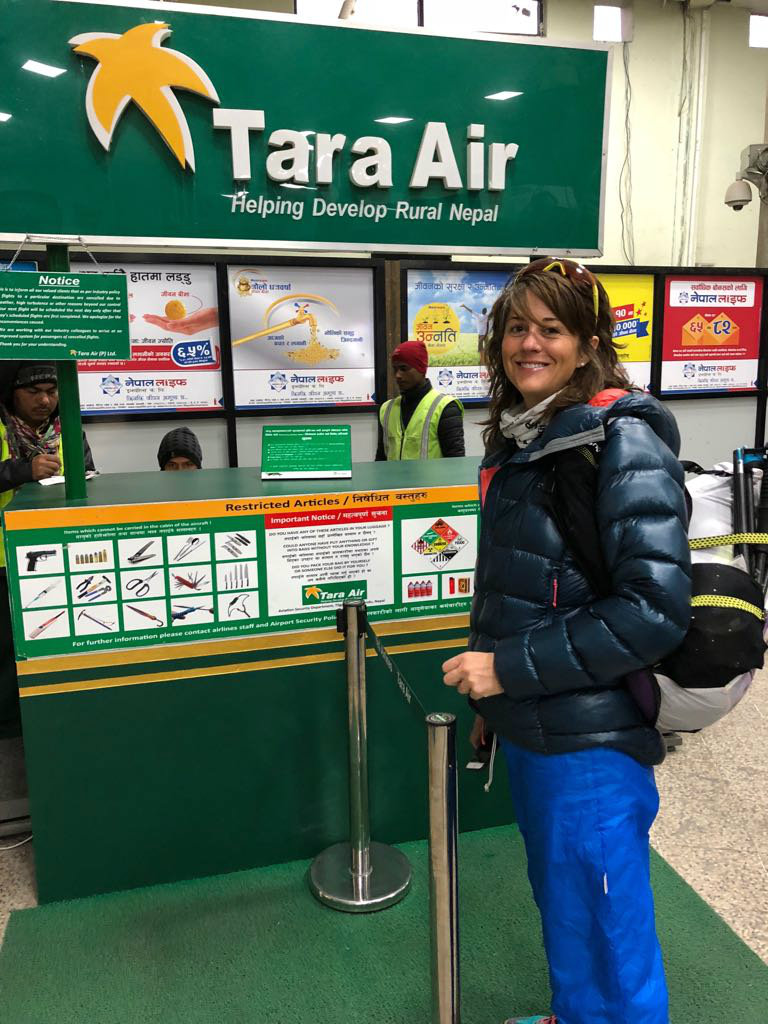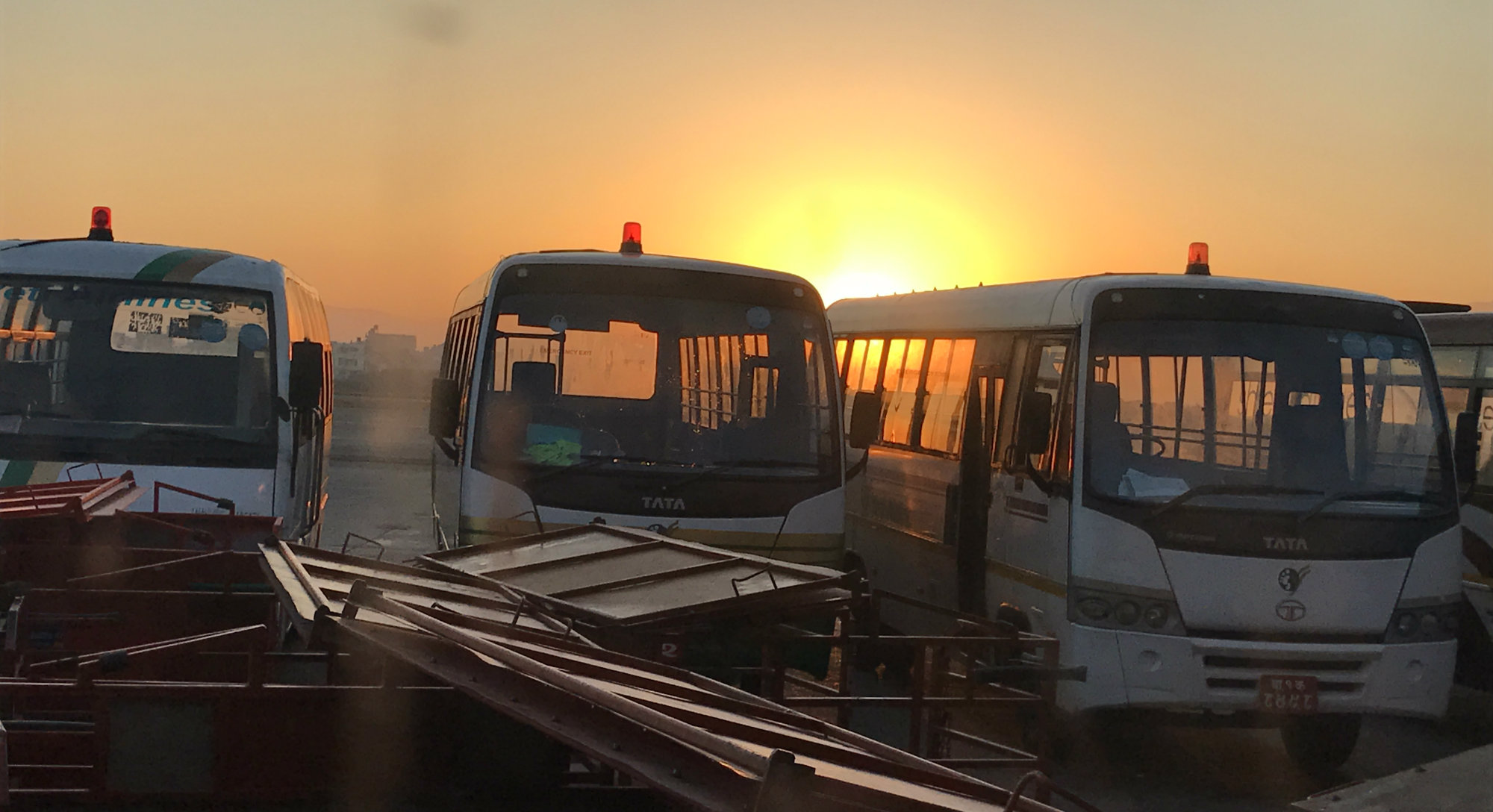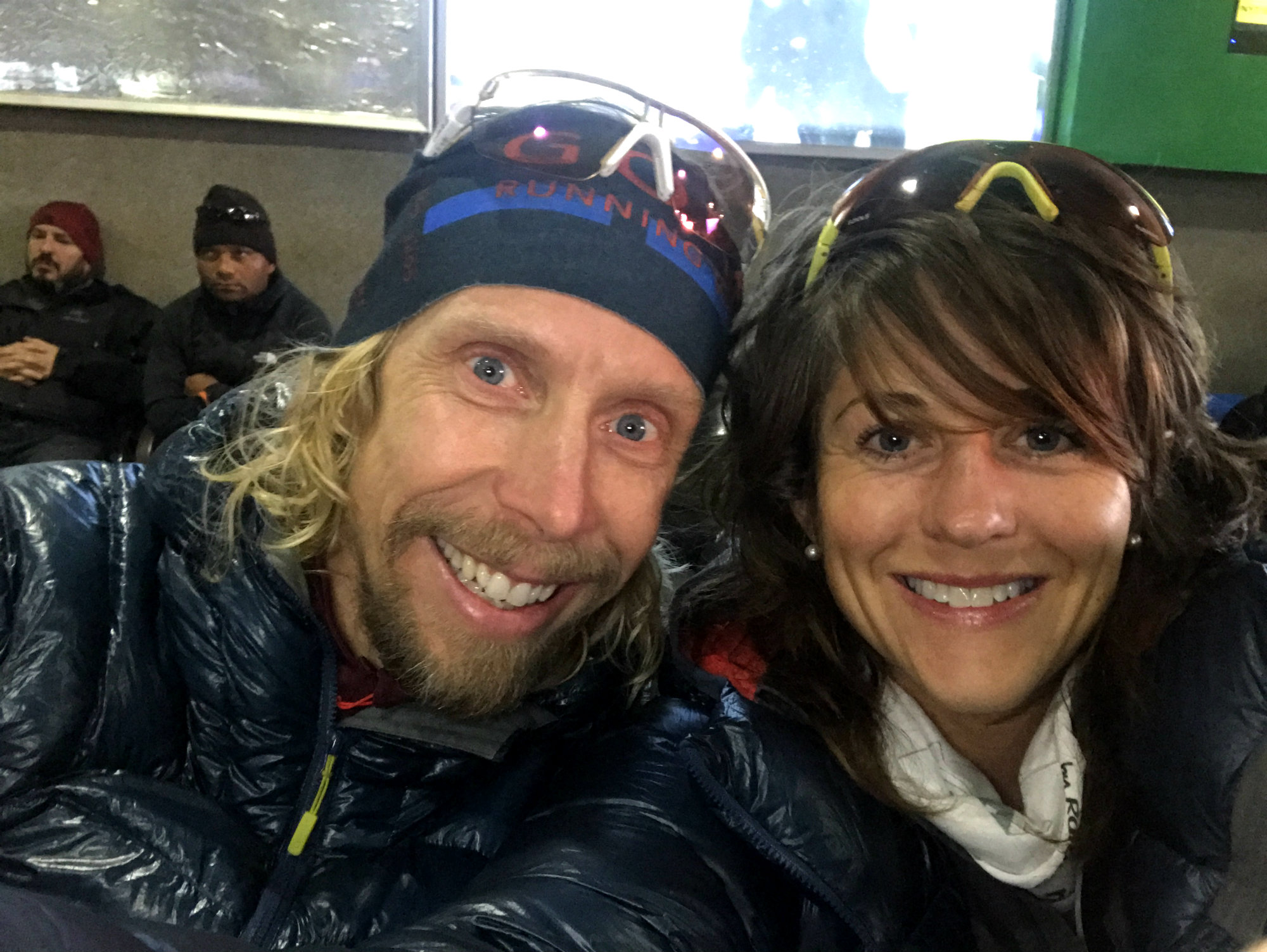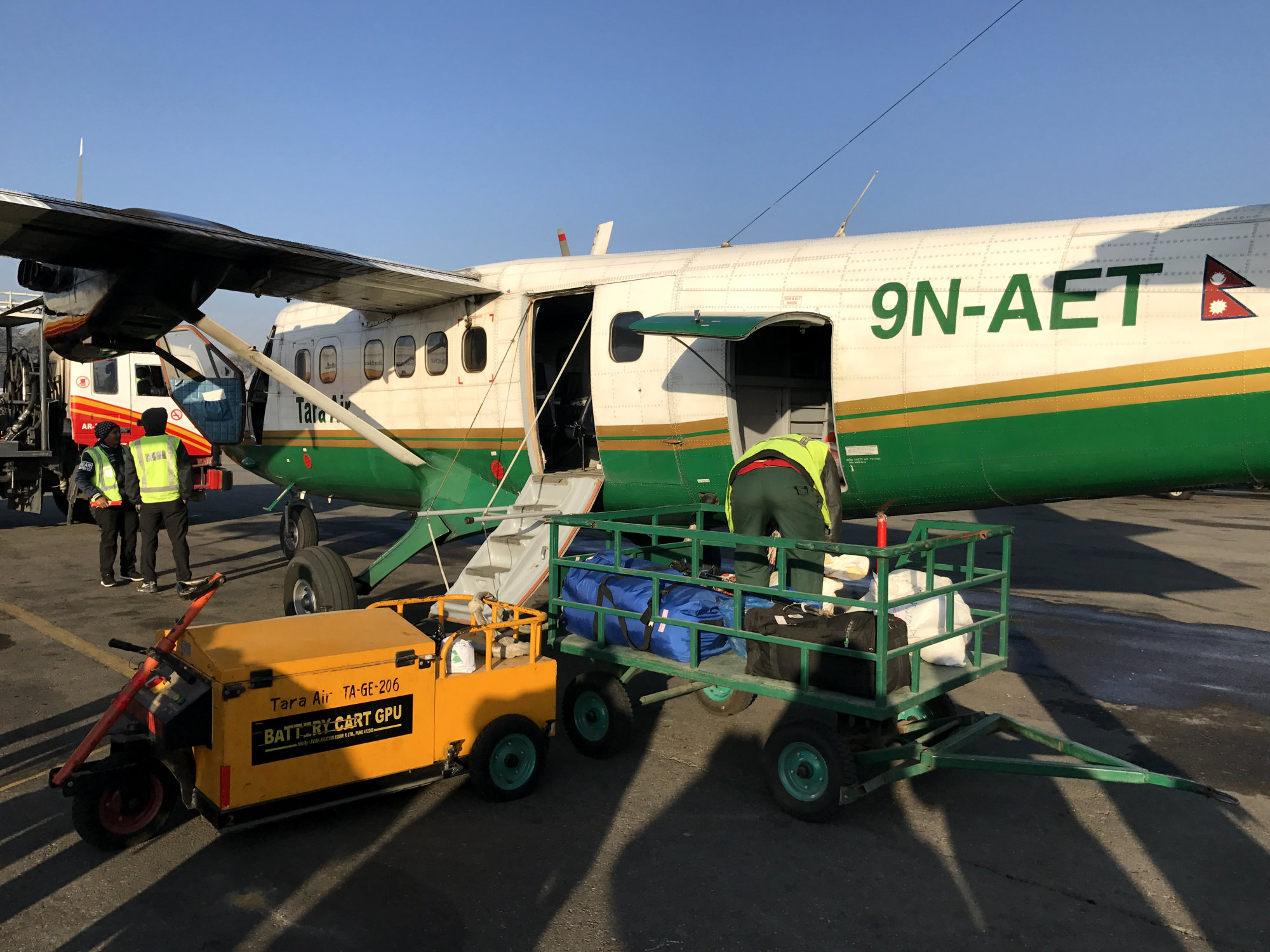 Once in Lukla things didn't start all that well. We'd had to check in our trekking poles in Kathmandu as they are not allowed as hand luggage. However, they never made it off the plane in Lukla, and by the time we realised, we saw the plane taking off again to Kathmandu. This was of course not good as we were going to do a not insignificant amount of ascent, and the type of very light weight carbon poles we carry are not something you pick up in the shops in Lukla. The plane would come back to Lukla straight away with the next lot of passengers so that was not a problem, we just had to make sure the poles did not get offloaded in Kathmandu. After overcoming some language barriers, speaking to some officials at the airport, we managed to explain the situation. Phone calls were made to Kathmandu and we were assured the poles would come back. While we waited the approximately 90 minutes, we went to Buddha Lodge which has a terrace overlooking the runway and airport. From there we would see our plane landing once it came back. We ordered some coffee and pancakes, chatted to a group of Irish trekkers, also heading for basecamp, and basked in the glorious sunshine. The air was cool and crisp and it was certainly much colder than in November. However, in the sun it was warm enough to wear shorts. Our plane eventually came back, with our poles, and we could set off. The extra wait didn't actually matter as we had plenty of time to get to Namche.
A bit administration is required before you can get fully on your way. Just before you exit Lukla and begin the trail, you have to pay NRs 2,000 to obtain the Khumbu Pasang Lhamu Rural Municipality (KPLRM) permit. This is a collection of tourism fee from travellers in the Everest region. You need to show your passport in order to obtain this permit. Then, in Monjo between Phakding and Namche, as you enter the Sagarmatha National Park, you have to obtain a National Park Entrance Permit. This costs NRs 3,390 per person. These are the only permits you need to trek to base camp. If you have read stuff about needing a TIMS card, this is no longer required.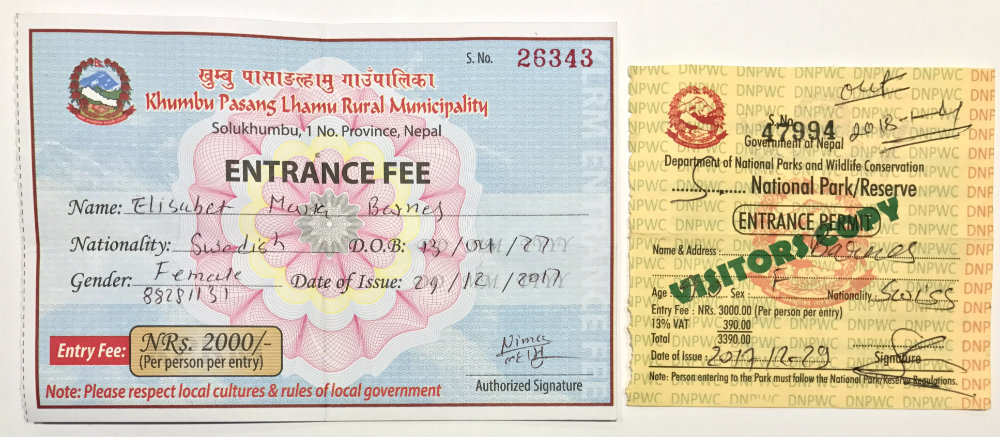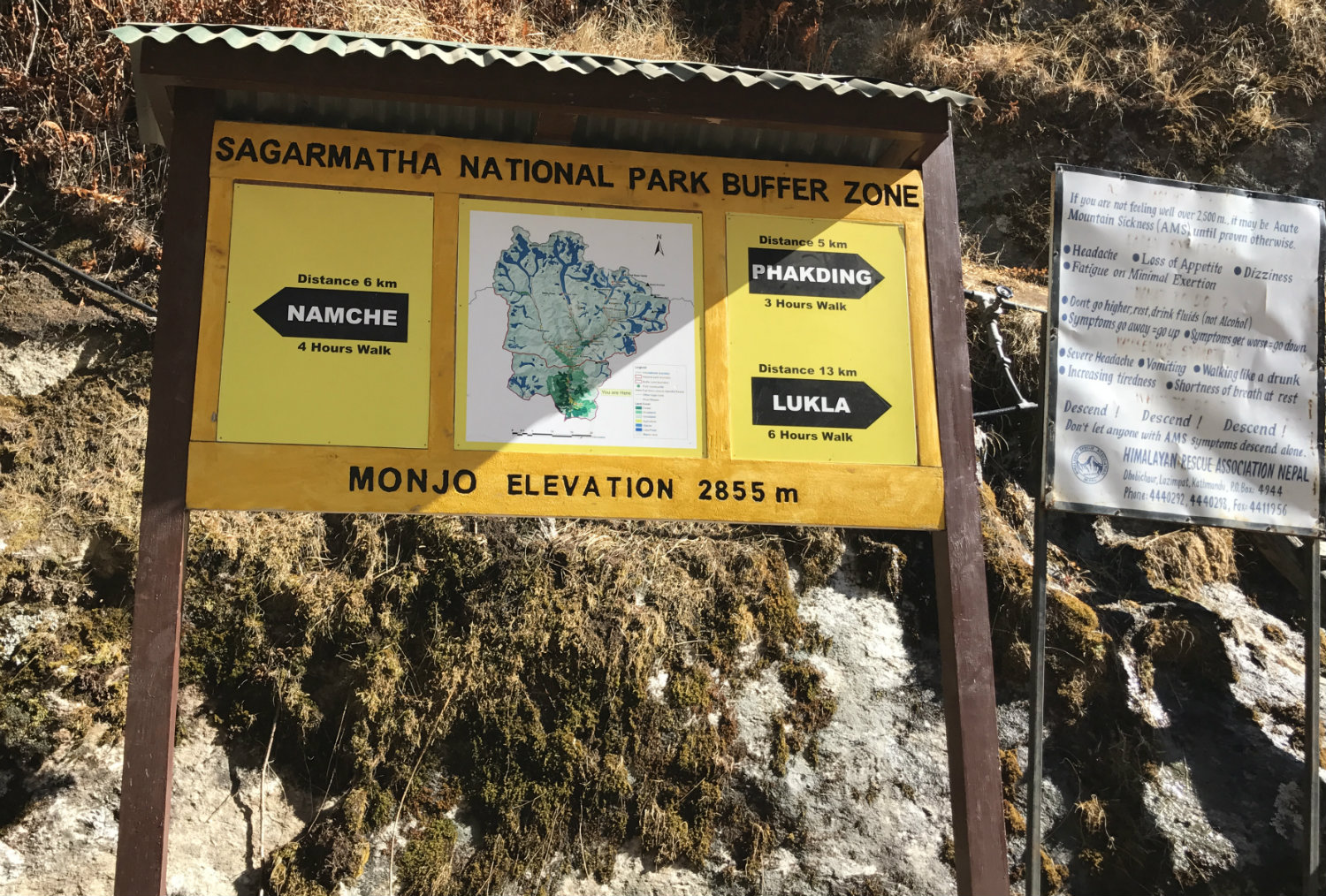 The trails were a lot quieter than in November and it was really nice to not have to be in a rush due to a race. We could stop at any time for some photos, to soak in the view, buy a drink etc.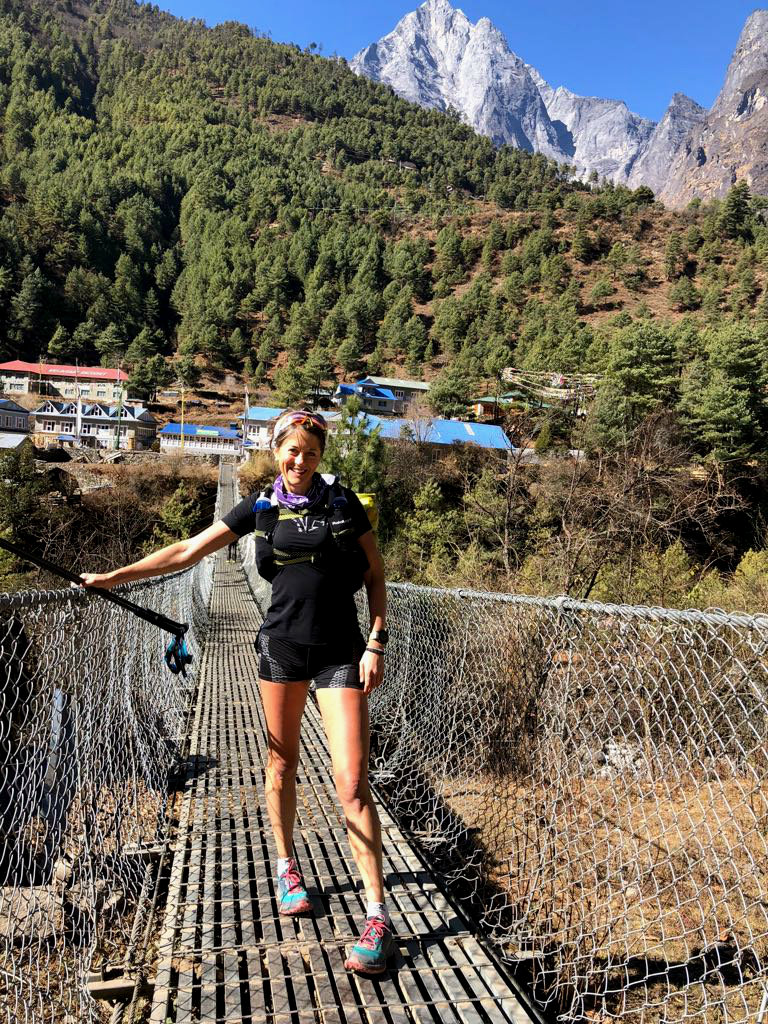 Our first pit stop was Phakding. We were set on having a break at the Hermann Helmer's Bakery. In the sun we enjoyed an Apfel Strudel and a Cinnamon roll and some mint tea and coffee. It is important to eat plenty carbs when at altitude after all! We chatted to the manager who recognised us from the month before (the race had passed through Phakding and we spent an afternoon and night there).
We were half way to Namche and once fuelled up we continued on the beautiful trail which made its way through pine forest on a plateau above the whitewater Dudh Koshi river, flowing down from Everest. Initially quite smooth and runnable, the trail then becomes rockier and dustier. We passed over two hanging bridges and after about 7-8km we started the steep climb up to Namche, zig-zagging our way up, occasionally meeting or passing other trekkers and some animals. I remembered the whole trail well from the Everest Trail Race. It's quite characteristic.
We arrived in Namche and we checked into Hotel Namche. Here we could have our last bit of (relative) luxury before heading higher. In this context luxury means: a private bathroom and a hot shower. But not only that, the heated bed was a right treat. The night time temperature in the room was probably not far off freezing (rooms are not heated and insulation poor) but the bed meant we didn't actually have to use our sleeping bags.
Day 2 – Acclimatisation in Namche
Namche is situated at 3,440m altitude. Since we had ascended to this elevation in one day, we had decided to stay here on day two in order to acclimatise before going any higher. We did a lovely run out to Thame and back. This took us on smooth trails in the pine forest, passed some small villages, over a high climb of approximately 3,900m and into Thame, a small Sherpa village. Thame was the childhood home of Tenzing Norgay who was one of the first confirmed men to climb Mt Everest (together with Sir Edmund Hillary in 1953).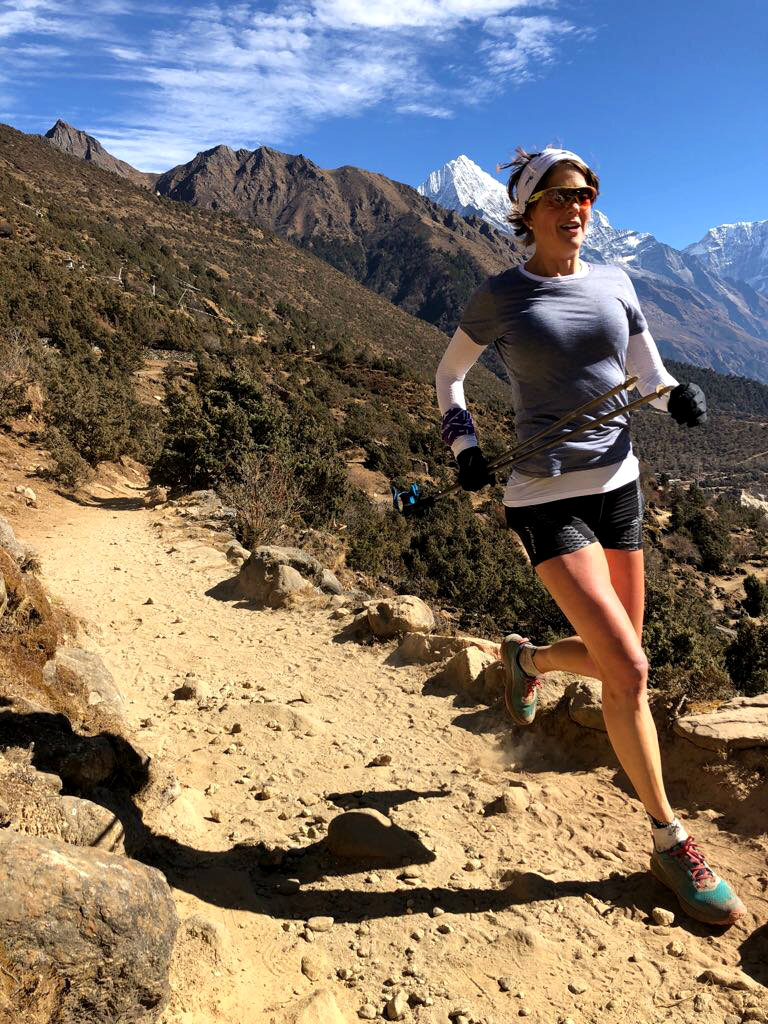 Coming back into Namche we were rewarded with the most incredible view from the plateau we had climbed up to when leaving in the morning. Just passing the helicopter pad there was an opening from which we could overlook the village and see the peak of Ama Dablam rise majestically in the background.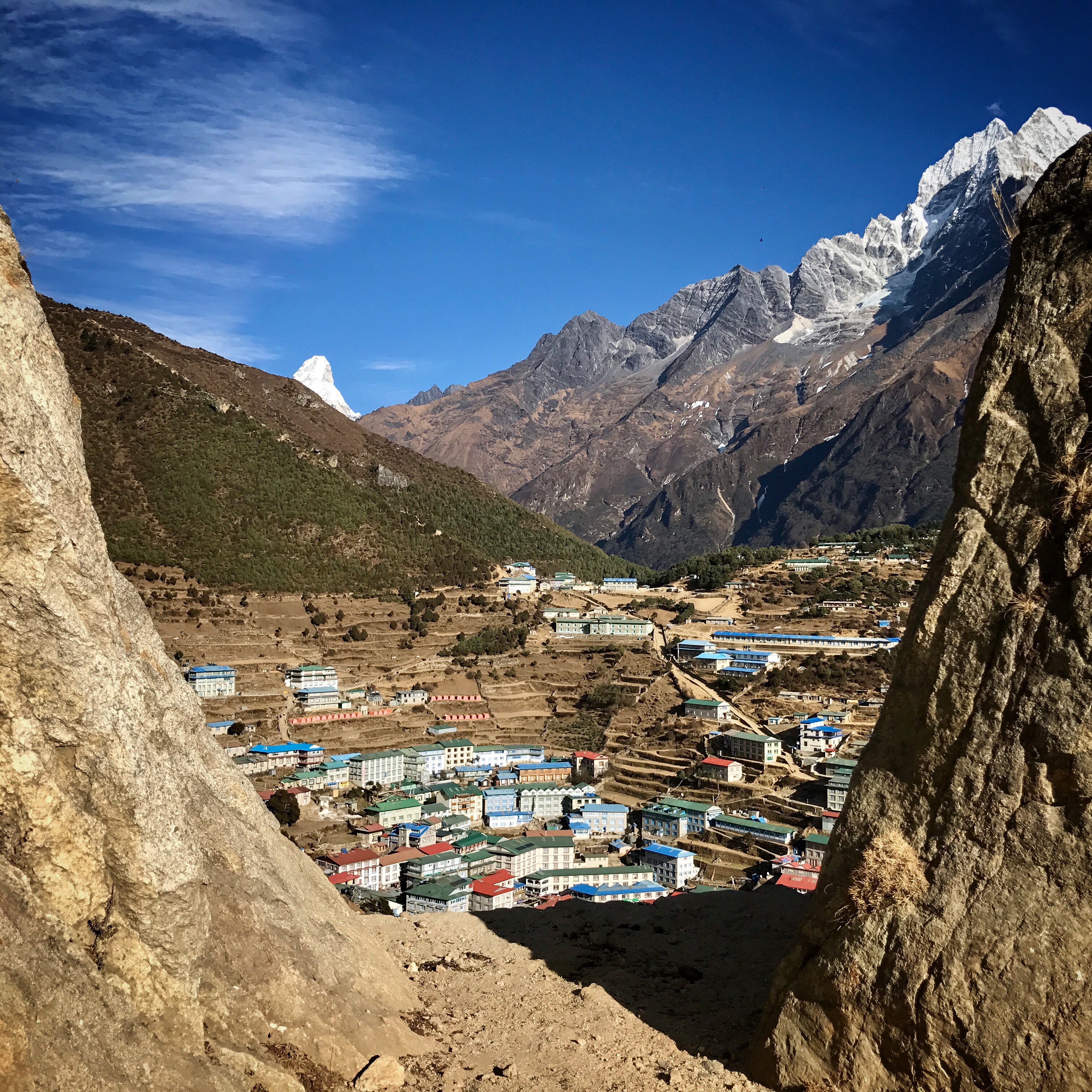 Once back down we visited the Hermann Helmer bakery branch in Namche and it didn't disappoint with delicious cheese cake and proper coffee. You can't help but wonder what poor porter has had to carry the coffee machine up the mountain but it certainly is a welcome treat for a coffee lover to be able to have a genuine espresso!
The hotel had a warm dining room (relatively speaking: a heater in the middle which meant you didn't need to risk frost bite if you didn't wear gloves…) so we decided to have dinner there and the food was good.
Day 3 – Namche to Dingboche
We didn't really have a plan for Day 3. We felt good after our acclimatisation day with no issues at all related to altitude but we were worried about becoming overly confident and ascending too quickly. We thought that maybe it would be good to stop in Pangboche (3,985m elevation). This would mean a distance of approximately 15km, passing Tengboche with its beautiful monastery and backdrop views of Ama Dablam, Lohtse and Everest, and sleeping at just under 4,000m. On leaving Namche the route goes along a wall and the scenery is just something else. The trail is also pretty smooth and runnable with just a few rocky exceptions.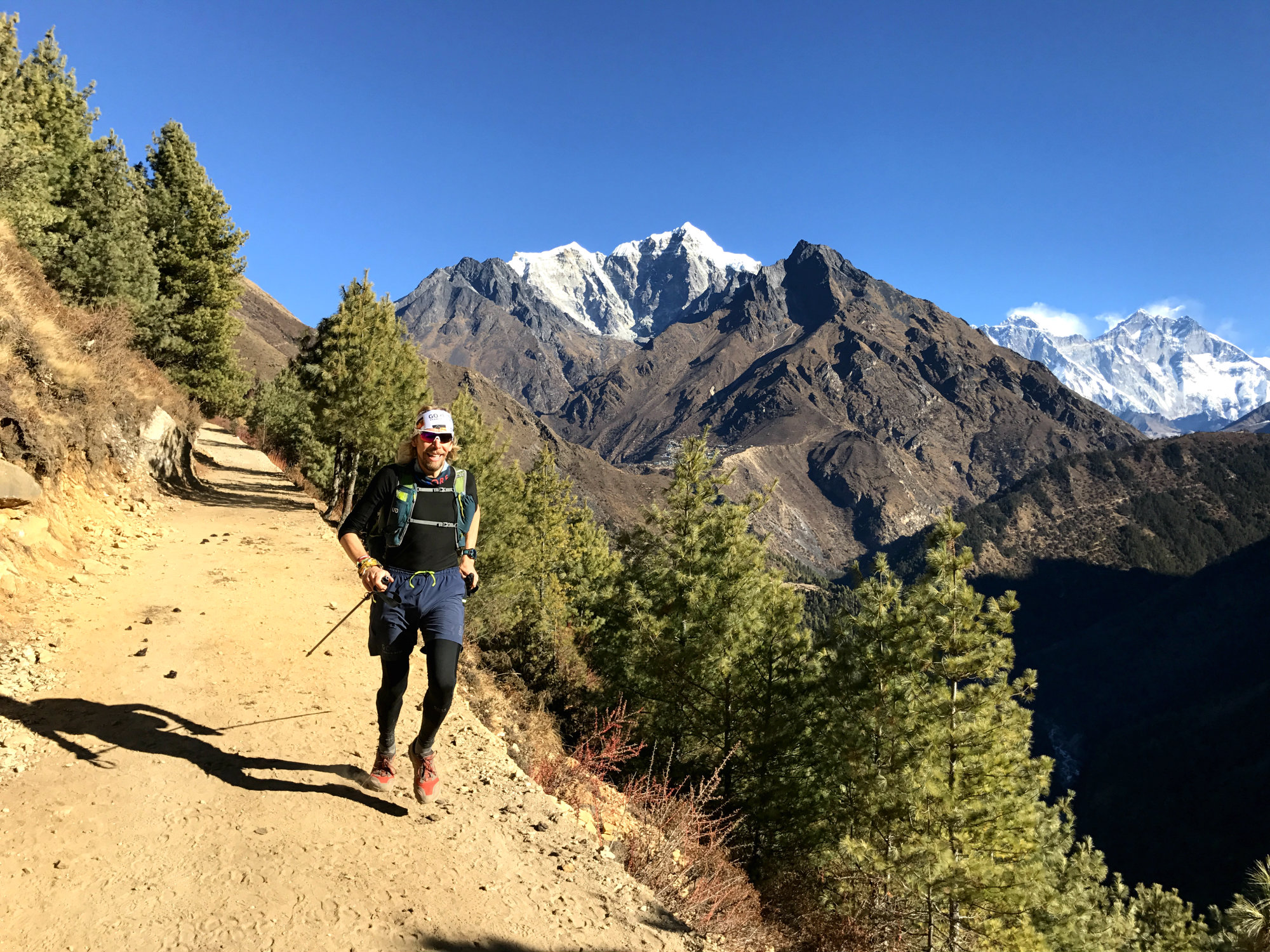 We got to Tengboche fairly quickly and stopped for a coffee. Much to our disappointment the bakery was closed due to it being off-season, but we were able to have a Chapati at the lodge. We chatted to some trekkers and their guide, who were impressed with our speed. The guide suggested that stopping in Pangboche was the most sensible thing. Once we got moving again I realised I had become quite cold. The descent down from Tengboche towards Deboche was in the shade and there was a notable drop in temperature from the sun soaked ascent we had just been on. I had to keep moving to stay warm and soon enough, as we ascended again out from Deboche, I started to warm up again.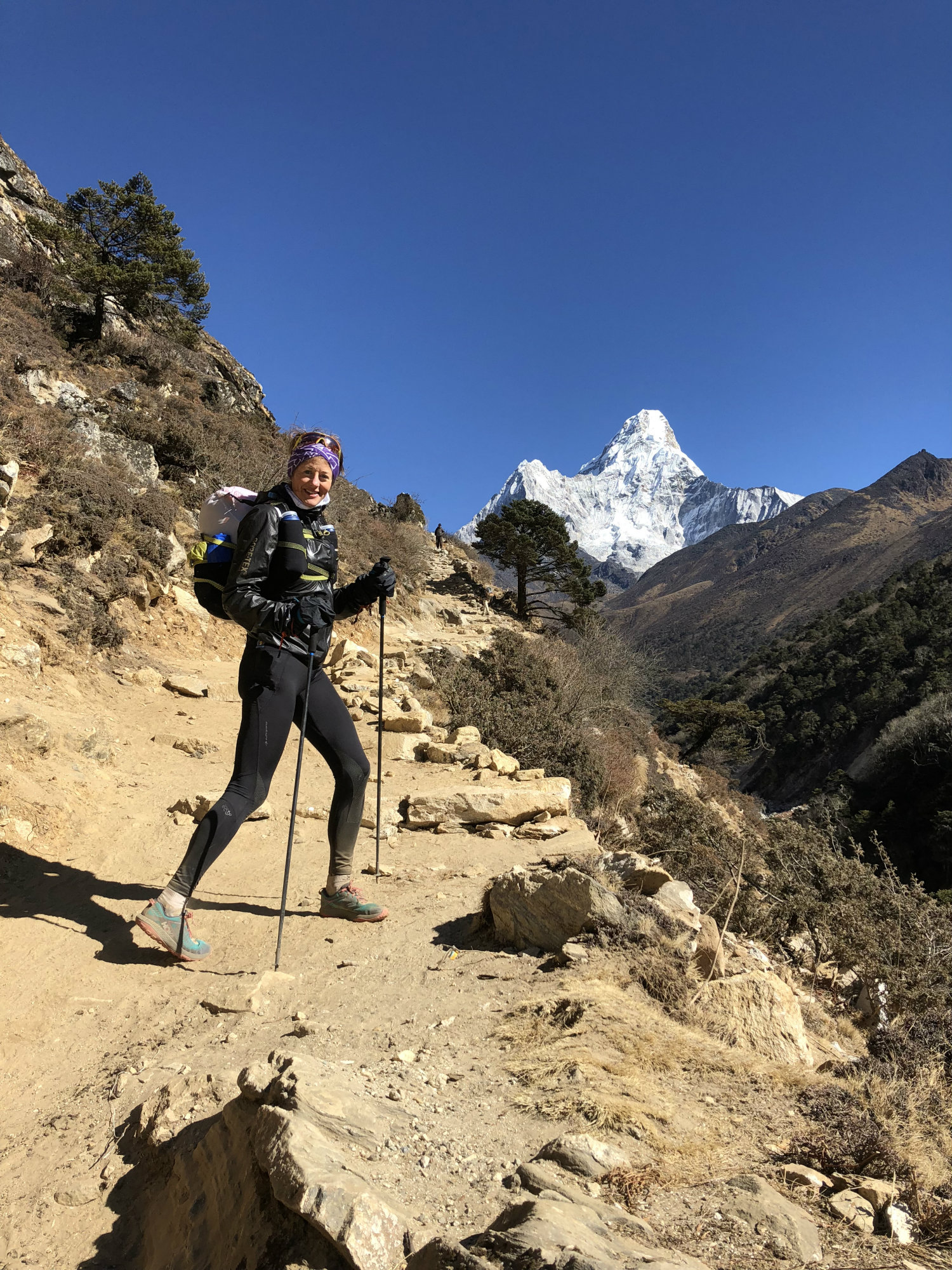 We reached Pangboche and it didn't really feel like we had done enough to stop for the day. We decided to continue up the trail for another 2-3km and then turn back again. The trail was very beautiful along a deep ravine, and we soon came to the settlement of Somare. We were now at just over 4,000m and we felt good. Turning back was not very tempting. Staying in Somare was not an option as everywhere seemed closed, so we decided to take the risk and go on to Dingboche on the condition that if anyone of us started to feel ill we would turn around immediately. We didn't and we reached Dingboche at 4,410m. We had now ascended almost 1,000m in a day and had to rely on our pre-existent acclimatisation to work.
There were plenty of lodges in Dingboche. We had no particular recommendation so we just picked Hotel Countryside. It turned out that we were the only guests. Our host was very welcoming and did what he could to treat us well. There was no hot shower available due to the cold (frozen pipes) but we got a bucket of warm water to wash off. The room was on the south side of the building so relatively warm in the late afternoon. The toilets were in the corridor but the whole place was very clean. We ordered some tea and food and some dinner for later. The dining room was very cold and required most clothes we had: base layers, down jacket, hat, gloves, primaloft pants… The wood burning stove was lit later with a fire so we could warm up a bit. ( I say wood burning stove but it's Yak poo that's the fuel!)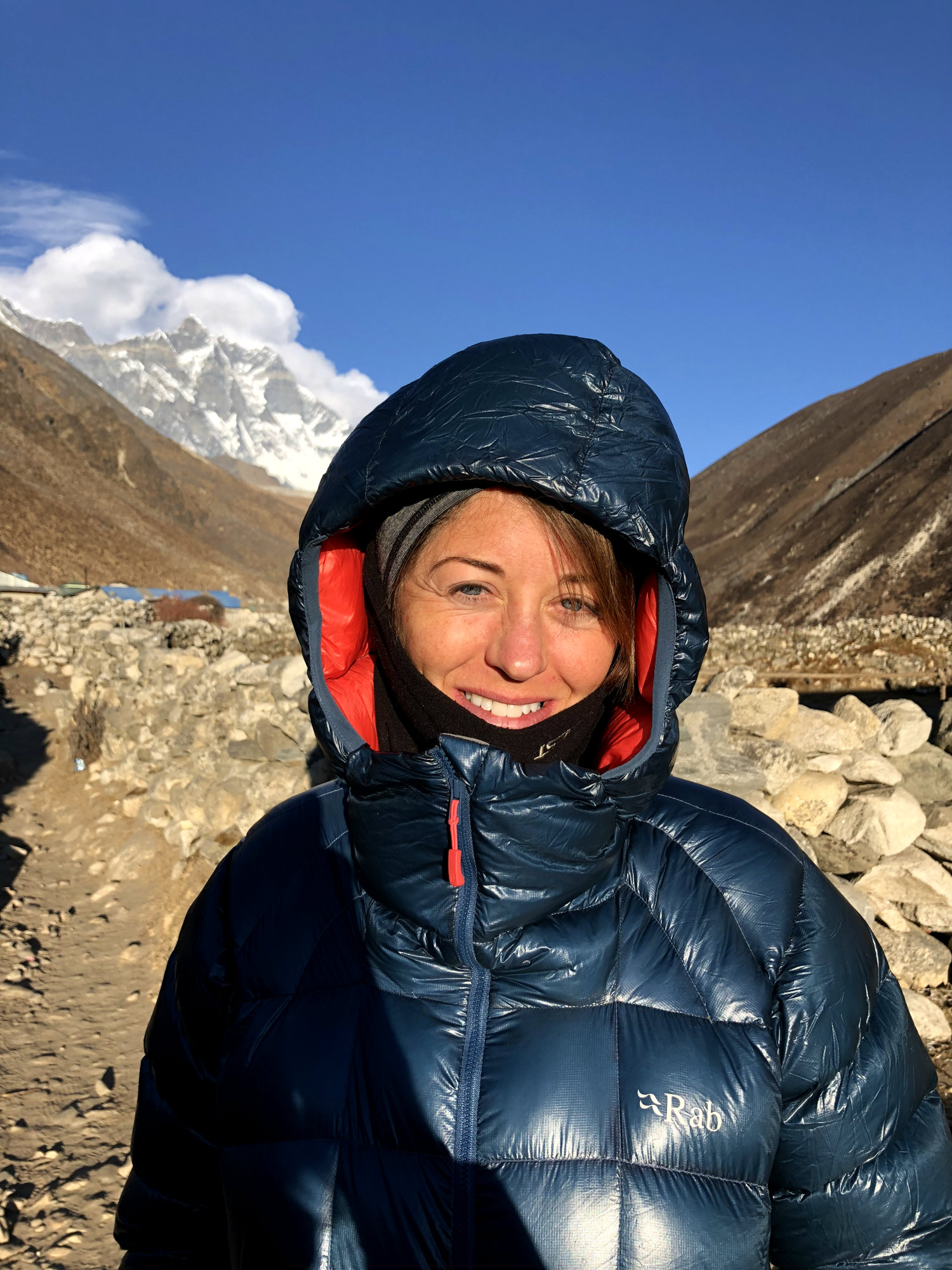 This was now actually New Year's Eve, and here we were, as far away from fireworks as you can possibly get! It was almost a full moon and before going to bed we went outside to look at a moonlit Ama Dablam and the stars against a clear black sky with no light pollution. It was beautiful and very peaceful.
Day 4 – Dingboche to Lobuche
We woke up to about -6 degrees C, maybe colder. It was cloudy and without the warming sun it was clear that we would need some more clothes today. From an altitude perspective we felt ok but we knew we could not take any chances today. We decided to not go any higher than Lobuche, which would be approximately 10km. Not very long but with all distance above 4,400m and wanting to progress upwards slowly, this was just about right for today. The landscape was quite different here. We had now ascended above the tree line and it was barren with a lot of rock and sand. Majestic mountains were towering around us wherever we looked. It almost felt like being on a movie set.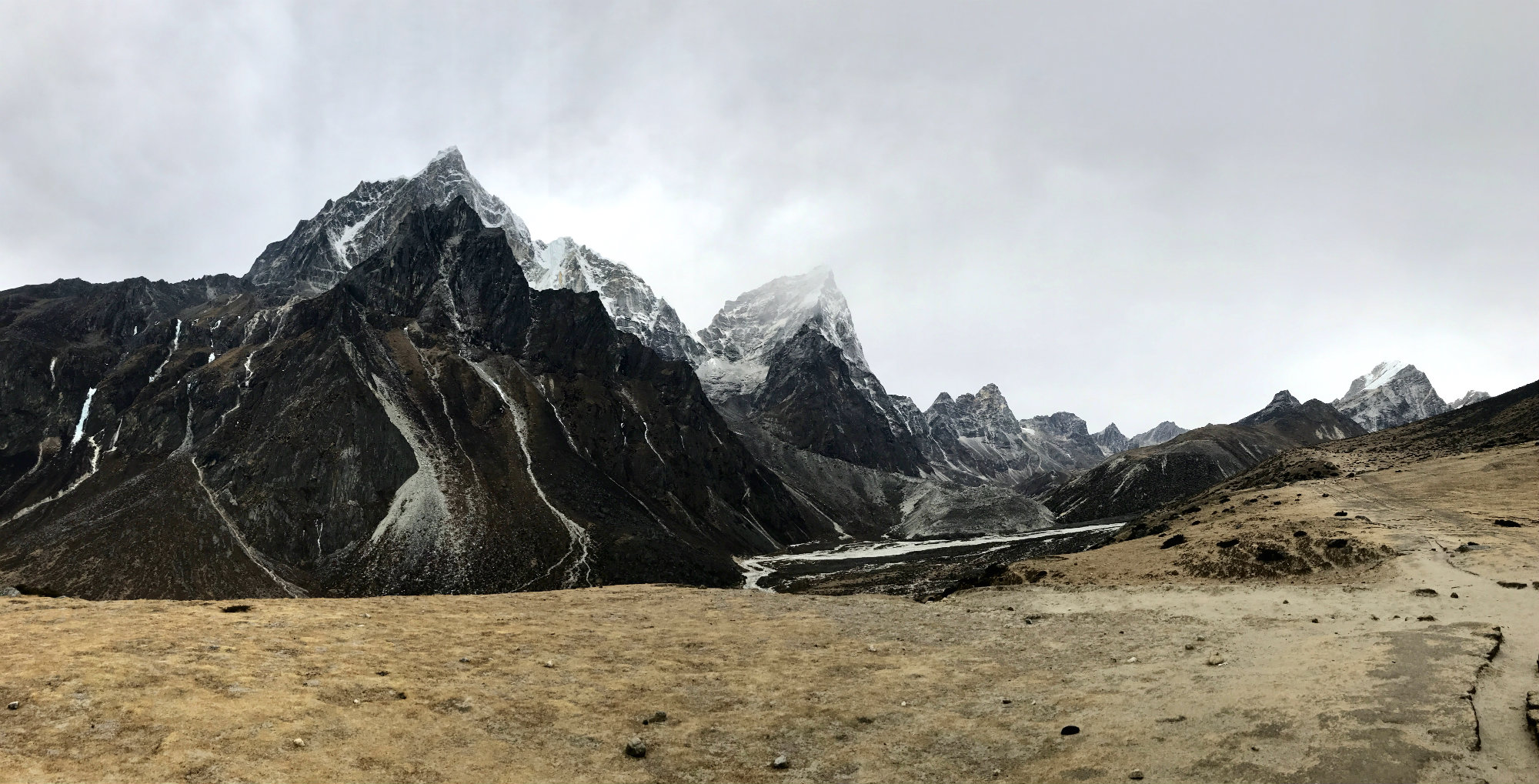 We kept moving and it got colder. About half way, just after crossing a river, we arrived at the small settlement of Dughla (Thukla), set at 4,620m elevation. We went into the lodge and they had the stove fired up inside. We could have a coffee and warm up, joining a lot of other cold hikers inside. I didn't realise how cold my hands had been until they started to warm up. It really hurt. I changed my glove and mitt combination and put on an extra base layer before we hot the trails again for the final stretch to Lobuche, situated at 4,940m.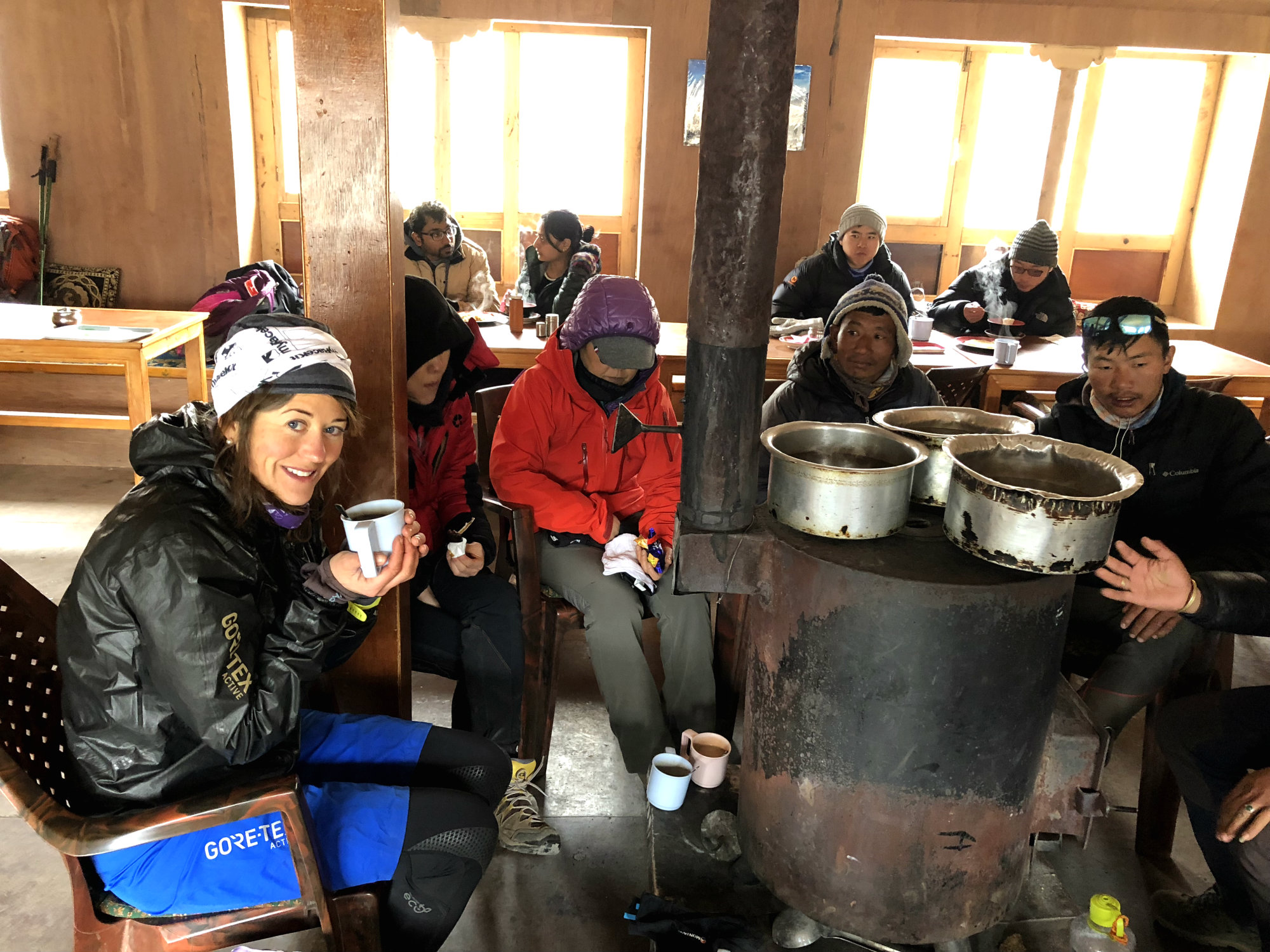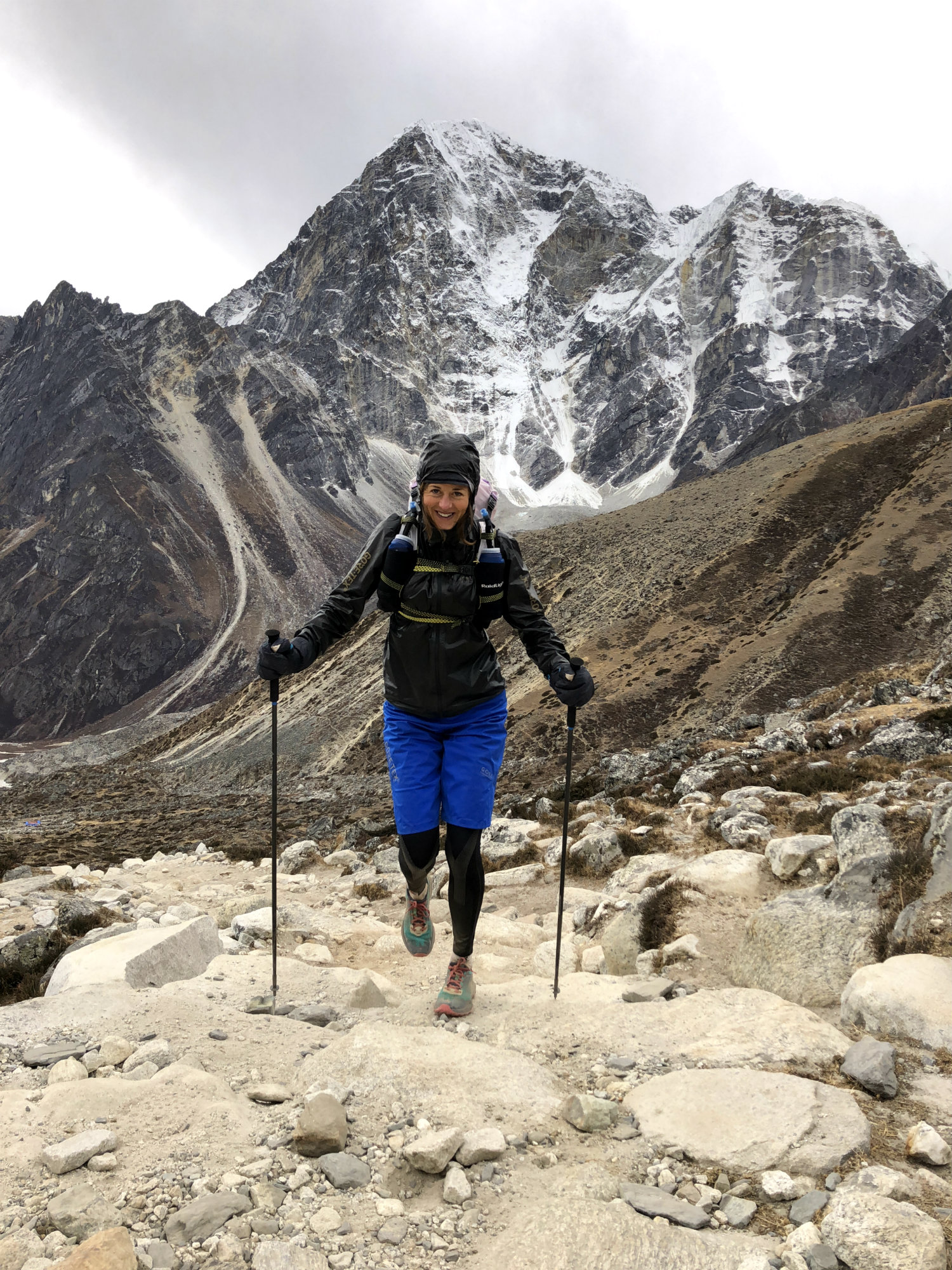 We had had a tip from an Australian girl that we met in Namche, to seek out the Pyramid Research Centre in Lobuche. They were supposed to have a lodge which was a bit better than the ones in the main settlement. After a bit of asking around we found the way. It was a bit off the beaten track but some other trekkers were inside. We got a room next to an American couple. The girl was ill and they had been there for two days. They were convinced it had nothing to do with altitude but in any case resting up at 5,050m really did not seem such a good idea. The following day they decided to abandon their plans of reaching base camp and were evacuated in helicopter to go back to Kathmandu. I hope they make it back another time.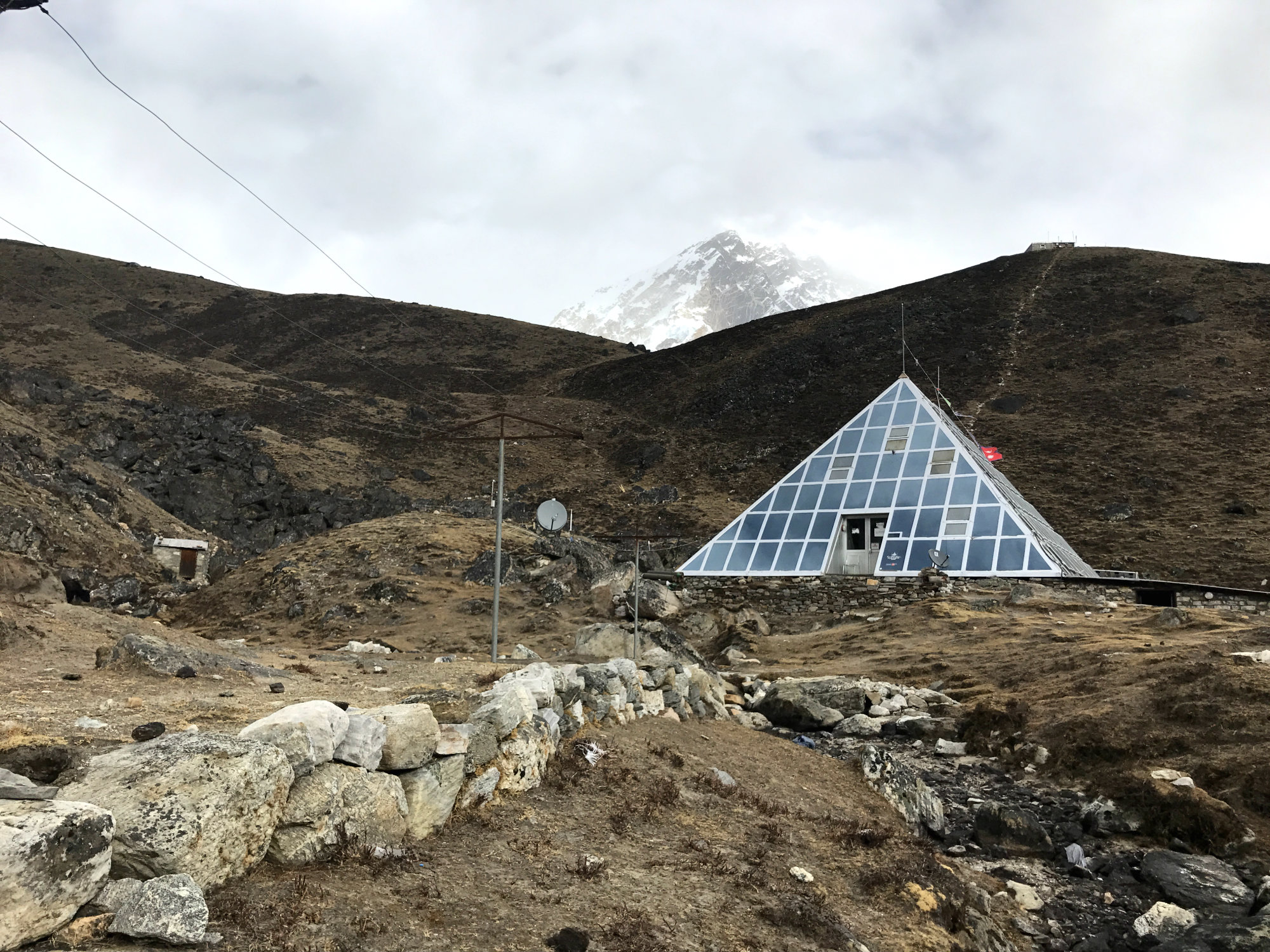 The food was good at the lodge and we ate plenty before going to bed in a very cold room. Despite the below zero C temperatures inside the lodges at night we were never cold. We did have very good sleeping bags and I think that is very important. You do get duvets and blankets, but without heating you do need a good sleeping bag or it can be a very miserable few days…
Day 5 – Lobuche to Everest Base Camp to Dingboche
We had again not set any firm plans but decided to see how we felt in the morning. One sign of altitude sickness is insomnia. I had possibly had my best night's sleep yet, getting about nine solid hours in at 5050m. Still, I did wake up with a slight headache and feeling a bit grumpy. I had no idea whether to attribute it to the altitude or not but decided to wait until I had had morning coffee. Sondre hadn't slept much due to some stuff which had been playing on his mind but whether the altitude played any part in that was hard to say. In hindsight it probably did.
We had breakfast. I had the by now usual boiled eggs and thick pancakes with honey, which had kept me going since the start. Once I had downed some coffee (spiced with my own brought Nescafé espresso powder as per normal routine), I felt great and the headache was gone. Sondre felt ok bar a slight headache and we thought we could get to Everest Base Camp today. It was approximately 8km there, and another 300 metres of elevation. We calculated how much time we had available to get down to Lukla again. We had booked our return flight for the 5th, and it was the 2nd. We could stay another day to acclimatise, if we used the morning of the 5th for the final stretch to Lukla, but we didn't really fancy hanging around in this bitterly cold, barren place for longer than necessary. Nor did we see any point going up 4km to Gorak Shep and stay there. So, we decided that today was the day we would have a go at base camp. However, we also decided that if anyone one of us started to feel ill, we would abandon immediately and descend. We also decided, provided we would make it, that as soon as we had been to base camp we would make a swift descent for as far as we could go that day, in order to minimise any potential issues due to the altitude. Along the way up we had heard stories about people being airlifted out left, right and centre and we didn't want that to be us. In Namche, Diamox was sold just like sweets in the shops. We had bought some just in case but it is on WADA's list of prohibited substances (diuretic and masking agent) and we really didn't feel like taking any unless it was an absolute emergency. Sondre, although having a slight headache, refused to take any paracetamol as he wanted to be in tune with how he really felt and not mask any symptoms should they worsen. This was probably wise.
It was going to be cold today, there was no doubt. I put on my Polartec ¾ long johns (3/4 only because I had cut them off to save weight for the Everest Trail Race!), my long running tights, and a pair of GoreTex long over shorts. On my upper body I wore double base layers, a Polartec fleece, a GoreTex jacket and my down jacket. My down jacket was my warm layer for everything and I couldn't afford for it to get wet from any potential sweat. Hence I wore the GoreTex jacket underneath and this worked well. Hat came on as did merino liner gloves and Primaloft mitts. I knew from the day before, being someone who gets cold hands really easily, that the mitt combo would not be warm enough. With Sondre needing my GoreTex shell mitts, I came up with the idea of just sticking my hands in my down booties. With 900+ fill power and a wind proof lining they were perfect. It meant I couldn't use my poles but that didn't really matter as the ascent was not significant. Keeping the hands warm was the priority or I wouldn't make it there and back.
Yesterday had been cloudy and dull but today we had clear skies and beautiful sunshine. We embarked on the ascent to base camp, mindful to take it easy due to now being above 5,000m.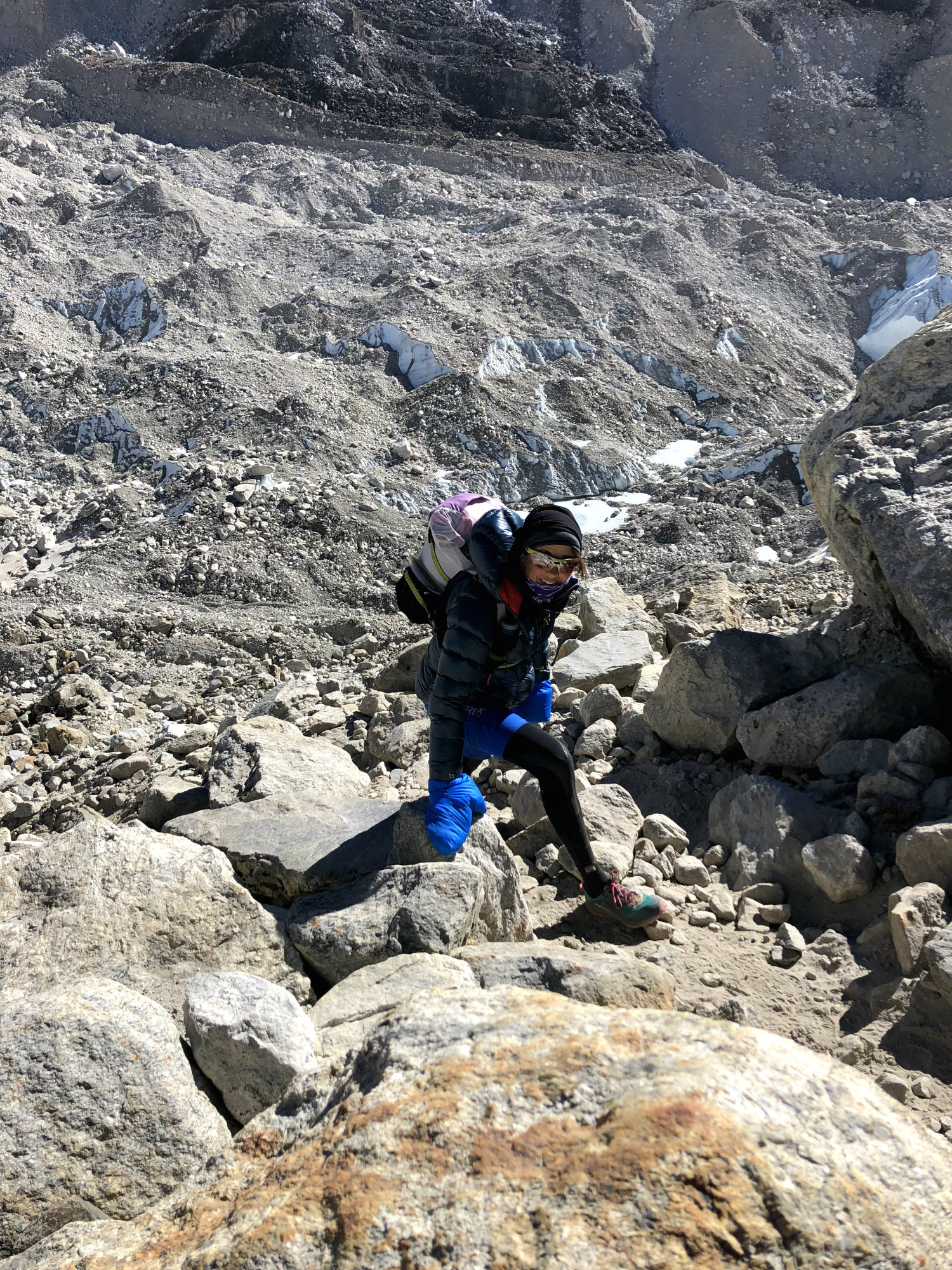 We reached the settlement of Gorak Shep. A helicopter was waiting on the platform to take a group of trekkers down. We could see the Khumbu glacier in the distance and knew that was the direction to head in. The path went from behind and left of the little scattering of buildings, and passing over a dried lake it was very sandy at first, before turning gradually rockier. Here you have a choice of going to Base Camp or to go to Kala Patthar view point. Some do both. We didn't have time nor energy to do this in one day and decided that basecamp was the priority.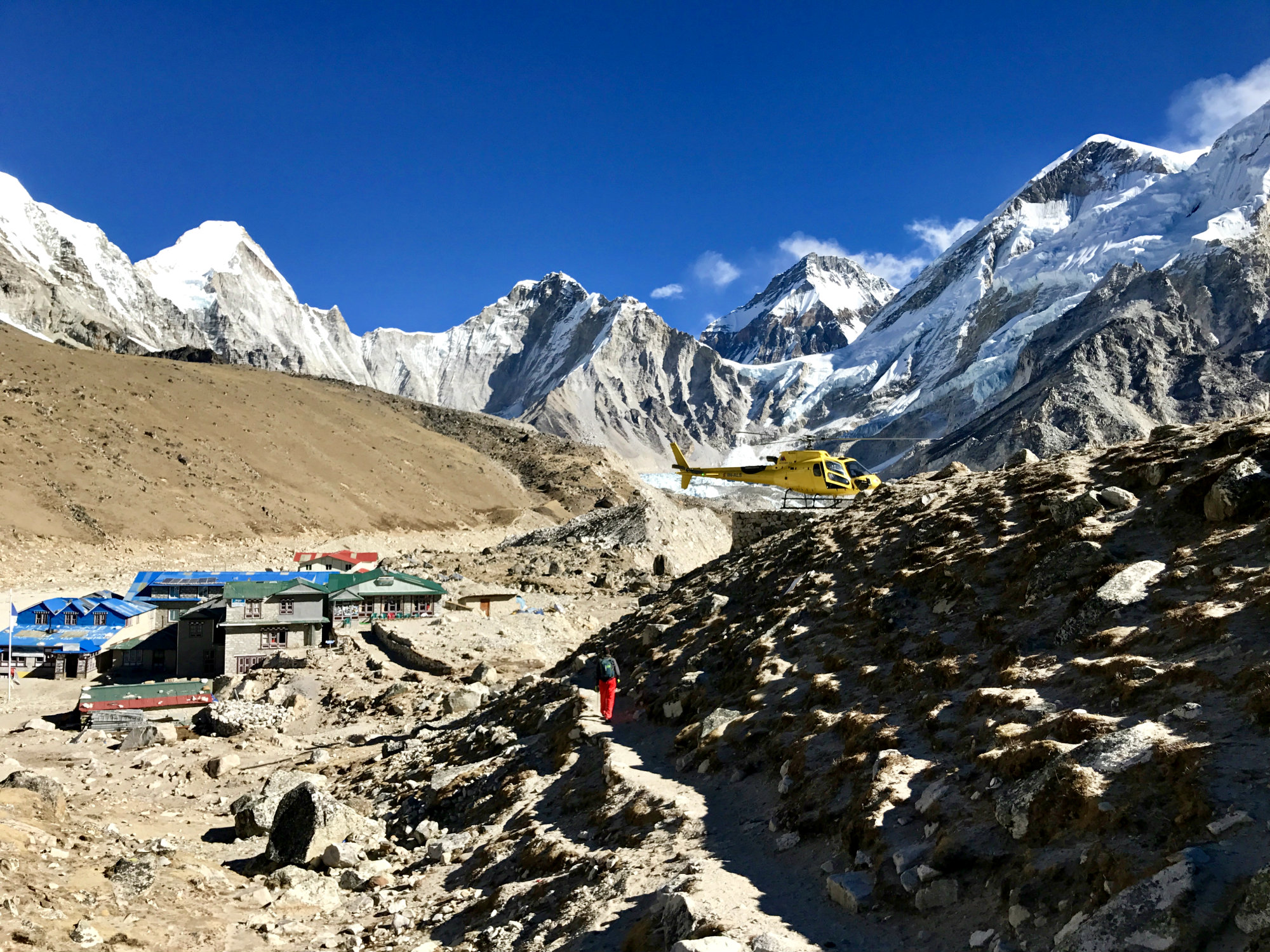 It got colder and colder and the wind chill was now significant. We finally reached a huge pile of rocks which said "base camp", some inscriptions, bunting and other signs. Presumably this is where most trekkers stop. (You are not supposed to wander into base camp for obvious reasons. Someone who had paid tens of thousands of dollars to climb Everest don't want to risk catching all sorts of bugs from nosy trekkers). However, as this was the off-season with no acclimatising climbers around we could continue a bit further. We could see some orange tents in the far distance. Although this was not the season for Everest summit attempts, there was apparently a winter expedition happening. A guide said that what we could spot in the distance was their base camp. We did not envy them.
We took some photos but before long my phone died from the cold. I had taken the mitts off one hand and Sondre reminded me to put them back on before I got frost bite. It really was very cold out here. We felt tiny surrounded by the giant mountains. Even though we were at roughly 5,300m, there were so many high peaks to look up on and it made you feel insignificant. In Colorado, I had been able to climb Mt Elbert, standing at 4,400m, and feeling like I was on top of the world, looking down at a sea of peaks. Here in the other hand, there was nothing except the cold and the barren landscape that gave you a hint that you were at a high elevation. There wasn't anything to look down on, you could still only look up!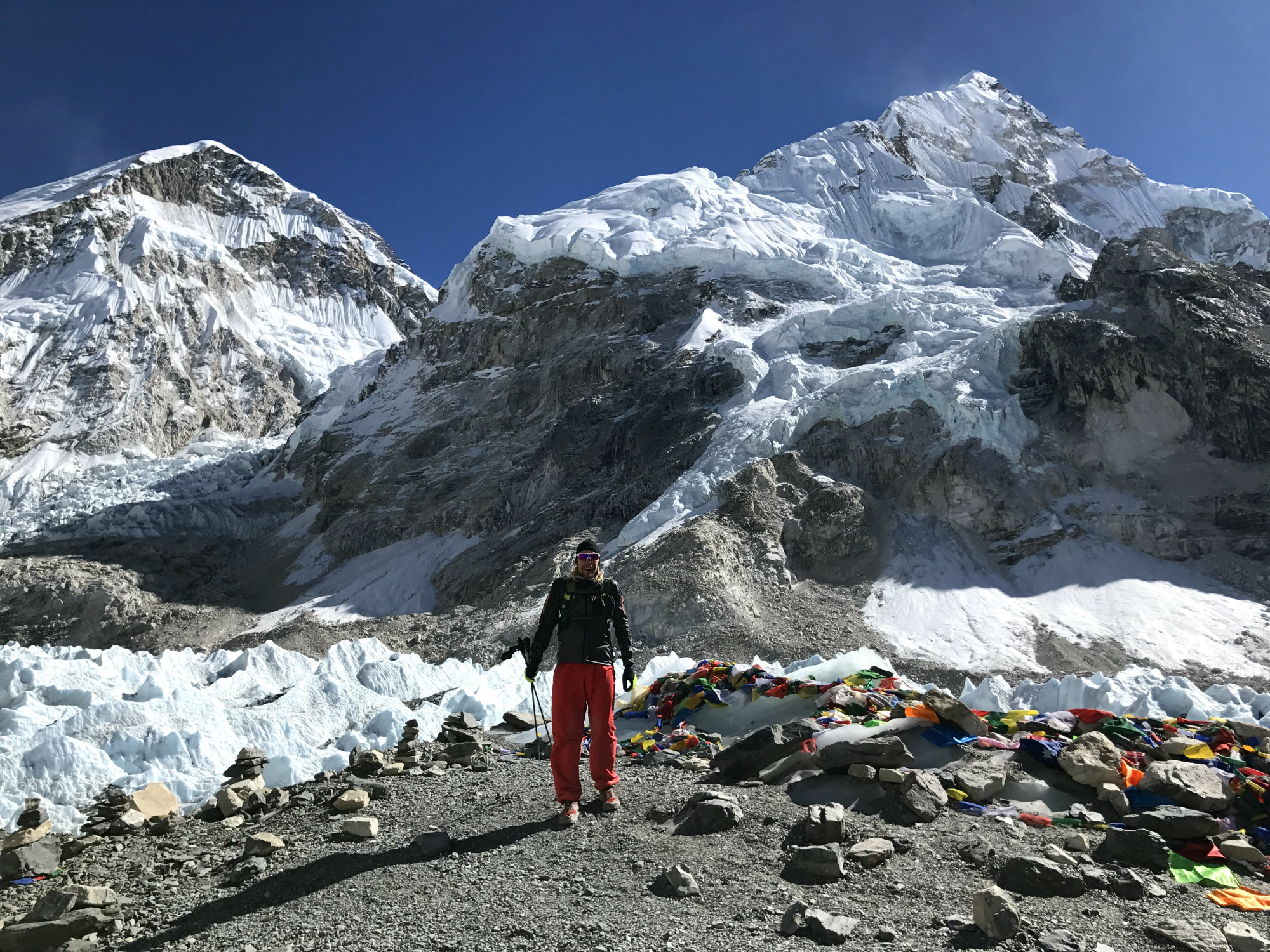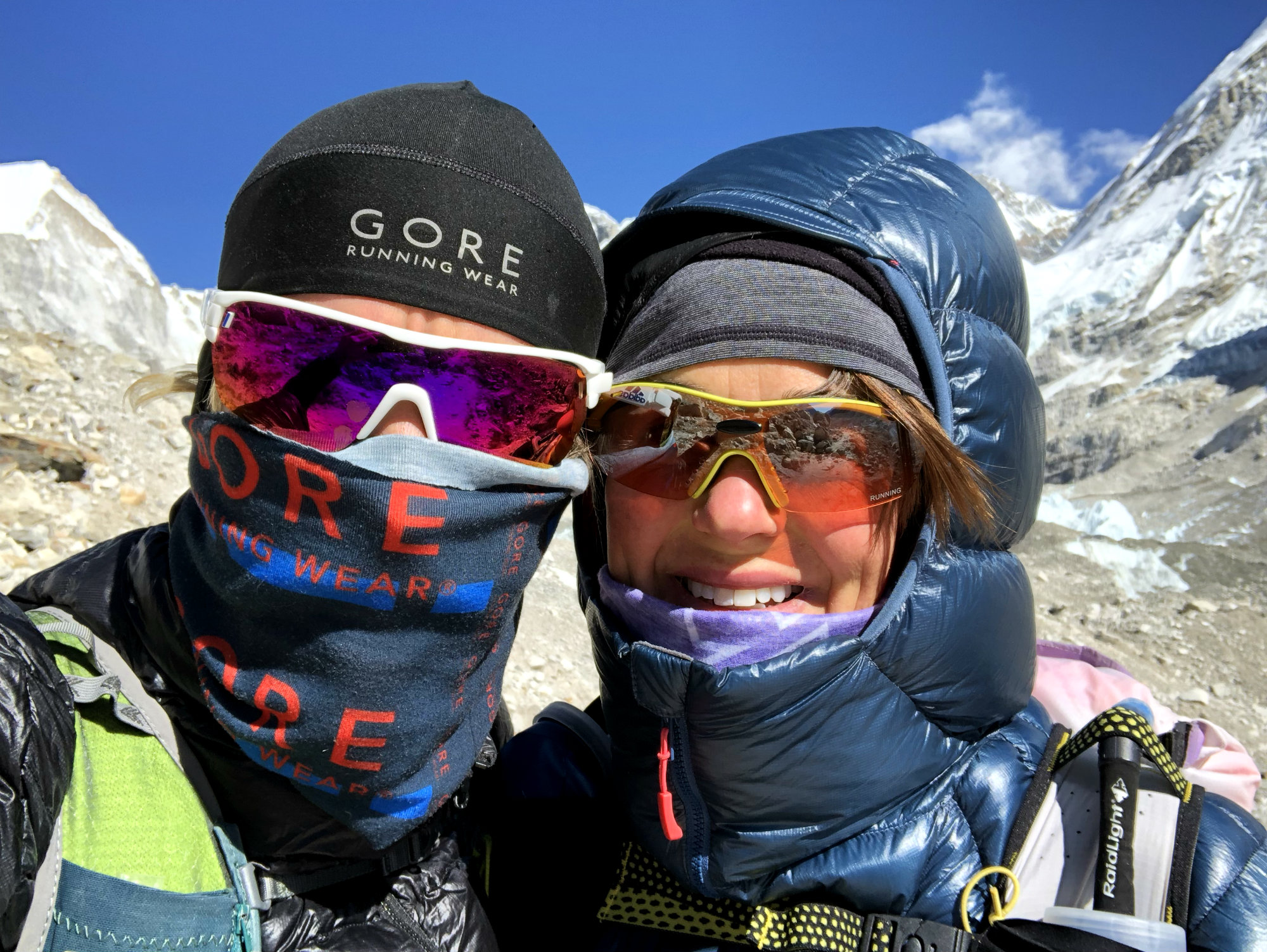 [wpvideo 3oZYh1BF]
Sondre was now concerned about his headache and we didn't want to hang around in the cold for longer than necessary so we made our way back. Before coming back to Gorak Shep we met a guy who had also stayed in the lodge in Lobuche. He was turning back because of the cold. I could tell his knitted wool gloves and leather jacket wasn't enough to protect him from the cold. Others were suffering too.
We took a pit stop in Gorak Shep but we made it quick as we knew we had to get back down now. We set our goal on Dingboche, another 15km or so from where we were but that would take us down to 4,410m and Sondre thought that it would be enough for him to not be further affected by the altitude.
The problem with the route to and from EBC is that you have to cover a fair amount of ground in order to gain or lose any altitude to speak of. The trail is not very steep except in just a couple of places. Therefore, if you get altitude sickness, unless you can move fast, you are not going to get down quickly. I assume that's perhaps why it seems quite common for people to get airlifted off the higher elevations.
We made it back down to Dingboche for late afternoon. We checked out another lodge that someone had recommended but were not impressed and decided to go back to the same place we had stayed on the way up. We were greeted with big welcoming smiles, and also enjoyed the company of a group of four Australians. I think they were slightly shocked by the cold but took it in their stride with a good sense of humour as Australians do. They were on their way up and we were thankful that we were now heading down to warmer grounds.
Day 6 –Dingboche to Namche
The weather forecast for the night had been -27 degrees C and for the next morning -15. We were not cold but we woke up to ice on the inside of the window in our room. Sondre's headache was gone which was a good sign.
The layers of clothing we put on for the next leg back to Namche had to come off fairly quickly once we started. The evening before the snow had started to fall just as we reached the lodge in Dingboche. There was an inch or two on the ground as we started, but it was a clear day and the sun was now warming everything up. The temperatures were pleasant and got warmer the further down we came. We had to navigate ice patches along the way and took it relatively easy.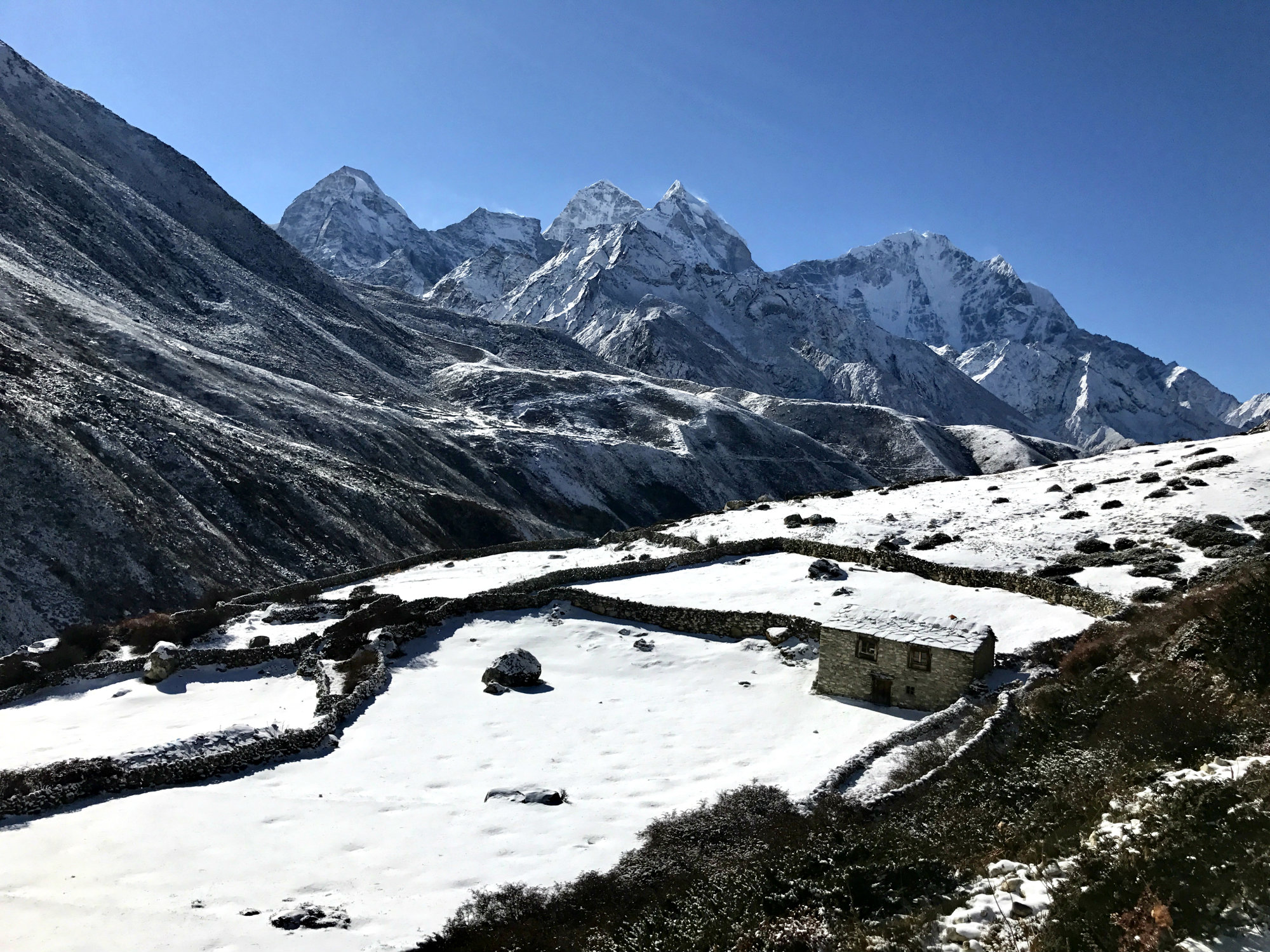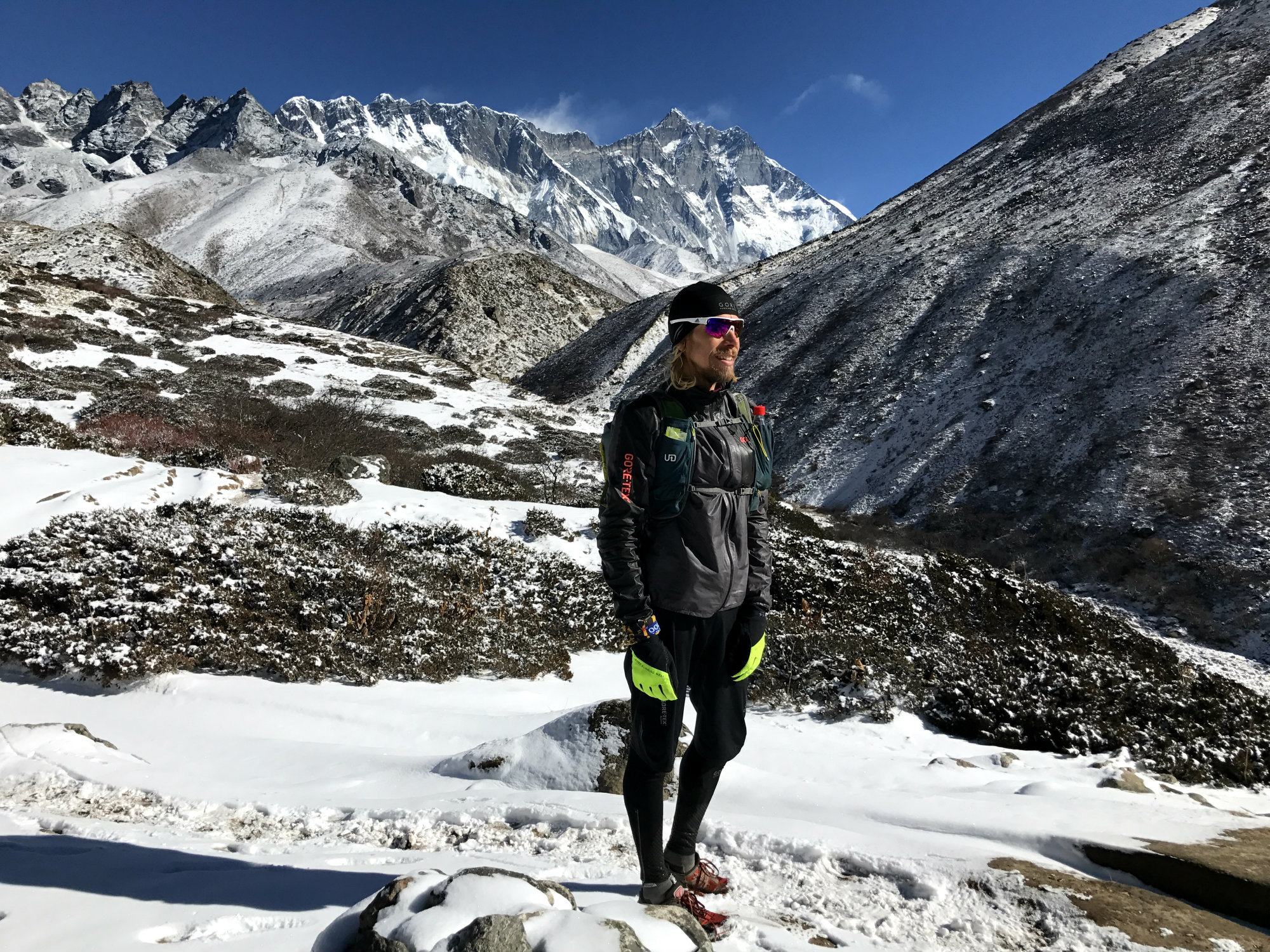 Before travelling to Nepal we had contemplated taking an alternative route back from basecamp via Gokyo and the Cho La pass. However, we realised that a) time would not be sufficient and b) the off-season and cold weather made it potentially risky to stray off the main basecamp trek as it could not be guaranteed that lodges would be open. So we were on the same route back, but as it is quite a different experience descending to ascending this was not a problem and it was quite enjoyable. We bumped into the Irish group we had met at the airport in Lukla. They were ascending to Dingboche as we came down and we got some cheers for our speed.
We had a pit stop in Tengboche again and then tackled the very steep descent to cross the river before ascending out of the valley again for the final stretch to Namche.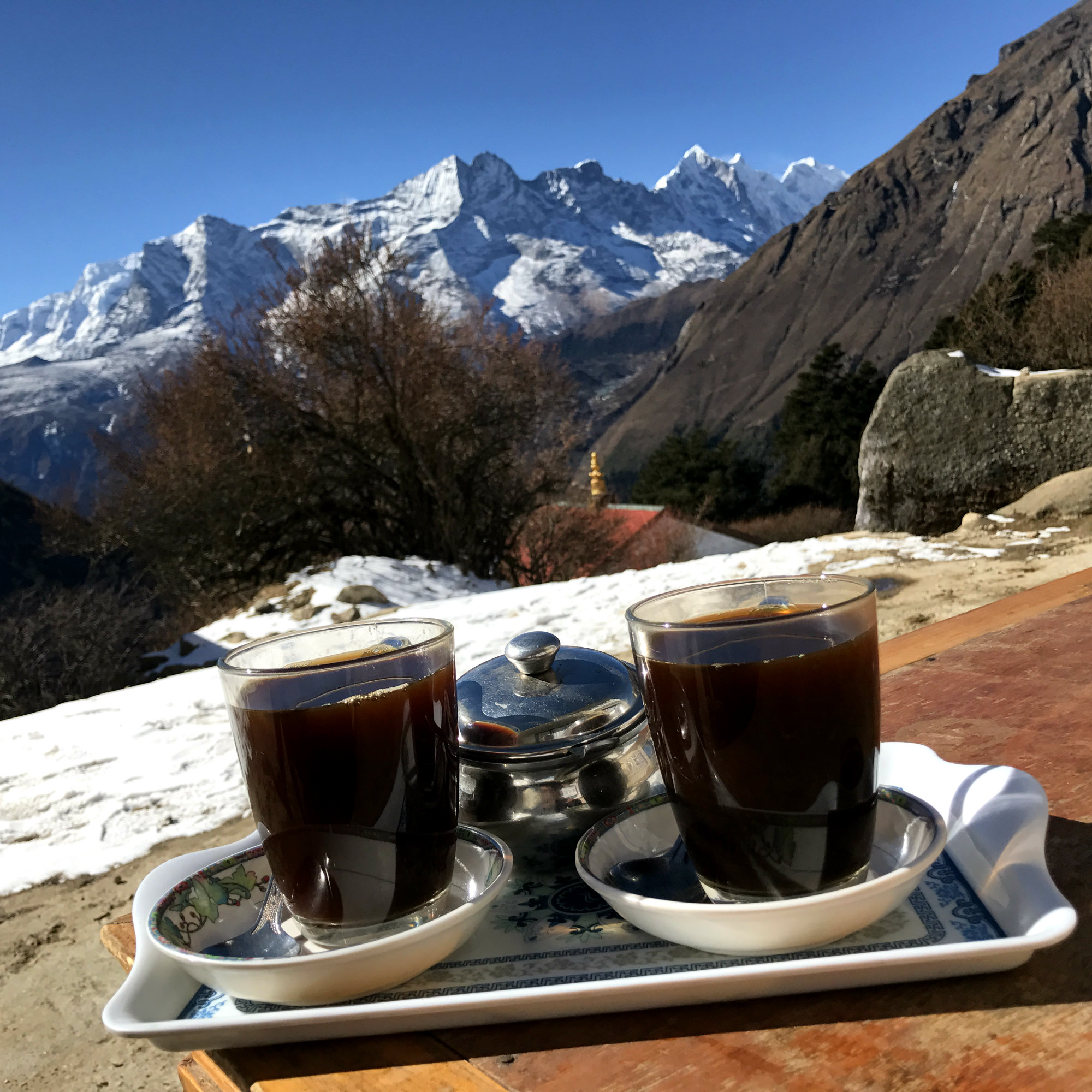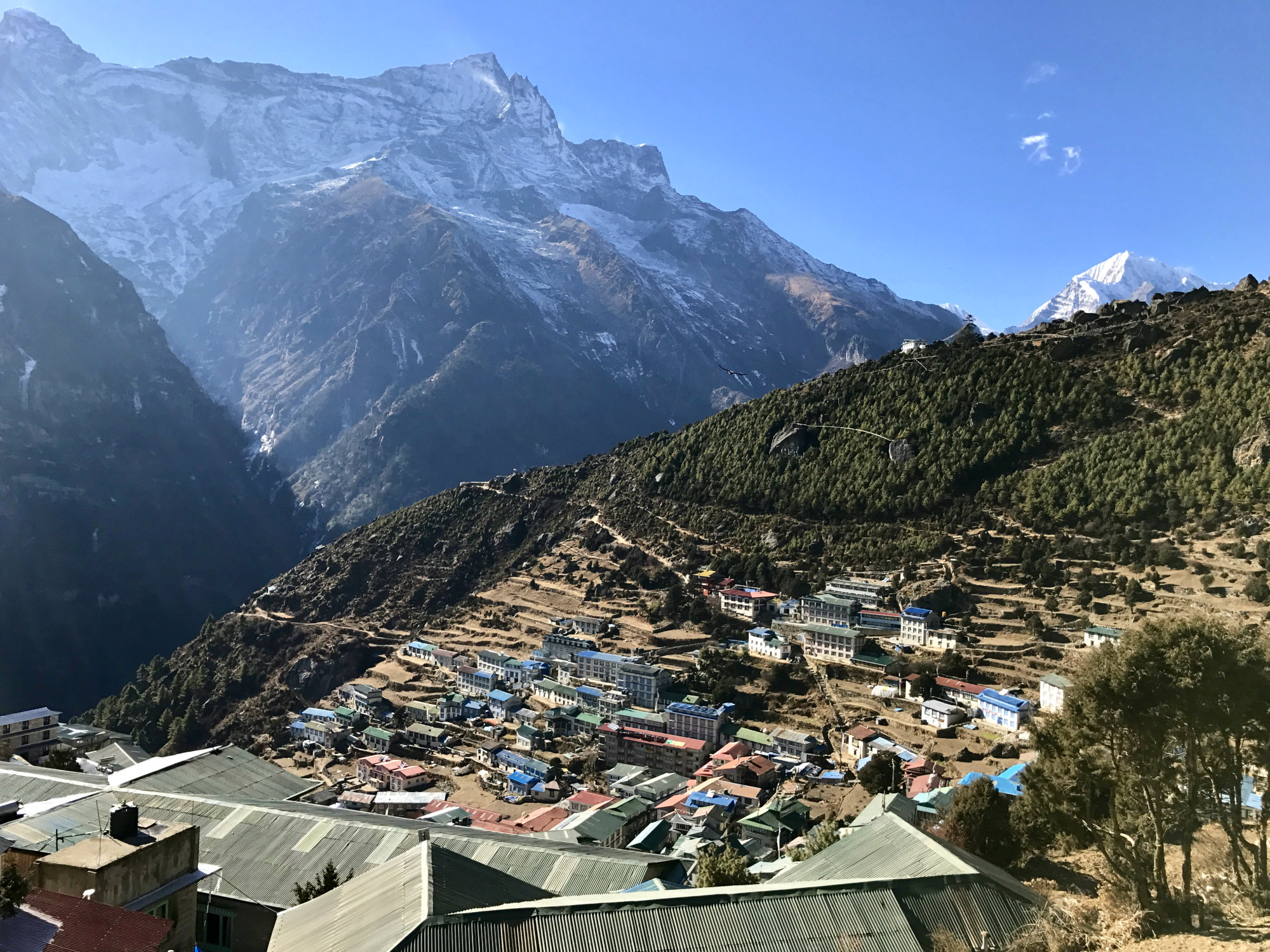 We both felt a bit tired arriving in Namche even though the day had not been that long. We checked into the same hotel and before we enjoyed the hot shower we went to the bakery. I ordered a pizza and an apple cake but Sondre had no appetite. This was unusual and worrying. His headache was completely gone and he was certain this had nothing to do with altitude. He went back to the hotel while I stayed and finished my peppermint tea. It turned out that he had caught a really bad stomach bug. Now our schedule was in jeopardy as he couldn't move from the bed other than for crawling to the bathroom and he was getting severely dehydrated and weaker as the night went on. I had antibiotics with me and after some medical advice we set in treatment. I formulated a number of contingency plans in my head whilst I had dinner on my own, but in the end we just had to wait for the morning to see what it would bring.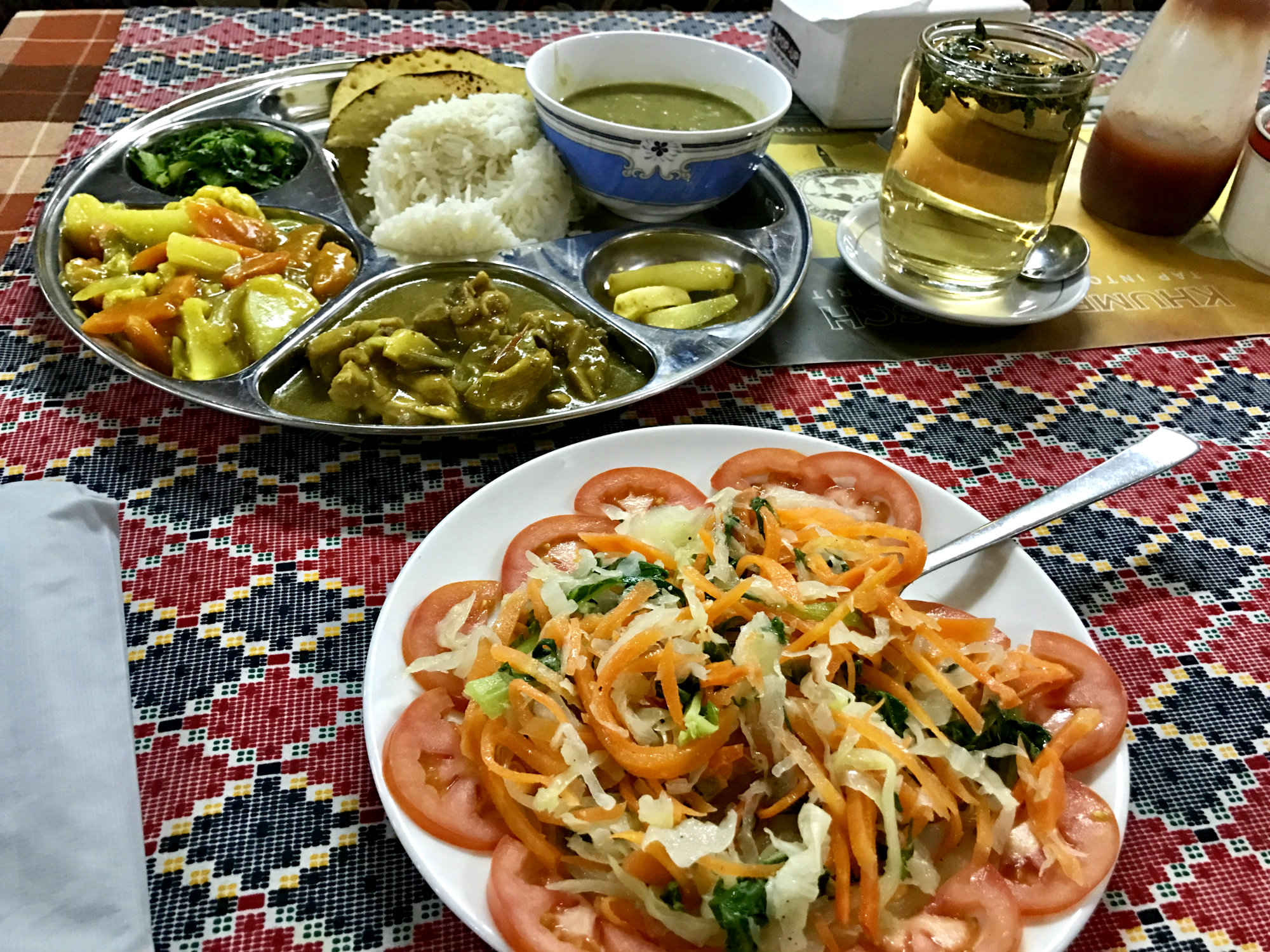 Day 7 – Namche to Lukla
Sondre had been able to start drinking some coke during the night but there was nothing he could eat. He was determined to make it to Lukla as he didn't want to delay the flight to Kathmandu until the next day. As such, we decided to walk the 21-ish kilometres to Lukla that day. It is not easy to move at any speed when you are running on empty, can't eat, have stomach cramps and are ill. Let alone at altitude. So, it was a long day but we moved forward consistently and still covered more distance and at faster speed than any "normal" trekkers would have done. I had cake for the two of us in Phakding at Hermann-Helmers…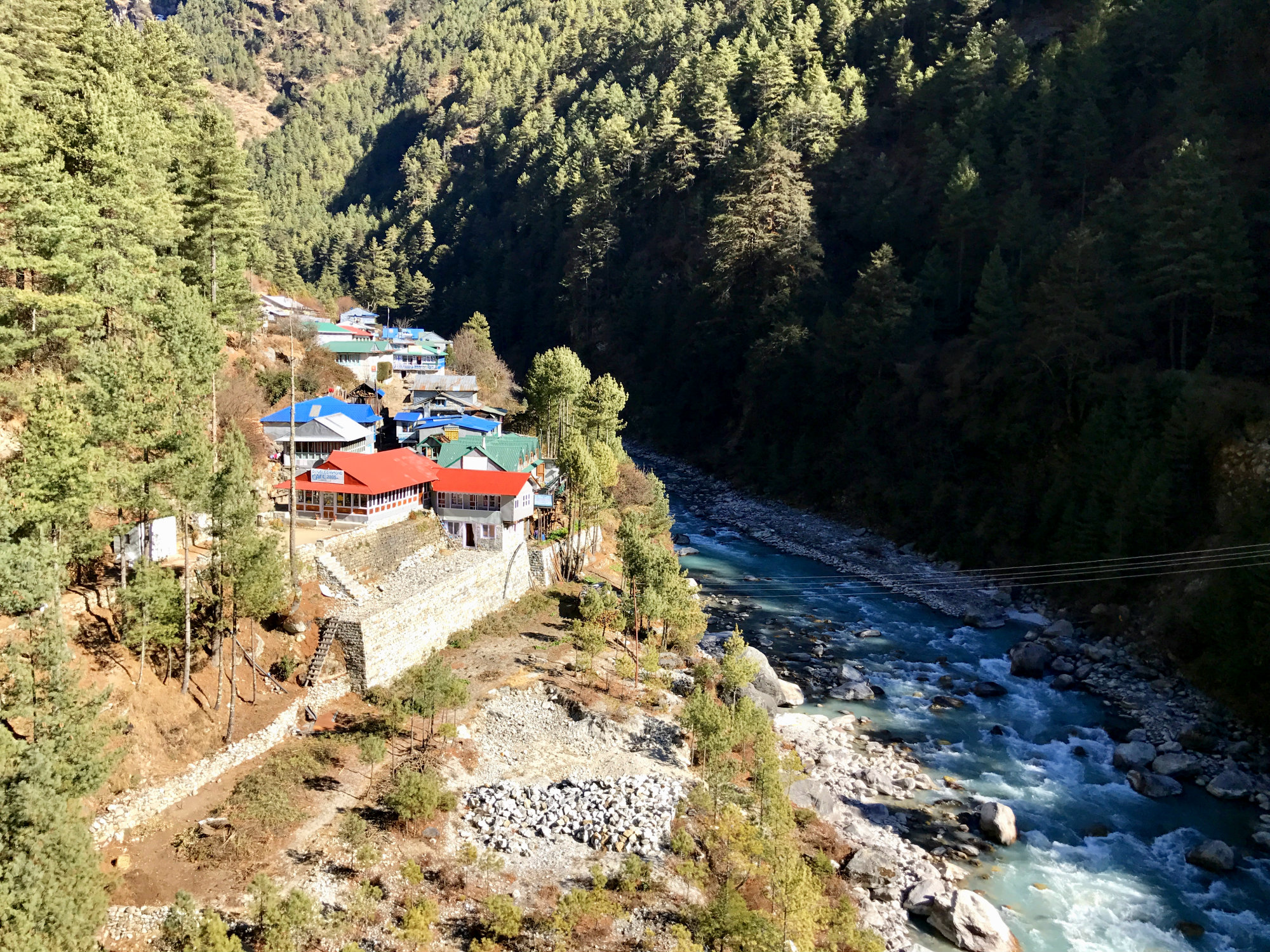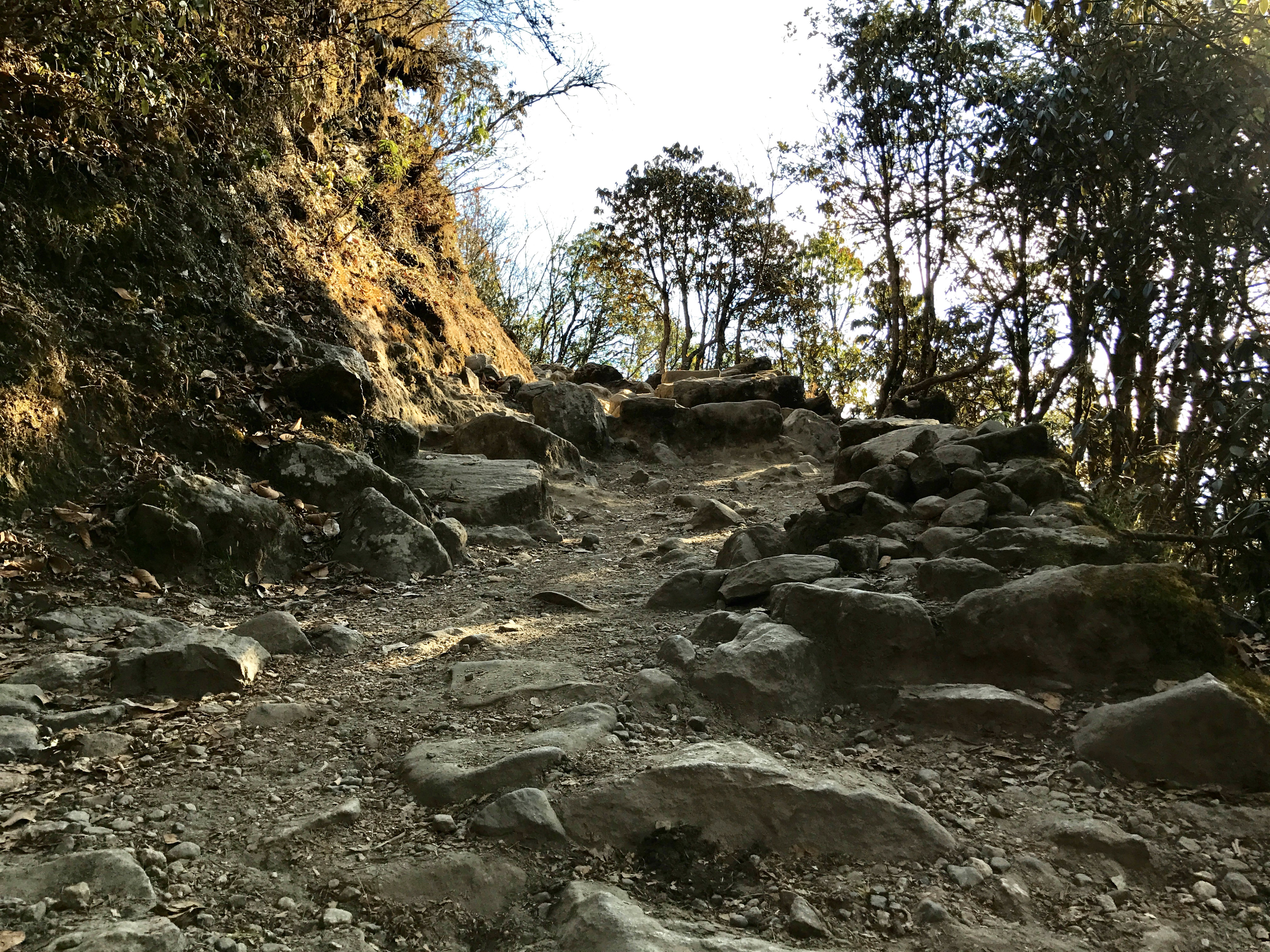 Once back in Lukla we checked into Buddha Lodge after a tip that we would get a hot shower there. We did indeed. We got a corner room with huge windows overlooking the runway, private bathroom and hot shower. Sondre had perked up by now and after showering we went to a café in town to eat.
We were thrilled that we had made it to base camp like we wanted, but we were also happy to be back in Lukla now. Happy that we were in less cold temperatures, that we had not had any serious issues with the altitude despite the ambitious schedule, and happy that Sondre's stomach bug was leaving. We were even looking forward to returning to the smog in Kathmandu!
We flew the next morning and as can be expected the flight was delayed and check-in was a bit of mayhem. We took it all in its stride, it is Nepal and it is Lukla. Things happen when they happen, and it doesn't really matter what time it says on your booking. Go there, check-in when the check-in is open, don't worry if it's not open "on time" and then wait for the flight. In Kathmandu we had booked a room at Shanker Hotel which included airport transfer and this worked really well. We spent a couple of days in Kathmandu before returning home, shopping in Thamel, and enjoying food other than pancakes and dal bhat. We were happy to return to the Garden of Dreams which is a calm oasis in the middle of all the chaos. The service is excellent and the food is great.
Practical Matters and Safety Aspects
Visa
You can get a visa on entry at the airport. Fill in your information in the machines manually (note that the passport scanning function does not work), take the receipt slip, join the queue to pay for your visa (these two steps can be done in reverse order), and then pass through immigration to get the visa in your passport. Alternatively, it is possible to arrange a visa in advance via the embassy.
Budget and Money
There are plenty of cash points in Kathmandu and there is also one in Namche. We had Nepalese Rupees though dollars will also be ok. Rooms are often cheap (NRs 200 – 1000) but you may pay extra for food, drink, Wi-Fi, charging your devices, hot shower etc. Things like mineral water and soft drinks can be relatively expensive (about NRs 300-350 for a Coke for example). We found that it didn't really matter if the room rate was separate from all extras or if it was an all-inclusive rate. You ended up spending roughly NRs 10,000 for 2 people per night with accommodation, dinner, breakfast and extras. At times it was less, at times more. We budgeted about NRs 15,000 per day for two people which is more than enough and includes coffee and cake break and snacks during the day. You can get by on less if you are cost conscious for sure. Here are some example costs:
Coke/Fanta: NRs 350
Apple Pie / Cheese Cake / Cake: NRs 400-500 per piece
Small pot of tea: NRs 400
Cup of coffee: NRs 250
Dinner meal: NRs 500-850 per dish
Pancake: NRs 450 each
Hot Shower: NRs 450 (if not included in room rate)
Wifi: NRs 600 per 200MB (see separate section)
You need to pay a total of NRs 5,390 in permits / park entrance fees per person in Lukla and in Monjo (2,000 and 3,390 respectively).
Wifi / Phone / Connection
You can buy a local Ncell SIM card with pay as you go data in Kathmandu (assuming you have an unlocked phone). This is very cheap for what you get and there are plenty of places to buy at. You will need your passport and a passport photo to buy the SIM, no identification is then required to top up once the SIM is purchased.
Somewhere between Pangboche and Dingboche mobile coverage ends. From there onwards you can buy the "Everest Wi-Fi pass" at the lodges unless there are other Wi-Fi facilities (the 8000Inn at the Pyramid centre had wifi included in the room rate and it was excellent). This costs NRs 600 per 200MB. I used up two of these and in Dingboche only.
Safety
There are people on the trail but you have no mobile coverage beyond Pangboche. We carried a satellite phone in the event something would happen that required emergency alarm. I think it is good practice given that, at least in the latter parts, you are subjected to high altitude and potentially very cold weather.
We did not have a guide nor a porter. This is of course personal choice and if you have more gear with you or would like the reassurance of company / guide then this can be arranged. We didn't feel this was necessary at all.
Helicopter evacuation is a very real possibility here if something goes wrong and it is not cheap. Most travel insurance does not cover helicopter rescue so whilst you might get rescued you could end up having to pay the bill for it. Carefully check your travel insurance before going. It should include cover for trekking above 5,000m and it should include helicopter rescue. For Example, DogTag specifically states that trekking to Everest Base Camp is covered at their Extreme Level, however DogTag does not cover the cost of helicopter rescue at any level. You can complement your insurance with Global Rescue, either for the duration of your trip or for a longer period to get helicopter rescue if it is not included already.
Do respect the altitude and do expect cold weather at this time of year. See the kit list for what I had with me. Do NOT be tempted to ascend at the speed we did unless you know with certainty that you have good acclimatisation to altitude already. If you don't, you will need more time.
Health & Hygiene
Carry a hand sanitiser at all times and use it after toilet visits and before eating. I would also recommend taking probiotics unless you do already. Start before you travel and take probiotic pills with you to take every day. It may help keeping the stomach well. You can't expect running water in the cold as the water pipes freeze.
Beyond Namche supplies are very limited. You can buy food and drink regularly but any medications you might think you need and a first aid kit is advisable. Having antibiotics for travellers diarrhoea (such as Ciprofloxacin) is a good idea. Getting severely ill at high altitude and with limited toilet facilities is not much fun.
Always carry some toilet roll. it can be bought in the shops and lodges along the way but is typically not supplied for free in the lodges and may not be available in the restaurants either. Bring your own to be on safe side.
Food & Drink
There are plenty of shops, cafes and restaurants along the way and you can buy snacks, water, drink, coffee, tea, cake and food regularly. As such there is no need to carry any food reserves or excessive amounts of water, unless you have very specific food requirements. Don't expect any luxuries, particularly not in winter. The staple snacks available include Pringles, Snickers, Mars, Bounty, nuts, chocolate bars, soda (normally not "diet" versions), beer, water.
Kit List