Before you begin: you normally need a good cuppa reading my travel blogs but for this one maybe brew a pot. It is quite long and a fairly complete travel guide to the Three Passes Trek! It is what I was searching for myself when planning this trip and I don't think there is anything as detailed out there. Therefore, if you just want the highlights, scroll through the pics, but if you plan to do the trek, I hope you will find this useful. We did it in November 2018. Things may have changed since then, please do your own research to be sure of up-to-date information.
What is the Three Passes Trek?
The Three passes trek is a high altitude route in the Everest region in Nepal. It crosses three high passes: Renjo La (5,360m), Cho La (5,420m), and Kongma La (5,535m). Going from Lukla to Namche, the trek then takes a circular route which can be done in either clockwise or counter clockwise direction before returning to Namche and the trek back to Lukla. Without detours the route looks as follows and is 137km long with approximately 8,800m of elevation gain.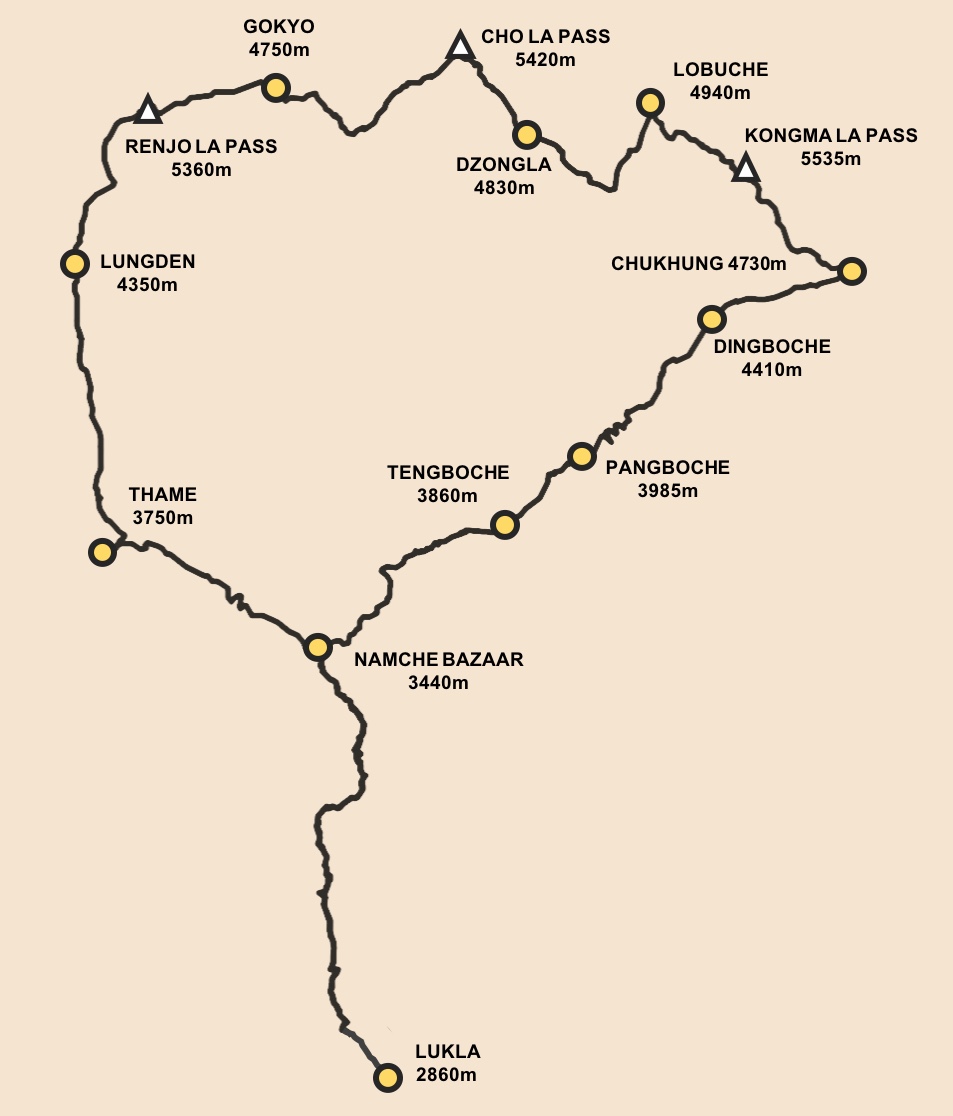 A number of detours are possible along the way which means you can make the trek quite long if you wish. Example of additions / side trips include: Sunder Peak (from Thame); Gokyo Ri, Gokyo 4th, 5th and 6th lakes, and Cho Oyu basecamp (all from Gokyo); Kala Patthar and/or Everest Base Camp (from Lobuche); Chhukhung Ri and Island Peak (from Chhukhung); and Ama Dablam Basecamp (from Pangboche).
Having done the trek to Everest Base Camp in early January 2018, and having a race to prepare for, we opted to not do any side trips except for one in Gokyo, and instead we favoured some extra time in and around Namche where the altitude (3,400m) and trails are more conducive to running. As such, this article will give you an idea of what the main Three Passes Trek route is like.
Considerations
Fast & Light
Our pace was faster than what is considered a normal trekking pace. We did what would be classed as fast hiking or fast packing. We mixed running and hiking depending on terrain and altitude, and we packed light. We had no porter or guide. If I exclude my laptop which I had to carry for exceptionally poorly timed work duties, the weight of my pack was approximately 7-8 kilos. This included some healthy energy bars for the whole trip (to avoid having to live on Mars bars!), some other snacks, and a few luxury and not strictly necessary toiletries and clothing items. I could have done it on 6 kilos without these. Most people carry far too much which makes the trek really hard, especially the passes. If you have a porter it matters less (for you anyway ;-)) but why haul lots of stuff you don't need around the mountains? Going light will make your trek a much more enjoyable experience!
Check the full kit list here.
Altitude
Going fast is relative to the altitude. It is important to bear in mind that whichever direction you pick for this trek, you will ascend to above 5,500 metres. As such, proper acclimatisation is of real importance. Most people probably fly into Lukla at 2,860m above sea level. From there, most need a gradual ascent with acclimatisation days built into the itinerary. AMS, HACE and HAPE are real concerns at these elevations and the risks should not be ignored.
Which direction?
When researching the Three Passes Trek it became evident that the anti clock-wise direction is recommended as the least challenging one. I disagree with this for the following reasons:
Renjo La Pass is the lowest out of the three and if you ascend it from the clockwise direction it becomes the first pass of the trek. The ascent is easy with man made steps and it is non-technical. As such this is a good warm-up for the passes to come. The descent towards Gokyo is admittedly a bit steep in parts with some loose gravel but nothing extreme. The descent towards Gokyo offers also, in my opinion, the most stunning views of the entire trek, so it is well worth coming from the Lungden side over the pass for that reason.
Cho La I found more technically challenging and as it is in the middle it doesn't matter so much which way you go, however, the ascent from the clockwise direction was steep and with a lot of loose gravel. This type of terrain is, in my opinion, significantly easier to ascend than descend (whilst a steep ascent is hard on the lungs it requires less technical skill than descending the same).
Kongma La is the highest pass so it makes sense to save to for last when acclimatisation is better. Similarly to Cho La, the terrain on the ascent from the clockwise direction is one that I would much rather go up than down (steep and with loose rock and gravel).
Time of Year
We did the trek in mid-November. Compared to having done the EBC trek in early January, temperatures were mild but it still gets quite cold high up. An important consideration when choosing your time of year is to make sure the lodges are still open. On the EBC trek route you still find lodges in January in most places but straying off this route lodges maybe closed. Check beforehand. The downside of doing the trek in November is that it is still high season for EBC trekkers. This meant that when our route crossed the main EBC route in Lobuche the lodges were absolutely packed with people. This was one reason we did not fancy going to Kala Patthar as it would have meant a very crowded extra night in either Lobuche or Gorak Shep. If you decide to follow any guidance in this blog, bear in mind that routes and equipment required may differ based on season. For example we had no snow and we only had ice to negotiate on Cho La pass. This may be very different in December, January or indeed in March or April.
Summary of Itinerary
Here is a summary of our itinerary. How much time you spend in Namche is up to you but it is as lovely place with lots to see in the surroundings and makes for a great place to stay several days. The accommodation in Namche is also of significantly better standard than higher up (if you choose the better options).
The shorter distances in the beginning is simply due to us wanting to acclimatise properly to the altitude and not risk any altitude related illness. If you are already well acclimatised to elevations in the region of 4,000m there is no reason why you couldn't do Namche to Lungden in the same day provided that you are fit, fast and have packed light. If you are a "normal" trekker of average fitness however, I would recommend that you double the times in the tables below as a minimum. It means in turn that on some days you can't expect to cover the distances we did. For example, most trekkers would not go from Gokyo to Lobuche in one day. It may take 10-12 hours to go from Gokyo to Dzongla alone.
Kathmandu
We arrived in Kathmandu coming from Dubai. The contrast could hardly be bigger. Strict, orderly, and with one building taller, shinier and more pompous than than the next, it is nothing like the bustling chaotic Kathmandu.
The airport in Kathmandu isn't the most exciting place and the Visa process is tedious. If you have completed your Visa application in advance online you can skip one queue and head straight for the payment queue. Once you have paid, you queue to get the Visa stamp in your passport. Once that is done you queue to have your hand luggage and yourself scanned. By the time you are through you luggage is piled up somewhere waiting as the process takes so long. (Keep your luggage receipts from check-in as they may get checked as you exit arrivals.)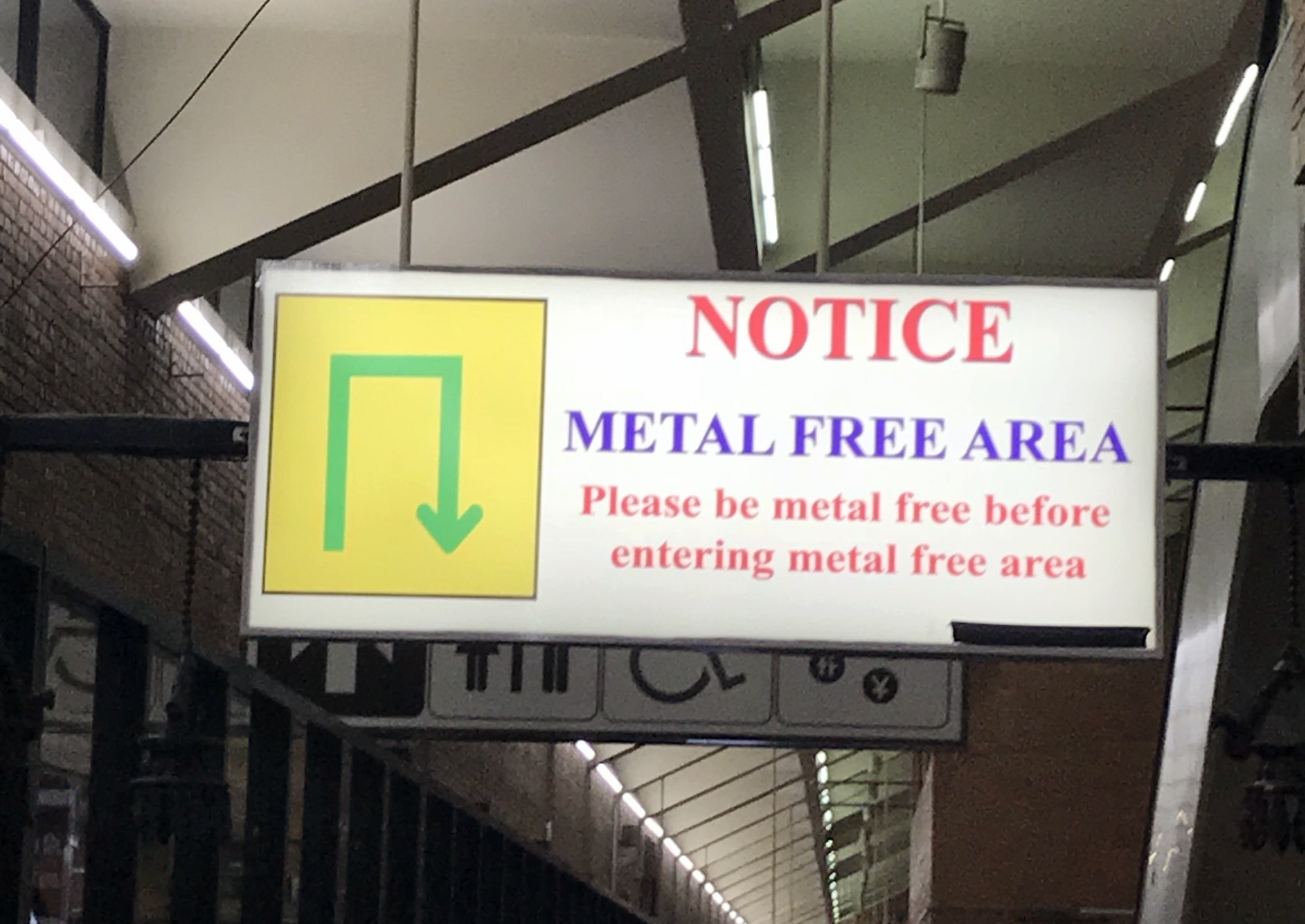 We found the taxi that the hotel had arranged. I'm sure the poor driver had waited for at least an hour. Five or six young men eagerly helped with everything, begging for money. In Kathmandu there doesn't appear to be any traffic lanes. It is some kind of organised chaos. Lots of people risk their lives every day travelling on motorcycles or mopeds without any protective gear. The air is difficult to breathe, filled with dust and pollution so thick you can see the grey haze clearly, resting like a constant cloud over the city. It doesn't take long to feel your throat getting a bit sore and developing a cough. There's traffic fumes, noise, and activity everywhere. The buses are so full people are almost falling out through the doors and windows. How electricity is even working is a miracle when you see the cabling arrangements. Poverty is wide spread. Most people however are honest, kind and genuinely helpful.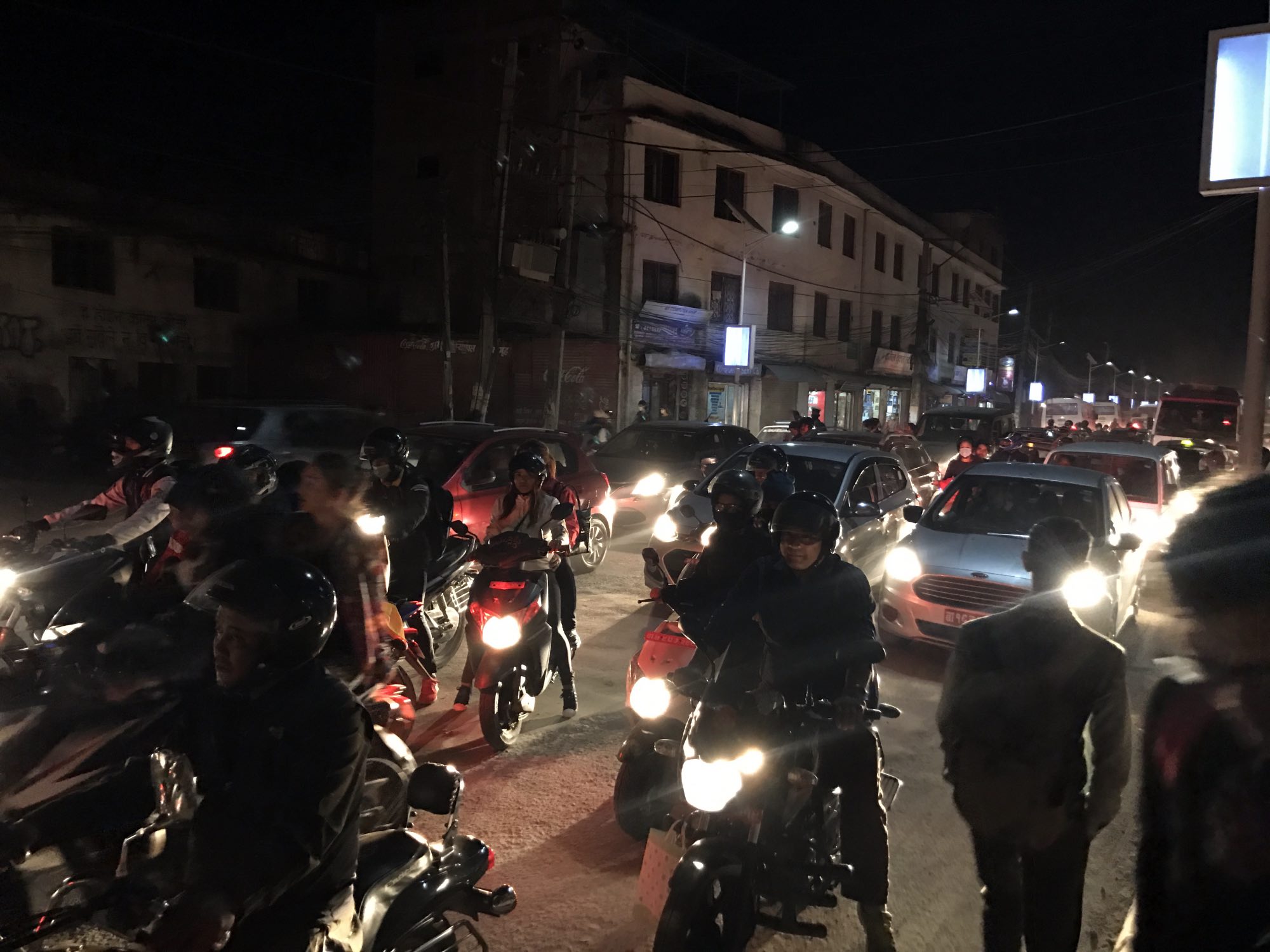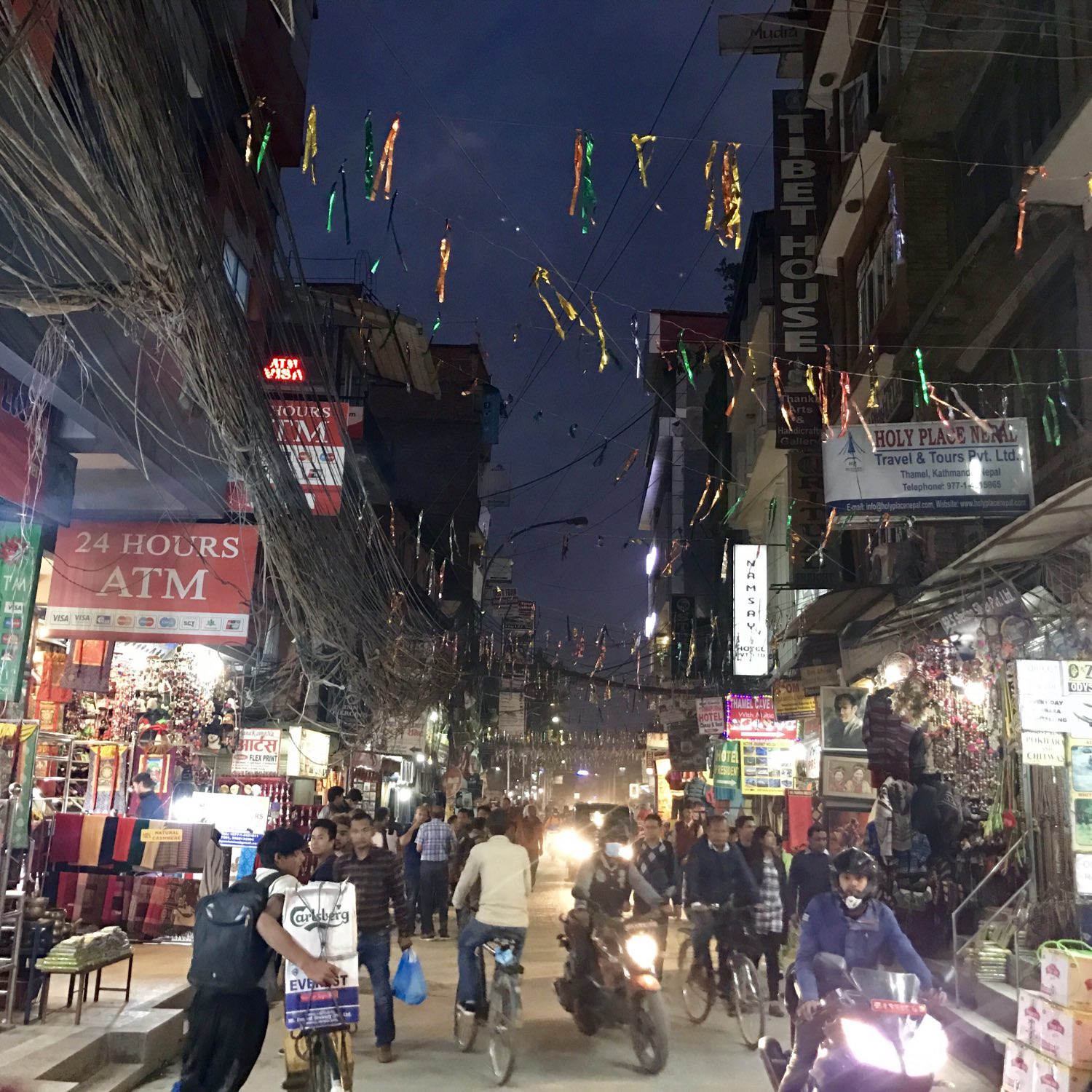 We didn't have much time. Arriving in the evening we were leaving again the next morning to fly to Lukla. At Oasis Kathmandu Hotel we were given a warm welcome. "This is your home" said the manager, and he reiterated it several times. He told us he had been working as a guide for many years and that he had summited Everest several times. We told of our plans and he suggested it would be much too hard for us to to the Three Passes Trek in the clockwise direction like we had planned. We nodded politely and didn't argue. He meant well and this was probably true for many of his guests. Before getting our gear organised for the following day we went for dinner at Garden of Dreams around the corner. These landscaped gardens are an oasis of peace in stark contrast to the rest of the Thamel district. There is a small entry fee to visit and prices are more like home so if you're after a cheap meal it may not be your thing. If you appreciate good service, a decent wine list and well cooked food then you should go here.
From Kathmandu to Namche Bazar
The next morning we left our main luggage at the hotel and headed to the airport dressed in our running gear and carrying only our small backpacks. The rest of the gear would stay in Kathmandu.
Once at the airport we were informed that flights to Lukla were delayed. This is not uncommon. The weather had been cloudy the past few days which meant flights couldn't land at Lukla. The 500m airstrip is carved into the mountain and the Tenzing-Hillary airport is commonly referred to as one of the world's deadliest airports due to the challenging conditions. If the pilot gets the landing wrong there isn't a second chance to correct it. You will either hit the cliff below the landing strip or crash into the wall at the end of it… Because of the weather there was a now a backlog of passengers to shuttle to Lukla and air traffic was heavy. We were prepared that maybe we wouldn't be able to set off today. I felt a bit sorry for one guy we spoke to who had been waiting for days. Because he had a late flight departure time originally, he had been rescheduled for the same departure time each day and the later your flight, the higher the risk of you not being able to go. I also wondered how the guy who was drinking a bottle of Amarone to calm his nerves (I guess of you don't like flying this is an extreme step outside your comfort zone) would feel later on. I hoped he didn't have to trek that same day as he was pretty drunk already. His stories were funny though. Eventually, as it turned out we were lucky, and four hours delayed we finally arrived in Lukla around 2pm.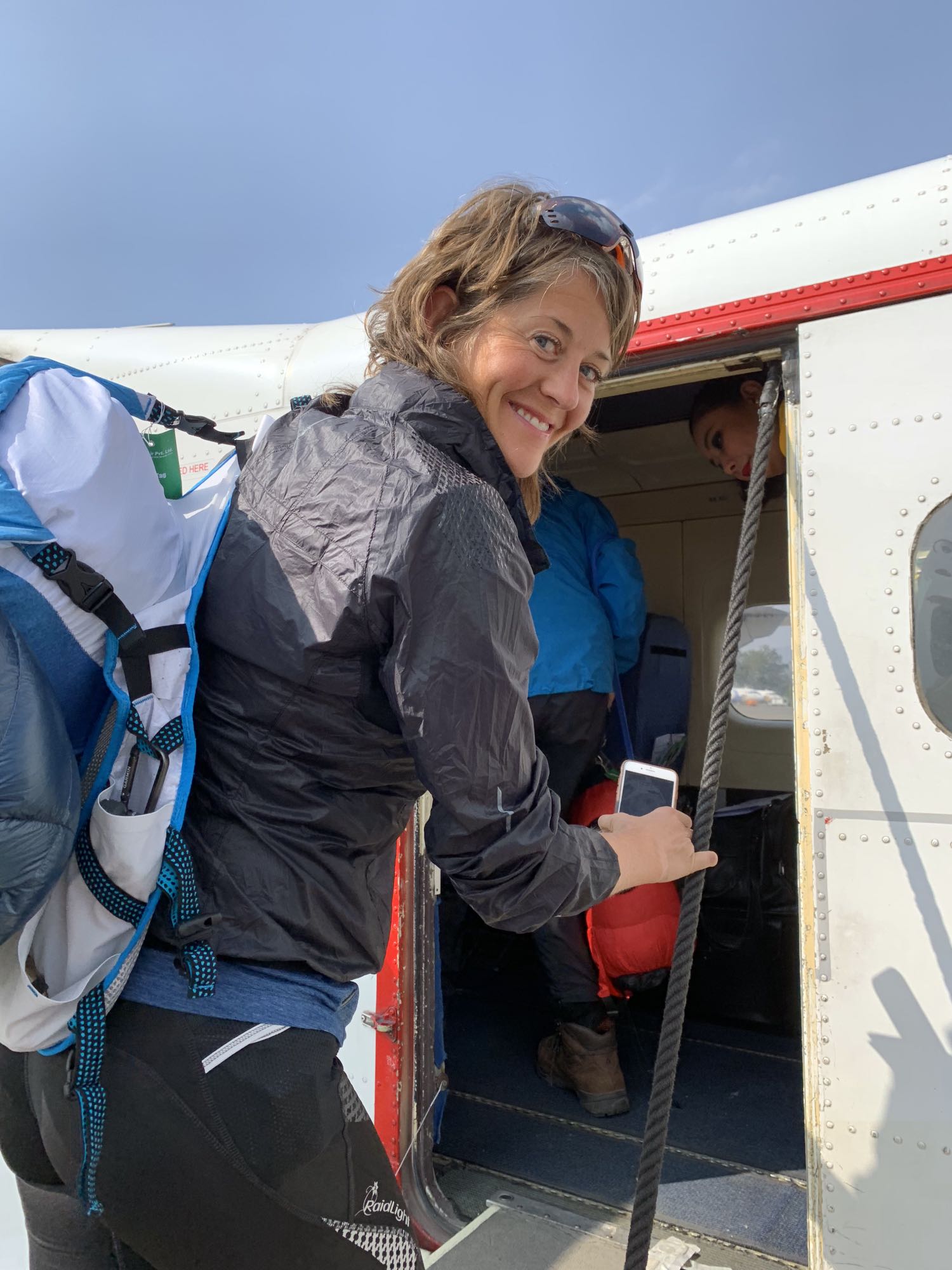 [wpvideo 0ZzjEnuz]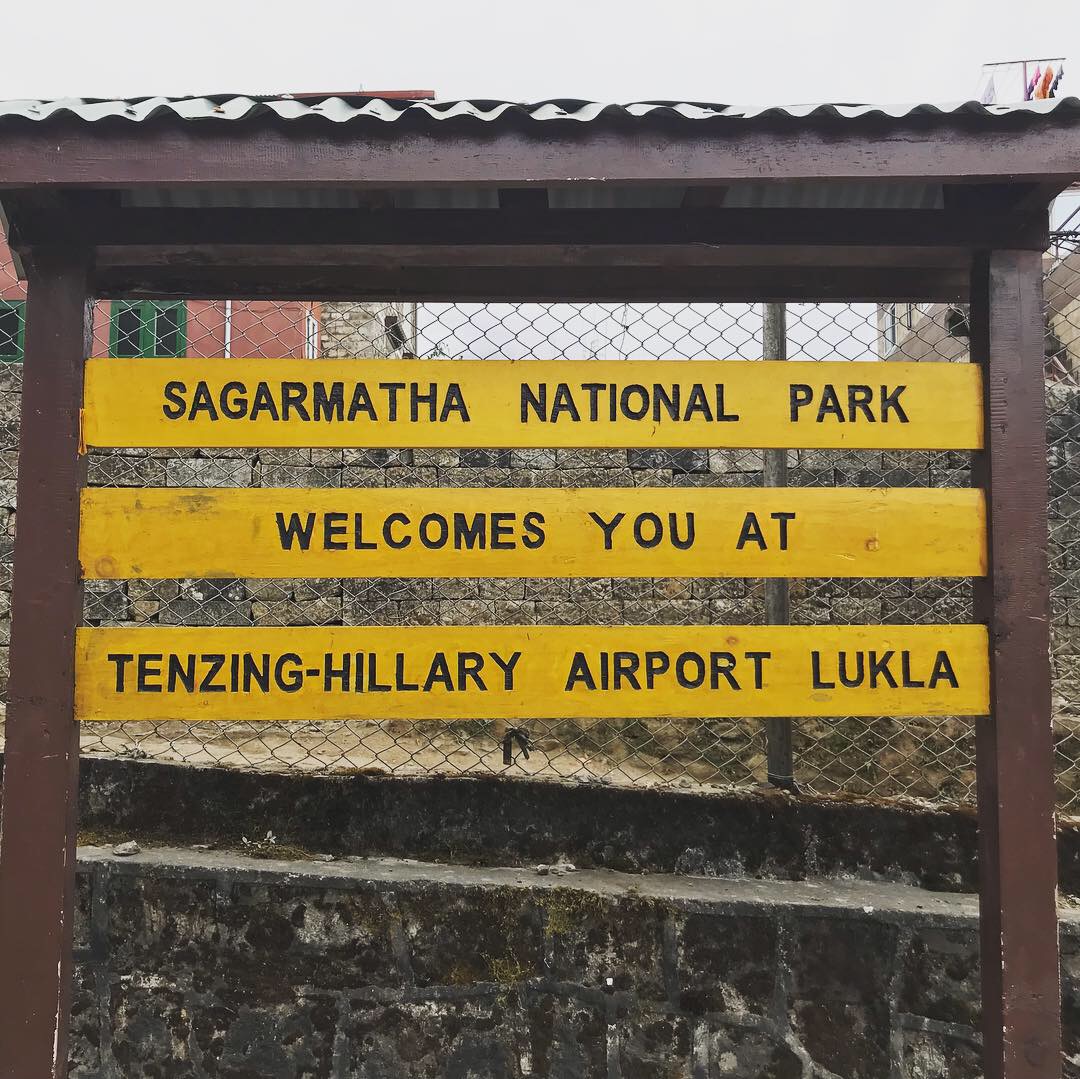 Most people do the first days trek to Phakding, which is half way between Lukla and Namche Bazar. We had decided to go all the way to Namche Bazar and we had booked a lodge there for three nights. It is 20km and 1300 metres of elevation gain, climbing to 3,440m and with an in parts rather technical trail. As such it is not a quick affair, even for trail runners. We had a coffee and a light snack at one of the cafes in Lukla, arranged our permit at the office which is situated just as you exit Lukla village too the main trail, and then we were off. It was now around 2:30pm and we knew that we would be doing a couple of hours in the dark.
I loved being back on this trail, heading up in the mountains: the smells, the views, the fresh air, the people. There is also something very refreshing about carrying all your belongings in a small backpack, about being free from material possessions and feeling truly alive.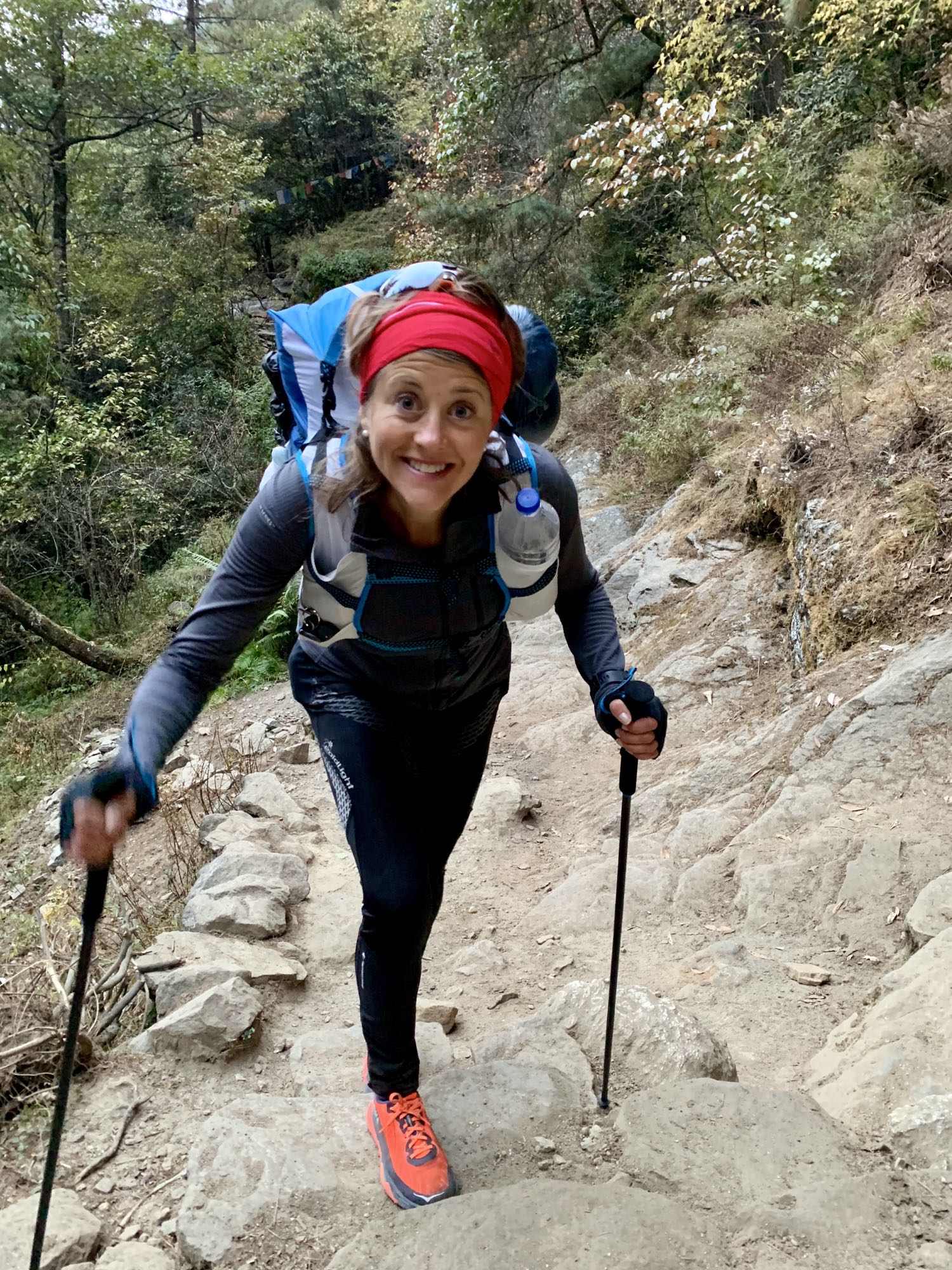 Our trip timed with the Everest Trail Race. A fantastic 6-day race which we did last year. We passed a few people on the way and passing through Phakding, the finish for the day's stage of the race, we were able to chat with some friends before carrying on. We reluctantly opted to not stop at Herman's bakery in Phakding since it was going to get dark soon and we pushed on. Just after Herman's we also bumped into our friend Sue who had trekked to Namche with her guide and was on her way down.
At first the trail from Phakding is just undulating and fairly levelled, weaving its way in and out of the trees along the cliff edge above the Dudh Koshi river, offering beautiful views.
After a few kilometres we passed Monjo and it was now dark. Just after Monjo is the entrance gate to the Sagarmatha National Park. Here you must buy a permit to enter the national park at NRs 3000 per person. We walked up to the office and they said it was closed and too late to get a permit today. "We are going to Namche" I said, to which the response was "Not possible, you can't go today". I made our intentions clear. "We are going to Namche today, our flight was 4 hours delayed and we have a hotel booked. It's your choice if you give us a permit or not, we are going. We have head torches, we are runners, we go fast". There were deep sighs from the office staff. They looked at each other and shrugged their shoulders. They briefly chatted between them and then reluctantly issued our permits, probably thinking that we would not arrive in Namche until the morning. A guard outside at the check point then checked our permits and we could carry on.
The trail was pretty empty now. Just us and the darkness. We bumped into a few Sherpas heading down the opposite way. One asked if we had permits and said it wasn't allowed to be in the park at night. We explained the situation and reassured him we had gotten our permits.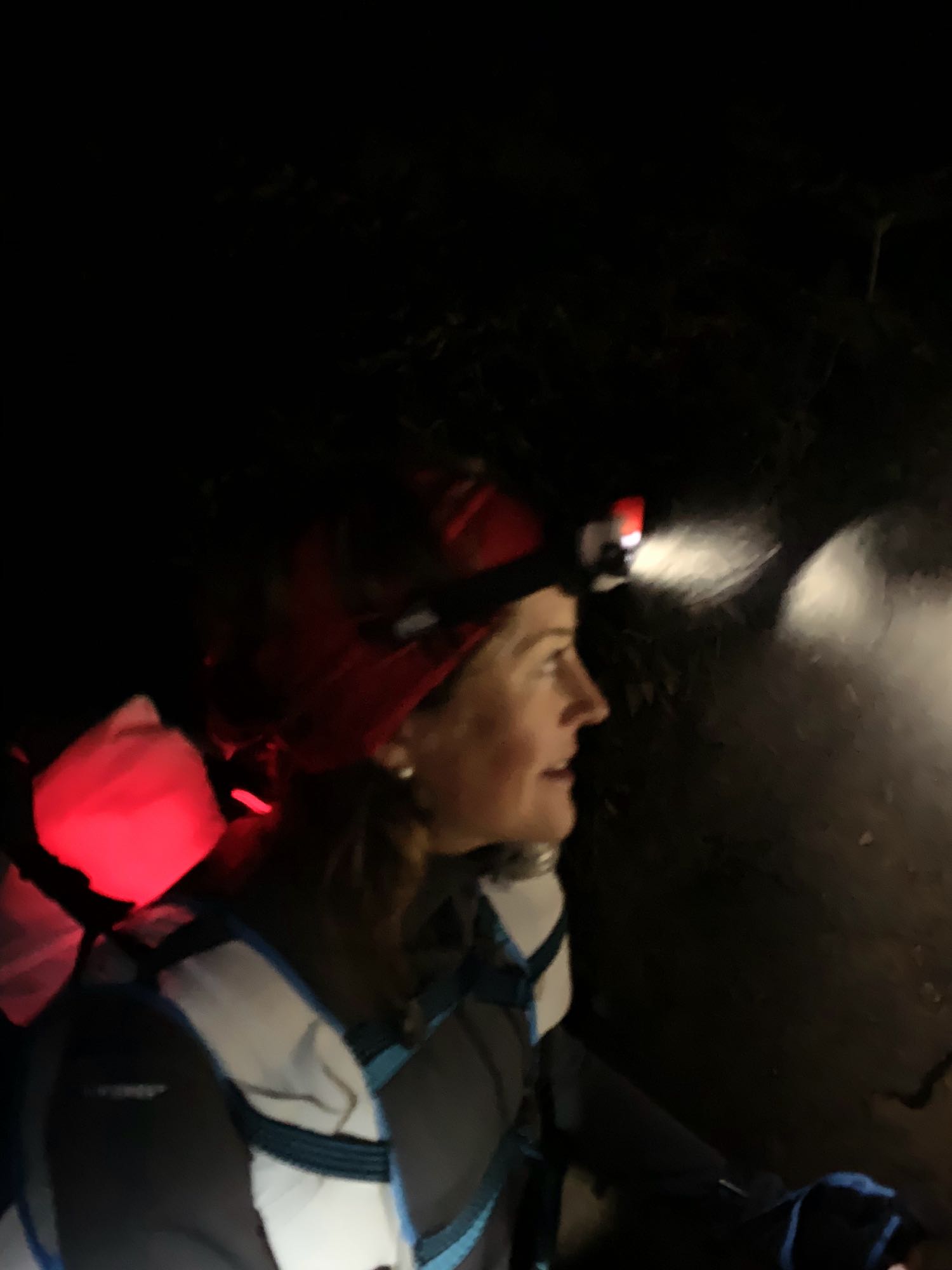 I had forgotten all about how challenging the final climb to Namche is. In a couple of kilometres at the most you climb from just over 2800 metres to 3440 metres. In addition, our lodge, Panorama Lodge, was not so named without reason! Situated in an elevated position on the trail towards Khumjung and Tengboche, overlooking the whole village, it was a good extra 150 metres of vertical climbing if not more. Adding the altitude and backpack I was gasping for air and couldn't be more relieved when we stepped through the door.
We were given the warmest welcome by host Mingma, his mum and the lodge staff. They were rather surprised we had come all the way from Lukla in less than 5 hours. We had the best Dal Bhat I have had in Nepal.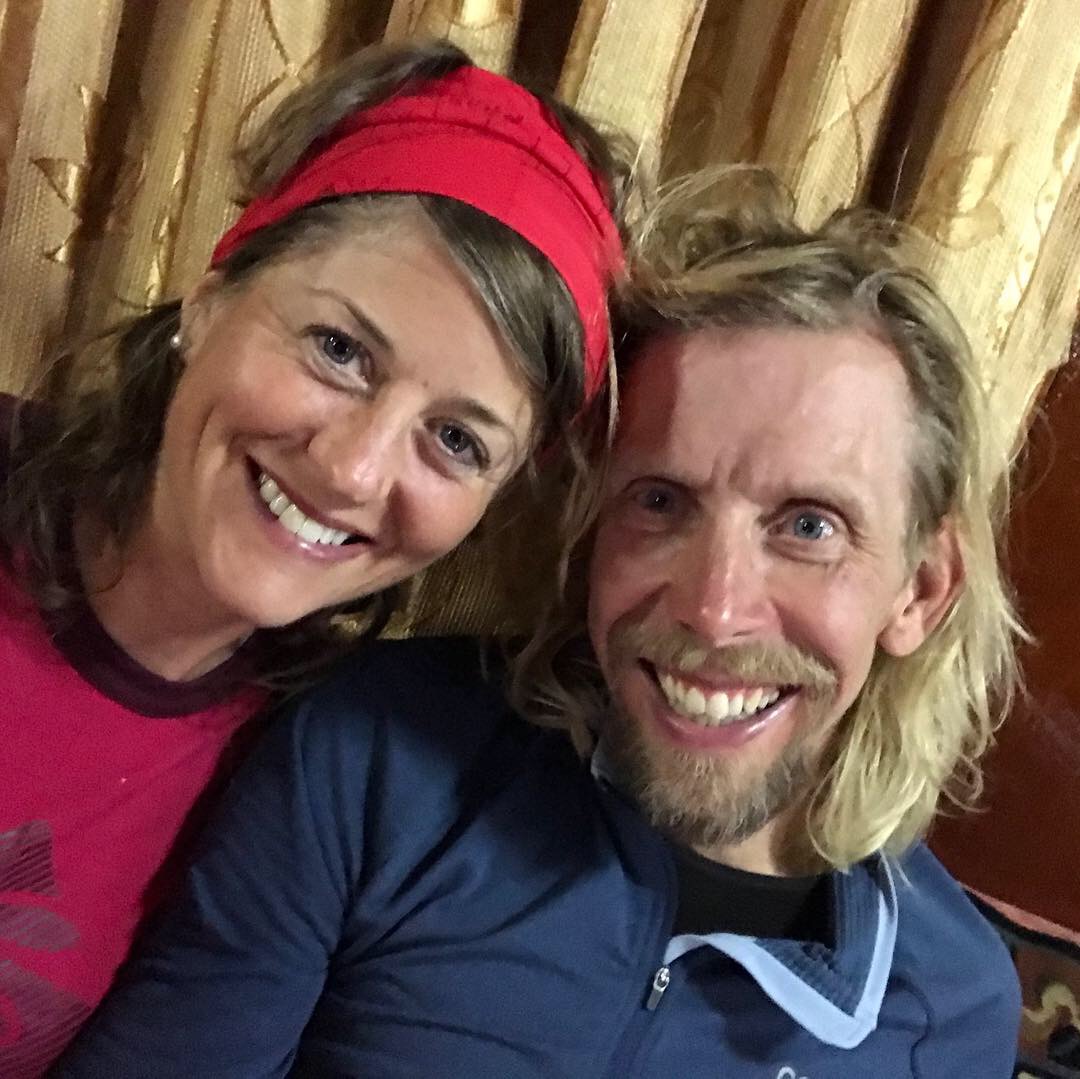 This would be our home for the next three nights as we acclimatised to the altitude. We had a room with electric blanket so we could have a warm bed (lodges are typically not heated other than the main restaurant so the rooms get very cold otherwise), and we had private bathroom with a hot shower (again, not to be taken for granted but a luxury in these places).
The next couple of days we spent doing day trips from Namche. I also had to catch up on some work so Sondre did a bit extra. We went to Tengboche and back where again we were able to catch up with more friends from the ETR race. We also did a loop over Khumjung which offers a really beautiful trail and stunning views, even if the weather was a bit cloudy. We felt good and had no issues with altitude so the acclimatisation schedule appeared to be working.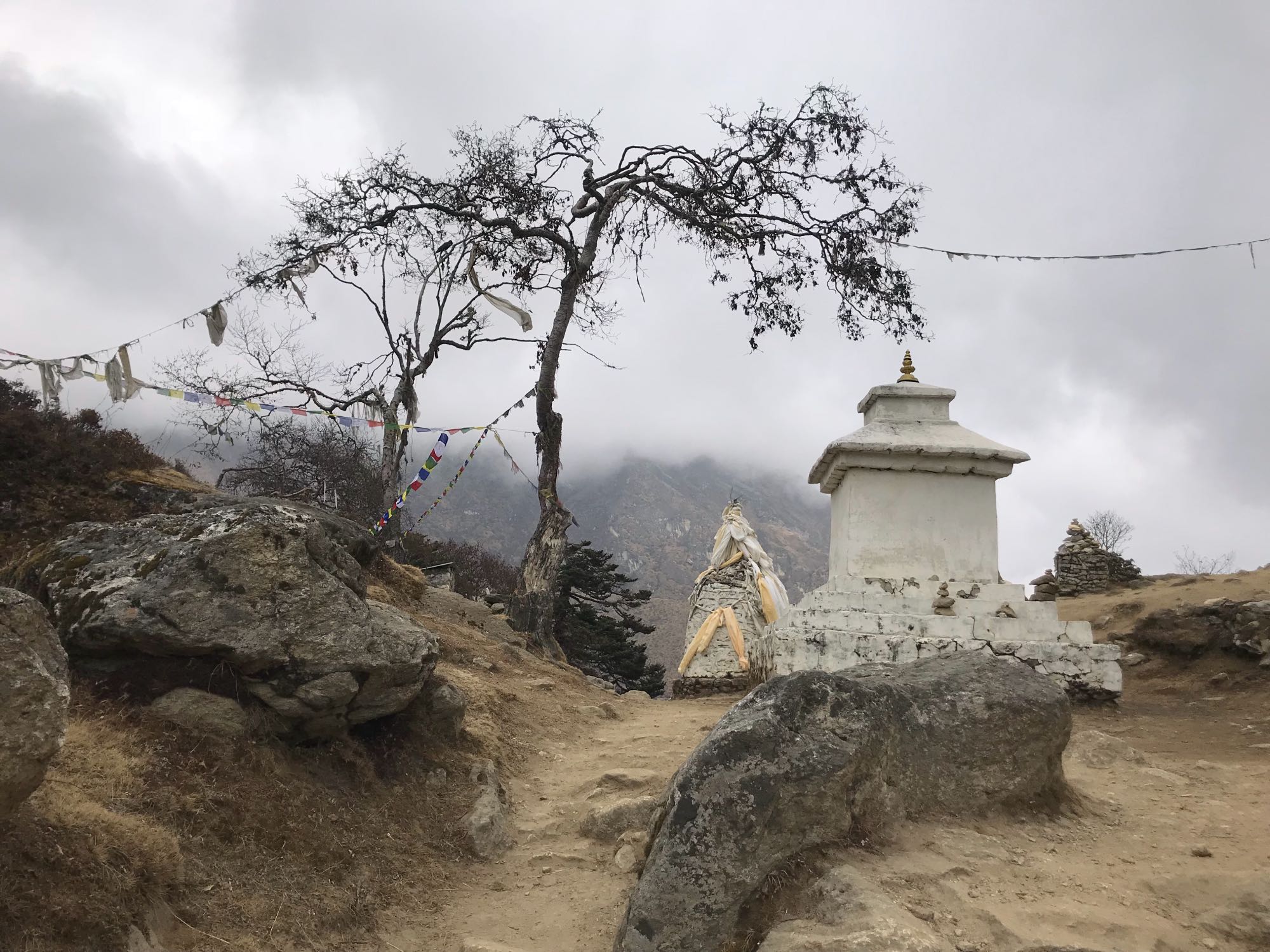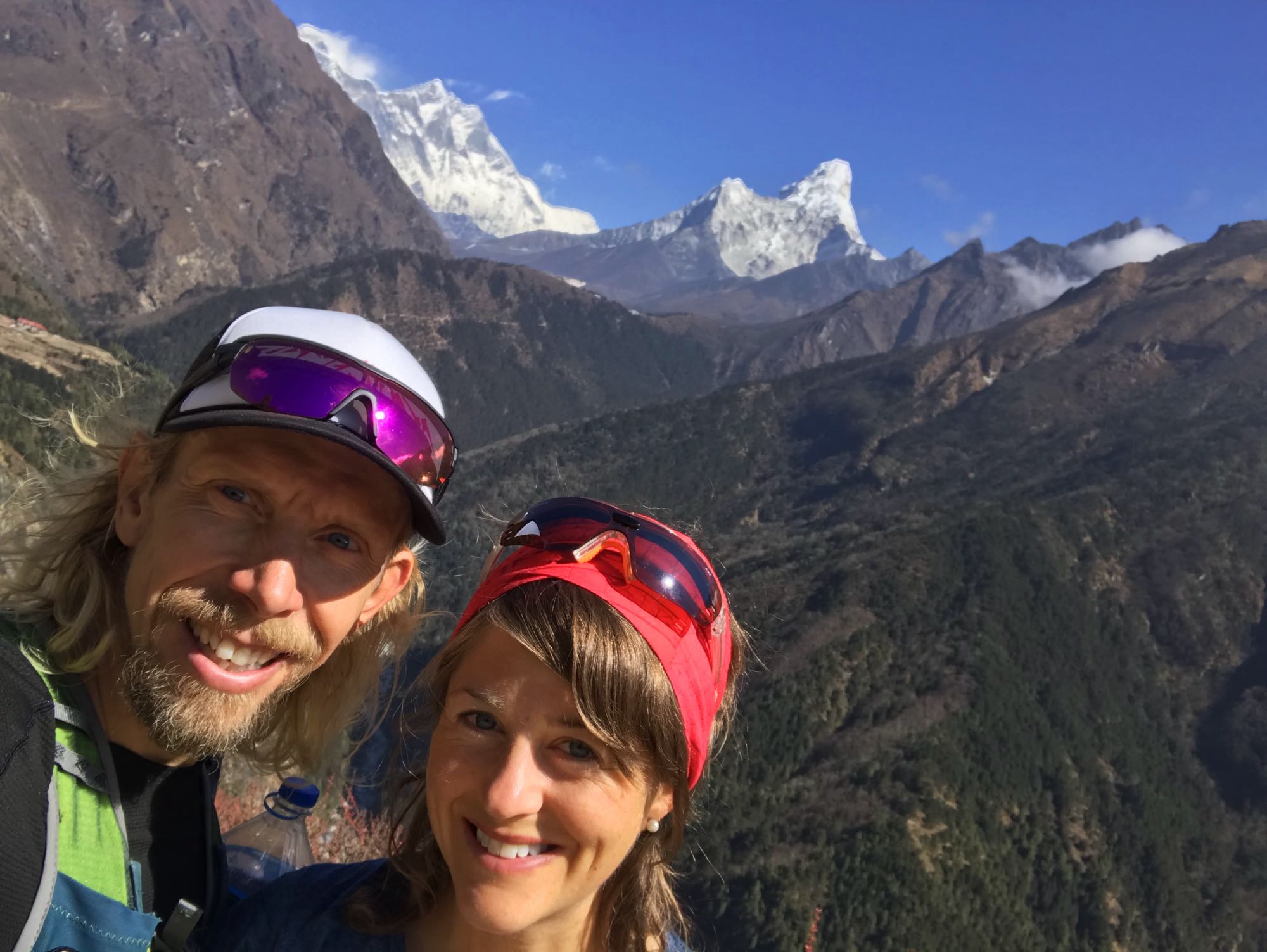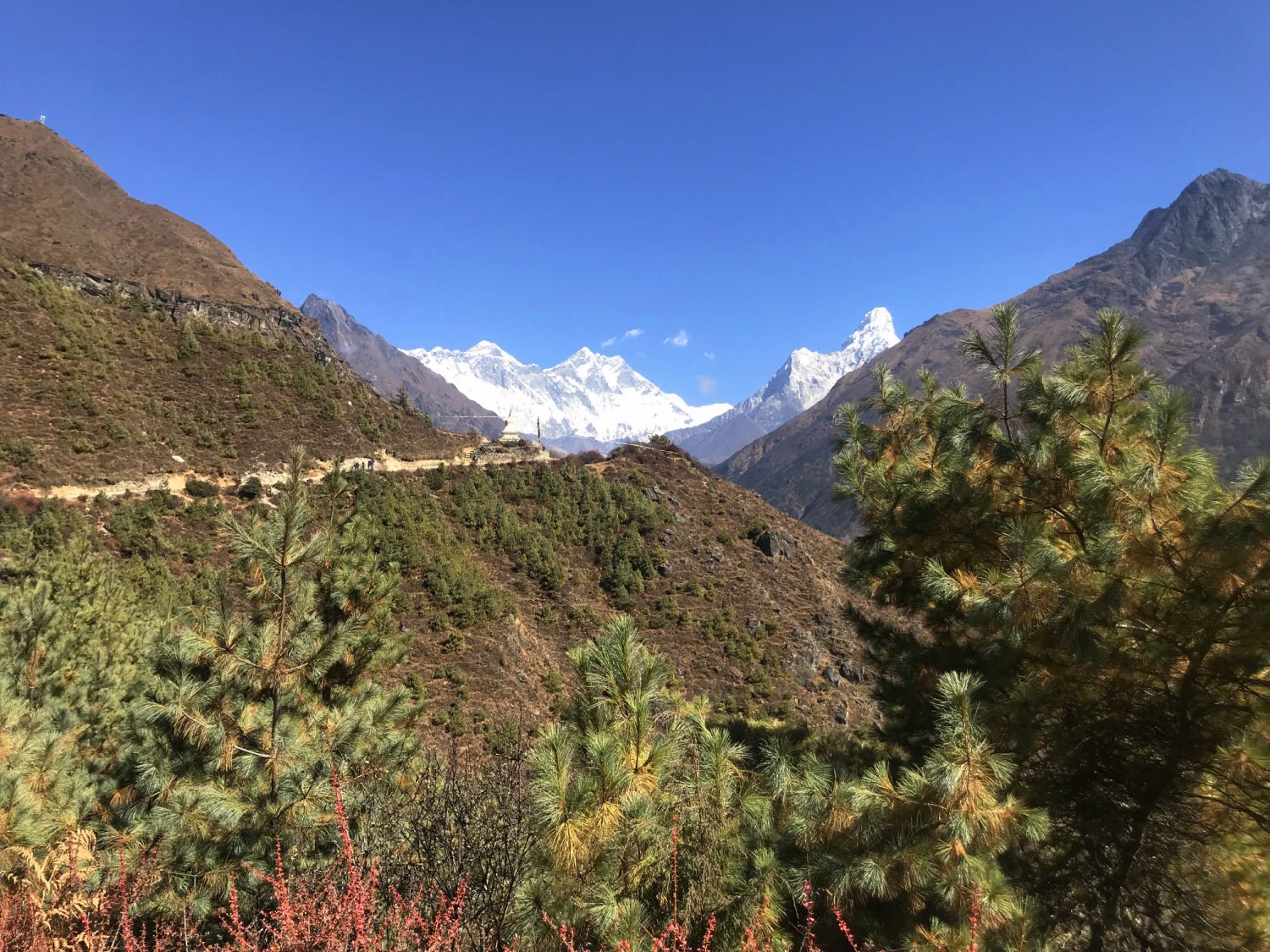 Namche Bazar to Thame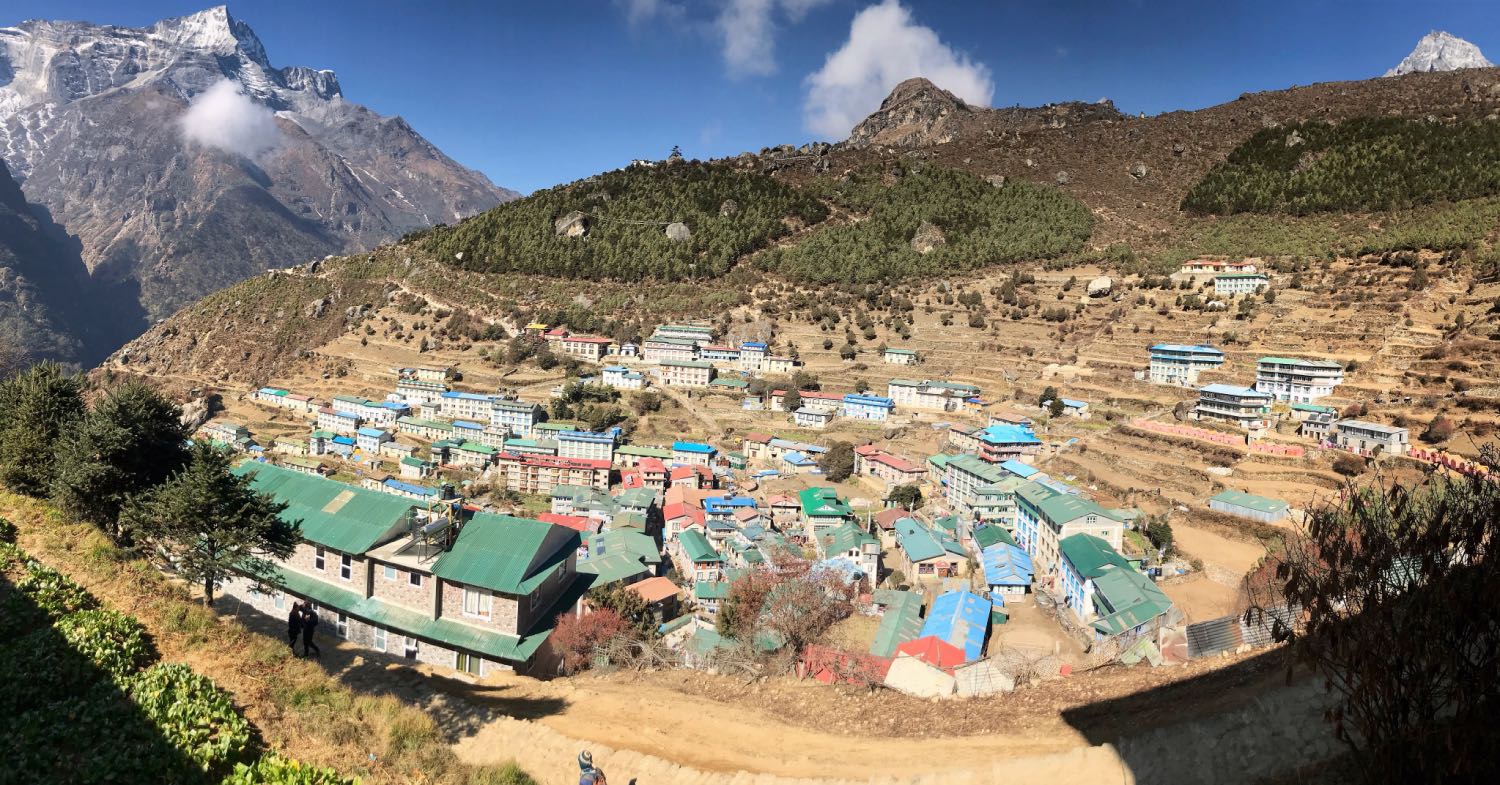 After a few days in Namche we set off to Thame after lunch on Day 4 of the trek. The distance is not so long to Thame but you get to 3800m elevation there and we preferred to proceed with caution rather than rushing it. The trail to Thame is beautiful. In the beginning it is smooth and runnable and offers some stunning views as you pass through small villages above the Bhote Koshi river. The trail then becomes more challenging as it climbs higher, before a decent to cross the river and a final steep switch back ascent up to Thame. It was very windy and pretty cold crossing the river.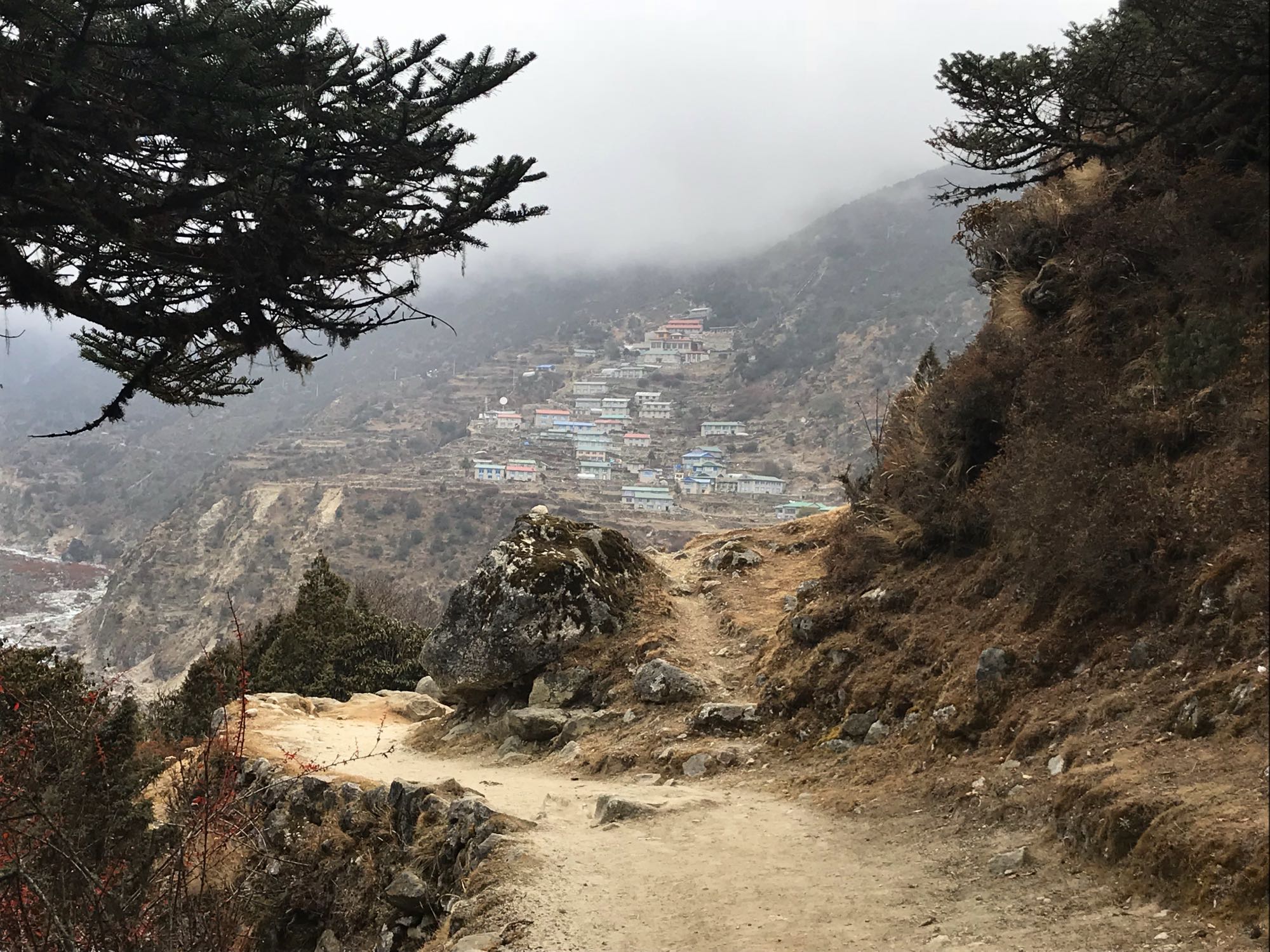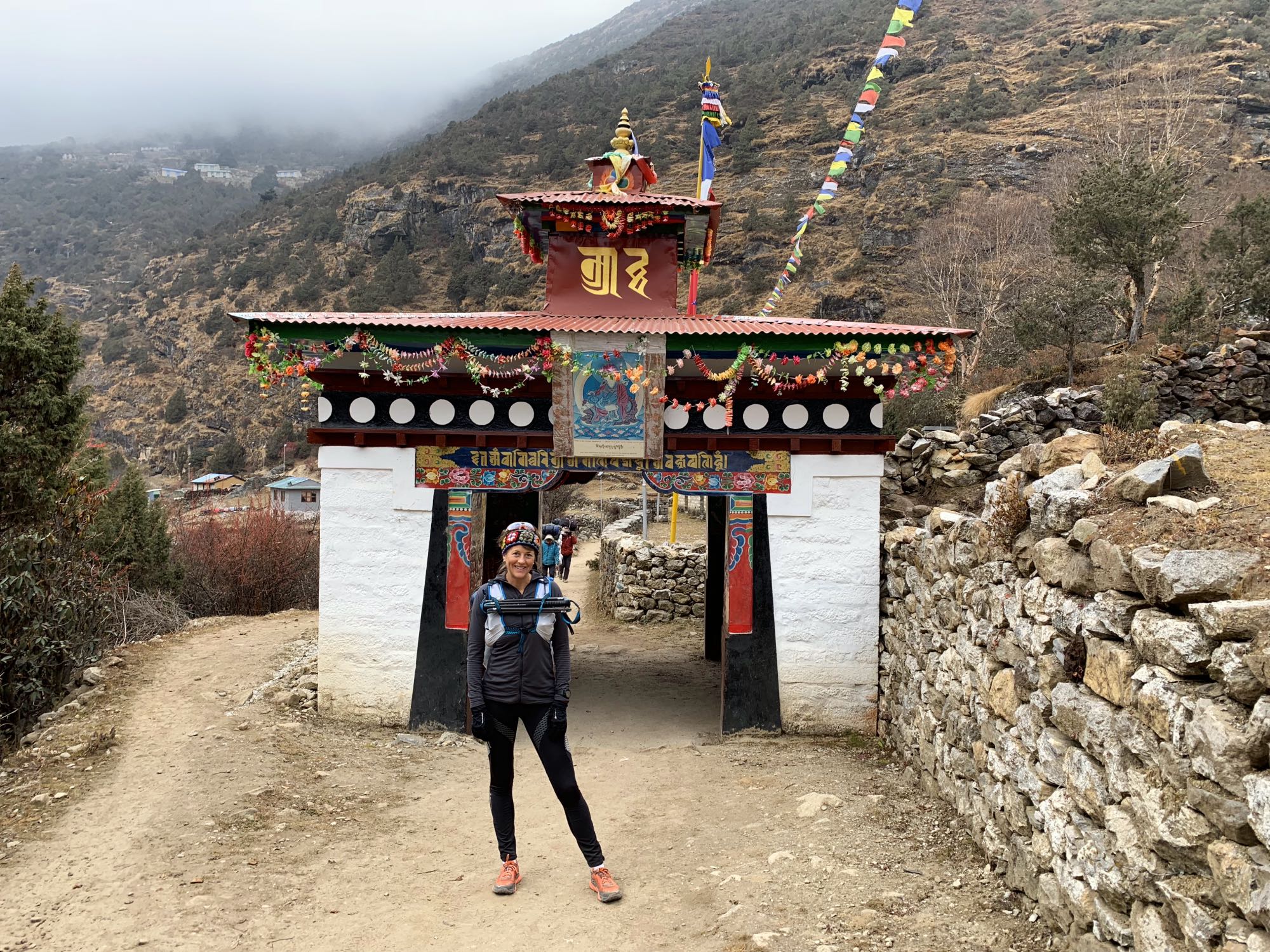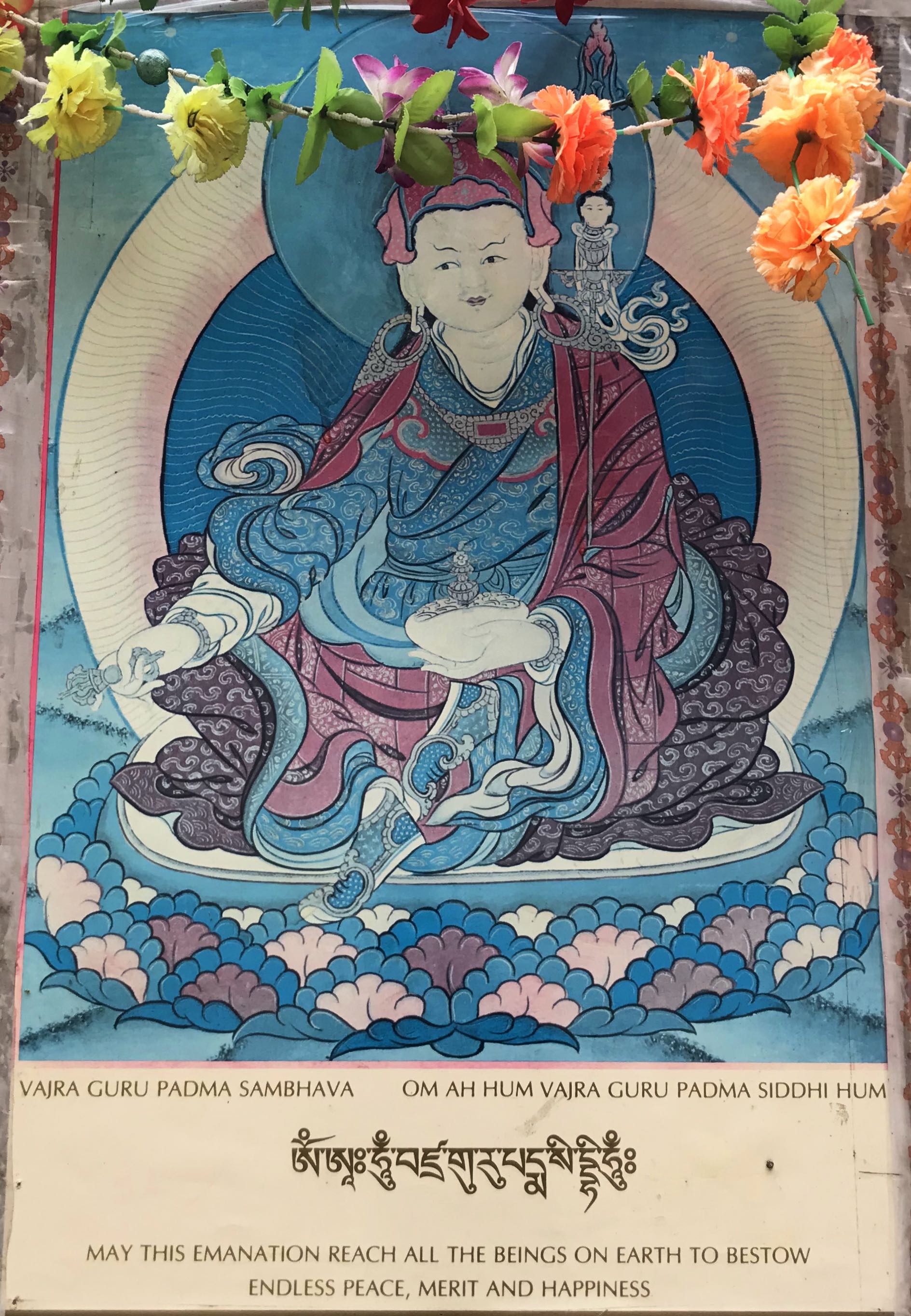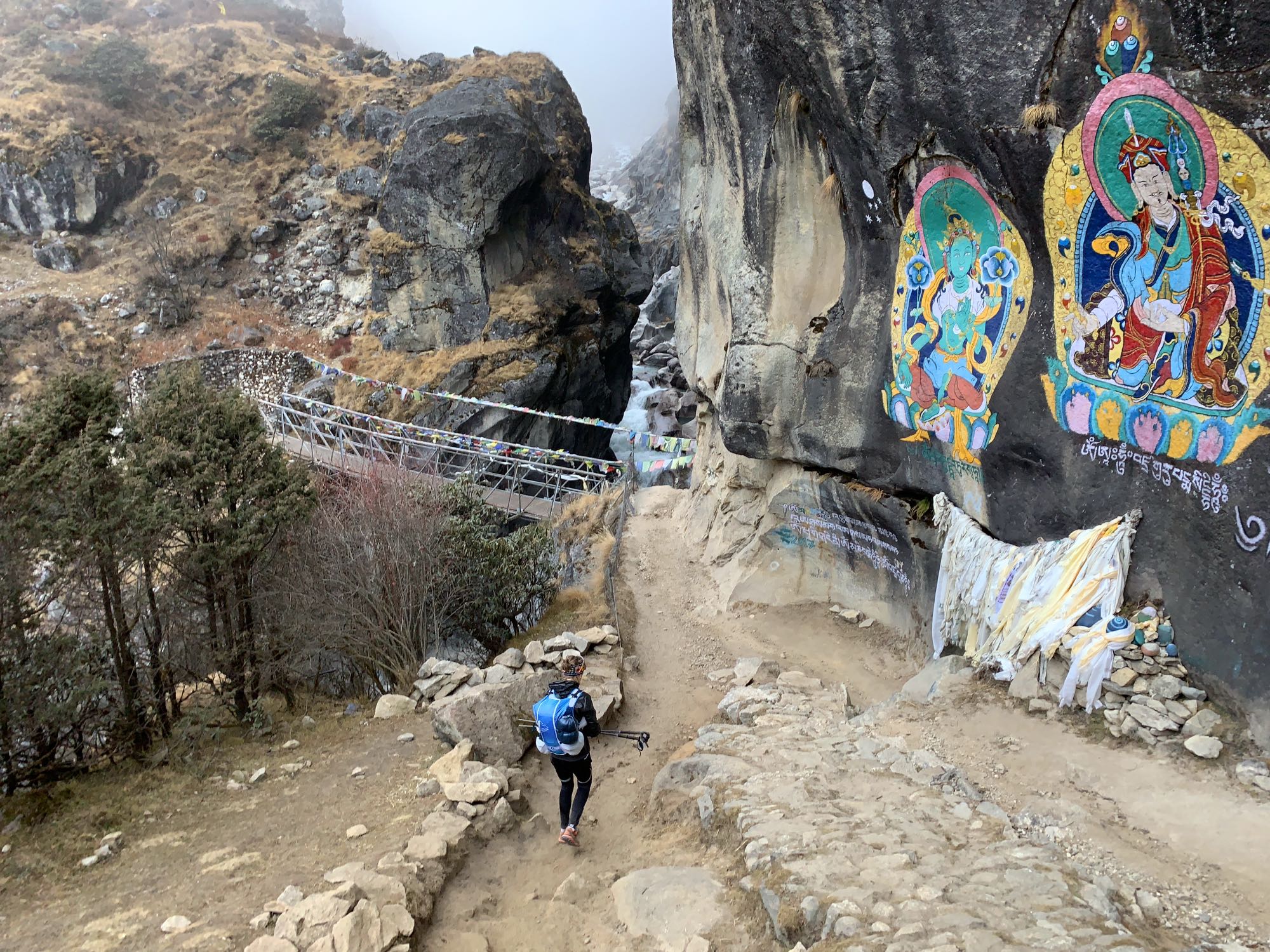 [wpvideo ZjDp0dOZ]
We had booked Yeti Mountain Home in Thame in advance. It took a while to find it as it was in its own spot a bit outside of the main village. When we arrived it was locked and no one was there. After about 15 minutes finally we were let in. We were the only guests at the lodge. Thame appeared a bit quiet in general but this is also a very expensive lodge compared to most so maybe this was why. We just wanted to have some comfort in the early stages of the trek as we knew that facilities would soon be lacking. Here we had a heated king bed with clean sheets, towels and hot shower. The stay was very comfortable but the difference in price to a "normal" lodge was not really matched by the same difference in standard or service. At dinner they asked what time we wanted breakfast. We said 8:30 and the response from the waitress from giggling. "Are you sure? 8:30?" I guess most trekkers get up a lot earlier but we were only heading another 13km up the trail to Lungden. We shrugged our shoulders, explained we were runners and going a bit faster, and the host seemed pleased he could have a late morning.
Thame to Lungden
The next morning we very reluctantly folded away the duvet and crawled out of our warm bed and into the cold room. We had two waitresses serving breakfast and obeying our every wish, so we didn't leave hungry. It was still cloudy but not enough to spoil the views and we started the climb to Lungden. We had now left the trees behind, the landscape was becoming more barren and it was getting a bit colder. We passed the small village of Marulung at 4,210m and could spot Cho Oyu peak in the distance.
[wpvideo 6Oe8jK8f]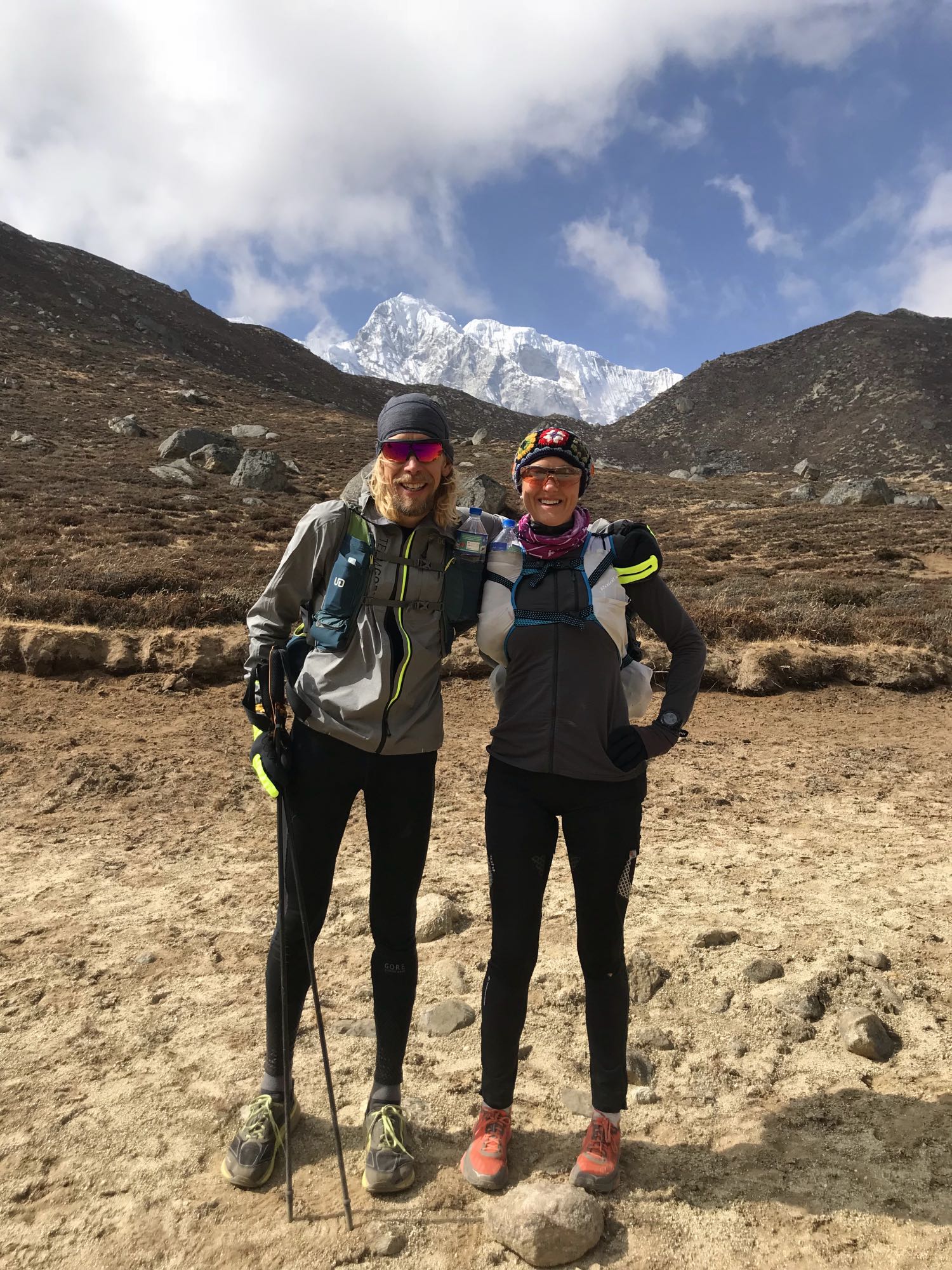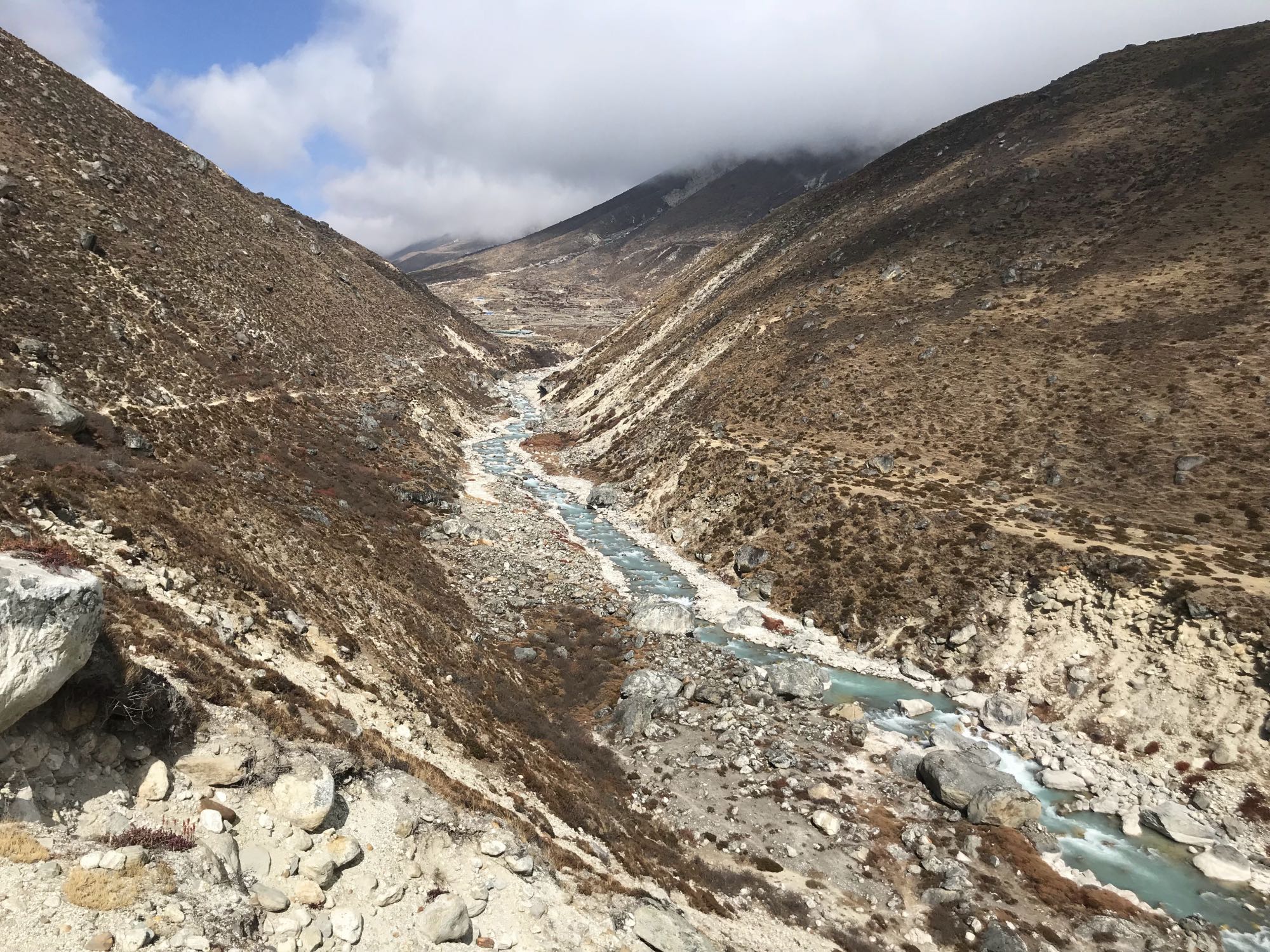 [wpvideo 4NW2OHhM]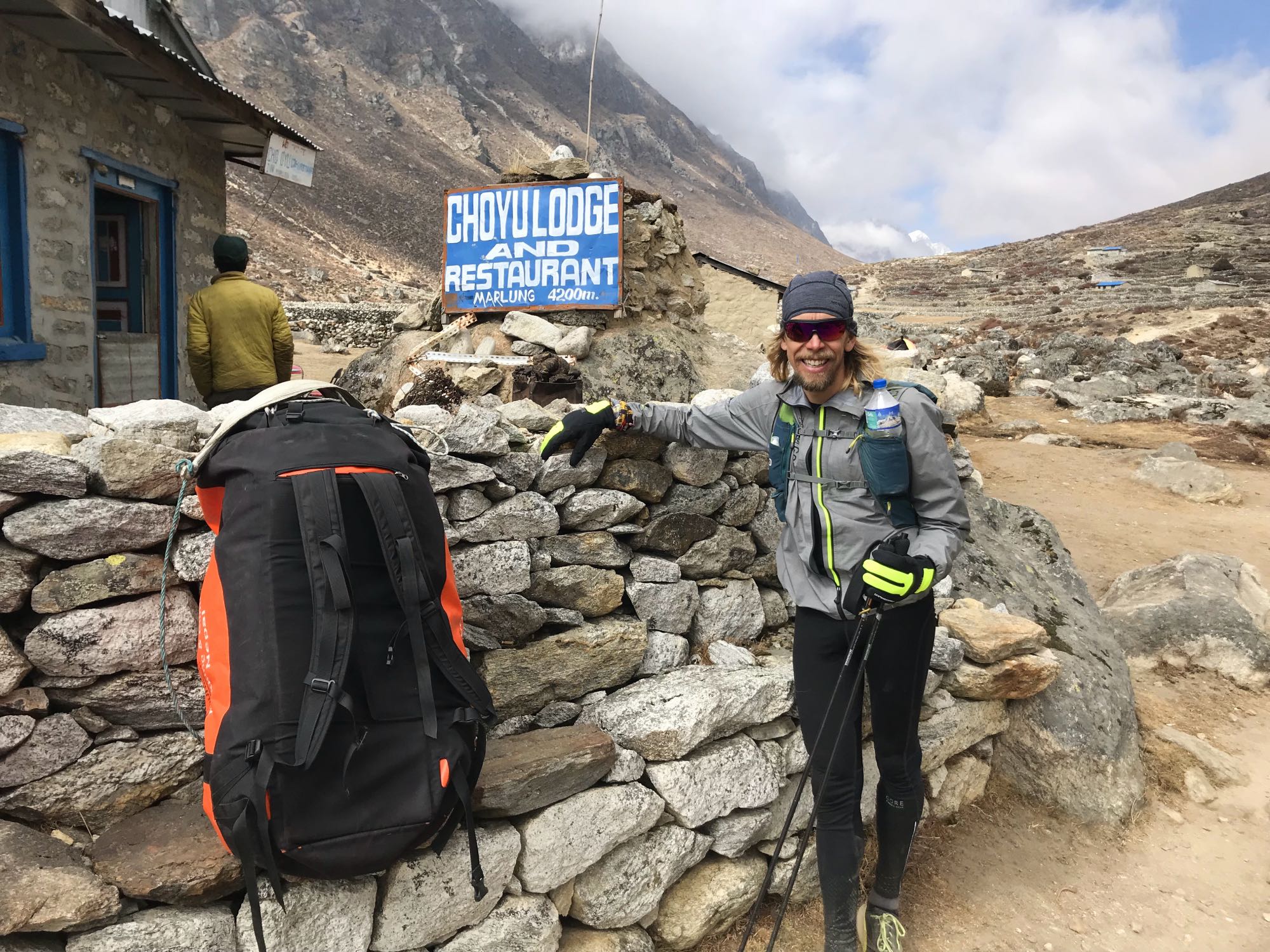 Were carried on and a small collection of lodges was suddenly visible in the distance. Lungden arrived quicker than expected. The first lodge looked a bit run down so we carried on and arrived at the "3 Pass Guest House". It looked ok and a few people were sitting inside. We got a room with a private toilet (very clean) and we could have a hot shower almost straight away. It hadn't taken us very long to get here so we had some hours to kill and spent them in the main restaurant, chilling out, eating and drinking. We had no Internet here. There was no Wifi service in the lodge and mobile coverage had stopped before Thame. In a way it was liberating. I still sent a few messages using my satellite tracker.
Lungden to Gokyo over Renjo La Pass
The next morning I woke up with a headache and not feeling 100% well. I put it down to the altitude even though I felt we had ascended according to a fairly conservative protocol. Today we were supposed to tackle the first of the three passes, Renjo La, so that would mean ascending to 5,535m elevation before arriving in Gokyo at 4790m. We mulled over options: we could return down to Namche which was easily done in a few hours but then we wouldn't have time to do all three passes. If we went to Gokyo and I got worse, we could descend to Namche via a more direct route which would be possible for us to do in a day. Having had breakfast and coffee I actually felt a lot better. The lodge host was reassuring: "Little headache, no problem. Big headache, big problem" he said. "It's the Himalayas, headache is normal".
We set off and the headache had disappeared. Maybe I just needed some caffeine? The weather had cleared up today and we were greeted by blue skies. The views were just incredible as we made our way up towards Renjo La Pass. Mountain lakes and towering peaks everywhere we looked. There are not many places in the world you can approach 5,000+ metres elevation and still look up on mountains a lot taller.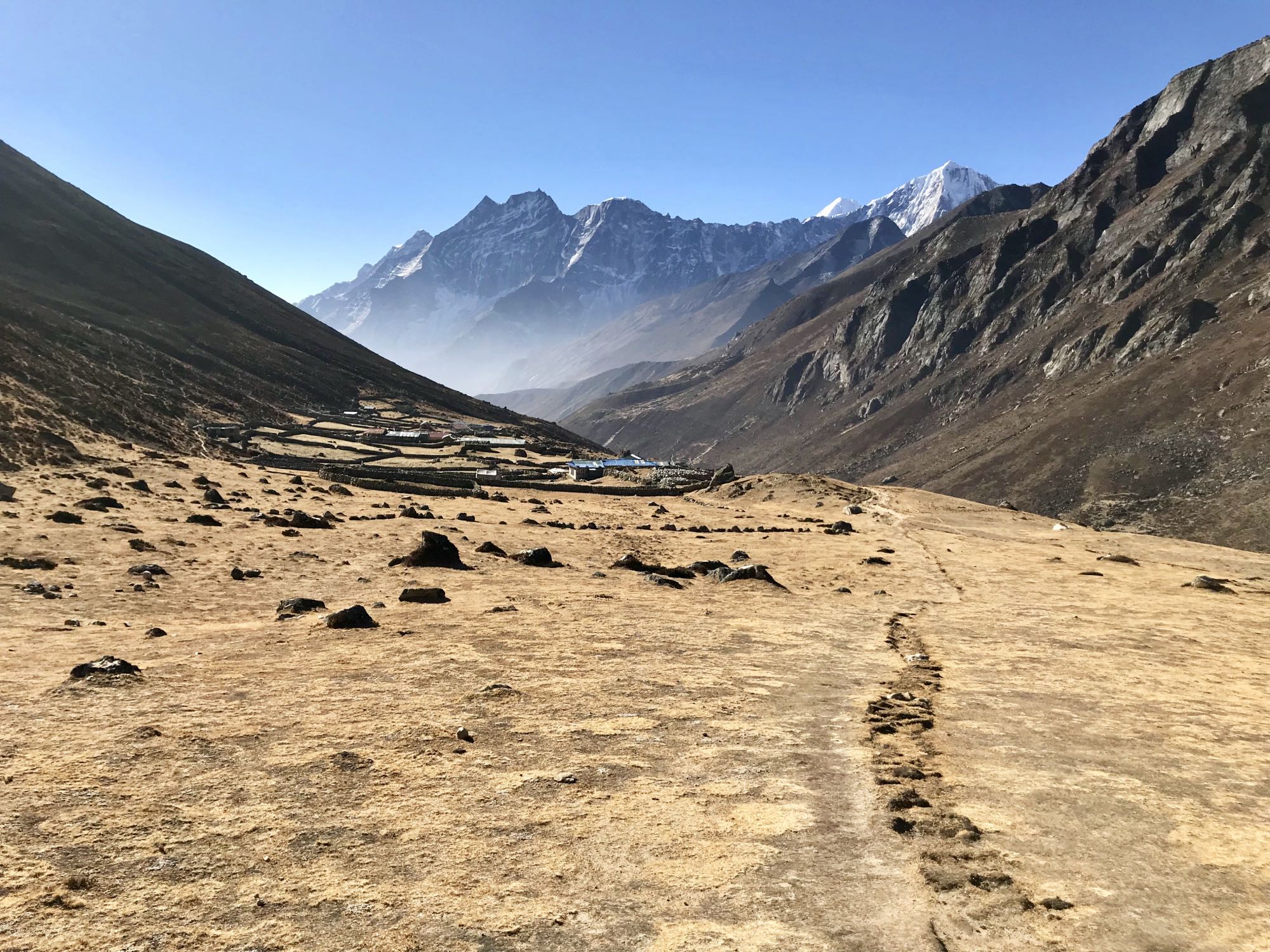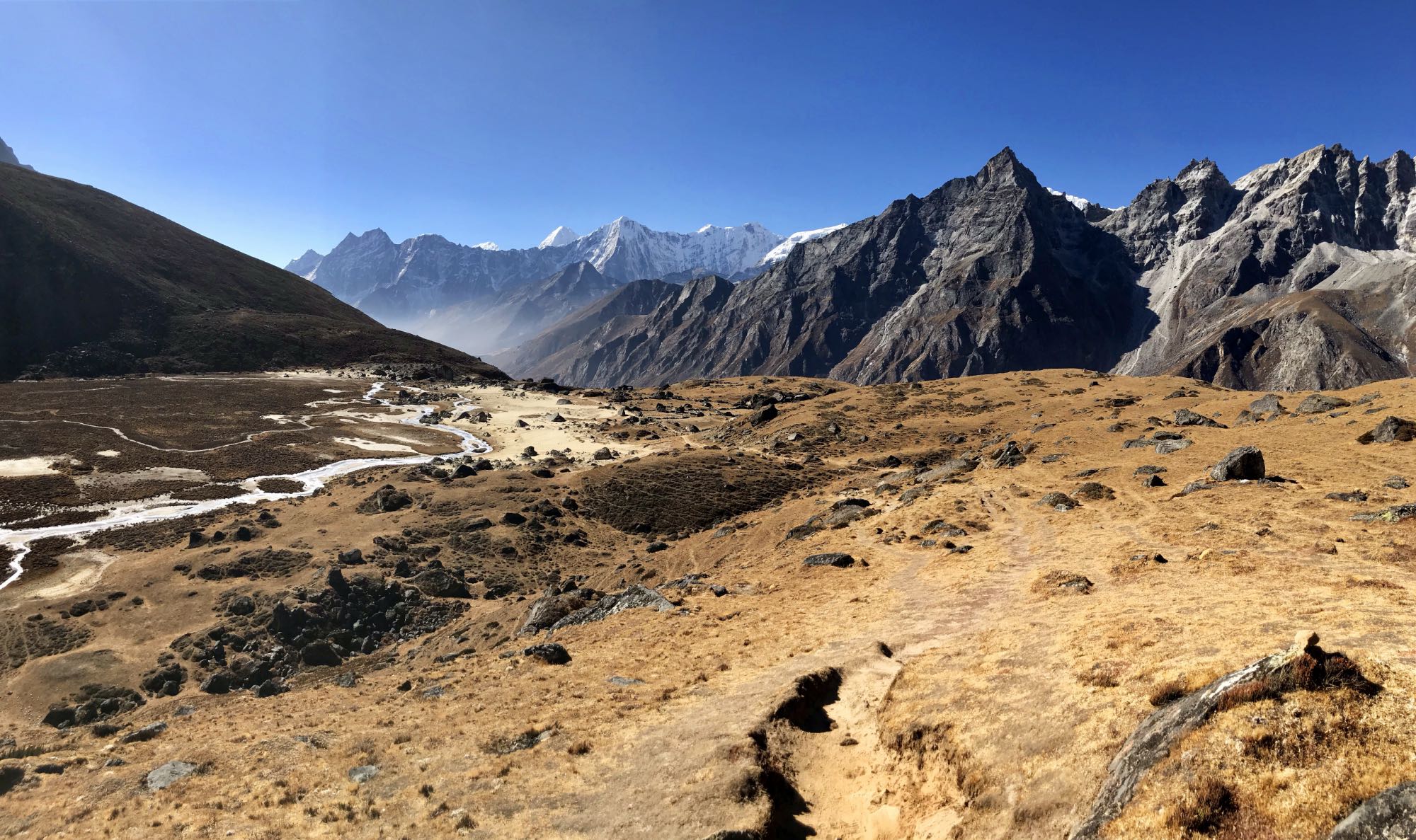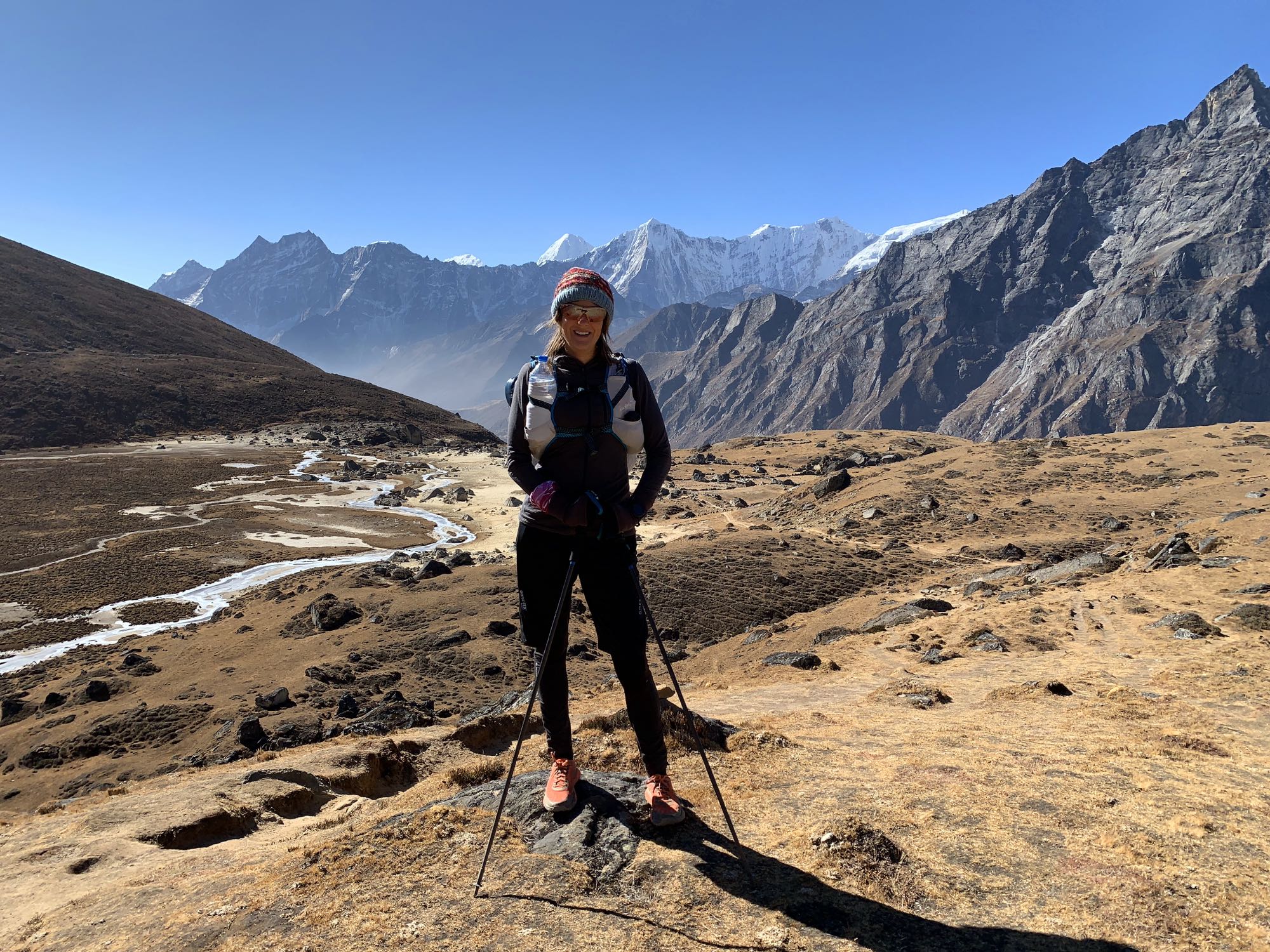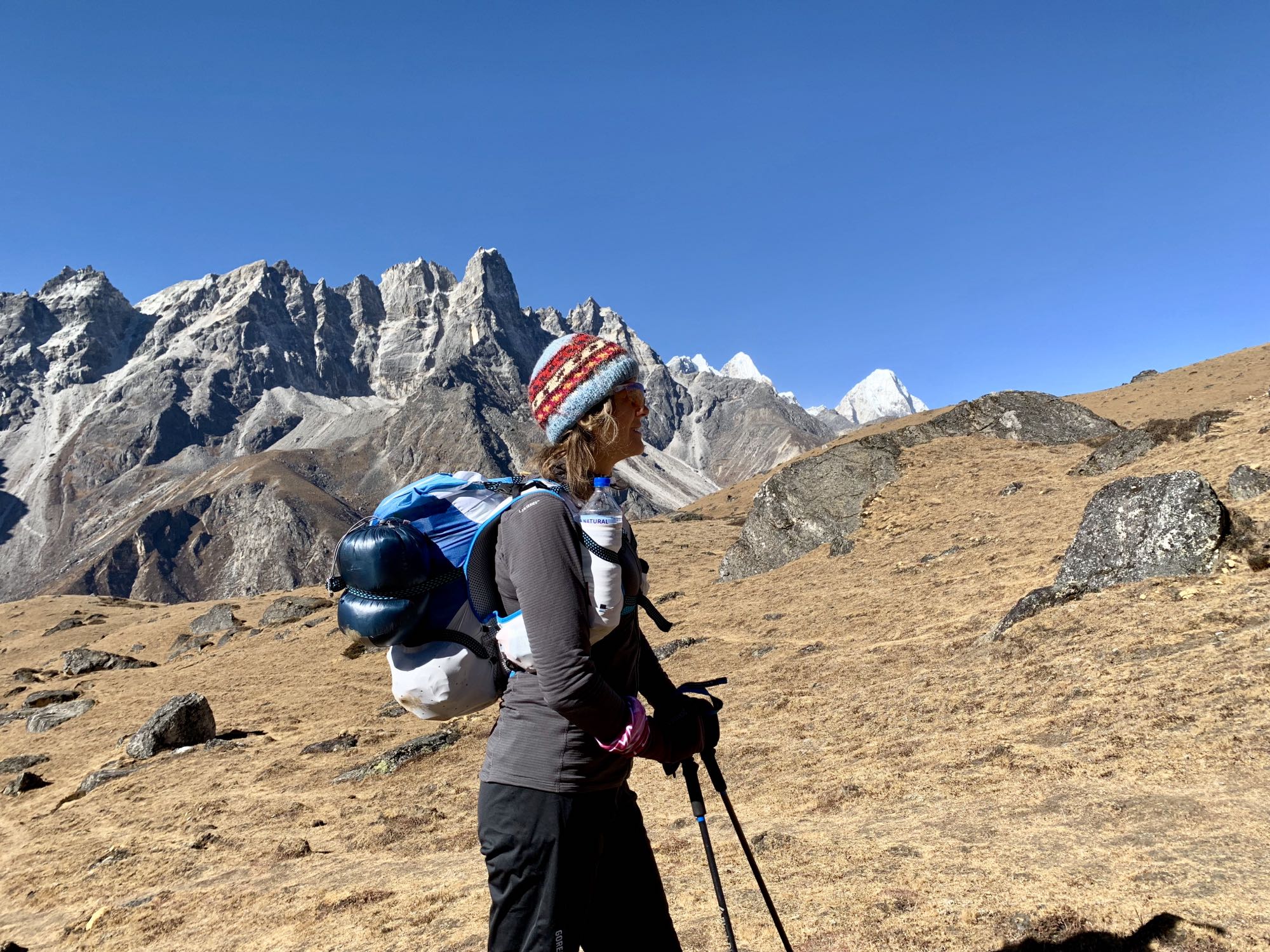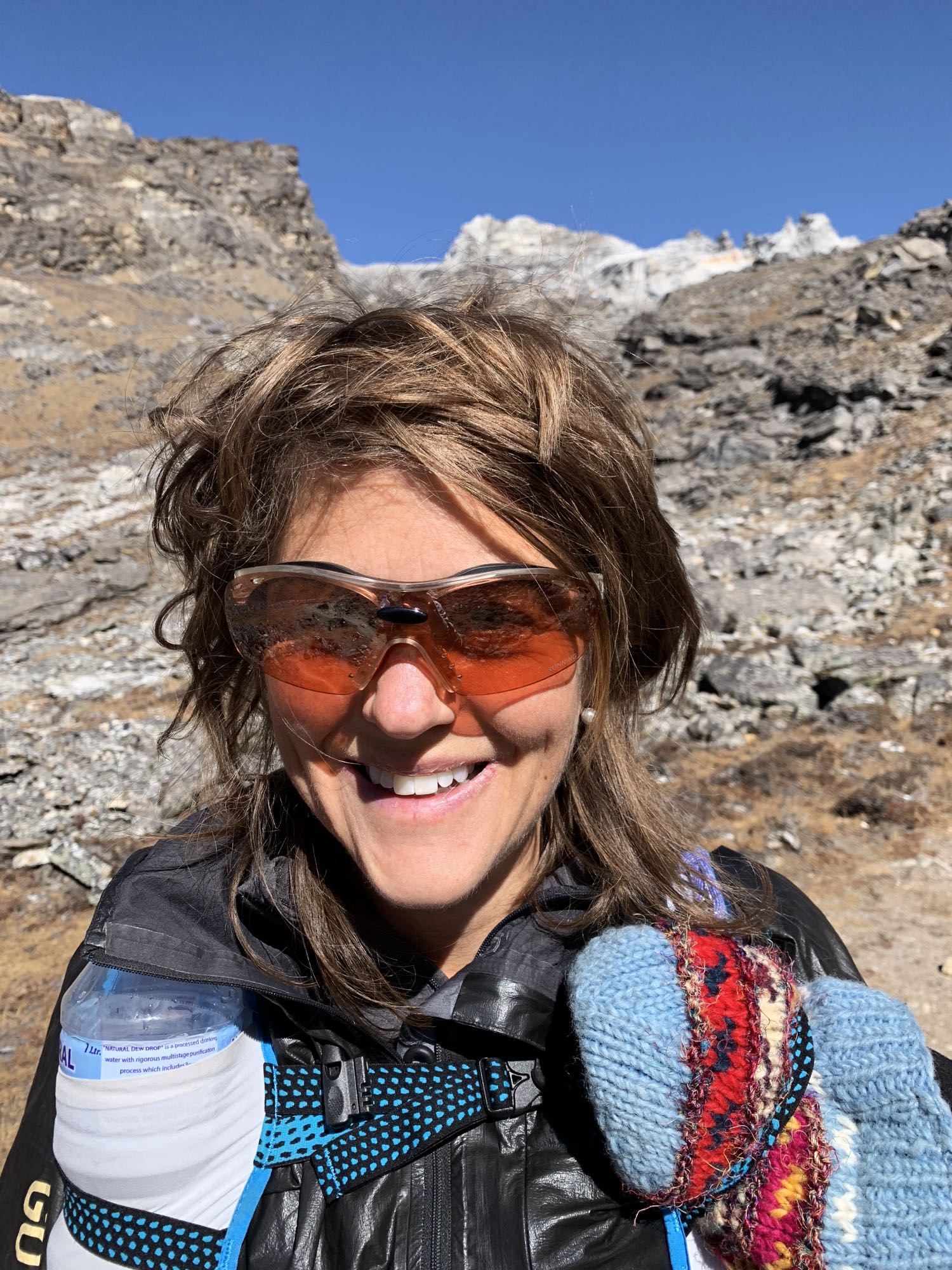 We took our time but passed people who had started earlier than us, fascinated by our small backpacks. The closer to the pass we got, the more people, but it was never crowded. More trekkers were coming the other way, from Gokyo, and descended as we approached the pass. Coming from Lungden, the route up to the pass is constructed by man-made steps. It makes it technically easy to ascend even though the altitude for sure can be felt and it's a rather slow affair. To our left as we ascended we could admire the blue-green and partially frozen Angladumba Tsho lake. I always think there is something magical about mountain lakes. Maybe it's the colour. They almost transport you to a fantasy world for a brief moment, but yet they are real.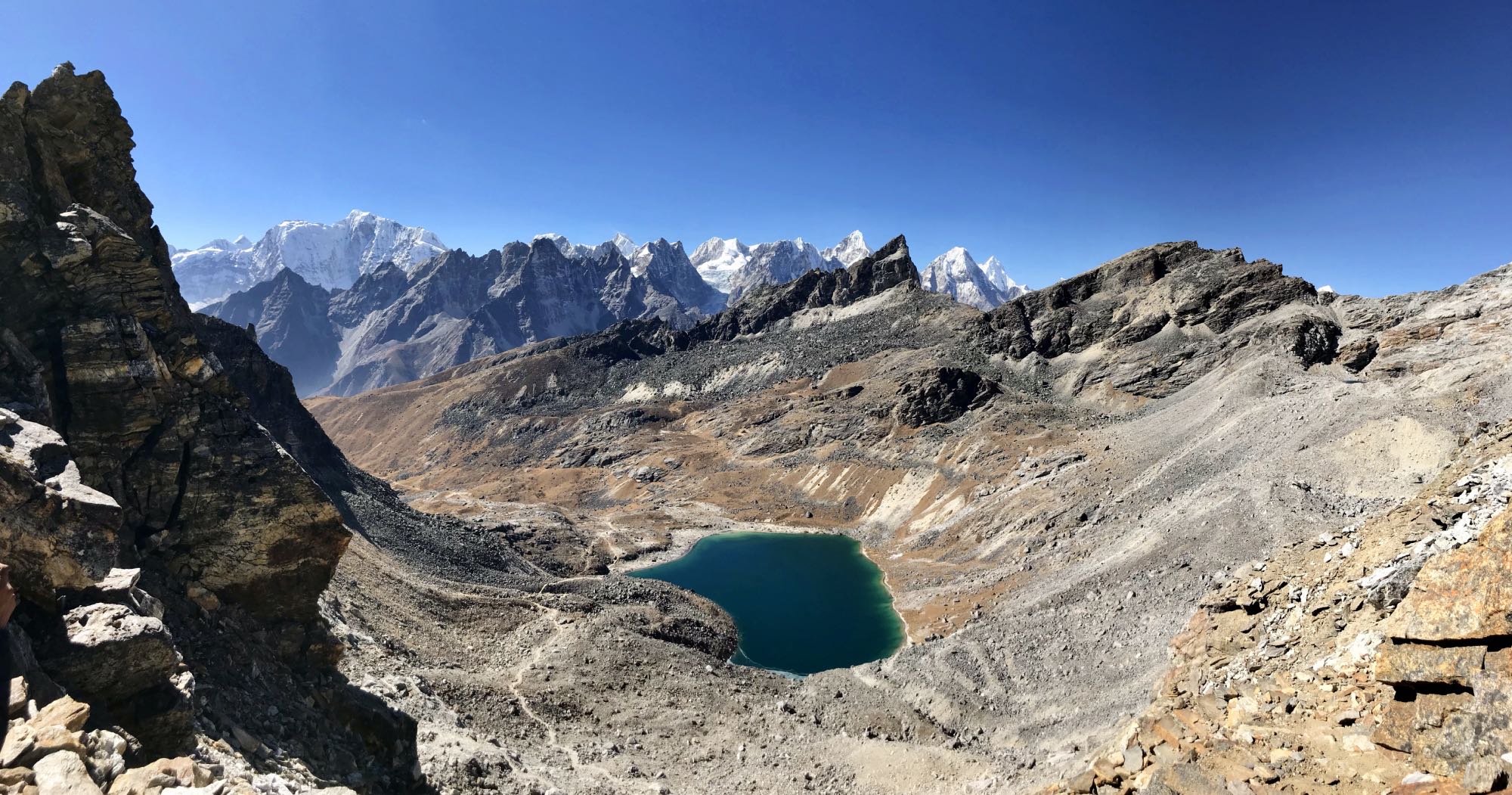 If the views looking back were stunning, they were nothing compared to what awaited when we arrived at the pass. In front of us was the most incredible view of the turquoise lake Dudh Pokhari, with Gokyo village on its north-eastern shore. Towering behind was an impressive line-up of some of the worlds tallest peaks including Everest. I still think this was the highlight view of the whole trek.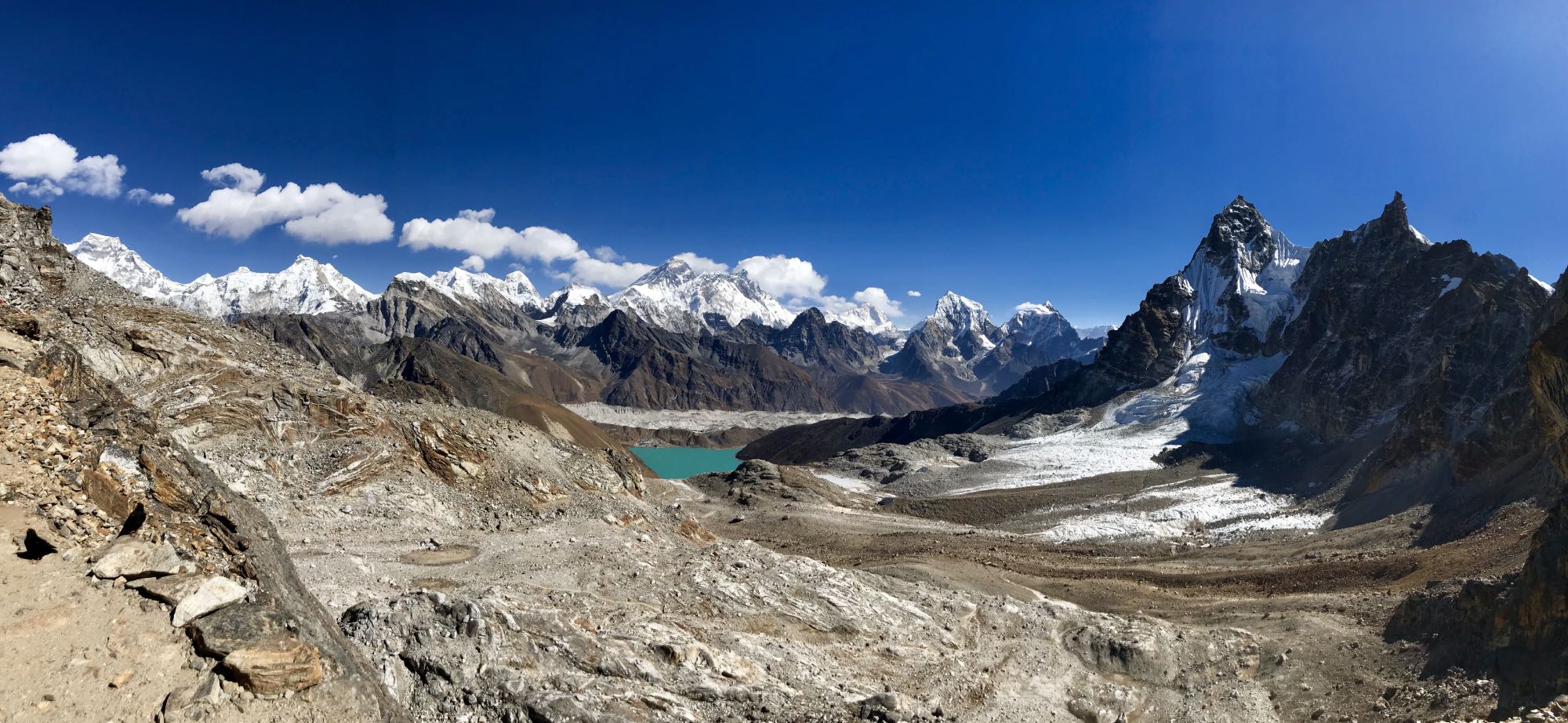 We descended on a trail which at first was bit steep with loose rock, but then became smoother and more levelled as it hugged the side of Gokyo Ri on the left side of the lake. At the end of it we had to step through some shallow water on rocks to get to the village. We had pre-booked a lodge with good reviews, Thanka Inn, and it didn't disappoint. It was located just by the lake, was bright, modern and surprisingly warm. It also featured a Sherpa art gallery. As we stepped through the door we were greeted by the host Pasang. We had a chat about our backpacks and where we had come from today. We had a room with private toilet which was very clean and we could take a hot shower before enjoying a late lunch. Here we could get reconnected with the outside world buying Everest Link Wifi passes so the Instagram addiction could be fed after some time of absence!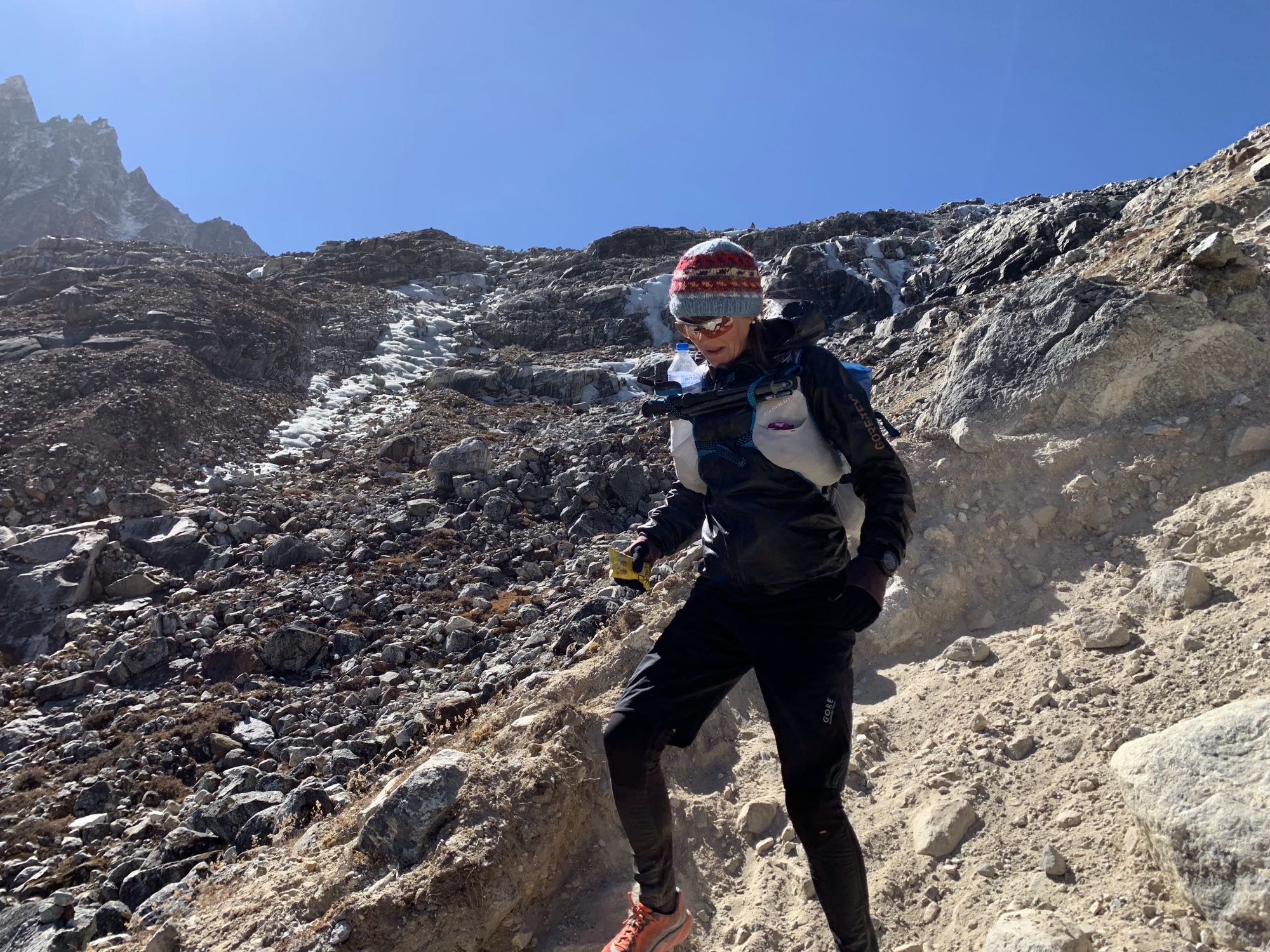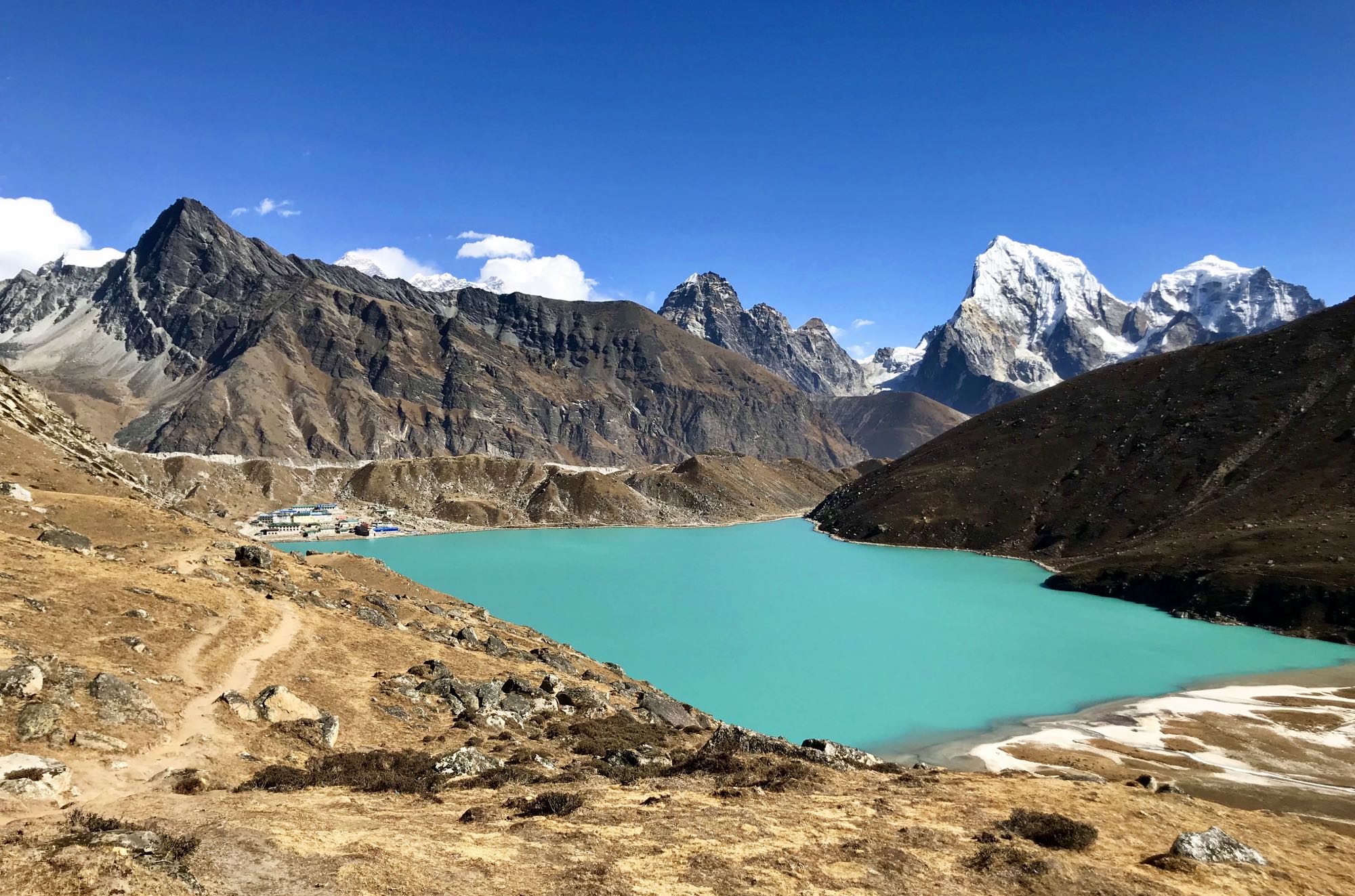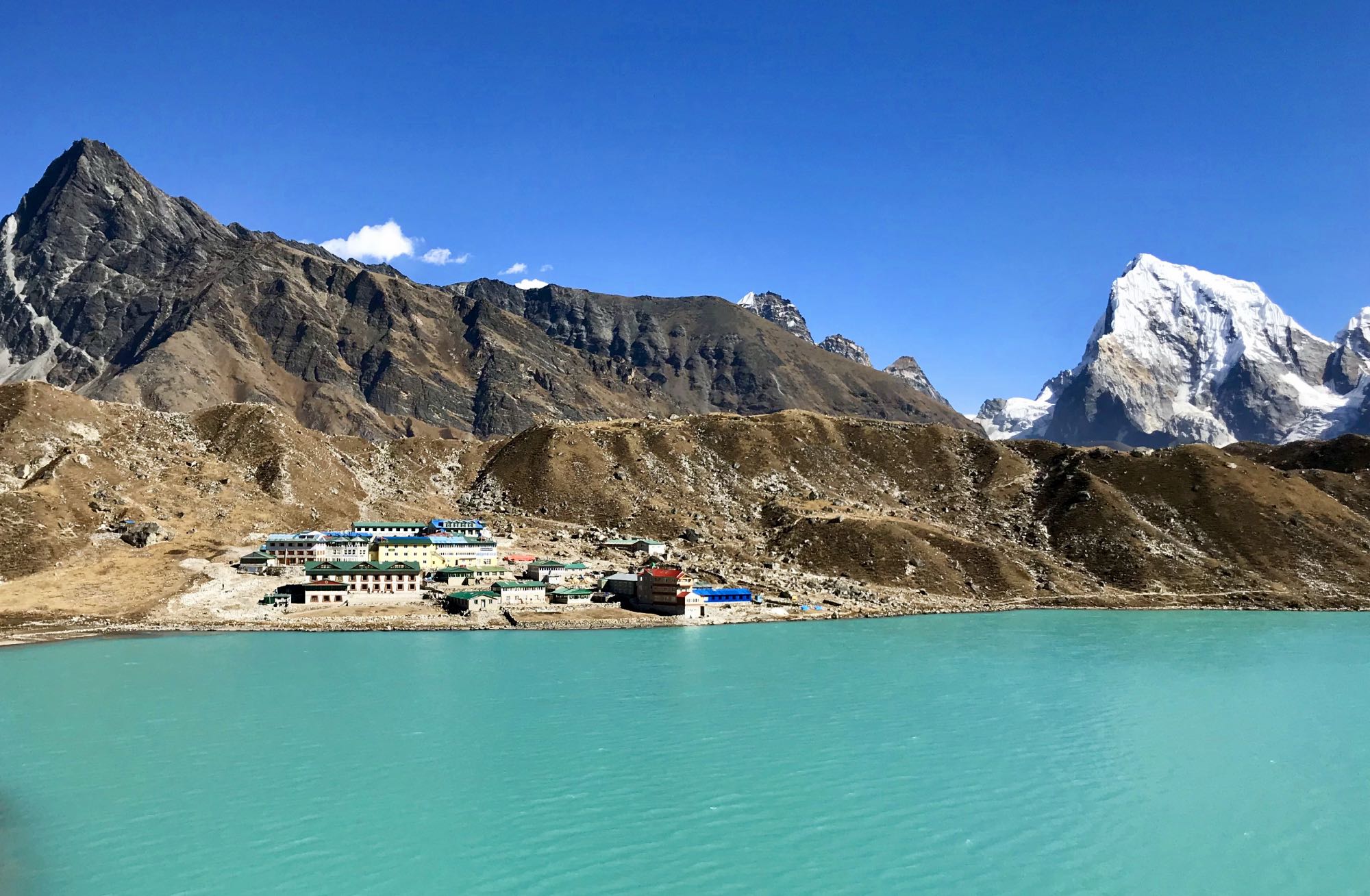 We had booked two nights here and it was lucky. By now I had a sore throat and a cold which was not great. Maybe it had been the source of my original headache. I had brought some medications but somewhat optimistically I had not packed any nasal spray. Of course in a village at 4800m elevation mainly consisting of some lodges there is no pharmacy. We decided to have an easy day the next day. Instead of climbing up Gokyo Ri we went to the 5th Lake. This was a longer trip but one with less elevation, passing Gokyo 4th Lake on the way. Once by the 5th Lake we had a snack break in the sun and went to a nearby viewpoint overlooking the Ngozumba Glacier, Everest and several other high peaks. We were quite close to Cho Oyu base camp and the 6th lake, but decided to turn back as we didn't want the day to get overly challenging with Cho La pass awaiting the following day.
[wpvideo 40WzUk4S]
On the way back we stumbled on three Russians who were having break. We chatted for a while and one of them gave me a blister pack of Strepsils for my throat. They were having an easy day with no particular plans. I think they had covered about 3km in the time we had done 9 or 10 including a break, but seemed to be enjoying the day to the fullest!
When we returned to the village we went for cake and coffee. Its amazing the facilities you can find in the middle of nowhere. A real espresso from a proper coffee machine was available at the German bakery in Namaste Lodge, along with a large selection of cakes. The place was rather busy, filled with trekkers, guides and porters. We enjoyed getting warm before returning to our lodge and a chilled afternoon.
In the evening at dinner (it was quite late and by now pitch black) Pasang was concerned the three Russians had still not arrived. A group of trekkers from Belarus said that they had heard them say they wanted to watch the stars. We commended that we had seen them around midday. "Oh well, there are plenty of Russians in the world, if three go missing it won't make different", joked Pasang, displaying a dry sense of humour we all found rather funny. Luckily a few minutes later three head torches came bobbing towards the lodge in the dark, and in stepped the Russians. They had indeed been admiring the stars and thankfully they too appreciated the joke when told about it. They asked how I was and when I mentioned my cold one of them donated nasal drops and more Strepsils. "From Russia with love, you can't do the passes with blocked nose. We're going down to Namche tomorrow and we don't need this anymore". I gratefully accepted and I have to say those nasal drops became a life safer in the coming days. It would have very hard without indeed.
Gokyo to Lobuche over Cho La Pass
It looked like we would be blessed with another sunny day for our trek over the second pass – Cho La. We loaded up with a big breakfast, cold and flu tablets and Russian nasal drops. Whilst enjoying our morning coffee in the sunny dining room we chatted to Berta and her partner Alex whom we had first met on our way from Lungden to Gokyo. They were heading to Phortse and Ama Dablam Basecamp. Berta had left her job in Spain for a more adventurous life, following her passion. Having spent several years trekking in Nepal she created her own travel company InspireU Adventures. Berta's passion and enthusiasm for Nepal was evident as was her knowledge. Check out her services if you want a guided trek.
We eventually got ready and left Gokyo behind. I was excited to get to see another pass but equally a bit sad to leave this extraordinarily beautiful place.
The route to Cho La started with the crossing of the Ngozumba Glacier to Thaknag. This involved some trails over the glacier with loose gravel and crossing a boulder section. The sounds from the ice cracking and moving everywhere around us reminded me of ice skating on the lakes in Sweden when I was younger. It's a deep singing murmur, followed by an echo which almost gives you shivers. It could be the sound from a horror movie, in a moment where the tension is building. It is like if mother nature wants to put you into place by gently but firmly saying: "I am in charge here, just in case you had any doubt".
Even though this is a glacier crossing you are never walking on exposed ice. There is a lot of gravel, sand and rocks on the ice and that's what you walk on. In the boulder section you had to take a little care so as to not fall down between the rocks as there were a few places where that would be possible.
In Thaknag we resisted the temptation to have a coffee break as we had just started. We admired the genius way of heating water using solar power and reflective dishes and carried on up the mountain. The trail was a little icy in parts but not technical. Maybe because of fewer people on this route we spotted some wildlife including a wild mountain goat, a very cute small animal looking like a pika, and higher up a group of Snow Cocks. I was fascinated by these birds thriving at nearly 5,000m.
We couldn't see the pass or anywhere obvious place we were heading so kept climbing patiently. Eventually we spotted a saddle with a pole. We knew this wasn't the pass but figured we were heading that way. Once at the saddle we could see the pass across the next valley, spotting a line of prayer flags high up in the distance. We descended a hill to the bottom the ascent to the pass where we had a brief break. The trail up to the pass was quite steep with plenty of loose rock and gravel. You had to watch your footing in order not to slip. We also made sure to not be too close to people above us in case they would set off rocks falling down the slope. The sun was warming the mountain side so it didn't get cold until we were very near the pass. Once we arrived we had a brief break and chatted to some French trekkers who had come up the other direction. We saw there was an exposed glacier we had to negotiate. For some reason we had overlooked this in our preparation (I had read somewhere you didn't need crampons for the Three Passes Trek) and we didn't have crampons with us. The French seemed to think it would be ok without though better with. They advised on the best line to take and we decided to give it a try as we didn't really fancy turning around. That would mean backtracking a long way as there is no other way around the pass. It was about 400 metres or so of ice. We were able to find decent grip and with the help of our poles we slowly negotiated the ice. We had to be careful and make sure we didn't slip. If so, we would fall down towards the centre of the glacier were there could be crevasses. We soon arrived at some less slippery ground close to the mountains side. Here the trail continued on the ice but with sand and rock on top, so we only had to watch for a few places of exposed ice. It was bitterly cold and I had put my down jacket on to make sure I stayed warm and didn't lose focus due to to being cold.
[wpvideo iTPT6KHy]
After a few hundred metres we arrived at a saddle overlooking the descent to Dzongla. It was beautiful and the trails looked nice and smooth down there. A rather steep and rocky descent, though easier than the way we had gone up, followed, after which we the trails levelled out. It seemed to take forever to arrive in Dzongla but eventually we did. Dzongla is essentially not more than a group of lodges on a plateau but quite spectacularly located above the intensely turquoise Chola Tsho lake.
We met an Irish woman who said she was stating in Himalaya Lodge. We went there to grab a late lunch but decided to carry on to Lobuche afterwards instead of stopping there. Here we paid the most for a bottle of water we ever paid during the whole trek: NRs 500. We had some coffee, chapati, and vegetable fried noodles. It was nice to get some warm food after having tackled the most technical section of the trek yet.
We left Dzongla and headed for Lobuche on a smooth and runnable trail which went gently uphill. Below us to the right we had the beautiful lake. The trail then turned left (north and we could see Thukla below. We remembered Thukla well from the EBC trek. It was a freezing cold morning when we got there and we took a break in the lodge to warm up before carrying on on the arduous ascent up towards Lobuche. Now thankfully we didn't have to do that ascent as we were already quite high up and our trail was more levelled, eventually joining the main EBC trek route just before Lobuche.
We hadn't booked accommodation in Lobuche. Last time when we did the EBC trek we stayed a kilometre north of the village in the Pyramid Research Centre. This was fabulous but now it wasn't on our route as we were taking a different trail the next day to go over Kongma La Pass. As we approached Lobuche we passed some guides. I asked them which was the best lodge in Lobuche. They replied that all lodges in Lobuche are pretty bad "we don't like it here". I had suspected as much. We picked one that had been mentioned to us before: Oxygen. It was decent. We didn't get our own toilet and the toilets were in such a state I went outside behind some rocks instead. It wasn't possible to have a shower either (the claim was that water pipes were frozen although it was not really that cold) but just as well perhaps. I had accidentally left my travel towel in Gokyo and Sondre's was the size of a napkin as he likes to travel extremely light… We got a bowl of hot water to wash ourselves with and that was ok. This washing method was also more appropriate for the size of towel we had available… The dining room was crowded with EBC trekkers. We had actually managed to snap the last room in the lodge so I guess we were lucky considering. Dinner was ok and the we went to bed. Sleeping bags were a must here and it did get pretty cold.
Lobuche to Dingboche over Kongma La Pass
The next morning we were the last ones to have breakfast. It was actually nice as it was a bit quieter once everyone was gone. When we paid for the room and left, the host muttered it was way too late in the morning to start the trek over Kongma La Pass. We nodded and left.
It was a beautiful day albeit cold. The trail first took us over the Khumbu Glacier. We could then see a saddle with prayer flags up in the distance. We both agreed this could not be the final pass as it didn't seem high enough (Kong La is at 5535m elevation). The climb was steep and technical in places. We met a Brit who was on his way down. He confirmed it was indeed the pass we had seen so that was encouraging. We had to negotiate few icy patches, a section of boulders, and a generally steep and rocky trail before we reached the pass. Lobuche was visible in the distance looking back, and looking ahead was yet another beautiful mountain lake. A handful of people had taken a break here, admiring the views and having a bite to eat.
[wpvideo OJvVXcZ9]
[wpvideo LZWAet67]
We took some photos and began the descent. At first it was steep and slippery and then the trail became more level for a while before anther steep switch back section. We seemed to go on forever before finally we could spot Chukhung. We could also see a shortcut that would make the route to Dingboche quicker but we decided to still go to Chukhung as it was in the trek route and we quite fancied doing it properly. On getting quite close I slipped on the rocky trail. I was fine but realised I needed a break and something in me. That fall would later result in a rather spectacular bruise on my left hip. In Chukhung we found the Khangri Resort Lodge (I had heard it was good) and stopped for a lunch break. It did seem a really nice place and it was tempting to stay but we were only 4.5 kilometres from Dingboche and we had booked a lodge there for the night.
After a filling Dal Bhat and some lemon, ginger and honey tea we were ready to tackle the final stretch. It was pretty cold now and the sun would soon set. We passed a few water streams and tried to not get our feet wet. The trail was now all downhill to Dingboche which is located at 4,410 metres. We arrived at the lodge which was not really all it appeared to be on the booking site. Nevertheless the room was spacious as I had a booked a 3-bed room and we had a private toilet. The shower didn't work but we got some hot water to wash and then we went to one of the bakeries for a proper coffee and some cake. It was nice to feel we were almost done as having the cold and sore throat was taking its toll. After dinner we went outside to look at the star filled sky and Ama Dablam, dominating the view with its very unique shape.
Dingboche to Namche Bazar
We were woken up the next morning by the sounds of a helicopter. It landed near the hotel, dropping off some supplies to a few waiting people and set off again. It had been a cold night and we had frost on the inside of the window to our room.
I wore plenty of layers as we set off after breakfast, heading for Namche Bazar. Encouraged by the downhill, the lower elevation and the smoother trails, we started running. We had to dodge some icy patches in places but it felt good to move a bit quicker. The sun soon came out and we got very warm so had to stop. I changed from three or four layers to a merino base layer and thin wind jacket. It was fun to notice how, after climbing the passes, it felt quite comfortable to run at 4200 metres elevation, even with a backpack on.
[wpvideo Rs2cD5LJ]
We passed Somare, much livelier now than when we had done the EBC trek in January. We stopped in Pangboche to buy some water. It was busy here too. Along the way people cheered us on as we were running. Nobody else was. I think people assumed we were doing a race "oh, look, racers!". We descended to Deboche and the trees were a welcome sight. The climb up to Tengboche is quite arduous but once there we stopped at the bakery for a break in the sun. We bumped into Berta and Alex again and chatted with them for a while, as well as a Canadian trekker and his sherpa and guide. He was the only one except us and the locals I had seen who was wearing running shoes and not hiking boots. He thought they were great and I agree. You really don't need hiking boots for a trek like this unless you have issues with ankle stability.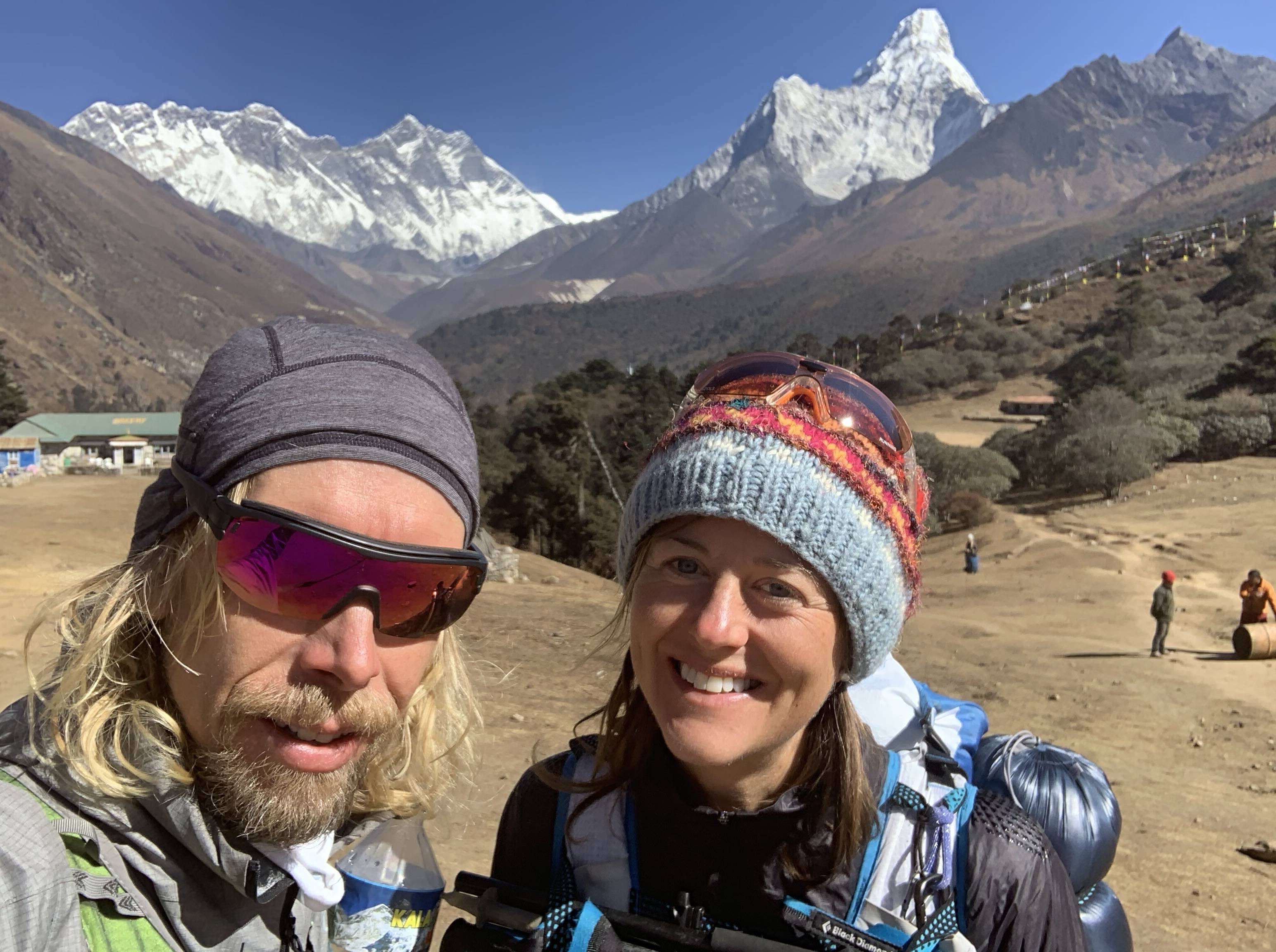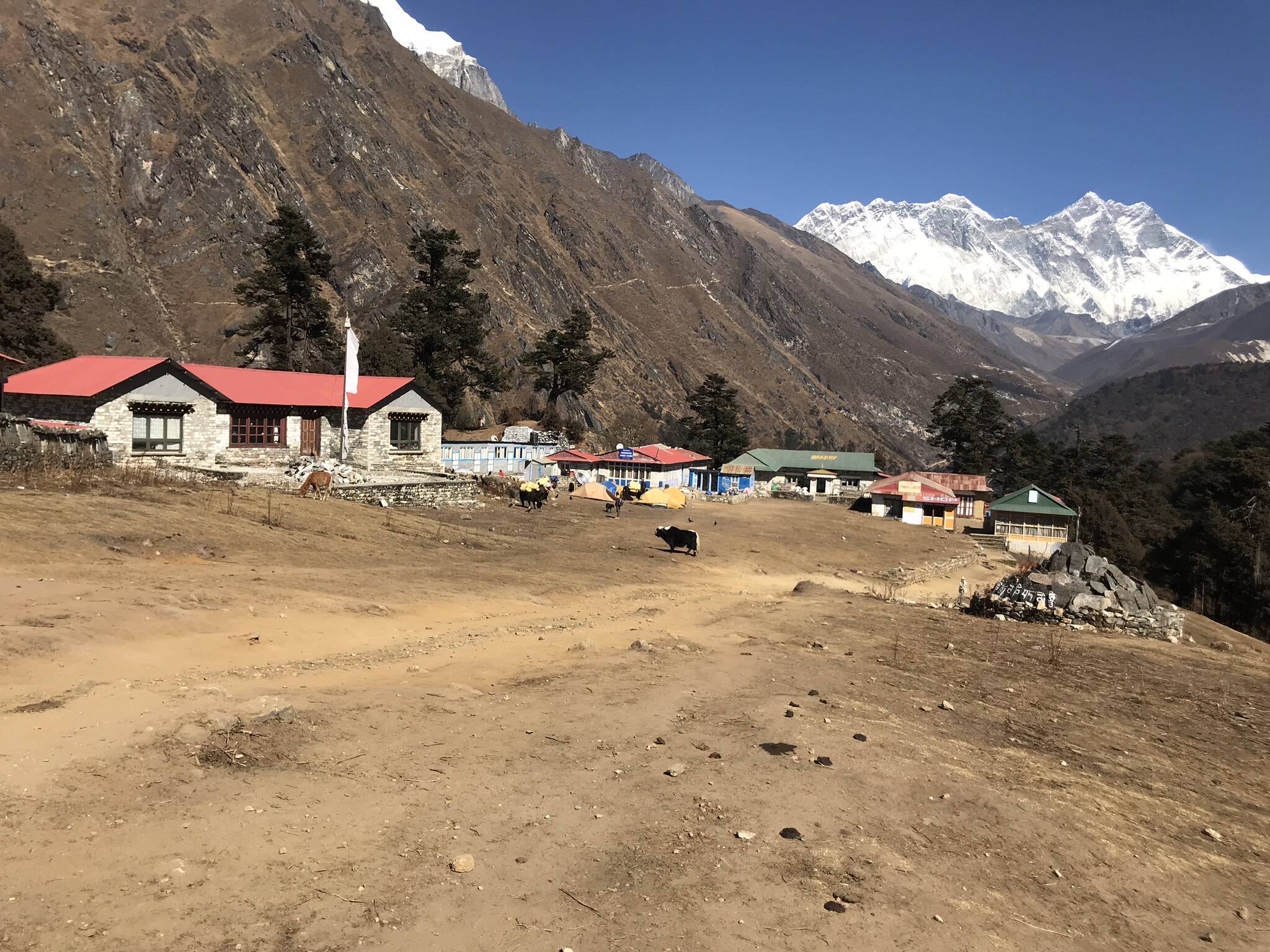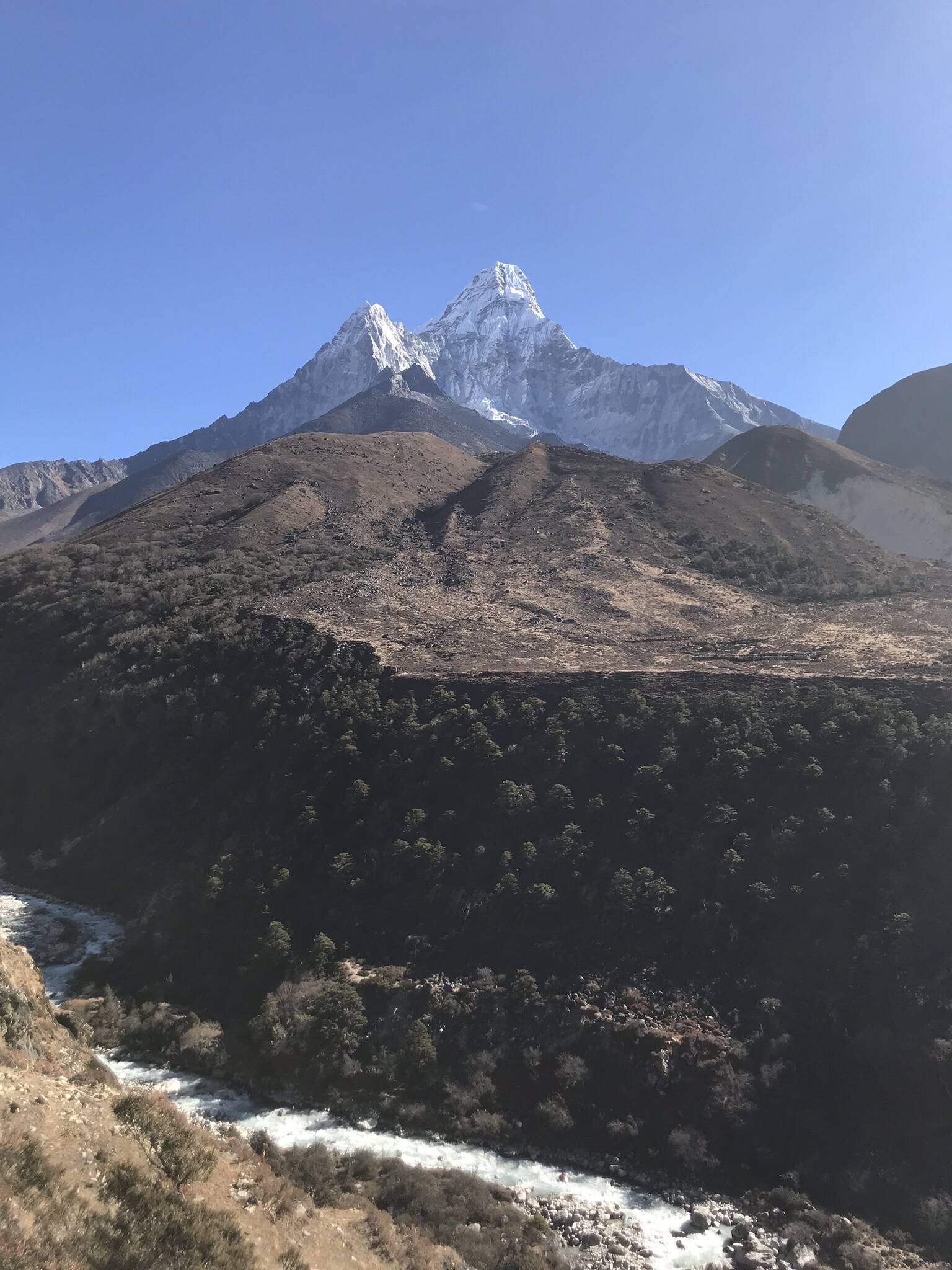 After maybe 45 minutes we reluctantly left the warm sunny spot and headed down the stony zig-zag path towards Namche. At the bottom of the hill we had to stop at the control point to show our permits. Another layer of clothing came off as it was now very warm.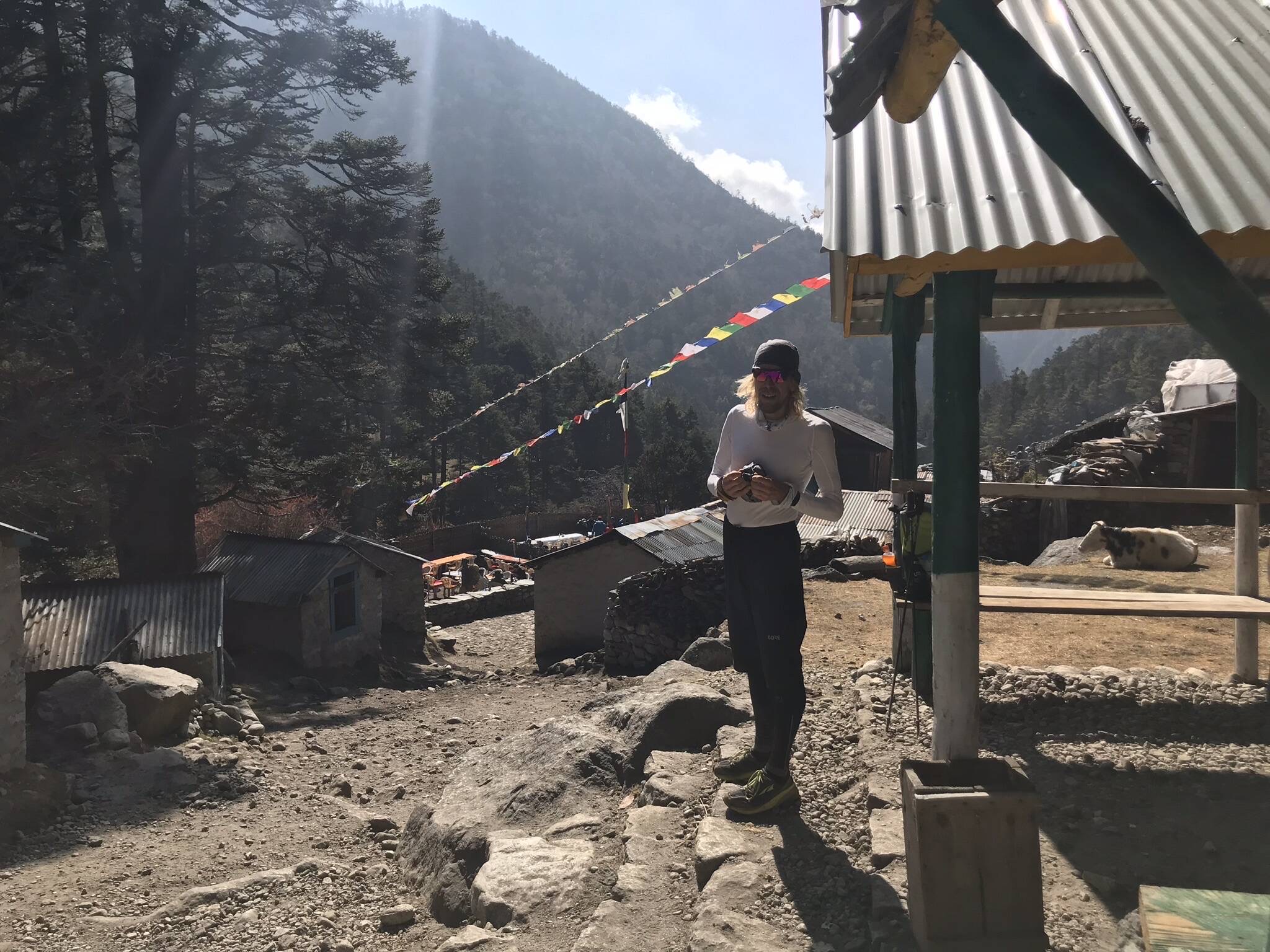 Some more steep climbing before the runnable trail on the balcony and we arrived back in Nacmhe. We were welcomed back in Panorama Lodge and they had saved us a great room with a big double bed. It was wonderful to not have to sleep in the sleeping bag and to have a much needed hair wash after nearly two weeks without.
The next couple of days we spent in and around Namche Bazar. We did a day trip to Mong, which is on the more direct trail towards Gokyo. This was a beautiful place and the trail there offered fantastic views over the river, the route to Tengboche, Tengboche Monastery and Ama Dablam.
Namche Bazar to Lukla and Kathmandu
On our final day we had decided to go to Lukla on the same morning as our flight. After an early breakfast we said goodbye to our lovely hosts at Panorama Lodge.
We had, somewhat optimistically, budgeted 3 hours for the 20km distance. With a cold and a full backpack, and allowing for a toilet break and a stop in Monjo to have our permits checked, this became a race against the clock. It may not sound difficult to have 3 hours for 20km but the trail has some some significant climbing and descending and is very rocky in places. In addition we hadn't considered the yaks, mules and horses. It appeared as though were in the midst of rush hour. Is started already on the hill down from Namche where, covered in dust, we tried to pass and outrun a large herd of horses. Mules were frequent and on the hanging bridges there is not room for a person and a loaded mule. So, you have to wait. With about 5km to Lukla we impatiently waited as a seemingly endless train of mules were coming across from the opposite direction. One decided to stop in the middle and munch on some leaves from the overhanging branches before continuing at mellow pace, creating a queue behind. One of the porters who were also waiting asked about our trip. I said we had a flight from Lukla in 90 minutes. He shrugged his shoulders and said "it takes 2 hours to Lukla". I tried to convince him otherwise but it was pointless. Eventually the train of mules passed and we jumped on the bridge quickly before any more would appear, racing across as if chased by tigers. We didn't have much time now. The final section to Lukla is tough because it is all uphill, I hiked as fast as I could as this was no longer runnable. It felt endless but suddenly the arch marking the end and beginning of the trail appeared. I drew a sigh of relief. We ran through town to the airport and got there, panting and with sweat dripping, only to find out there were severe delays. Apparently this time the weather was not the culprit but air traffic control issues in Kathmandu. With several hours delay there was a significant risk we would not make it today.
People were waiting in front of the check-in counter. A German guy was clearly frustrated by the chaos and increasing amount of people and loudly declared he had been waiting there for two hours and should be first in line. As if anybody cared. You get seen to according to your flight time so if you turn up two hours before your flight it's kind of your own problem. You can't travel to Nepal and expect German-like order. Probably the most valuable item you can pack is a large dose of patience and a "take-it-as-it-comes" attitude.
I now got cold because I had been sweating so much. I somehow managed to change clothes in the queue and it was bliss slipping into my dry merino base layers and my Astucas primaloft pants. Meanwhile we heard that there would be an option to fly to Ramechhap instead of Lukla. From there we would be able to go by minibus that had been arranged to Kathmandu at a cost of NRs 1000 per person. They said the minibus trip was estimated to 4 hours. We didn't fancy staying in Lukla with the added risk of not being able to travel the day after either so we decided to accept the Ramechhap flight. The wait was not too bad and the flight was short and 11:40am we had landed. Sondre had extreme pain in his ears due to the air pressure change when we descended and not being able to equalise the pressure due to his cold. I was just warm. Now it was really hot and merino base layer plus insulated pants was not a great outfit for the weather. The minibus was there as promised and we boarded along with the other passengers. Well, all except four. It was the German guy from the queue along with his three friends. The group had decided that EUR 7 for a 4+ hour taxi ride was too expensive. This was an issue, not because we wanted them onboard, but because the driver had to make a certain amount of money to cover costs and make the journey worthwhile. Because of that we were off to a slow start, stopping in villages to see if additional passengers could be picked up. It is of course up to each and everyone to decide what they are willing to pay for a service but I actually found it insulting behaviour to refuse to pay what even locals were paying, in one of the world's poorest countries. In the end Sondre, myself and a couple of Spanish passengers chipped in the missing amount the driver wanted so that we could get on our way.
The journey was "interesting" along narrow winding mountain roads. In places the barriers were gone, leaving evidence that not all travellers reach their final destination but fall victim to horrific traffic accidents. We had survived the "world's deadliest airport" but we were most certainly travelling on some rather dangerous roads. That said our driver was skilful and drove as safely as you could expect. We stopped at some kind of road services and I reluctantly used the not so high standard toilet. On the positive side the water bottles now only cost NRs 25 as we were out of the tourist zones.
[wpvideo hBFkauOt]
[wpvideo gKCakTMA]
As we eventually carried on once our driver had finished his lunch, we got stuck in traffic jam. Nepali music videos Bollywood style started playing on the flat screen. This was quite painful to listen to but somewhat entertaining to watch. I did like the fact that the women were of all shapes and sizes in their belly dancing outfits, conveying a much sounder body image than what we westerners are used to.
[wpvideo fvxc5XPY]
After about 7 hours we finally arrived in Kathmandu and could take a taxi to our hotel. This time it was the Arya Tara very close to where we stayed before we left. It wasn't as good as Oasis (which was full when we booked) but it was good value for money and did the job. We enjoyed a day and a half in Kathmandu before going back home, soaking in the colours, smells and sounds of Thamel and planning our next visit. I don't think it is possible to visit Nepal without wanting to go back. It is a country of contracts. Poor in many ways but yet so rich, The mountains, the food, the people, the culture, the hospitality… it stimulates all your senses and makes you feel alive, humbled and grateful. Grateful for the welcoming to this wonderful country and the incredible experiences it offers, at the same time grateful for the privileged life you have at home. Going there is easy and you don't need a guided trek, guide or porter unless you want to. Just check out the practical advice below and book your tickets 😉
Pre-Trek Preparations, Admin and Practical Advice
Visa
You need a tourist VISA to enter Nepal. Depending on your nationality you can get this on arrival. The kiosks at the airport are in my experience very cumbersome to use but you can do an application in advance online. Make sure your photo is in the requested dimensions (1.5 x 1.5 inches) and that you input only allowed characters in the form. Also ask your hotel in Kathmandu for the correct address details for VISA purposes.
Mobile Phone / SIM card
On arrival in Kathmandu airport you can buy a local SIM card and data package from N-cell outside the arrivals hall if you have an unlocked phone. This is cheap and well worth it. You need your passport and a passport sized photo. Foreign currency is accepted as payment. Mobile coverage on the trek is good at the lower elevations. It ends somewhere between Namche and Thame, and between Pangboche and Dingboche. North of these locations you have the Everest WiFi Pass available.
Everest Wifi Pass
If you want Wifi when your mobile coverage ends then you can buy the Everest Wifi Pass in the lodges. This works well for mobile phone but not laptop. There are two options. The cheaper card (1-2GB) for approximately NRs 800 is only valid in the lodge where it is bought. The more expensive card offers 10GB at approximately NRs2300 and the same pass is valid at all lodges and cafes which use the system.
Permits
You need permits to trek and to enter the Sagarmatha national park. On exiting Lukla you buy the Khumbu Pasang Lhamu Rural Municipality (KPLRM) permit which costs NRs. 2000. This is a collection of tourism fee from travellers in the Everest region. Near Monjo you will find yourself by the entrance gate to the Sagarmatha National Park. Here you must buy a permit to enter the national park at NRs 3000 per person. Take photos of this permit in case you lose it. You may need to show it later on. You do not need any permits for this trek so if anyone mentions a TIMS card this is out of date information.
Payment Methods
Many lodges accept card payments but charge 5-6% extra. To get cash in ATM carries a charge of NRs500 per withdrawal. In Namche there are ATMs and the maximum amount which can be withdrawn in one go is NRs10,000. Therefore the charge on cash payments is effectively 5% so it is not much difference. If you withdraw money in Kathmandu it is a bit cheaper and the machines are more reliable. Don't travel with only a MasterCard as not all ATMs accept them. Have VISA as an option.
Costs
Once on the trek route you will find that rooms in lodges can be quiet cheap, typically NRs500 – 1000 per night. You pay for the food and the extras though. Example of prices:
Mineral water: NRs 100-500 per bottle (typically NRs100-200)
Wine: NRs 600 per glass
Coke / Fanta: NRs 250-350 per bottle
Coffee: NRs 120 – 250 per cup
Dinner meal or breakfast: NRs 500 – 850
Hot shower: NRs 500 per shower
Bowl or jug of hot water in the absence of a shower: NRs 200-400
Charge Facilities: NRs 800 to use plug in room for 24 hours or NRs 300-500 to charge a device
Some lodges appear more expensive but may have all-inclusive prices which in the end work out cheaper and you get a more comfortable stay. In my opinion, unless you are really on a budget, it is well worth going for the better lodges except maybe Yeti Mountain Home whose prices are astronomical compared to most other lodges but this is not really reflected by a similar uplift in standard (even though they are very good).
Budgeting NRs 10000-15000 per day means you can sleep well, eat well (breakfast, coffee/cake or lunch and dinner), charge your devices, and have a hot shower where available. It sure is possible to do it cheaper using fewer facilities.
To and from Kathmandu Airport
Most people stay in Thamel. Its a bustling place and well worth a visit. Some hotels offer free airport transfer or at a small charge. Otherwise, expect to pay NRs500-700 for taxi between Thamel and the airport. When you land you will get approached by many people offering to help you with luggage and insisting on money. You don't need to give them anything.
Lukla Airport
Flying to and from Lukla can be a chaotic experience if you expect things to run orderly and on time. It is best to prepare for some wait, poor information, and potential flight changes and cancellations. The weather can play havoc and there can be days without flights if you're unlucky. Have some slack in your trek schedule and always book an extra day in Kathmandu following your trek before your onward flight home.