Managing your feet in desert ultra running is crucial in order to minimise potential issues in the race. Marathon des sables foot preparation, as well as shoe selection, should be high on your priority list. The risk of blisters, infection and other complications is high due to the extreme environment and if your feet are negatively impacted the race will be a lot harder.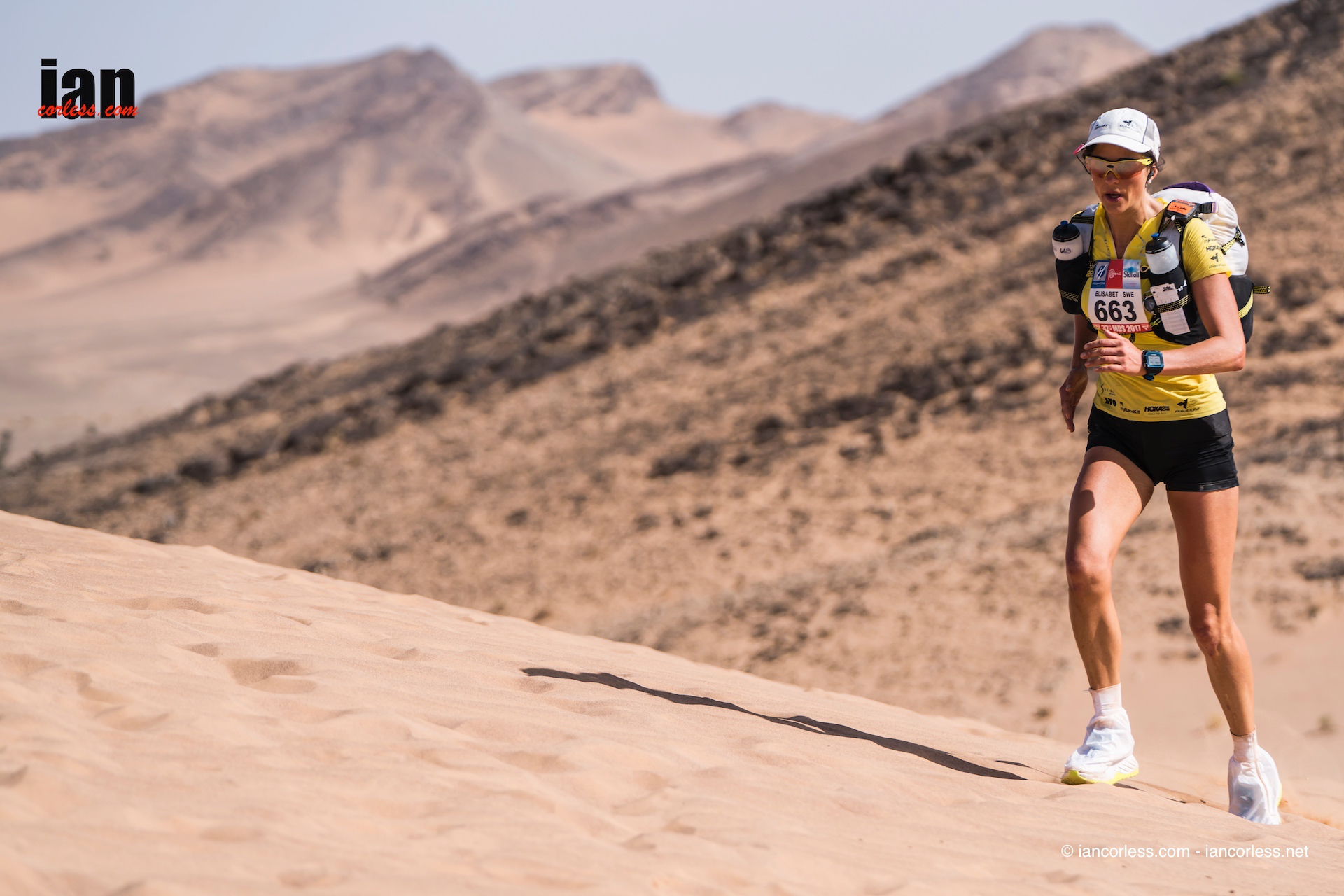 Marathon des Sables Shoe Choice
Shoe choice is just as important as any other Marathon des Sables foot preparation. You can run in MDS in road or trail shoes, and there are almost no shoes that are directly unsuitable but there are a few considerations:
Shoes with open air channels or holes in the soles are not suitable as sand will get into the channels and the outer sole "bubbles" is highly likely to rip and tear.
Shoes with an inner "sock lining" are more difficult to stitch velcro or gaiters on. Although the logic might tell you that sand won't get in as easily, the opposite can in fact be true and sand can get trapped between the mesh outer and the sock liner.
Shoes with low profile and open mesh, or a knitted upper, means the gaiters will have very little clearance to the ground which increases the risk of them tearing. Limited toe protection on this kind of shoe may also mean a rather unpleasant experience unless you are very good at lifting your feet and avoiding kicking rocks.
I ran my last three MDS in HOKA which worked very well for me. The combination of light weight, generous cushioning and high ground clearance for the gaiters worked well for me. No matter your choice, once you have your shoes, here is a check list of things to consider: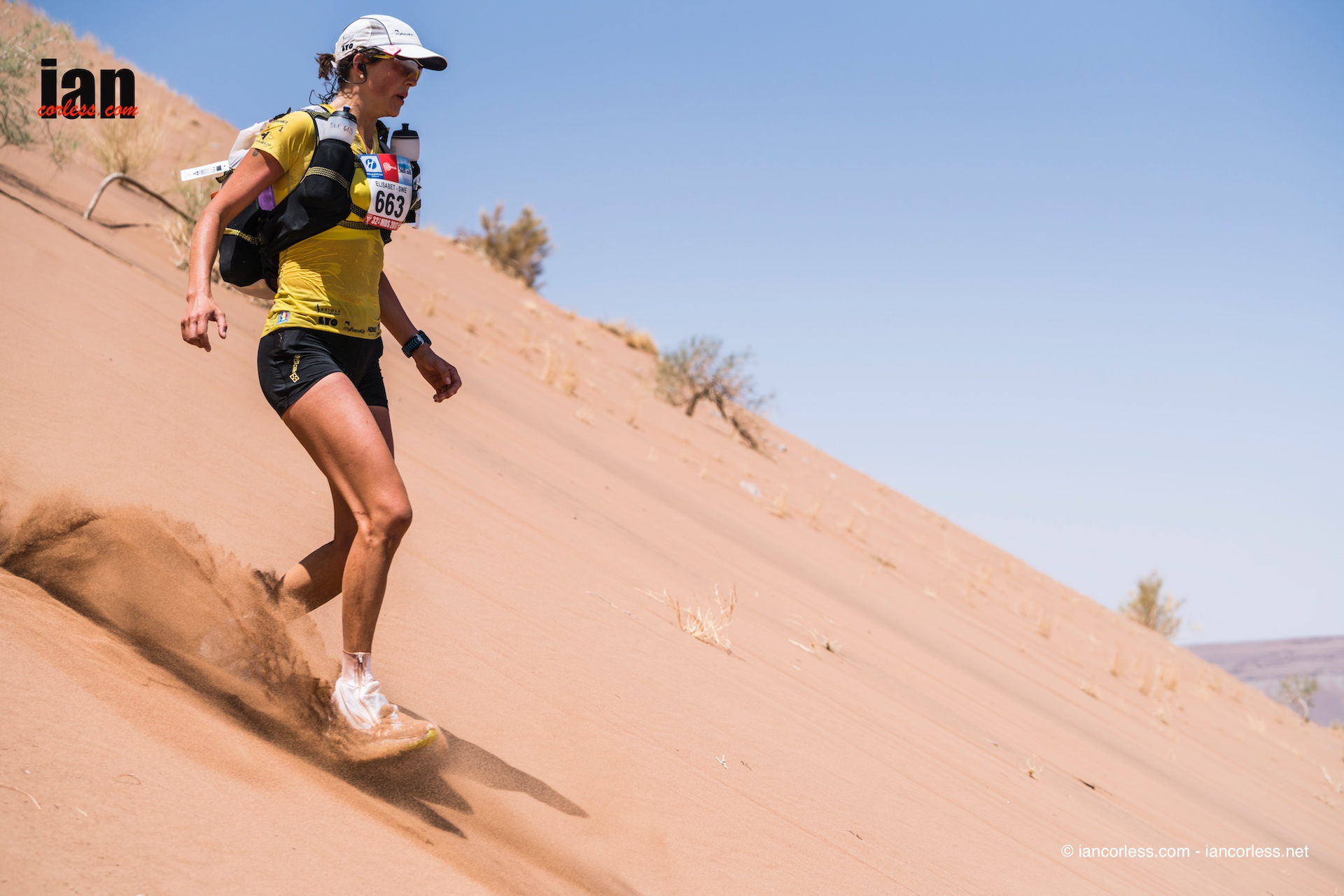 The condition of your shoes
Running shoes should not need "breaking in". They should be comfortable as soon as you put them on. For MDS you need a fresh pair. Don't use the shoes you have done all your training in. Buy a new pair of the same model instead. I always use a new pair of shoes straight out of the box for MDS. I only do a few short runs, usually a total maximum of 30-40 km in the shoes, before the race itself.
Do NOT train in sand or mud with your shoes before sending them off for velcro fitting (see below). The sand destroys the sewing machine used by the cobbler and makes it a lot more difficult to fit the velcro properly.
Gaiters for Marathon des Sables
Gaiters are pretty much a must in MDS. Whilst there are long sections of the race where gaiters are not necessary, every day will present sections of sand and usually this sand is very fine. It gets in everywhere. Sand in your shoes is not good for your feet and you need to avoid it. The most popular gaiters, at least for European competitors, are Raidlight and myRaceKit.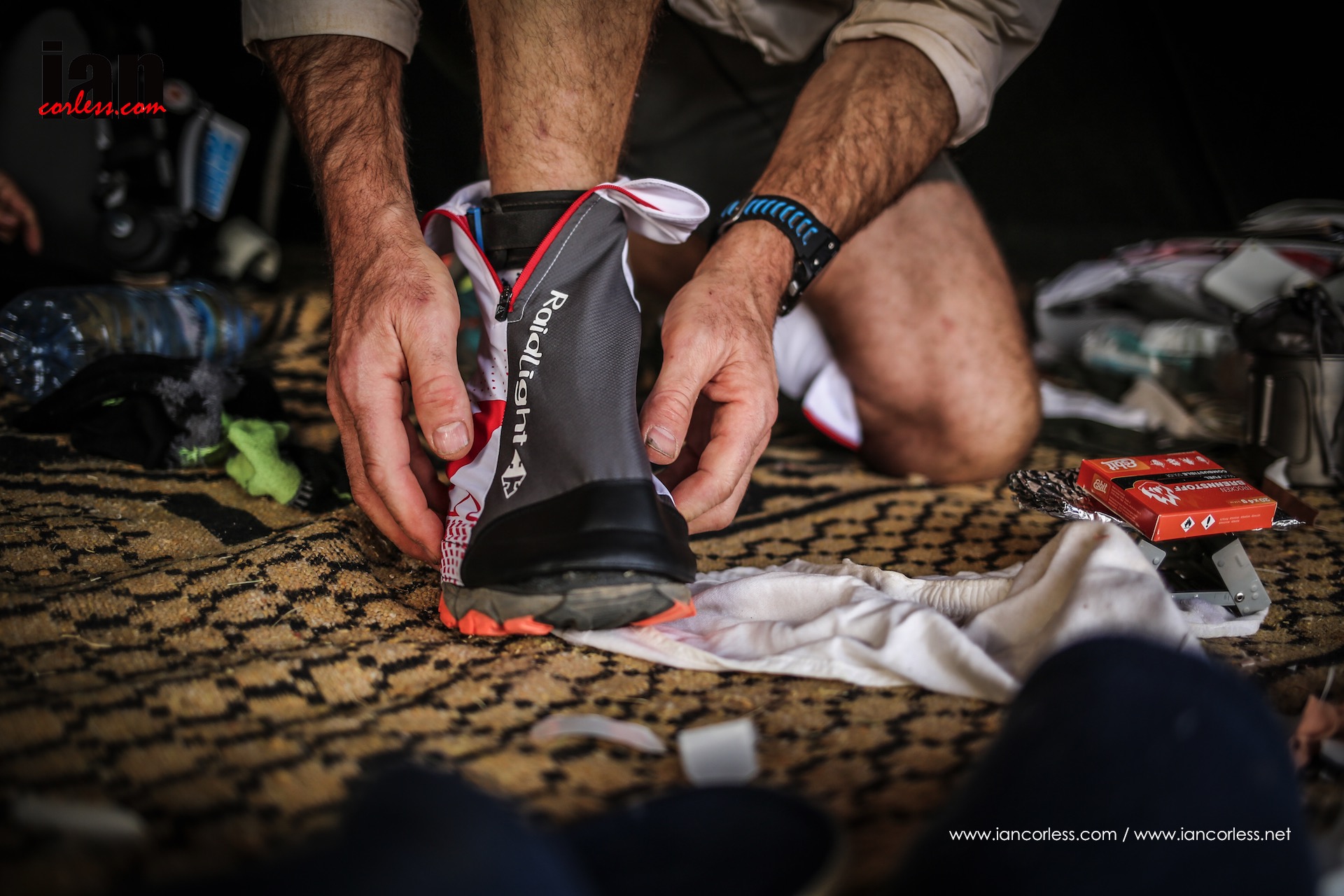 Velcro & Gaiter Fitting
The majority of gaiters are fitted on the shoe with velcro. The velcro loop is on the gaiter and a corresponding strip of velcro hook should be fitted to your shoe to fix the gaiter. My advice is to get the velcro stitched to your shoes. Whilst it is possible to glue it, if you do not use the correct glue and technique, the velcro will come off and that could cost you the race. It is simply not worth the risk.
Leave it to the professionals
Only use a reputable cobbler with experience and understanding for what you are about to embark on, other wise the velcro may not be fitted in the correct position. I recommend Kevin at Alex' Shoe Repairs in London. He welcomes both international and UK customers and offers a postal service. You can also use myRaceKit's velcro service which is delivered in partnership with Alex' Shoe Repairs and is particularly convenient for those placing orders for shoes or other gear at the same time.
Once the velcro is fitted to the shoe, it is possible that the toe box may have shrunk slightly, particularly if the upper is very soft. Stuff your shoes with newspaper or walk around in them at home with double socks to expand the toe box and soften the velcro.
Marathon des Sables Foot Preparation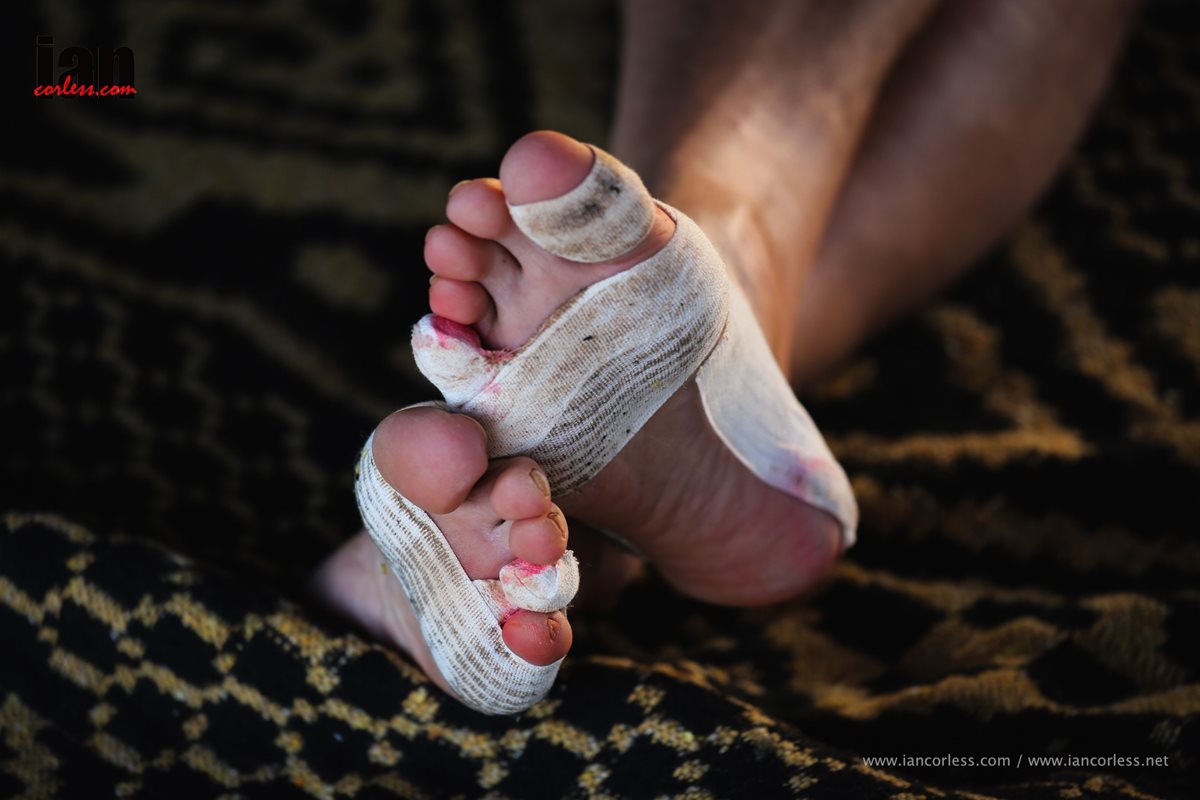 When the basic MDS foot preparation is in place in terms of doing your best with shoe choice and gaiter fitting you can focus on your feet more directly. Other ways of ensuring the health of your feet during the race include:
Make sure your feet are in good condition before the race. Personally I don't recommend treatments that harden your skin (which seem to be popular but in fact can make things a lot worse). Use a good foot cream to condition the skin, see a podiatrist, cut your toe nails as short as you possibly can, and file down any hard areas of skin. Don't make any drastic changes too close to the race however. Take professional advice if necessary.
Use good quality socks. Injinji toe socks are popular for example.
Reduce friction during the race itself to reduce the risk of blisters. This can be done in various ways with double socks, anti-chafing products, or ENGO patches for specific problem spots. I use an anti-chafing product called Gurney Goo in the morning and evening and it keeps my feet in good condition. The benefit is that is also has antiseptic properties thanks to the tea tree oil it contains.
Know how to treat blisters and be prepared should they happen. Whilst you get good help from Doc Trotters in MDS, having the knowledge (and some basic supplies) to be self sufficient can be a big advantage. I have gathered what I feel are some of the best supplies here (Hypafix tape (also known as Fixamol), Elastoplast tape with plastic backing, blister kits). Also check out Rebecca Rushton's blog and YouTube videos for some great techniques for taping toes, ball of the foot and heel amongst other things.
If your gaiters rip (which is likely) it can be useful to have a small sewing kit to hand. Hypafix tape also works wonderful for patching up small tears as it sticks well to many fabrics.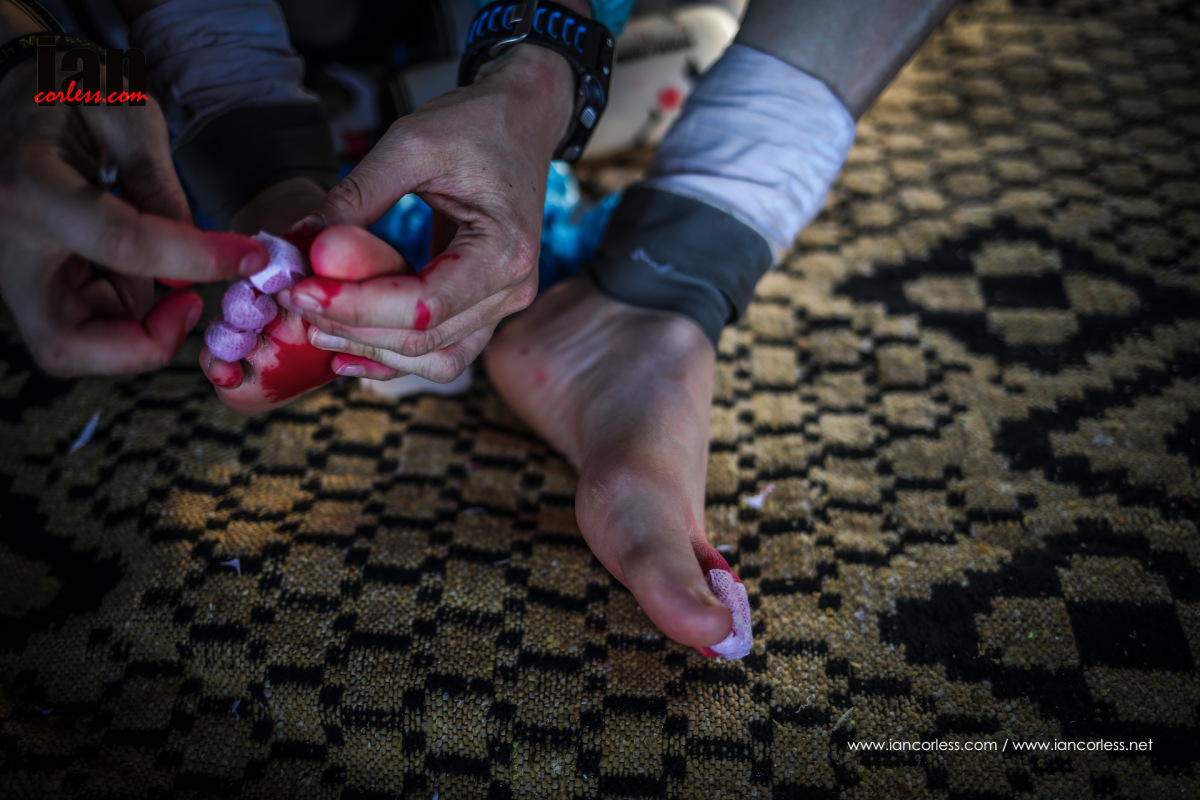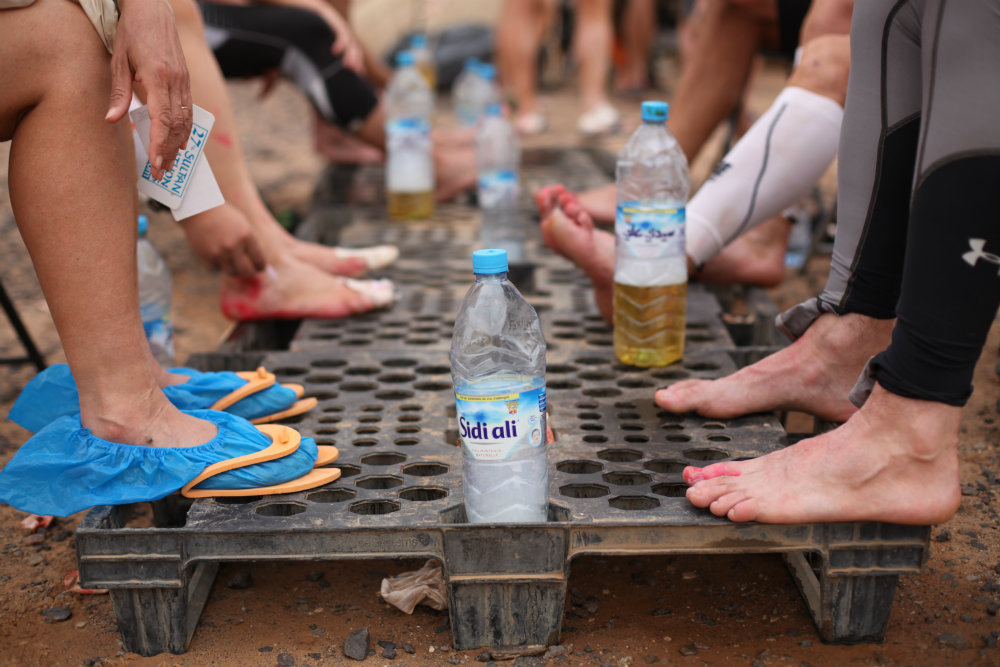 I hope you found this helpful. Best of luck with the final MDS foot preparations and the race itself! Read my other articles on Marathon des Sables here.