165 km / 6 stages / November 2015
Official race photos from Oman Desert Marathon unless otherwise stated
The End
We were the last to arrive to Wasil Castle in Bidiya for the prize giving ceremony. Our 4×4 had a flat tyre and it took a while to get out of the Arabian Oryx desert camp and into town. There was me, Debbie the physiotherapist, Geert the doctor and Patricia the nurse. As we approached the beautifully lit castle and the line of flags marking the entrance (think red carpet movie premiere!), Said the race director was waiting outside. He gently grabbed hold of me. "You will do a speech" he said. "Rachid will do a speech in Arabic and you will do a speech in English". Just your impressions about the race." I was not prepared for this and as we stepped through the entrance and into an open courtyard, overlooked by the clear night sky and with a stage at the end, I had to quickly practise something with Debbie.
The setting was quite spectacular. Coloured lights transformed the white castle into something that seemed to have appeared out of an oriental fairy tale. The courtyard was filled with at least a couple of hundred people, mostly Omani men in traditional dress. There was the Minister of Tourism, the competitors and all the volunteers.


The ceremony started. After about 10 minutes someone gave me a push to indicate it was my time to speak. As the introduction had been all in Arabic there weren't any other clues so the hint was welcome. I took to the stage. It felt a bit surreal. I was quiet for a moment and there was applause. I decided to speak about the three things that I felt had made this week special.
Firstly there was the Omani culture. Oman is a country characterised by great hospitality and from start to finish I had felt very welcome in this country and to the race. Omanis are friendly, polite, relaxed, and go out of their way to welcome you and be helpful. Visiting Oman was a very positive experience and I hope I can return in the future.
Secondly the race itself. This was of course the main attraction of the week and the reason for being here. With 165 kilometres of sand it had not been easy at all. The distance may not seem that long compared to other stage races such as the MDS but the effort I had to put in per kilometre to run across what was largely soft sand was quite significant. Every day I said, "today was the hardest day", and it never got easier. The scenery was however spectacular and changing and the finish by the sea after a tough and hot last stage made it all worthwhile.
Thirdly the people I got to spend the week with. Sport in general and running in particular has the power to unite people no matter out background, nationality, religion, language or social status. We run, sleep and eat. Some people pray, some don't. We find ways to communicate even if we don't speak the same language. We share the love for running; the desire to discover new places and to challenge ourselves.


I enjoyed the rest of the ceremony even if I didn't understand much of what was said. It was clear that this race is an important event in the Omani sports and tourism calendar and it was great to see so much effort put into the evening. For winning the women's race I collected the biggest trophy I have ever received (might as well have won Wimbledon!) and I was pleased to see three continents represented on the women's podium with Aziza Raji from Morocco and Silvia Amodio from Uruguay. In the men's race it was the same with the phenomenal Rachid Elmorabity from Morocco in 1st place ahead of Evgenii Glyva from Ukraine in 2nd and Salameh Al Akra from Jordan in 3rd. Full results here.
The Beginning
It had all started a week earlier of course. I flew out with Debbie St Amond Simpson who was going to be the race physio. The drama started early when Debbie was not allowed to fly due her passport being a couple of weeks short on the required validity to enter Oman. After a couple of hours of agony the matter was finally resolved after we managed to get hold of the race director who was able to speak directly with immigration in Muscat. I had boarded the flight and we were close to take-off when Debbie finally came on-board last minute after having been driven through the airport in record speed on one of the little cars. We were both relieved we could make the journey together and we had a good laugh about it all. We hadn't even set off yet!
After a stop in Doha we finally arrived in Muscat at 3:45 am on Friday morning. Here we were expecting a hotel but instead we were told that there would be a transfer at 7:30. We crashed in a corner on the floor with some other early arrivals and eventually the transfer arrived a bit earlier than planned. Stepping on the bus we were met by other competitors. Most of us took the opportunity to catch up on much needed sleep before we swapped over to 4x4s for the last leg of the journey out to the Arabian Oryx Desert Camp which would be our home for the pre-race night. This was a hotel situated in the desert with some common facilities and small independent en-suite Bedouin huts.


More competitors and support volunteers arrived during the day and at 3pm the kit check and race check-in started followed by dinner and a briefing. The briefing was short and really only consisted of explaining the route for Day 1, which would essentially be an out-and-back loop from the village of Bidiya. The rest of the route remained a mystery although the course was supposed to be a straight line to the sea so I was hoping this would still be the case. I noted some people were missing at the briefing. The start list had nearly 100 entrants. Yet, we ended up being about 65 on the start line. I later learned some people had decided to not come due to concerns over travelling to the Middle East and probably not helped by the cyclone which had hit Yemen only days before, leaving severe destruction in its tracks. This was sad but still there was a large group of diverse, hopeful runners, eager to tackle the challenge of running 165km in 6 days in the desert.
The Race
On the morning of Day 1 (Saturday) breakfast was served at the Arabian Oryx Camp before we handed in our luggage, took our backpacks with our supplies for the week with us, and got into the 4x4s to go into the Bidiya village for the start. I shared a car with four local Omani competitors. They thought my backpack was heavy and I explained I had lots of food. They talked about how "team tactics" were important so I assumed some poor soul who was deemed the slowest might be acting as the mule!


Once at the start area we enjoyed a starting ceremony with dances performed by men in traditional costumes (white dress, holster belts, swords and knives) as the temperature quickly rose. It was going to be a hot day indeed.


Then at 8:30 the time to start had arrived. Our race coincided with a local 10km race and with the Jeeps trying to get through to take photos it all got a bit crowded. I found myself jumping off the road a couple of times to avoid getting my feet squashed under a wheel. After a few minutes the field spread out a bit and things got easier. This first part was of varying terrain before it got sandier. I decided to keep Aziza, the Moroccan defending ladies champion, close and see how things unfolded. We ran into Check Point 1 at 10km side by side. This was the part where the course turned around to head back into the village but via a slightly different route over dunes. By now it was getting pretty hot and the dunes were energy sapping. For parts I had to walk. An extra checkpoint a few kilometres from the finish was welcome and I could refill water. I had passed people now as many were struggling in the dunes. Eventually the dunes came to an end with a steep descent, which was a lot of fun. The last kilometres into the finish were on dirt road and tarmac. I was pleased to be able to stretch the legs out and I passed a few more runners here to finish 12th overall and 1st lady.


For me the first day of a multi-stage race is always about getting a feel for the race, the environment and the field. It's a learning day. No different this time.
At the finish we were able to step into the shade under some shelter and get access to cold water from taps to cool ourselves down. This was very welcome. The organisers then decided to start transporting the runners who had finished out to the first night's race camp. This was an adventure in itself, going in 4x4s over the dunes, like a desert safari.
The camp consisted of large black tents with one open side. They felt very luxurious compared to the tents in the MDS… About 8 of us shared and there was plenty of space. Those who wanted could have sleeping bags provided by the organisation and most of us opted for this. There were also portaloos with showers, and toilet tissue, soap and shampoo was supplied – unexpected items of luxury. The volunteers slept in smaller white tents.
After Day 1 it was decided that the race would start at 6:30am the following days due to the heat. My initial reaction was disappointment. After all we had all come to race in the desert and the desert is supposed to be hot! However, aside from getting up at 4:30am to have time for breakfast and admin it was actually not bad. It still got very hot, possibly helped by the humidity. The only thing was as a front runner you ended up with most of the day free. Time passed fairly quickly except after stage 4 where we had an unwanted visit of flies in camp. They were very persistent and would not stop feasting on our sweaty bodies. I put on all clothes I had (which was not much!) and Benoit lent me his Raidlight Desert Trousers which were very comfy. In combination with my turquoise Scott jacket I must have looked like a clown but it did help keeping the flies off.


It got dark early so we normally cooked dinner at around 5:30 or thereabouts. There was plenty of wood around to collect and we just dug a whole in the sand, laid some tent pegs on top and rested our pots on them. I had two hot meals a day. One was my lunch, which consisted of very tasty Kabuto chicken noodles. The second was a Mountain House freeze dried meal at night. I had four of them. The fifth stage was the Marathon stage and the longest of all. The top 20 runners started at 5pm for this stage, two hours after the main group. This meant that we were running mainly in the dark (it got dark at 6pm) and I figured I wouldn't want to cook a meal once we finished that stage. I was right. My recovery drink and mix of nuts, roasted giant corn and biltong was perfect.


The Marathon stage was incredibly hard. Similarly to most other days it was described in the briefing as being "easier than yesterday", "firmer ground after the first 10km", and "flat". And similarly to most other days it turned out to be harder going, softer sand, and hilly indeed. Maybe things got lost in translation, as the Arabic briefing always seemed longer than the French, which in turn was longer than the English. But, it kept things interesting!


An hour into the Marathon, realising that it was not getting any firmer underfoot, I quickly had to reassess my expected finishing time, adding an hour on to it. I ran the whole stage with Marco, one of the Italians who had been fairly close to me in positions all the way through and who was a pretty consistent runner. We pulled each other along on a soft road through the desert, which we had been told to not deviate from. Now, there are roads and there are roads! In this case the definition of a road is a track in the sand where 4x4s have driven. This essentially means that the sand is no longer untouched. It is not compact either, it has just been moved around and so is even softer, more uneven and more difficult to run on (I should say in…) than it would have been normally. It really was a case of counting down the kilometres in the end.
At some point we passed Marleen, one of the most positive people I have ever met. "Isn't it fantastic?!!" she exclaimed in her South African accent. "I LOVE it, it is so beautiful and it is totally amazing!" "I am having such a great time!" Or words to that effect, I can't quite remember. I don't know about Marco but I couldn't help feeling pretty awesome as Marleen sprinkled her happy fairy magic on us and we carried on in good spirit.


About five or six kilometres from the finish we passed a few people who had set off a bit too fast and now were struggling. Someone tried to hang on to us. Marco had no fuel left now, he had started short as his drink powder got spilled in some pre-race chaos. Since I still had a gel I handed him my little zip lock bag with jelly babies. They must have looked appalling as they had all melted and were crushed but I convinced him they were clean. With a burst of new energy we upped the pace for the last five kilometres. We quickly shook off anyone who was hoping for a free ride to the finish.
Every kilometre we shouted out "five!", "four!", "three!", "two!", "one!". Of course the last "kilometre" in a Marathon is always a bit of an anti-climax before you reach the finishing stretch as it is never 42.2 kilometres on the clock. We had to dig deep mentally and physically to cover the last few hundred extra metres. We crossed the line hand in hand in recognition of the help we had both offered each other during this stage. I had run my hardest and slowest ever Marathon but I was happy and relieved. I sat down on a "dunette" with some vegetation on it. This was apparently a bad idea! I was told it could be a prime spot for scorpions and it was better to stroll down to camp a couple of hundred metres away. I had my recovery drink and nut mix, a shower and it was bliss to go to bed although fairly warm and even more humid as we were now not far from the sea.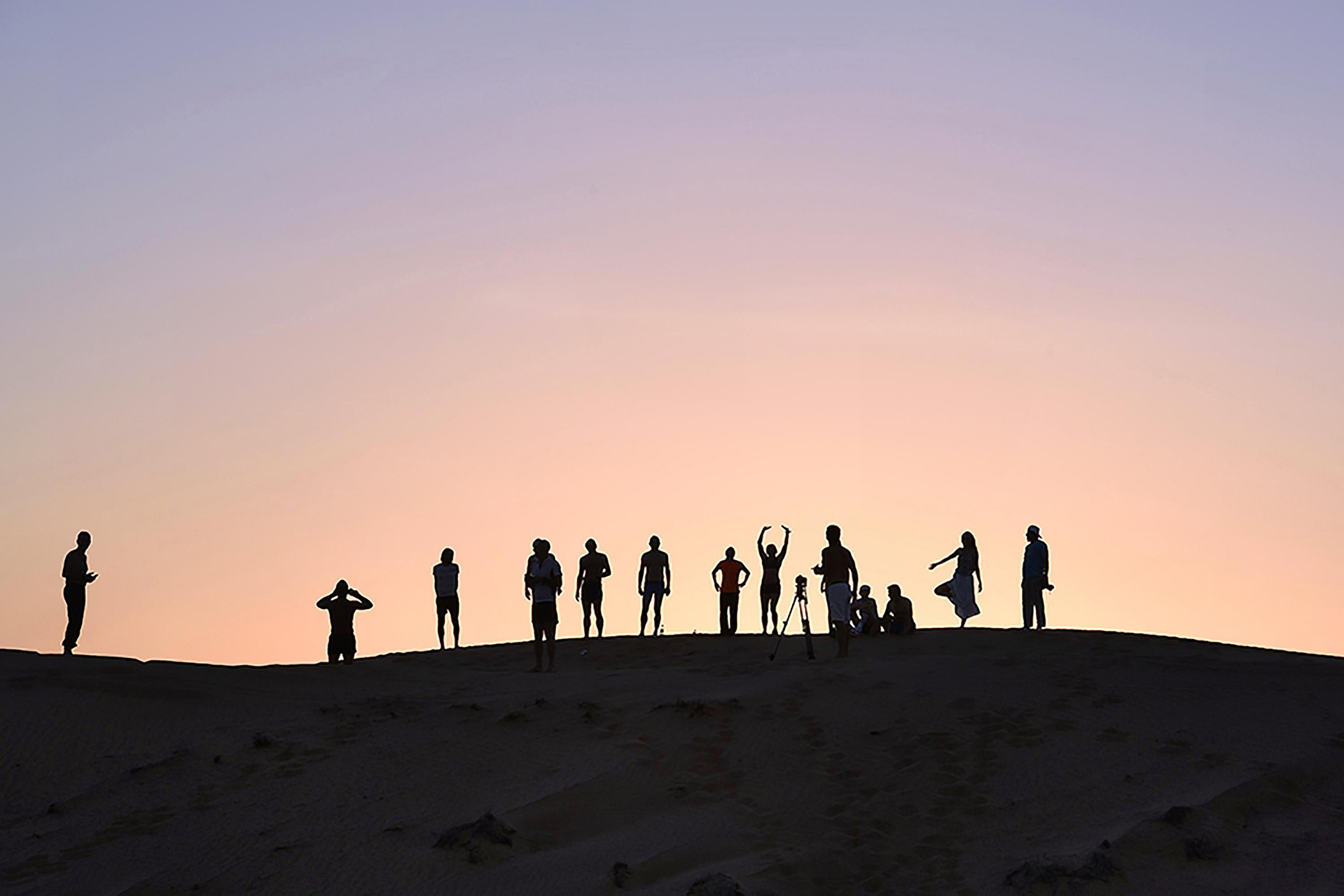 I was in a daze but noticed some turmoil in the background and an ambulance was driven into camp. It turned out someone had stepped on a scorpion and gotten stung. Someone else said they had counted to five scorpions already. In any case apparently these scorpions were not able to cause too much harm to normal, healthy people so some antihistamine and painkillers seemed to clear the issue.
We were able to have a lie-in the last day, starting at 9am. I think the briefing once again mentioned it would be easier or maybe it didn't. I had learnt to not pay too much attention now. I did note the checkpoint would be at 10km and that the stage was 20km long.
We set off on the same road again but now able to see it in daylight. It didn't make it easier but in one or two places I was able to cut across some untouched sand between the bends and it made a difference. I ran out of water before checkpoint 1 which came at 10,8 km. I had visions of dying of thirst which of course I knew was unlikely and I forced myself to carry on, desperately pouring what drips I could on my tongue to quench my thirst. The patrolling 4x4s would hand out water in an emergency but I hadn't seen one for 45 minutes and I was completely on my own. Eventually the checkpoint came. I made sure to take what I thought was enough water for another 9-10 km. But after another 9km I found myself climbing up and down endless dunes and without the sea in sight. The landscape reminded me of the Alps, just that the mountains were made of sand…


A patrol car gave me some water and informed me it was 3.5 km to go. I must have looked furious because the driver quickly changed his mind and said 2.5 km! I had been running on empty now for quite a while as I had expected this stage to take an hour less than it did. The thought that maybe the sea could be beyond the next dune kept me going and the dunes, although energy sapping, were spectacular.
Eventually I could see the road we had been told about and I knew the finish was just beyond it. When I could see the arch I soaked up the atmosphere, I allowed myself to be completely in that moment and summoned some energy to pick up my speed a bit and look like a winner should. I crossed the line after 22.5 tough kilometres, and after the obligatory photos and post race interview I let the turquoise waves of the Arabian Sea cool my skin. What a spectacular finish it was: an endless white beach and seemingly endless sea. It was a great reward and end to a fantastic adventure.


If you are thinking about doing this race I can highly recommend it. I suspect it will change a bit every year as it is still a fairly new race and the organisers learn from every year. It is sold as being good preparation for MDS but it is a unique race in its own right. Don't under estimate how hard it is to run 165 km on sand, but if you choose to do it, it will be a spectacular experience!

The Kit
I pretty much copied my MDS Kit List with a few exceptions:
I did not take sleeping bag or sleeping mat. Sleeping bag was supplied by the race (a kind of fleece lined folded duvet) and because the camp was set up in sandy locations the ground was soft enough for a mat not to be required (although it would have been more comfortable with one).
I took the Compressport Run Ultra RPS socks over my Injinji Crew Liners and this was a great combination.
I didn't take fuel for cooking as there was plenty of wood around.
I had the Esbit Long Handled Titanium Spoon which is excellent for multi-stage racing as it is light, very easy to keep clean and long enough to keep your fingers out of contact with your food.
I was also self-sufficient with blister care and medical supplies. The myRaceKit Deluxe Footcare and Anti-Chafing Kit is a good option for races like this, complement with some extra 2Toms Blister Shield powder or Gurney Goo.
I changed my food a bit due to shorter daily distances and I included a lunch.
I was happy with everything. The HOKA ONE ONE Cliftons performed perfectly and is a great shoe for running on sand. This race didn't have the rocky terrain of the MDS so it didn't shred the shoes to bits.
The one thing I would change is to take some more spare clothing for camp. An extra T-shirt and a light weight pair of trousers. I found that I would have liked to be able to change into something due to the humidity and also because there were showers available.
Selection of Media Coverage
Article in Financial Times
Interview with Ian Corless in Episode 100 of Talk Ultra