Kungsleden is a hiking trail in Swedish Lapland that stretches from Abisko to Hemavan. It was created in the early 1900's by the Swedish Tourist Association (STF). It was planned that the trail should pass through the most beautiful locations of this area, and in this way become the "king of trails", hence the name Kungsleden in Swedish.

The total length of the route is approximately 440km which includes seven boat crossings of a total of ~19km. In addition there is a 30km road stretch which connects the trail between Vakkotavare and Kebnats, serviced by bus.
The trail is pretty varied in nature. It is undulating with exposed passages over mountains and more sheltered sections at lower elevation over open grass plains and in beautiful birch forests. Underfoot, it can be quite challenging at times. It is uneven and a bit rocky most of the time and a few sections are pure stone blocks of varying size. Planks or boards that have been laid over bogs are frequent and they can be rotten, slippery or broken in places. Some sections are boggy and wet without boards. There are also many bridges over rivers and streams. That said, in many places the trail is fairly smooth and runnable. I guess it all depends what you are used to. The season and the weather will also dictate the condition of the trail.


When Sondre Amdahl asked me if I wanted to accompany him for some running along Kungsleden I didn't hesitate to say yes. As a child I had spent a bit of time up here hiking and skiing with my parents and I had been up for the Sunset Relay in 2015. It is a truly magical place to visit.
Normally you hike this trail in 20+ days and few people do all of it in one go. We had one week. We decided to start in the north in Abisko and go south, seeing how far we could get in that time. The challenge lies not only in the running, but in the fact that you have the boat crossings to contend with and also the road connection between Vakkotavare and Kebnats. The boat crossings are serviced by the hosts of the huts or other boat owners. Most run a fixed schedule with generally two crossings per day, some need to be pre-booked. At some crossings you can row but the logistics present some challenges if you are trying to do this trail fast. There is a rule that there must always be at least one boat by a shore. So, if you arrive at the shore and there is only one boat there, you have to first cross once, then take a boat on tow back with you from the other side before you can finally cross. For a 4km crossing, that's 12km of rowing, in potentially windy weather… The road stretch is serviced by one daily bus in September (two daily buses in high season). If you miss it you have to wait a day, staying in the Vakkotavare hut, or hitchhike.
We set off from Abisko on 18th September at 9am, with approximately 6kg each in equipment. This included food for two days, sleeping bags, sleeping mats, the necessary clothing, some basic toiletries, first aid and other essential equipment, plus a tent. My full kit list is available here.
Day 1: Abisko to Sälka, 60km / 1220m ascent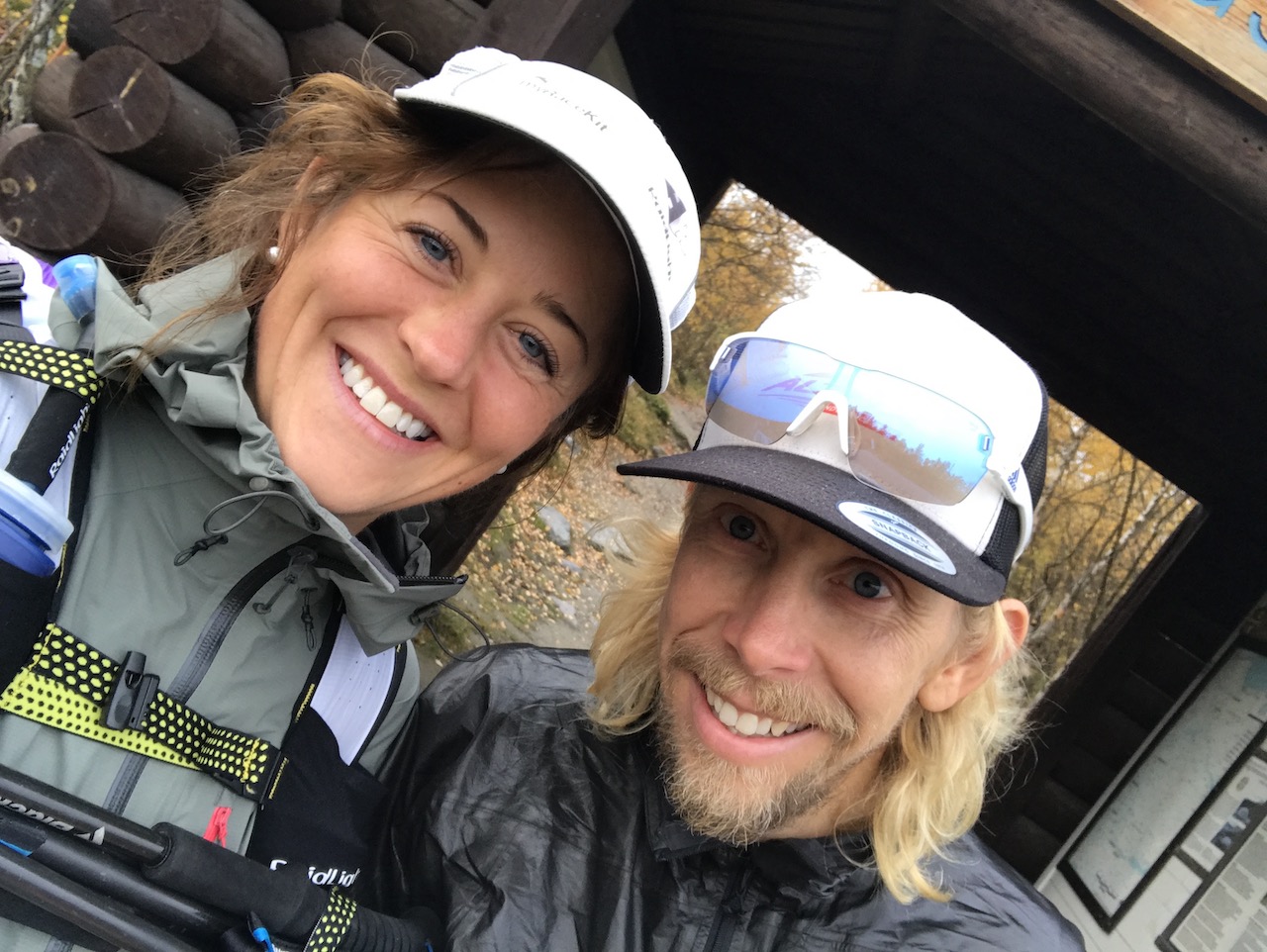 We had a rough plan and that included getting to Sälka on Day 1. The first part from Abisko to Abiskojaure is beautiful and although wet and with plenty of bog boards it is runnable. It passes through birch forest, along the bubbling Abiskojåkka river. From the birch forest the trail then ascends out of the trees and reaches Alesjaure. We stopped here for a coffee and some snacks in the serviced hut which had a shop. I had already had my first minor injury at this point! One of the bog boards was not fixed and as I ran behind Sondre it lifted up at the rear end as I approached. I caught my foot, fell and got the side of the board in my thigh. Luckily it would only get bruised but it hurt quite a bit. We learned the lesson to pay careful attention to the condition of the boards as it could have been a lot worse.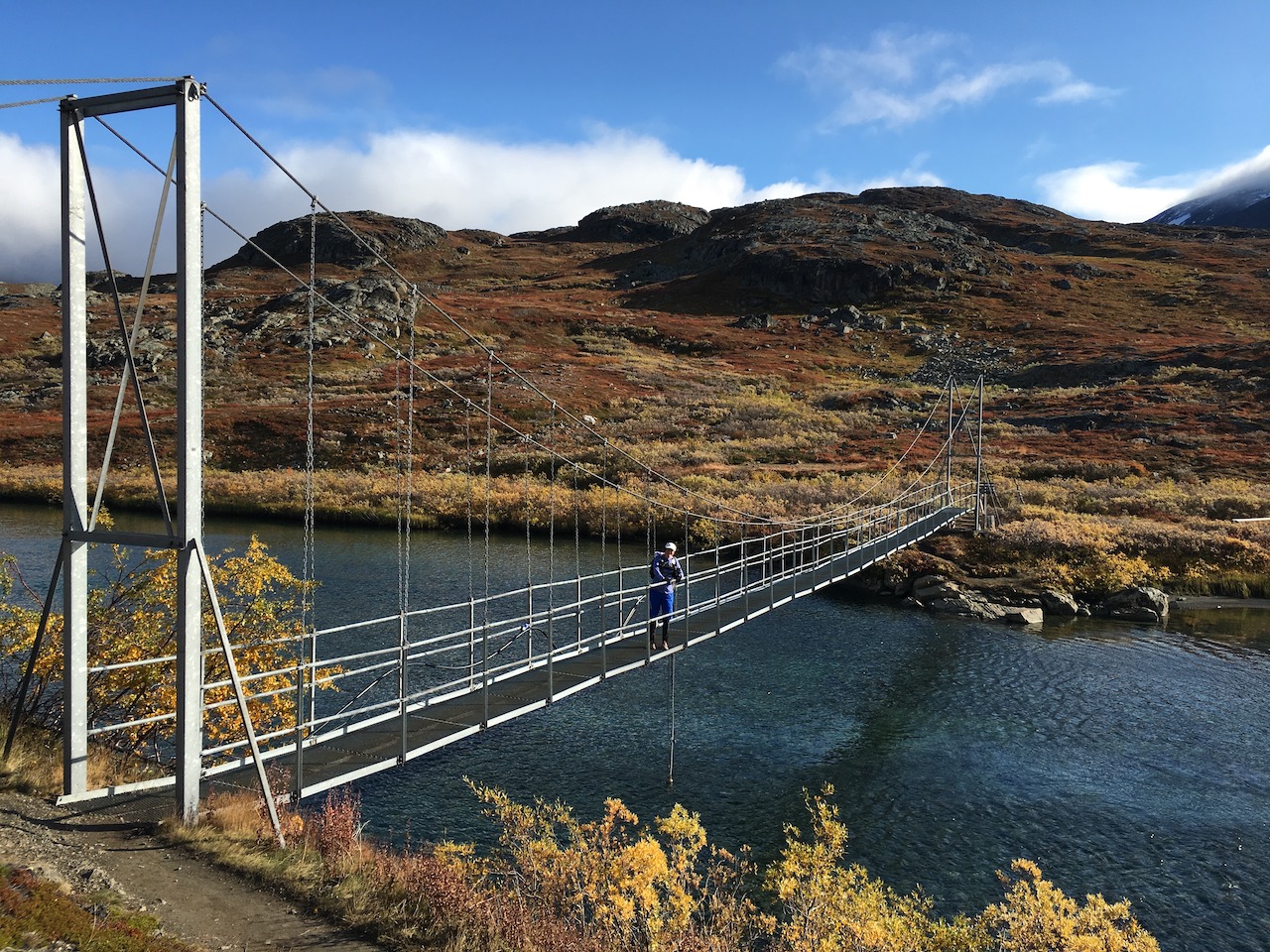 After our coffee break we continued to the highest point of Kungsleden which is the Tjäktja pass at ~1100m elevation. The terrain up here consists of large blocks of rock and is challenging and slow to negotiate. We had saved a Coke and a Fanta for the pass and it was a nice treat! Once through the few kilometres at the top there is a gradual descent down to Sälka which, although littered with rocks, is more runnable. We stopped for 5-10 minutes in the shelter at the top and chatted to some hikers who had stopped there. Most people we met were really fascinated in our "project' and the speed at which we were going. Of course, it makes a big difference if you carry 6kg or 20+kg…. We reached Sälka after about 8.5 hours and could get accommodation in the hut. Dinner and sauna was a perfect end to a productive first day. The guys from Eastern Europe who joined us in the sauna were perhaps a little bit uncomfortable with the temperature I imposed by filling up the wood burning stove to max, Swedish sauna style… They also didn't brave the ice cold stream outside but this was excellent recovery for the body and a nice way to feel relaxed.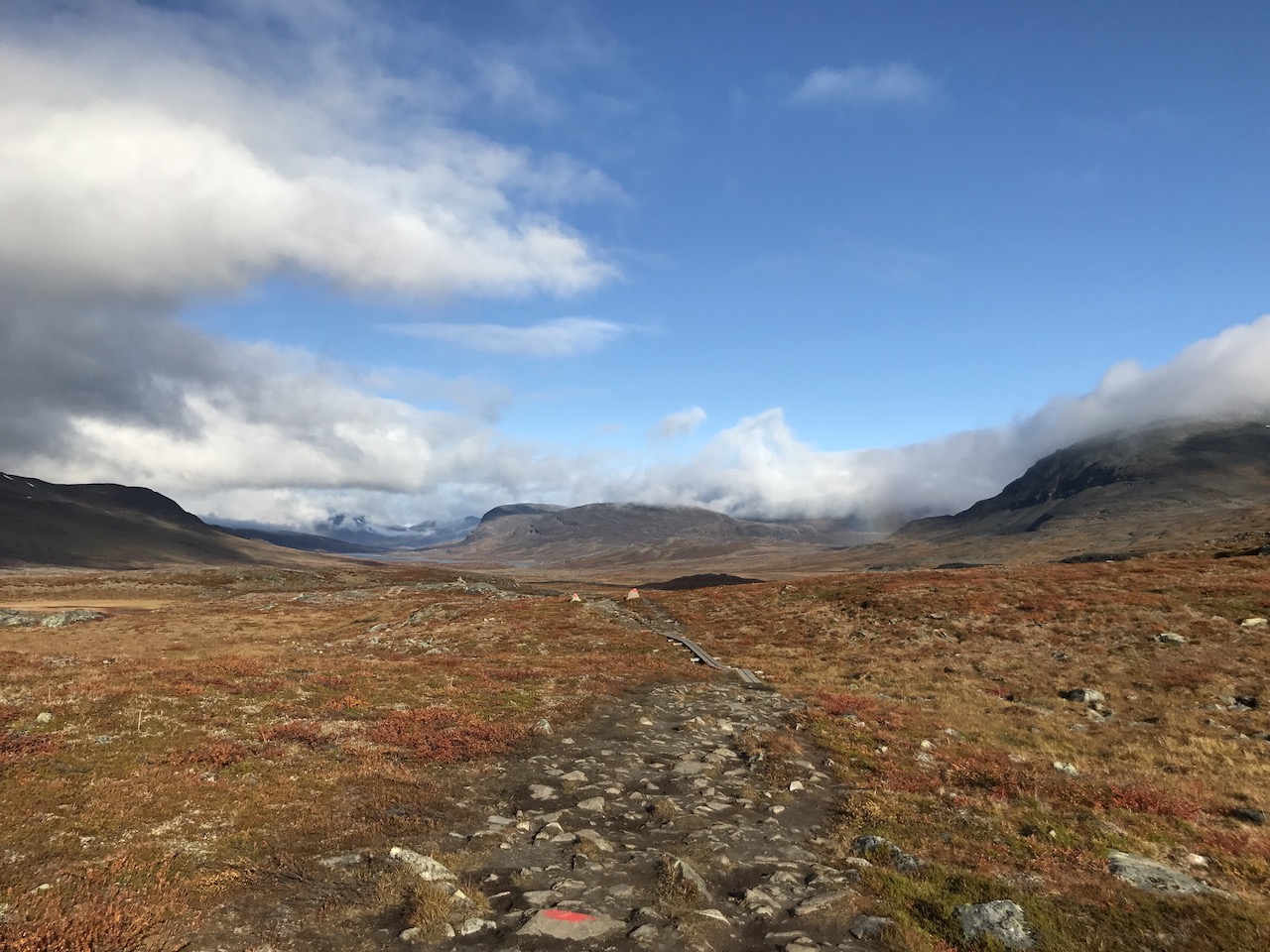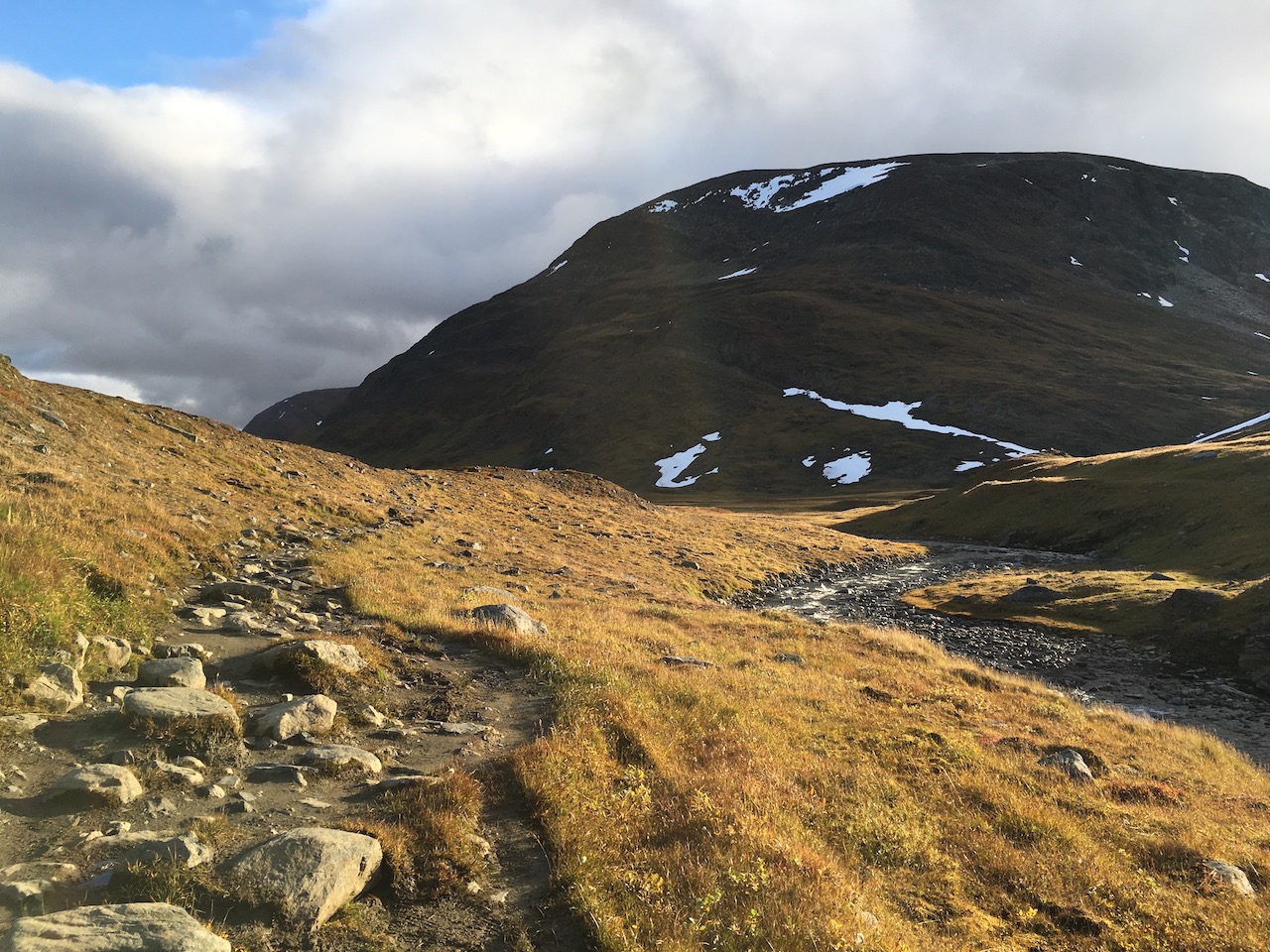 Day 2: Sälka to Saltoluokta, 49km / 1066m ascent
Motivated by good progress on Day 1, and with fresh legs from the sauna (or was it the nourishing Norrlands Guld beer??), we decided to try and reach Saltoluokta on Day 2. Saltoluokta hosts one of the few more serviced lodges along the route which meant that we could get dinner in the restaurant if we made the boat from Kebnats at 5:15pm. Reaching Saltoluokta also meant that we would have negotiated some tricky logistics which, if we were unlucky, could delay the trip with a whole day. This was however not without challenge to achieve and we wouldn't know until later in the day if we could pull it off.
We set off from Sälka early after some breakfast which we made in the self service hut kitchen. We passed the Singi hut and continued onwards to Kaitumjaure.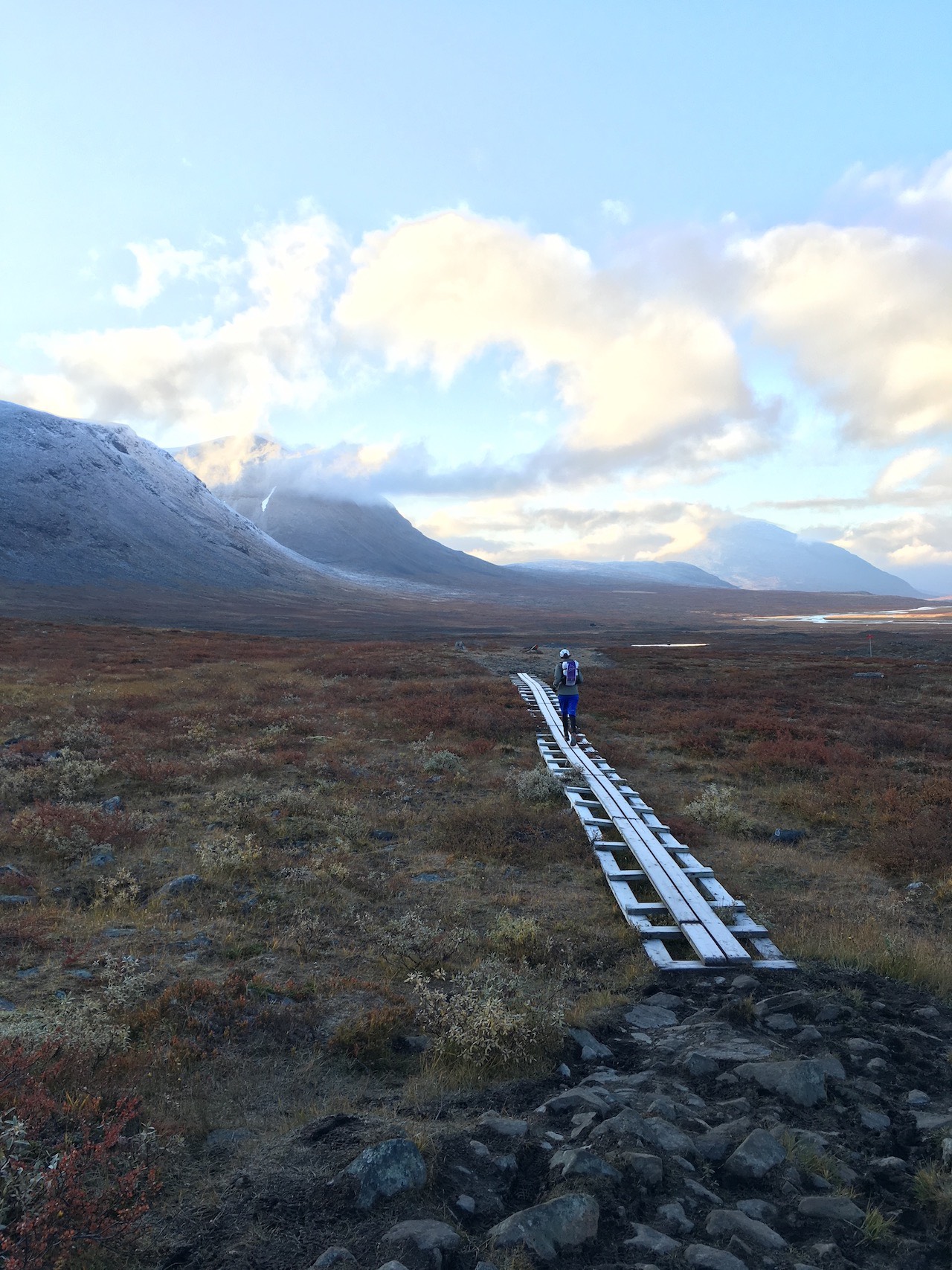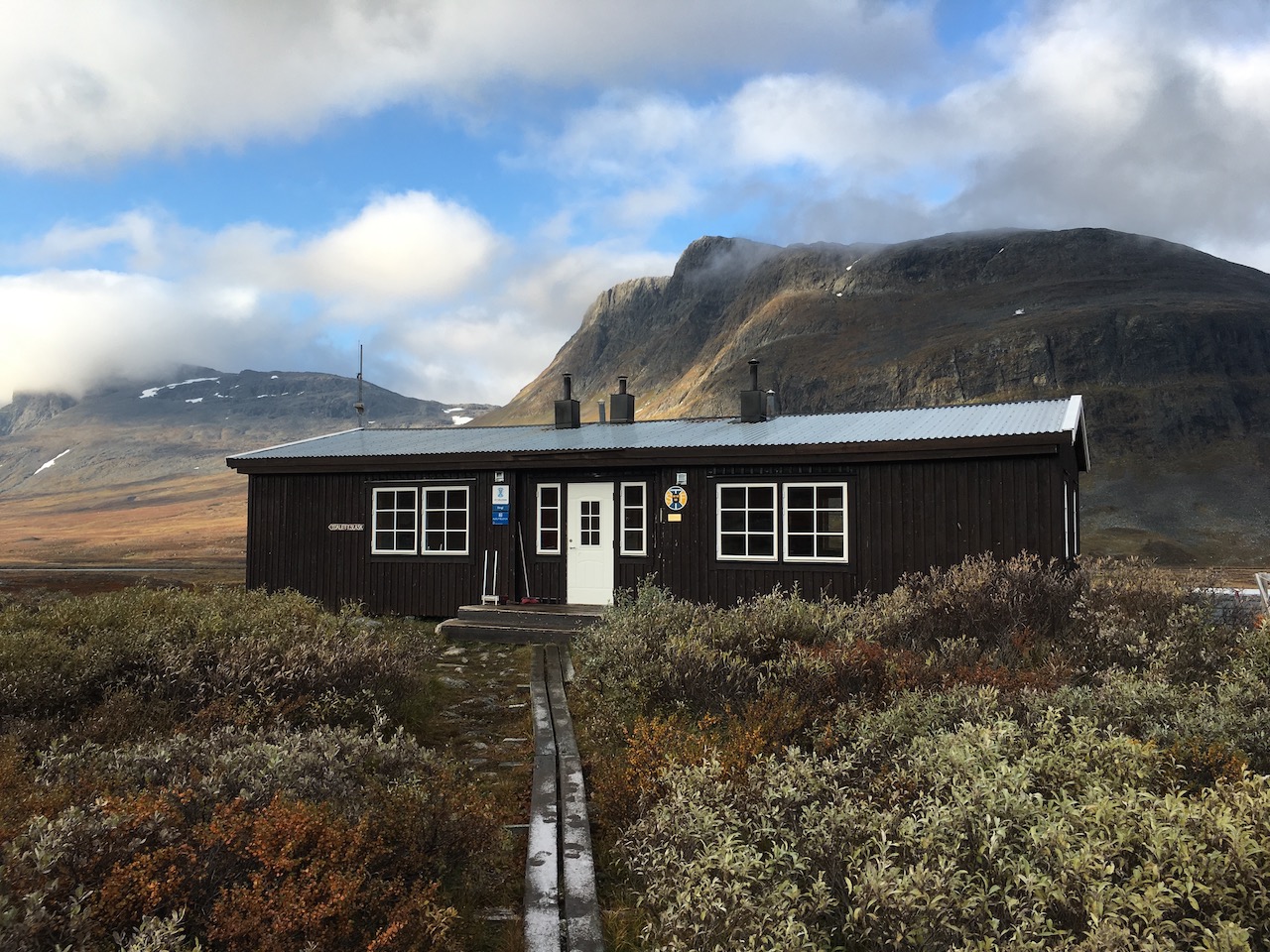 I was desperate for a Fanta at this point but to my great disappointment the hut host at Kaitumjaure had decided to wonder out on the mountain and the shop that existed in this hut was therefore closed. There was nothing to do but press on to Teusajaure. Here we had to cross by boat to be able to continue but we were outside of the boat schedule as there are only two crossings a day: one early morning and one early evening. Luckily, the host was helpful and he agreed to take us across. We bought some snacks in his shop but to my disappointment again there was no Fanta!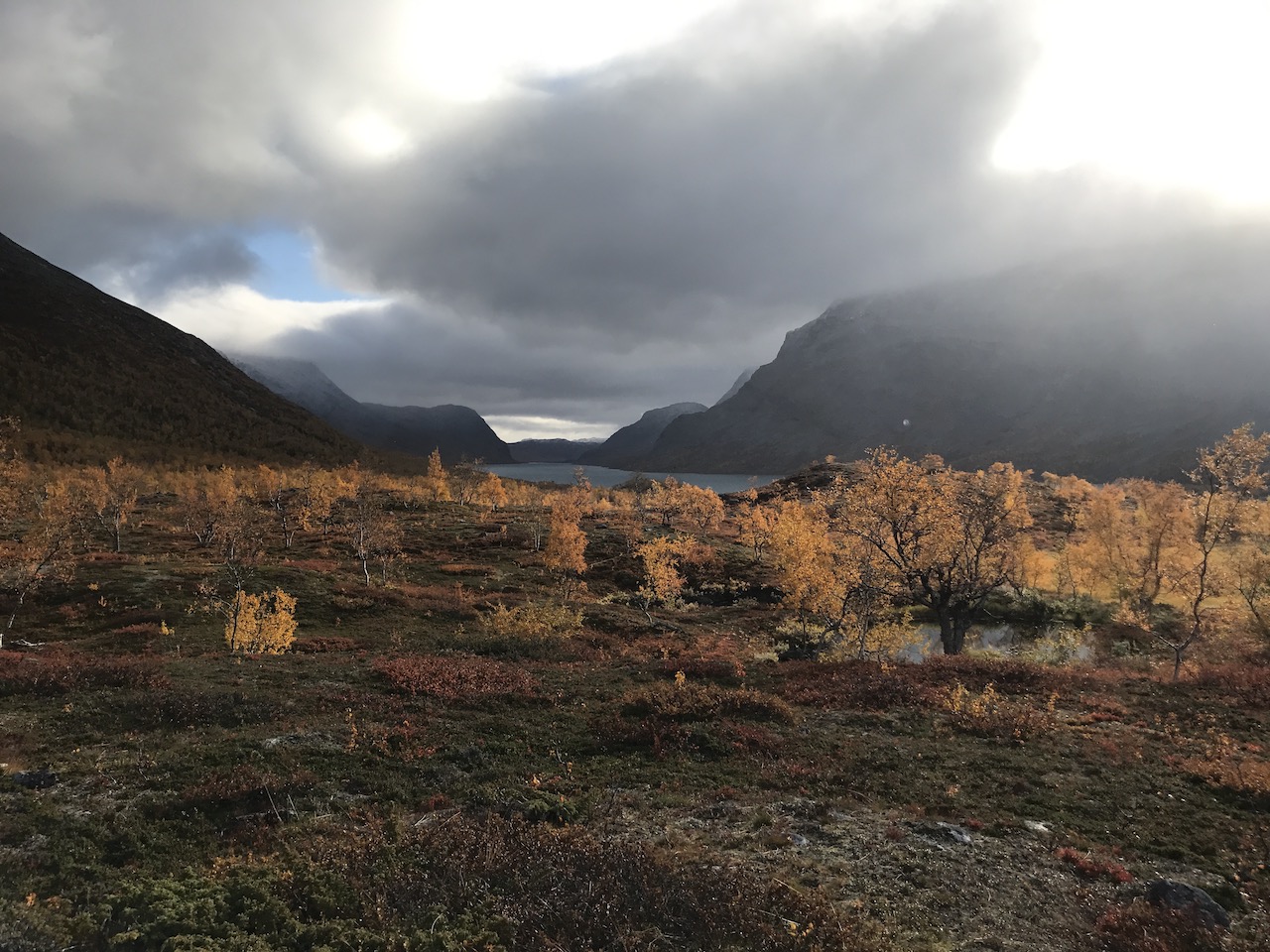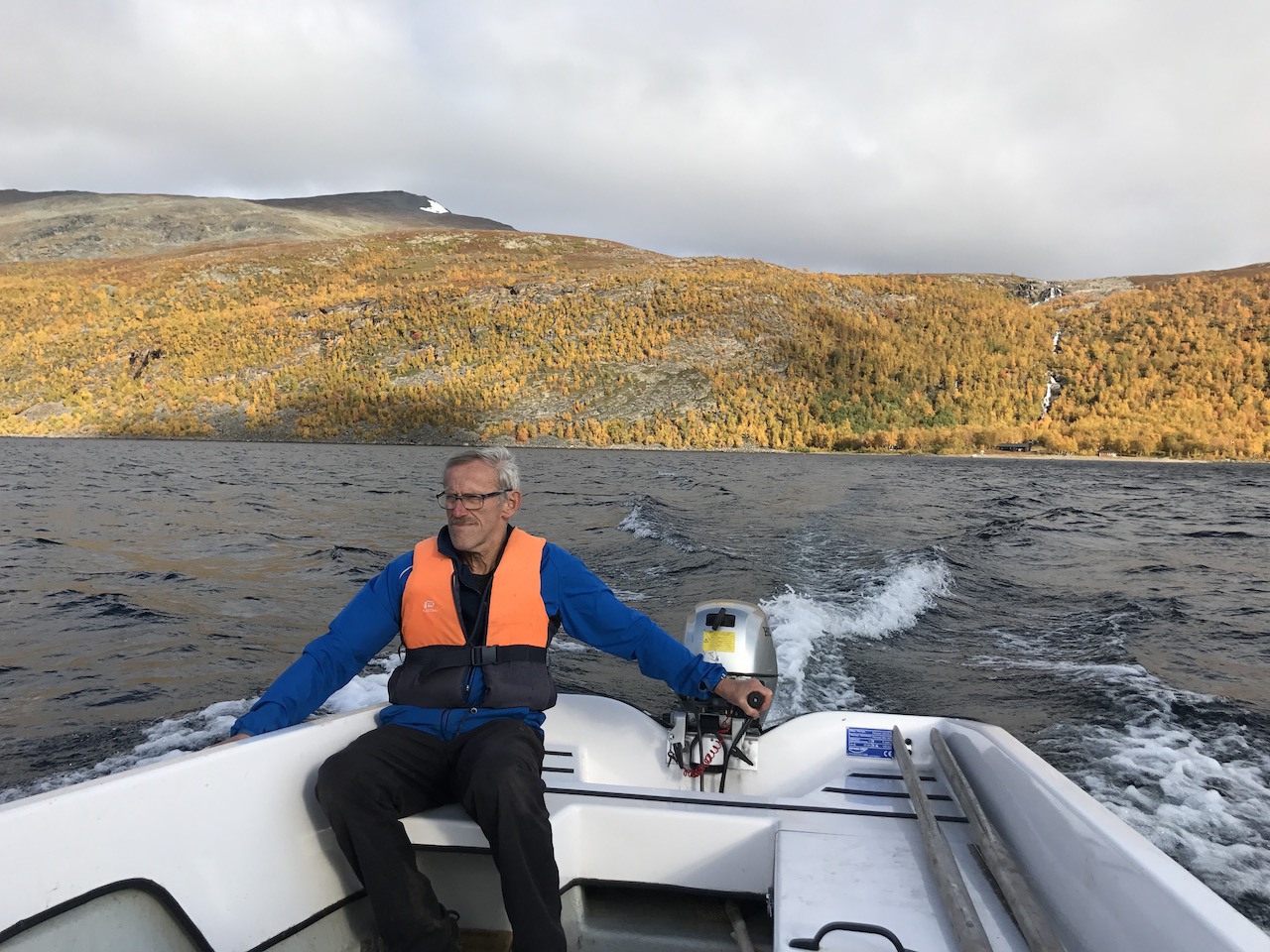 Thanks to making this crossing we could continue running and reached Vakkotavare in the afternoon. This hut is by a road and beautifully positioned within the national park of Stora Sjöfallet, overlooking the lake Akkajaure. We were done with running for the day but we had to figure out a way to get the 30km from there to Kebnats in order to take the boat to Saltoluokta. The only bus for the day had left a few hours earlier. We bought four bags of chips in the shop ("crisps" for you Brits), some other snacks, and finally….. Fanta! We then went down onto the road to Kebnats. Not many people pass here but as we were munching on our chips we couldn't believe our luck when a motorhome came towards us. A friendly couple from Askersund, here on holiday, stopped, opened their doors for us, and kindly gave us a lift to the boat.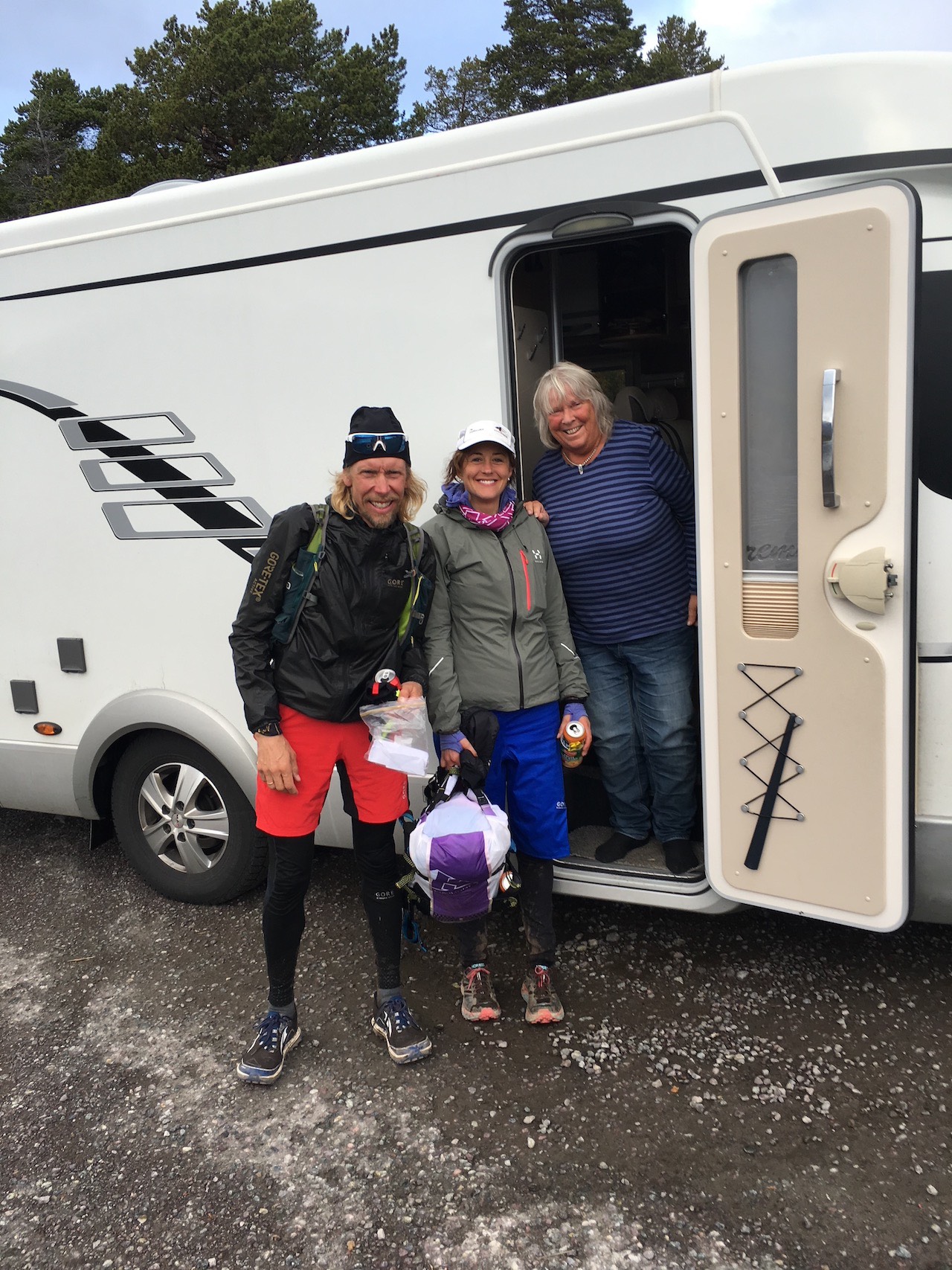 There was now a 2-hour wait for the boat in Kebnats, but that was a lot better than not making it to Saltoluokta at all so we didn't complain. However, there is no shelter in Kebnats and it did get pretty cold. We were entertained for a bit by a local hunter who came down on his way home to give his dogs a run off. They were beautiful Norwegian Elkhounds. Turned out he was Same (Lapp) so we were happy to at least have met someone from the indigenous people of this area.
It was a relief to have the boat finally arrive. Once in Saltoluokta we could get beds, dry our clothes and have dinner. It certainly was a welcome treat.
Day 3: Saltoluokta to Kvikkjock, 73km / 1683m ascent
With continued optimism we decided to set our goal on reaching Kvikkjock on Day 3, the next lodge with more extensive service and a restaurant. This was an ambitious distance of ~73km but including two boat crossings, reducing the actual running to ~65km.
We had managed to book the first boat crossing the night before, though it had to be earlier than we wanted. As such we had to set off at 6:30am from Saltoluokta and didn't have time to enjoy the breakfast they served which was a bummer. We had our own breakfast which we prepared in the self service kitchen. I nearly couldn't stomach the sweet taste of the Ultra Fuel and oat breakfast bars at this point but pushed it all down as I knew I needed the energy. Sondre, by now aware of my terrible admin skills and morning faff time, offered to do the washing up and miraculously we started only 5 minutes late compared to plan!
We began with a near 10% climb for 4km to reach above the tree line and then had a more undulating, runnable stretch on the mountain before descending again to Sitojaure where we would take our first boat. It was cold this morning with a fine layer of snow all the way. It was beautiful.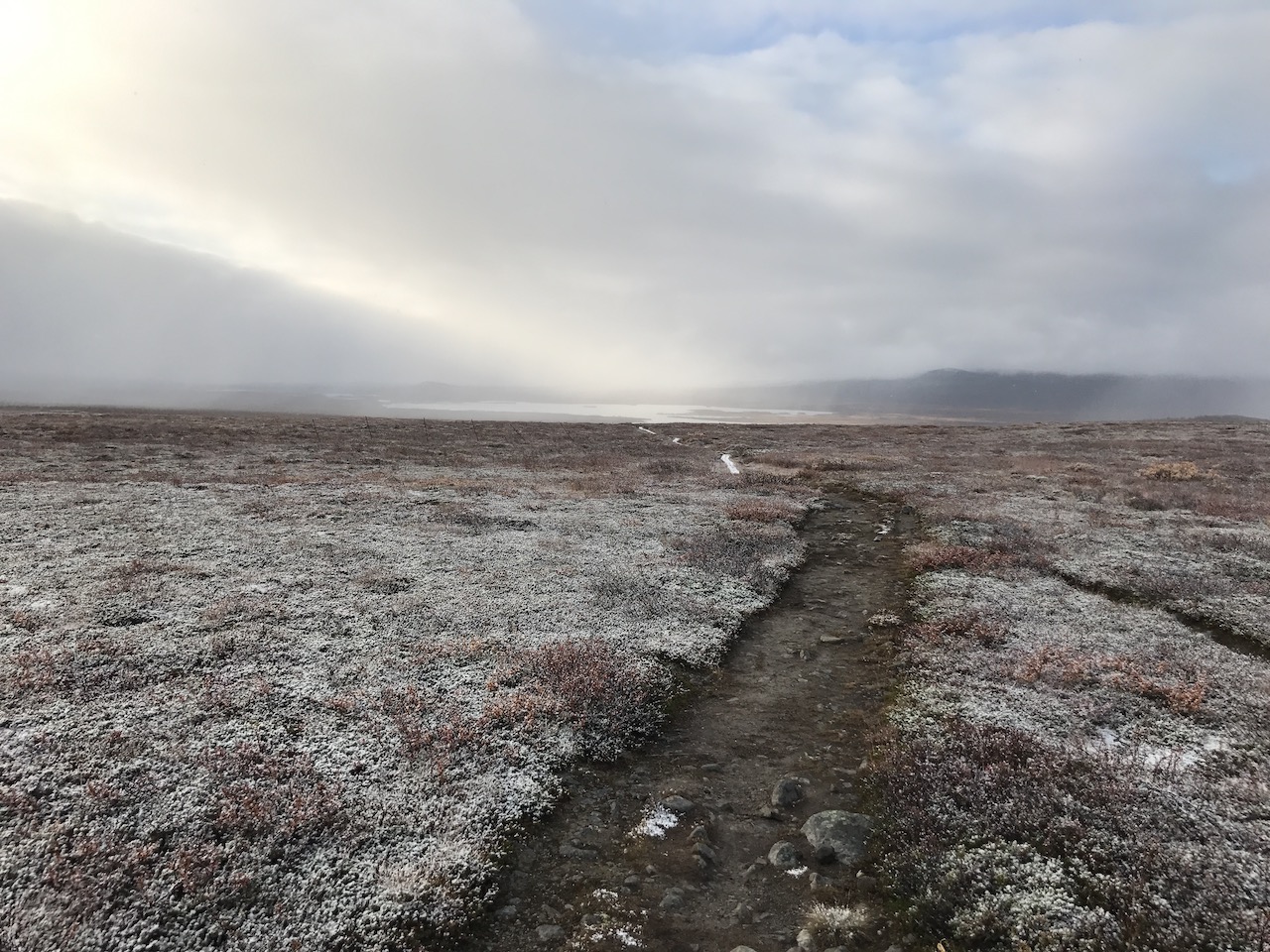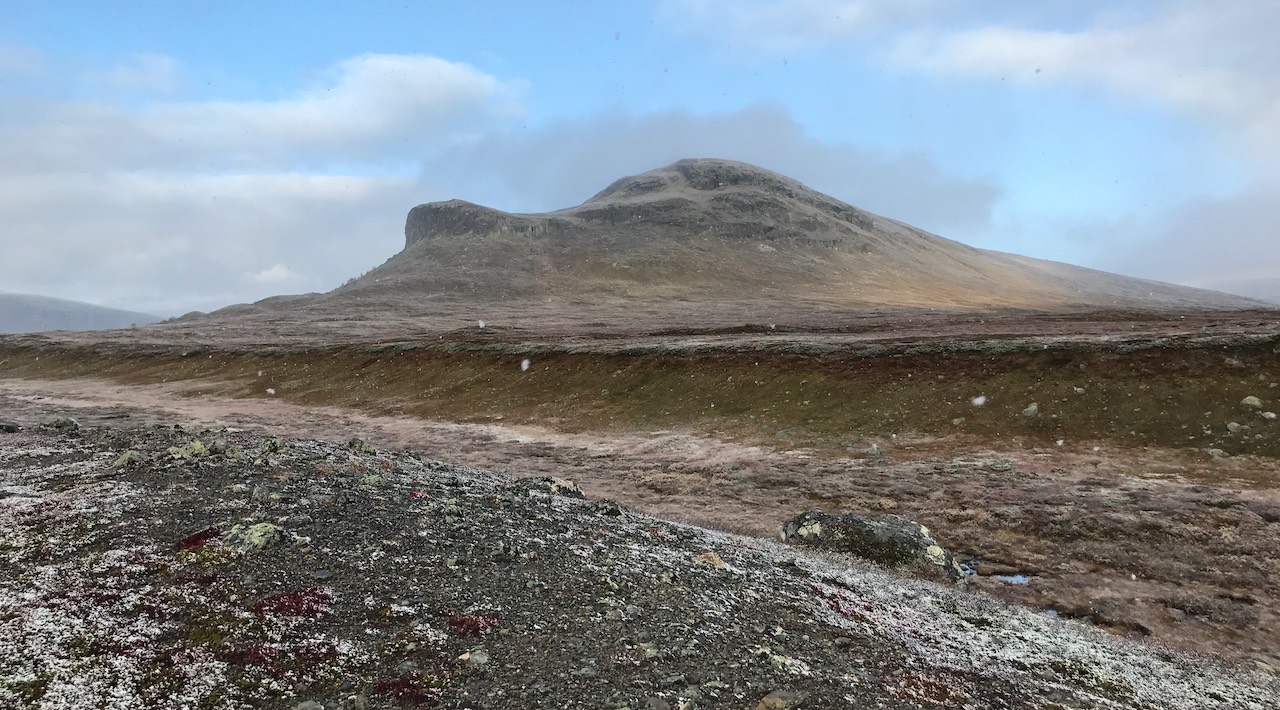 Once over on the other side of the lake we had a quick break at the wind shelter before pushing on. We had tried several times to reach the hut host at Aktse by phone, which was the next place from where we needed a boat transport, but without result. It later turned out that it wasn't possible to call the hut, only for them to call out. We just had to chance it or else we could lose another day. At the end of the day, not knowing was better than a definite "no" so we pushed on.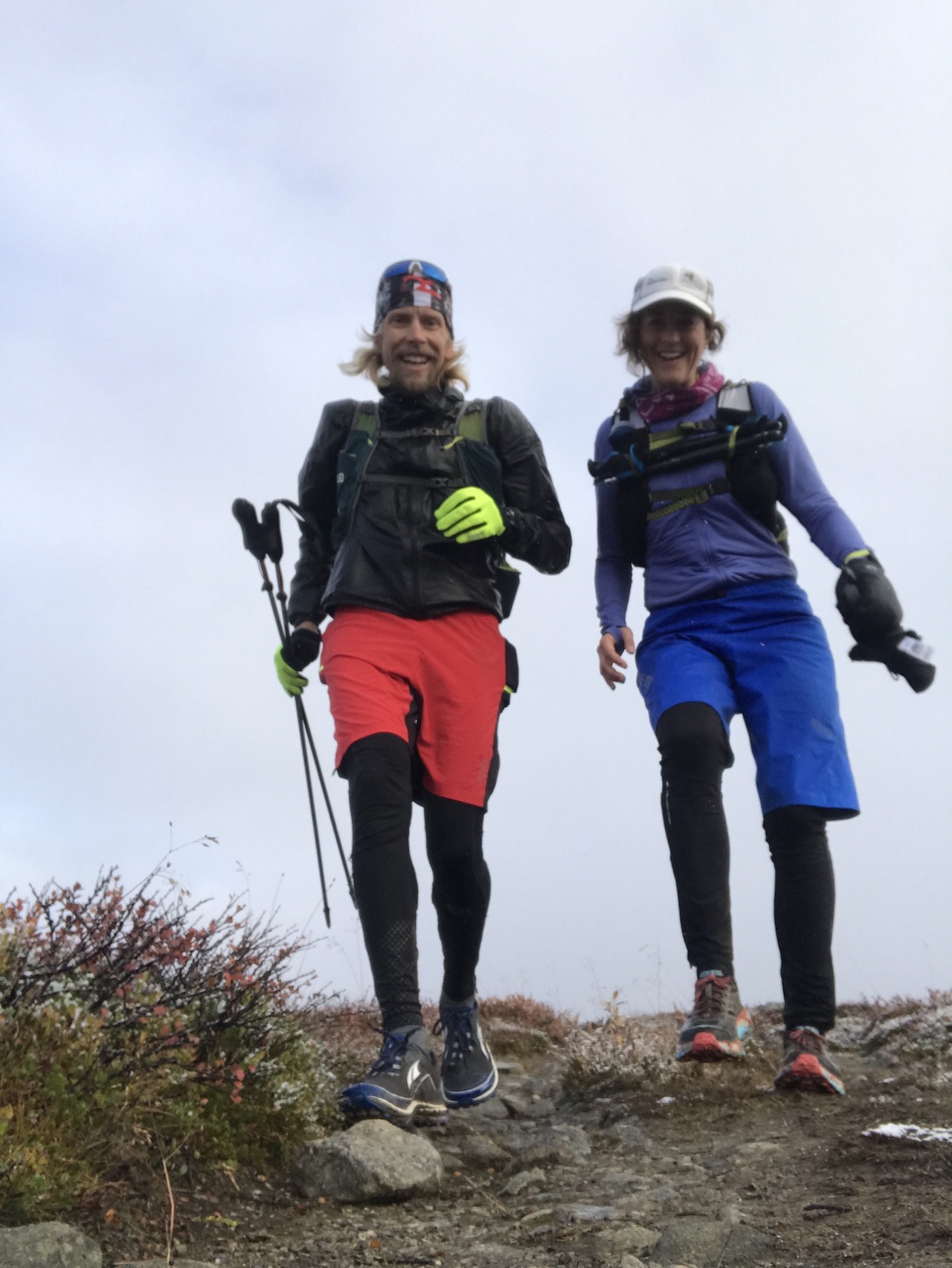 We reached the hut mid-morning and were told that it was not possible to have a boat transport until 5pm (the standard slot). This was a bit of a blow but after some chatting about what we were doing the host agreed to take us across. I stocked up on various sweets and snacks in their shop and off we went. This boat took us across Laitaure. We could see the national park of Sarek to the west, and the next section of the trail, to Pårte, would take us through some of it.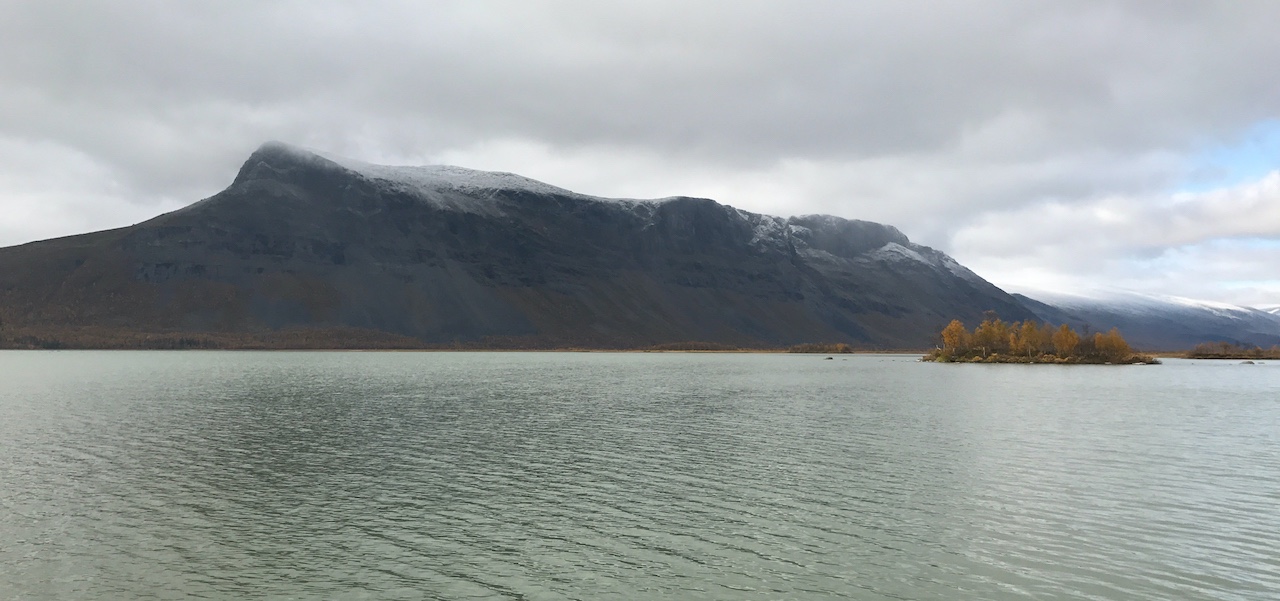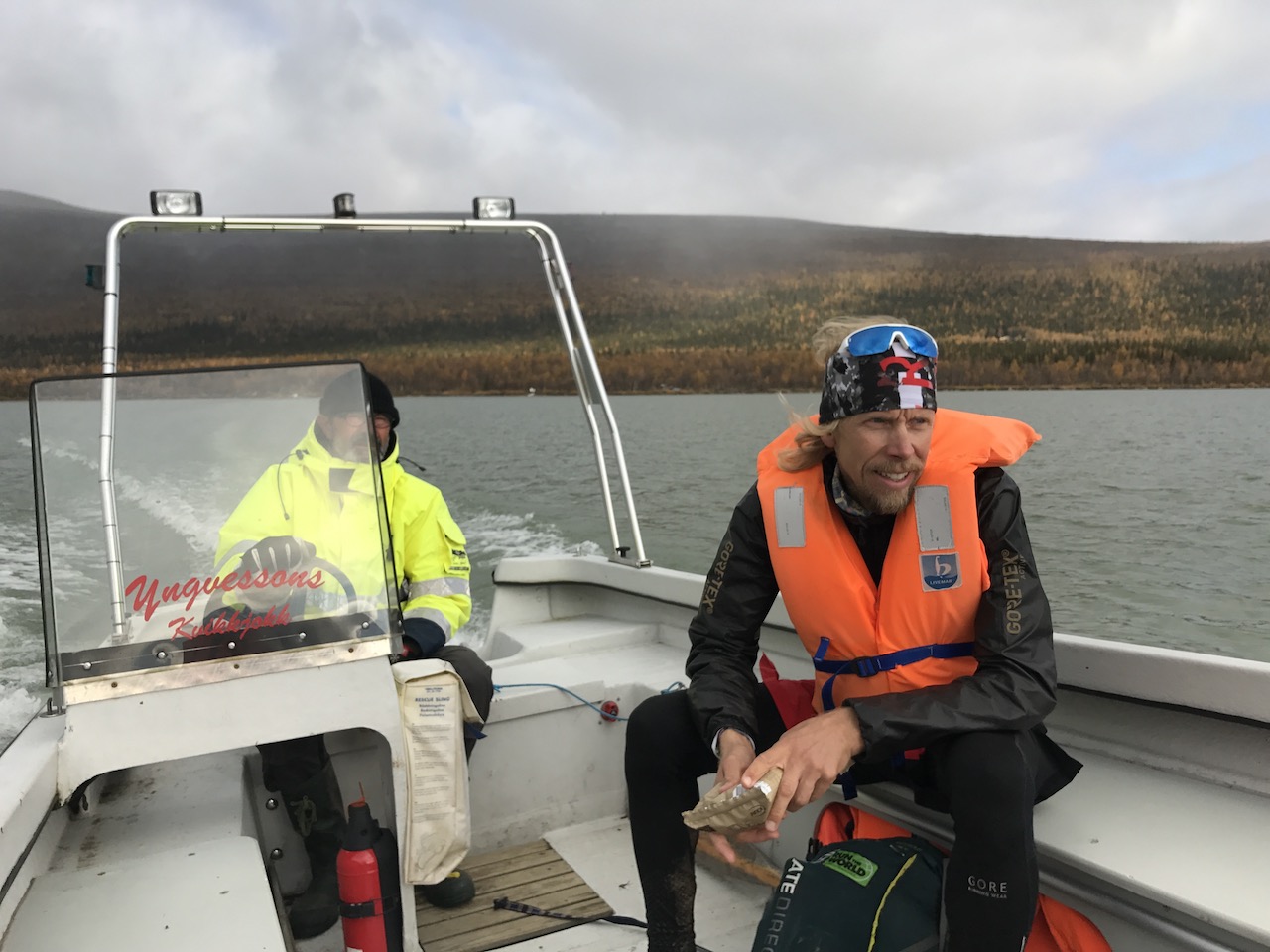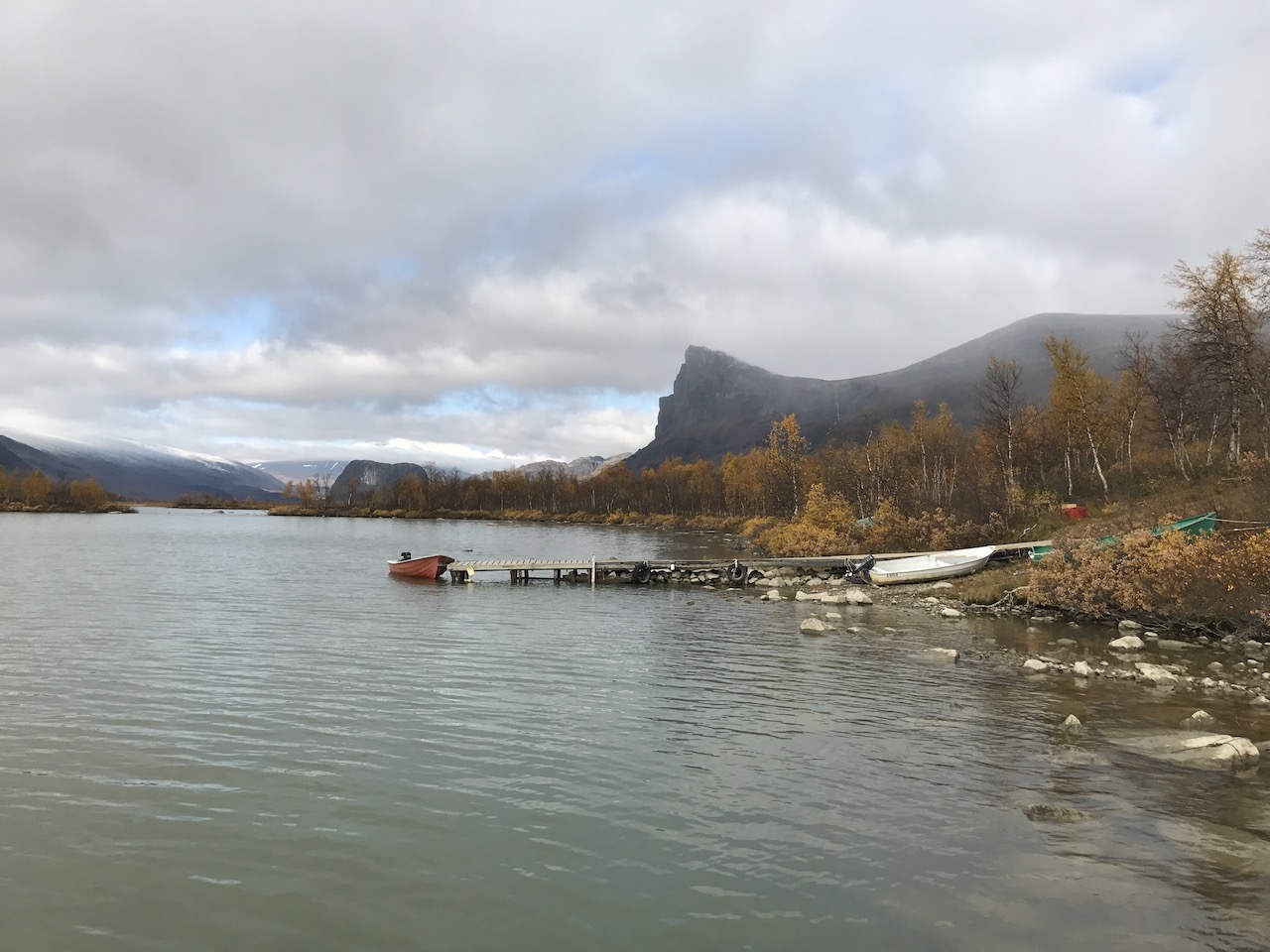 This next section was stunningly beautiful. We passed an Australian guy and chatted for a while with him. He was going to Norway afterwards so Sondre gave him some tips.  Actually most people we met the whole trail were not Swedes and this was reflected in the feedback from the hut hosts. It was very interesting to meet all these people from all over: Germany, France, Russia, Ukraine, Finland, UK, Australia, Switzerland and more.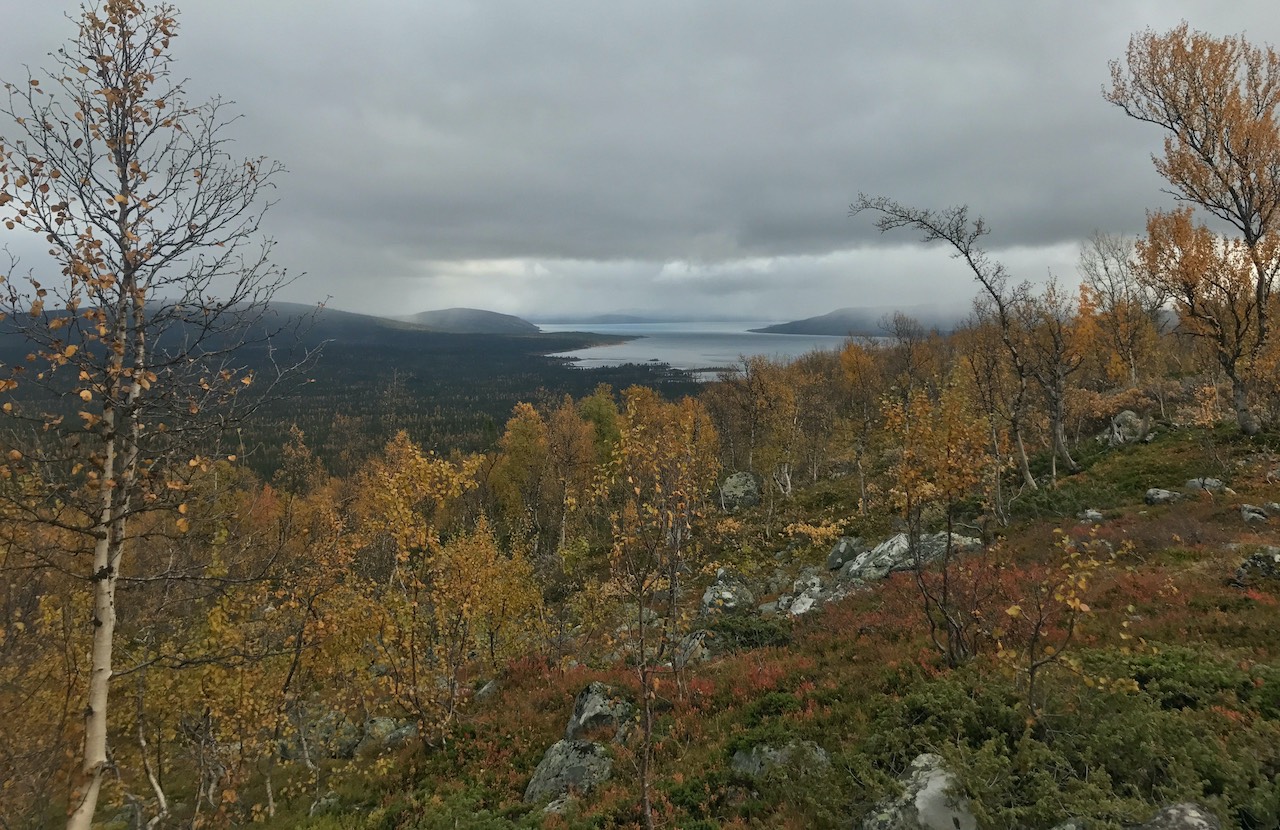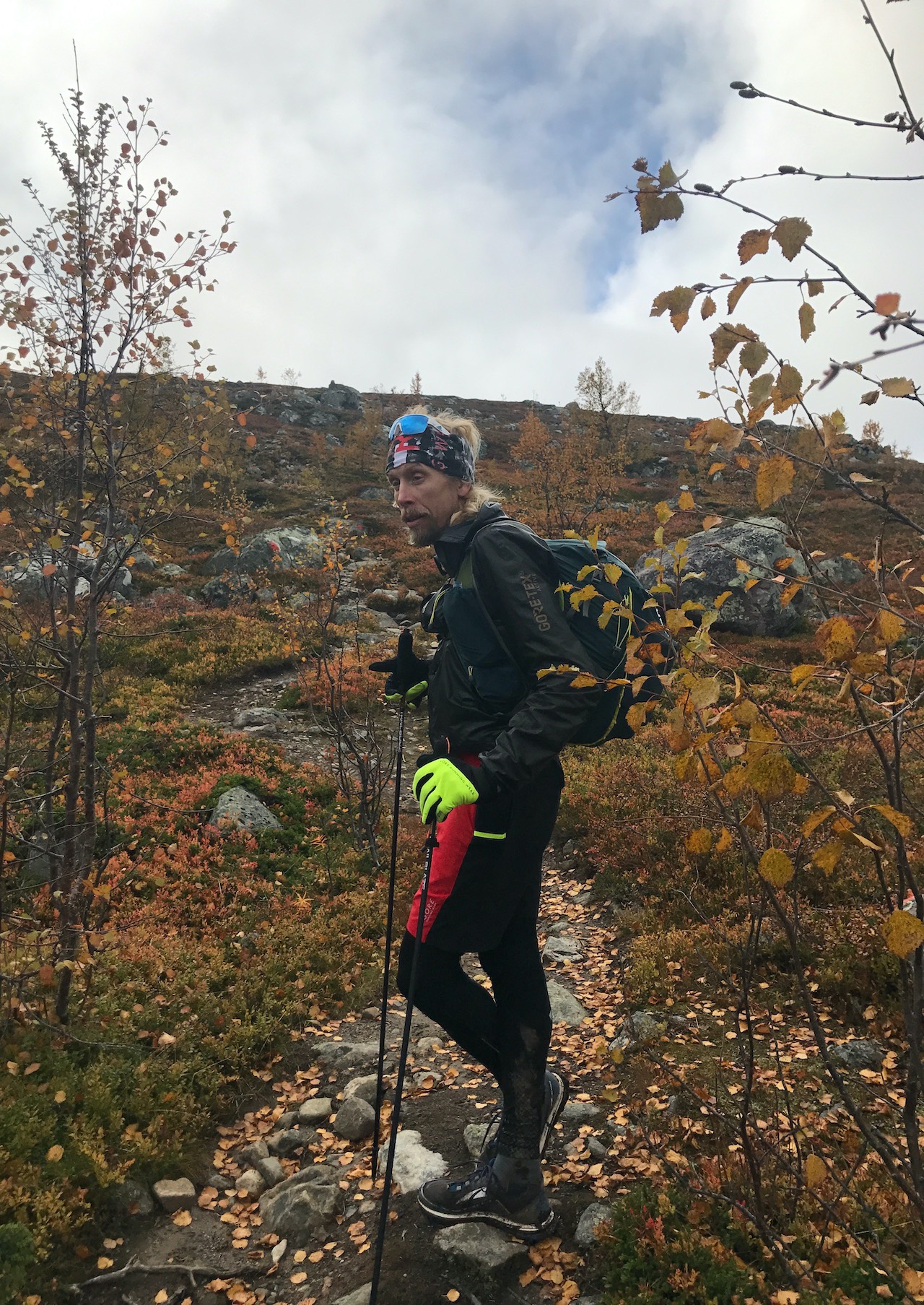 As we started the final stretch from Pårte to Kvikkjock we were faced with our biggest challenge yet. This section was wet, with deep mud, exposed roots and large blocks of rock. I had to dig deep to find my most positive thoughts and I was counting down the kilometres even though they went pretty slowly here. We joked about being ready for the Barkley Marathons and questioned our sanity a bit as we climbed over the rocks. Every slippery bog board was now a relief as it meant a little bit of running was possible.
We eventually made it to Kvikkjock and the dinner just in time. We could have a warm shower, sleep in beds, dry our wet clothes, and even enjoy a bottle of wine with dinner. Felt like we deserved it big time!
Day 4: Kvikkjock to Vuonatjviken, 67km / 1811m ascent
On the morning we had to do a 3km boat crossing first thing from Kvikkjock before we could start running. We had booked this the night before and were met by the very friendly and knowledgeable Björn Sarstad who would take us to Mallenjarka.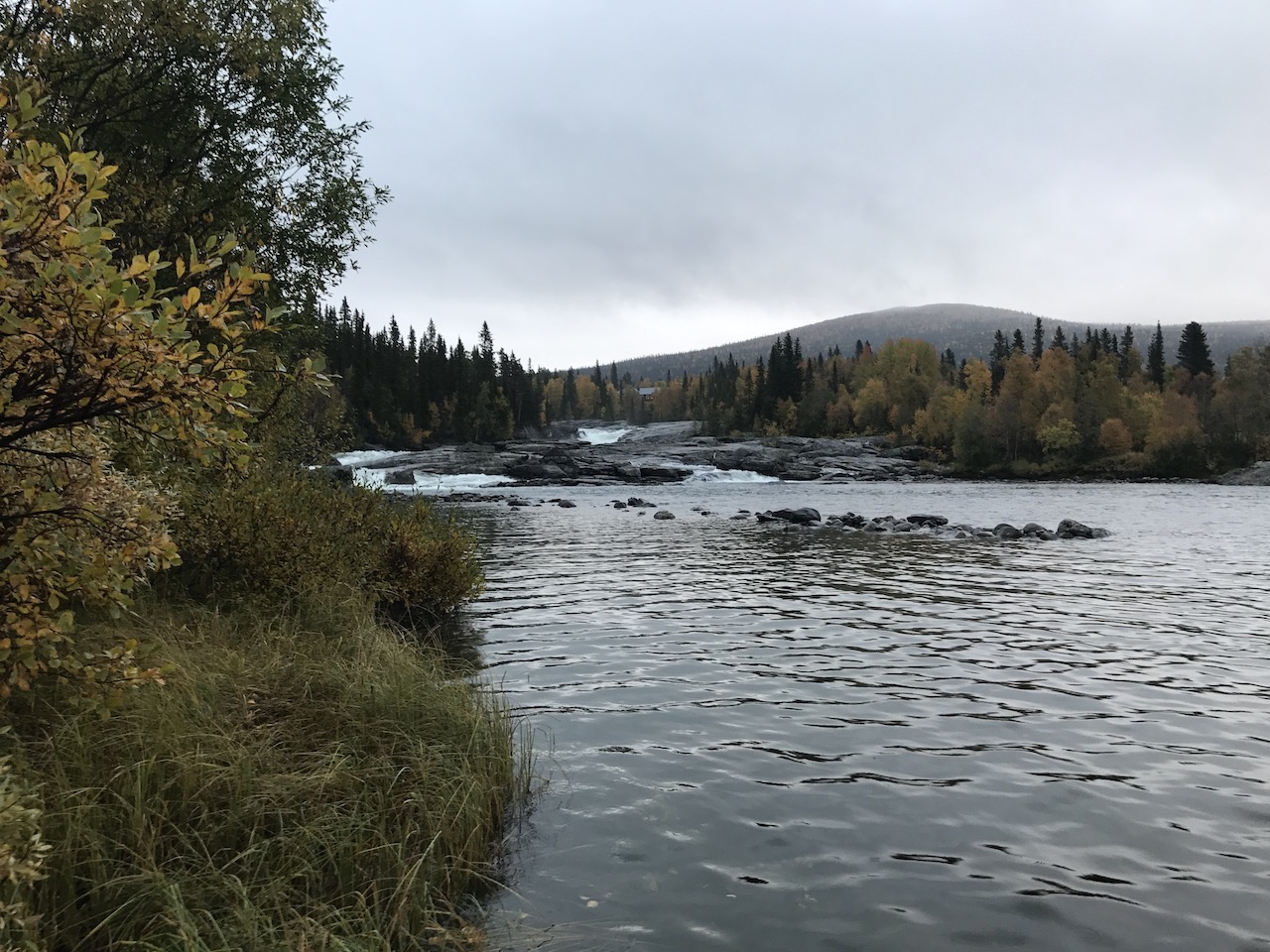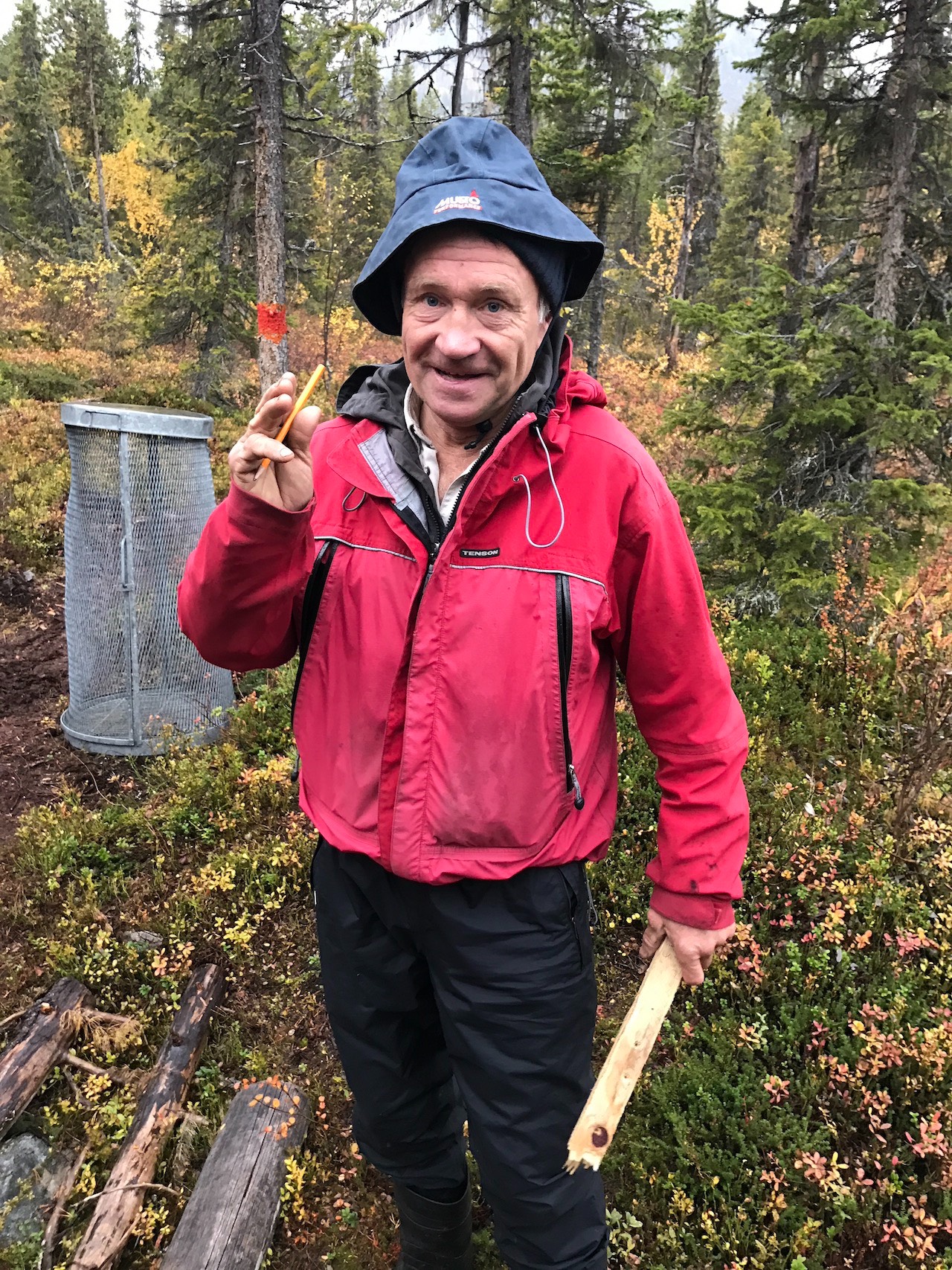 There were no more boat crossings this day so just up to us. However, there are also no huts on this stretch. The huts so far had been lovely as they served as mental check points and a shelter for a few minutes if you needed a break. Now, all we had was 63km to Vuonatjviken with no natural pit stops.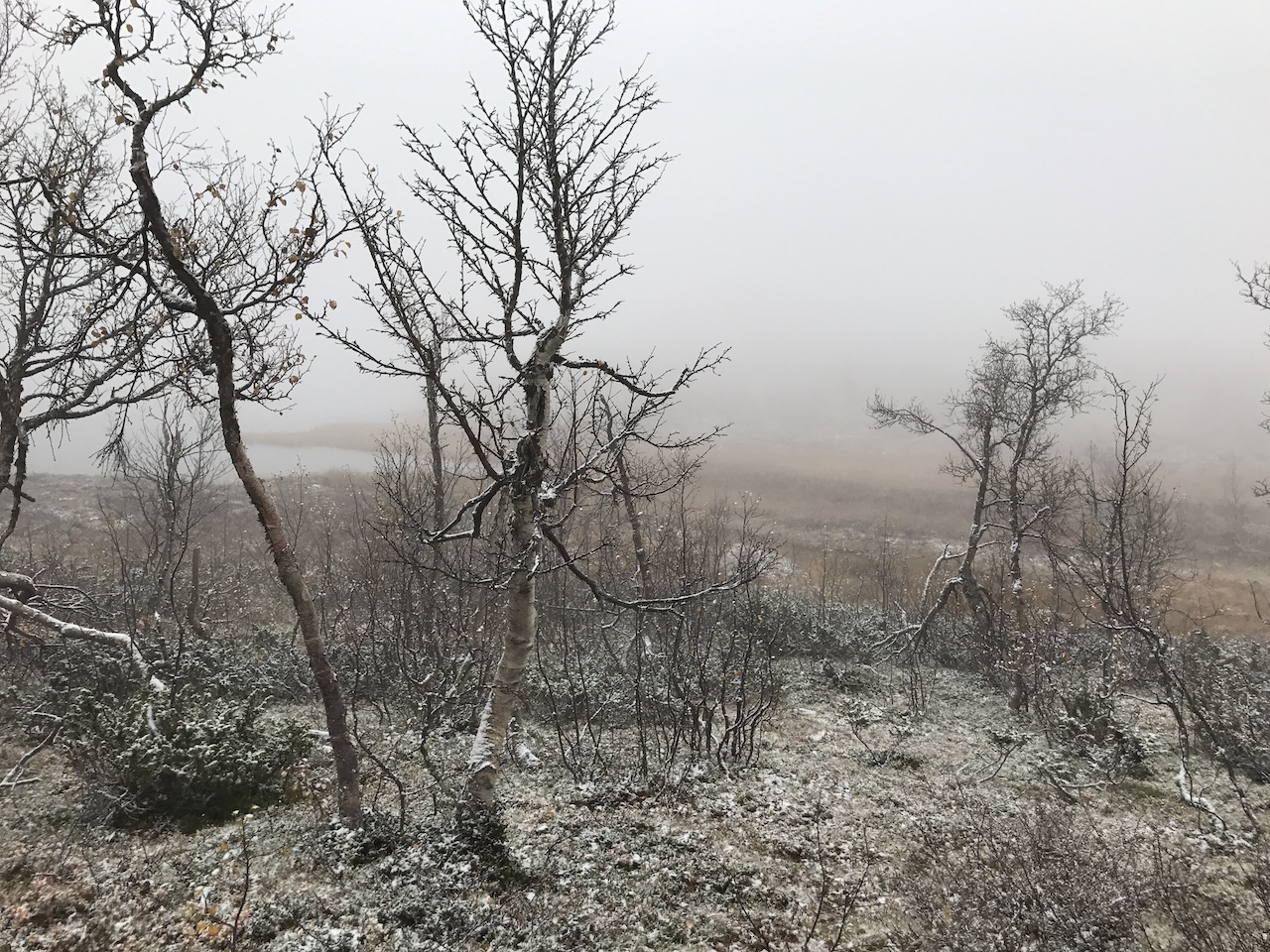 If Day 1 to 3 had run reasonably smoothly, Day 4 threw all it had at us. The terrain was tough, very wet and boggy. In the beginning, through the woods, it was warm but raining. Then we ascended up on the snow covered mountain and were rewarded with meeting a herd of magnificent reindeers.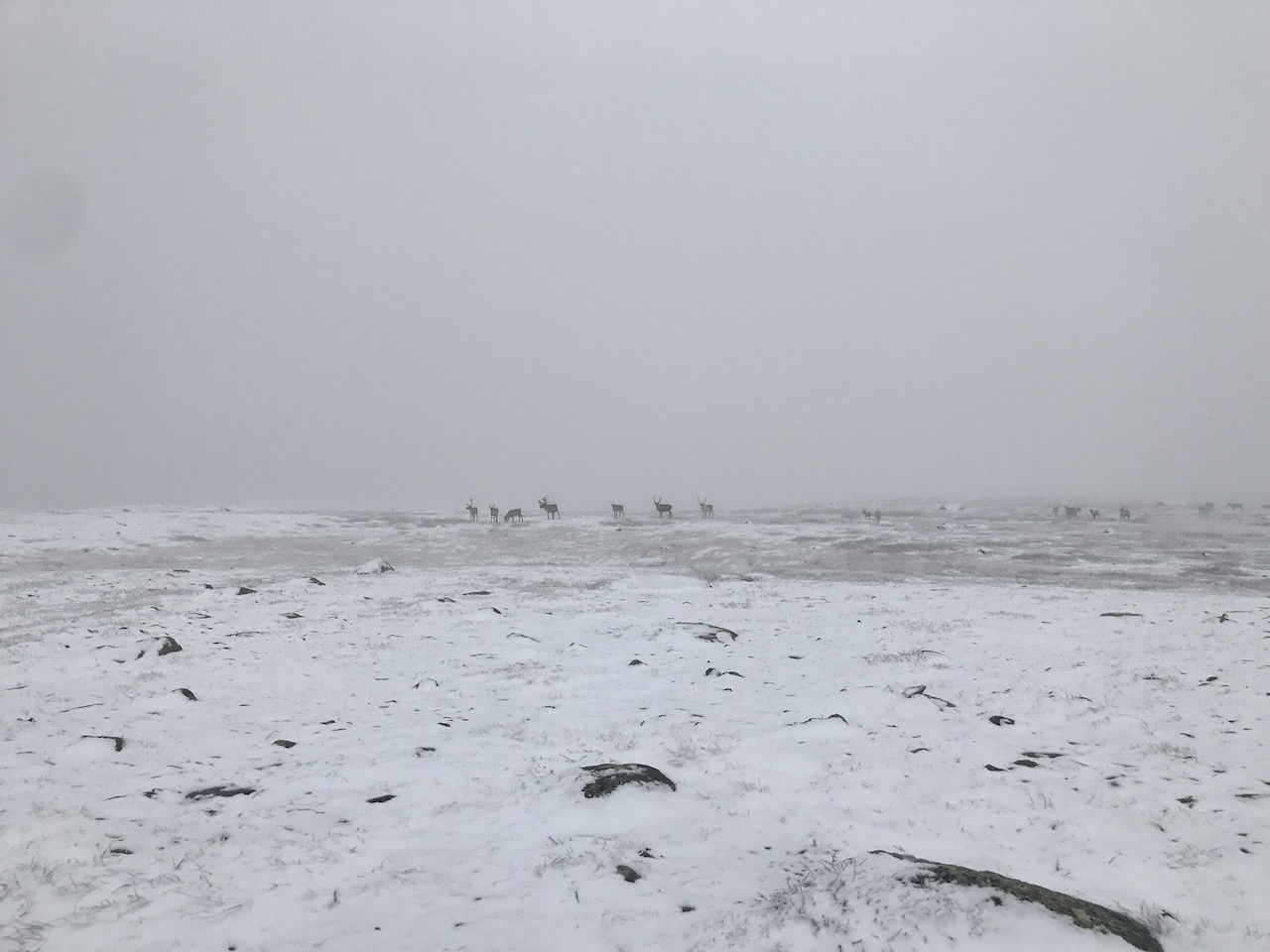 About half way, I got really cold and had to put more layers on. I also had to change to my last two pairs of dry gloves: a merino liner and a Gore-Tex shell mitt. This was a bit of a low point. I thought we had 30km to go but the sign for Vuonatjviken said 33km. I was really hoping that my clothes would see me through the whole day.  As we ascended up on the mountain again it got very tough. We had snow, sleet, and windchill. The terrain was boggy so we sank to our ankles with every step. My hands were cold again and I could tell Sondre was cold too. There was nothing we could do but to push on. And so we did.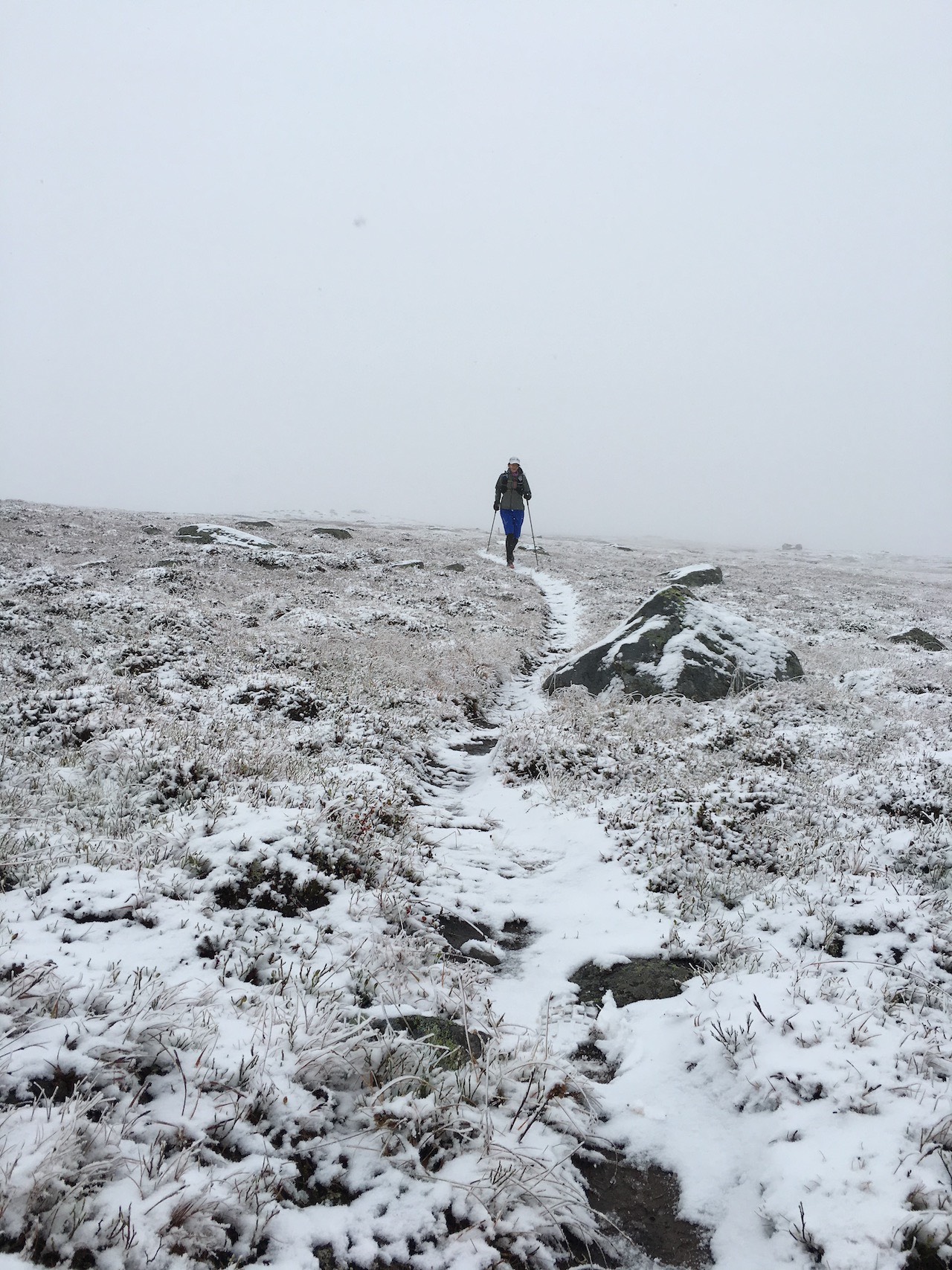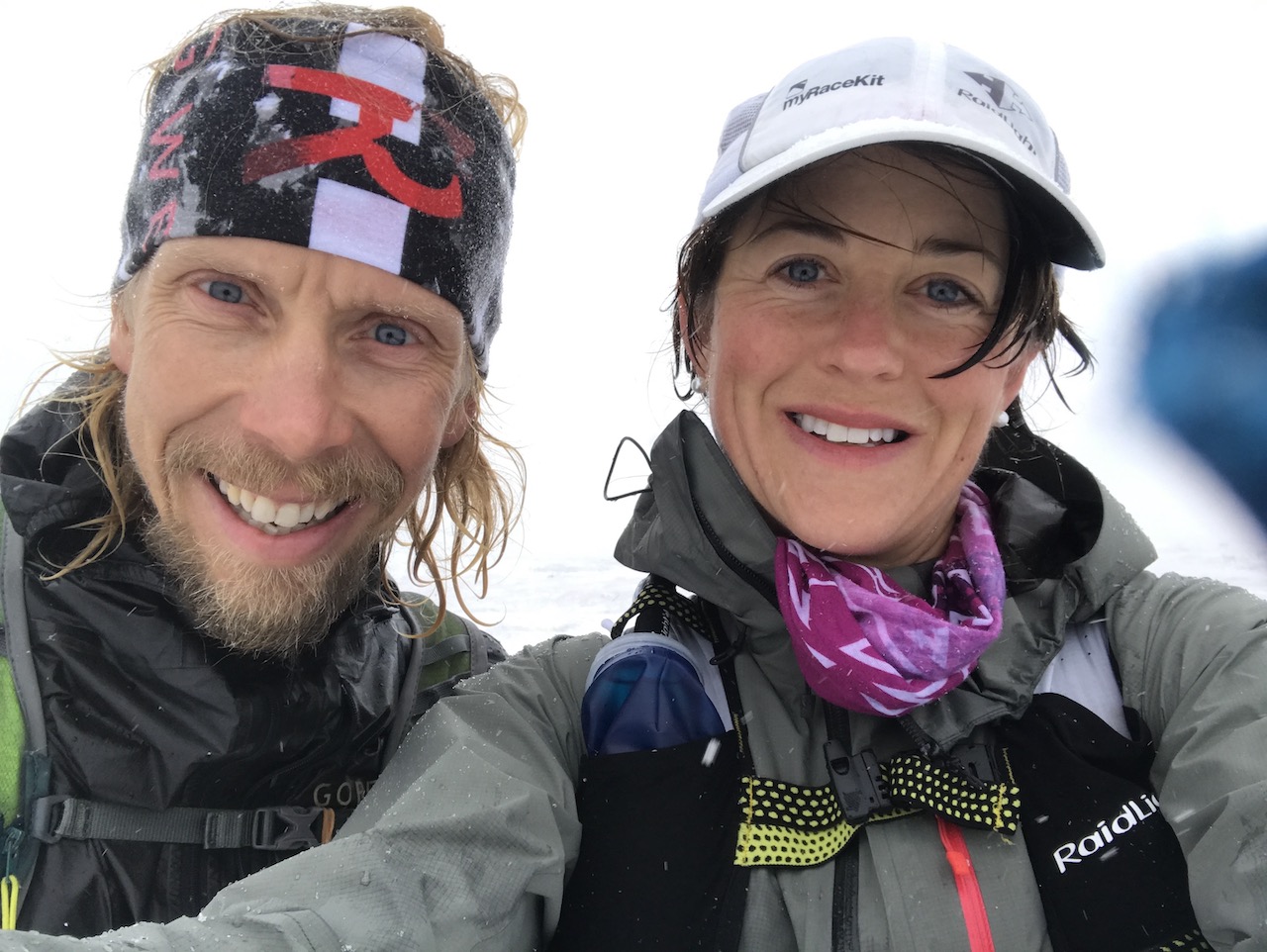 Eventually, after what felt like an eternity, we reached Vuonatjviken. This was just before dark, after 10.5 hours on our feet. I was exhausted. Maybe more from the battle with the elements rather than the running. We were able to get a cabin for the night and to dry our clothes. Had we not I am not sure what would have happened. It certainly was not a night you wanted to spend in a tent with all your gear soaked and freezing to the bone.
In order to continue the next day we had to cross with boat the 5km over Riebnes from Vuonatjviken. We were totally in the hands of Jan who drove the boat and he was not keen on taking us over before 9am. Ideally we wanted to leave at 7am to make the most of day light the next day but there was nothing we could do but have a lie in (in all honesty that was lovely!) and prepare for some night running the following day.
Day 5: Vuonatjviken to Snjulttje, 69.5km / 1641m ascent
Jan seemed in a much better mood this morning and greeted us with a smile and chatted as he took us across Riebnes. I had felt my ankle being stiff in the morning and was a bit worried. Earlier in the week I had twisted it a few times but not thought much of it, however it was not entirely comfortable. As I stepped off the boat onto the stony shore I heard a cracking noise coming from it which wasn't great.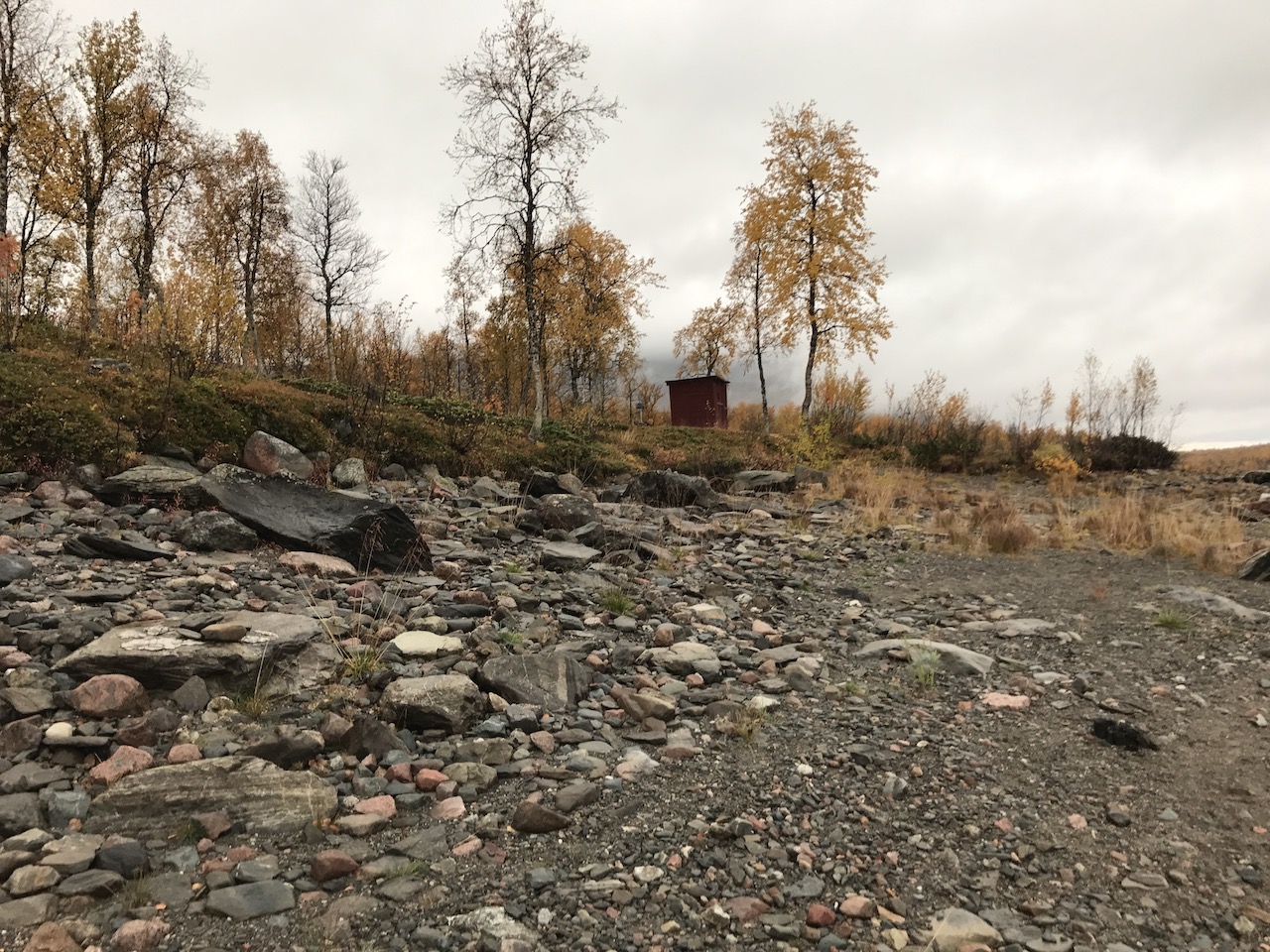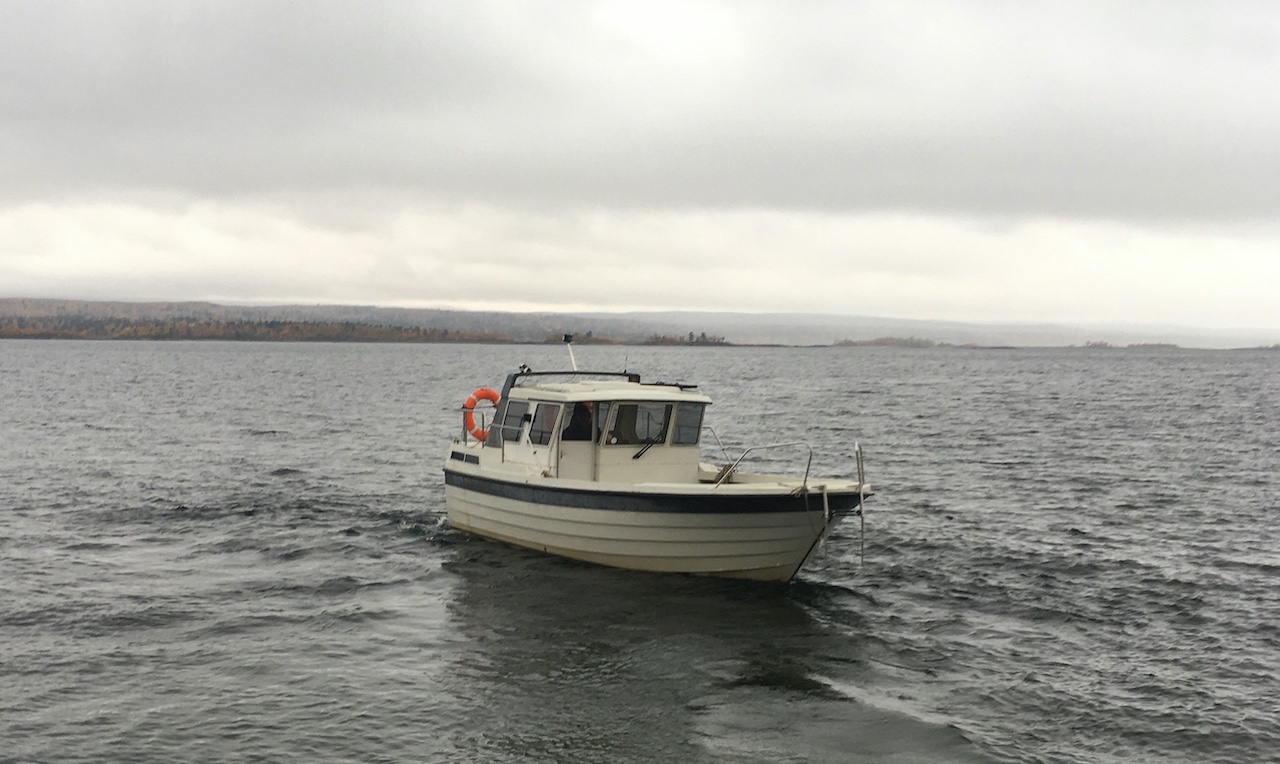 I used my poles for most of the day which helped take the pressure off a bit. The route was varied and we had three climbs with a total of just over 1600m of ascent. Quite early on we had another boat crossing but it was short and not serviced so we had to row. Unfortunately the luck wasn't with us and as we arrived at the shore there was only one boat there. The other two were on the other side. We rowed across and agreed that, since Sondre was faster than me, that he would sort out the boats and I would carry on to the next stop which was Jäkkvik. This was where we were going to fill up supplies from the small supermarket. This took bit of pressure off me and my sore ankle. The route to Kvikkjock was lovely through the woods, on an undulating single track. Towards the end I was even blessed with a gravel road and it was lovely to be able to stretch the legs out if even just for a few minutes. Once in Jäkkvik I found the shop which was a short detour off the marked trail. I ate as I put things in my basket and by the time I reached the till I had mostly empty packaging to pay for! Sandwiches, bananas, Starbucks chilled coffees, Japp (Swedish version of Mars bar), Snickers, jelly sweets. I also threw in a small tube of Pringles which would come in handy later. Sondre arrived not long after and I couldn't believe his capacity to eat! But, that's what you need to survive 10+ hours a day of running!
From Jäkkvik we climbed steeply again up to just over 800 metres. The weather was kind to us and after descending again we eventually reached Adolfström at around 41km. Here there was a general store. It was closed but we knocked, and a kind lady opened and let us in. We bought some drinks and had a chat. We wanted to enquire about the shelter we had set our eyes on as our goal for the night. She confirmed that it had a wood burning stove and that was really all we needed. That would be enough for us to dry our clothes and get a roof over our heads for the night.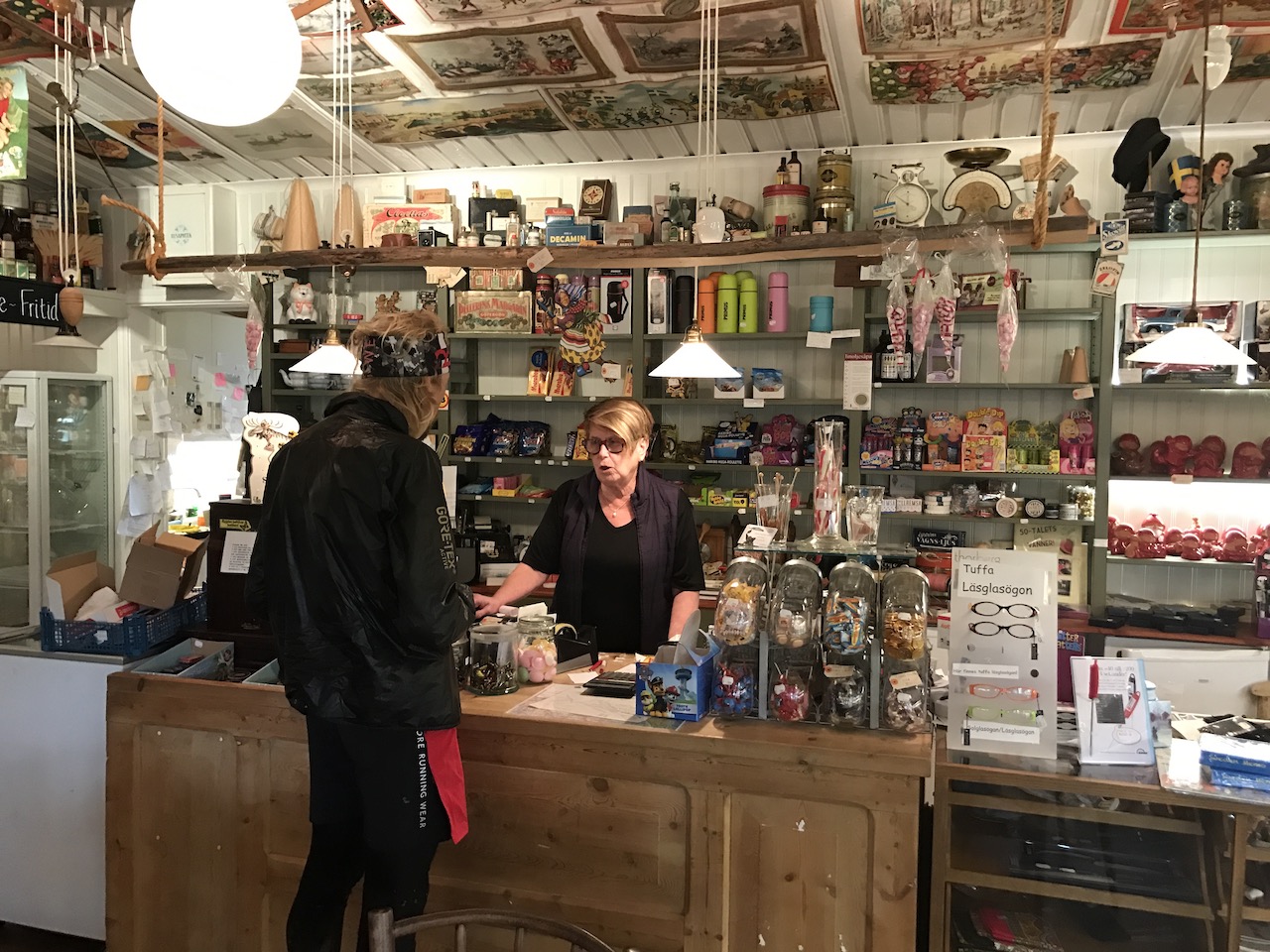 It was now late afternoon and we had another 23km to go so we had to push on. We knew we would be running in the dark this time. My ankle was bad and I had taken pain killers during the day. We now had to run around a lake and the trail, although ok, had some slippery rocks to negotiate. Still, we made good progress.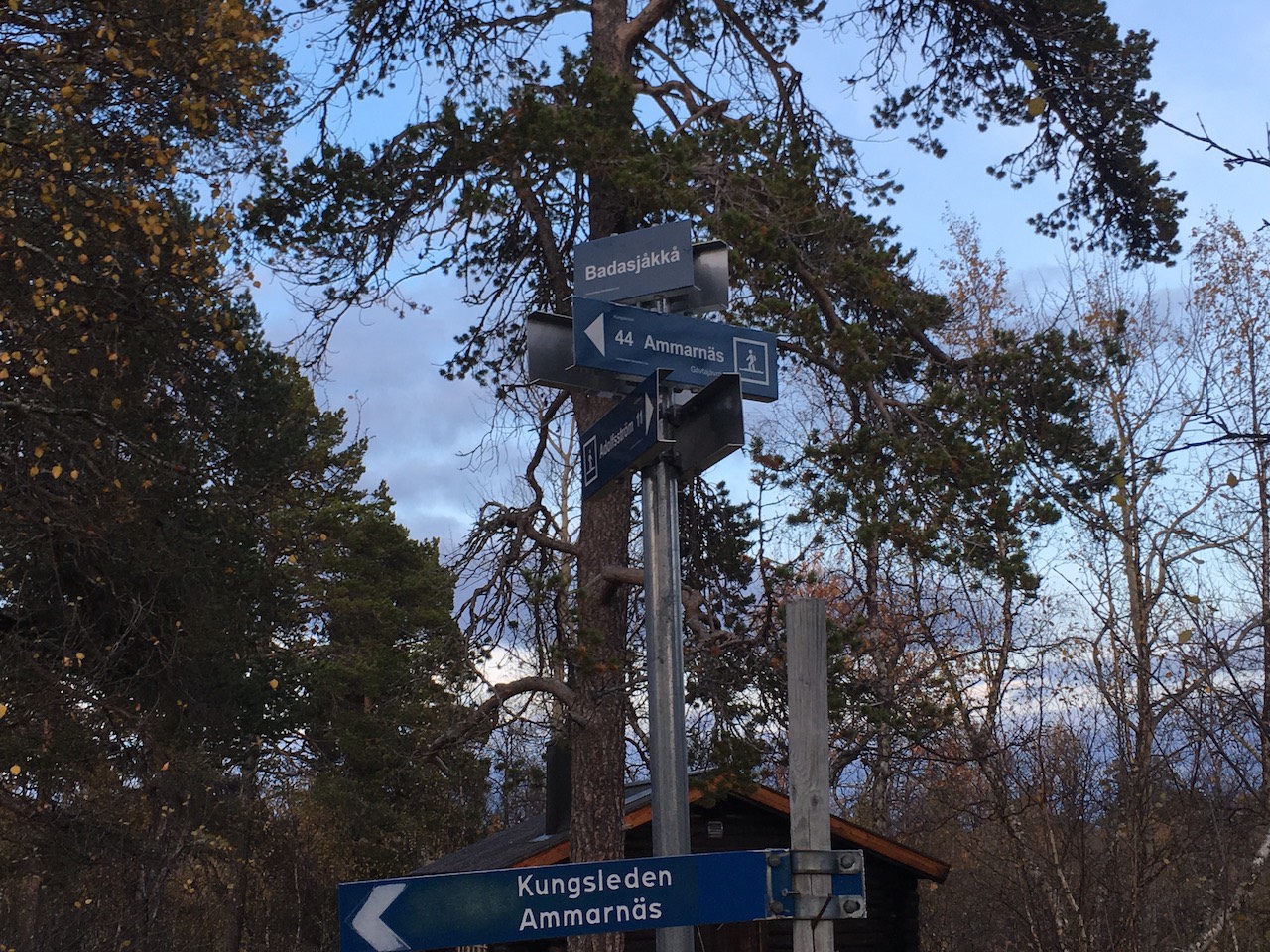 As darkness fell on the mountain we put our head torches on and grabbed some Pringles. Just as I was about to crush the empty Pringles tube I changed my mind. I had binned my collapsable cup two days before having not used it for three days, but now we wouldn't have access to any facilities so I needed it for my morning coffee… I stuffed it in a pocket and carried on. It seemed like an eternity, and the ground once more became wet and boggy, but eventually we reached the shelter of Sjnulttje. This consisted of a small cabin with a couple of benches, a table and a wood burning stove, a shed for wood storage and an outdoor toilet.
Much to our disappointment the cabin was already occupied by three hikers and there was no more room. They were already in their sleeping bags but welcomed us in. It was pitch black outside and the lake was a bit away so getting water was difficult. The hikers kindly lent us some of theirs and we made dinner. We then decided to sleep in the wood shed as there really was very little space in the shelter. In addition it was hot like a sauna and frankly a bit smelly. Not that we were that fresh ourselves but I guess anyone hiking for weeks in the wilderness will not exactly smell of roses and strawberries…:-) There was no heating in the shed but my sleeping bag was just about enough (the temperature measured 7 degrees C in the morning). It was not a comfortable night but it was better than sleeping in a tent. My ankle was bothering me now but we had limited water supplies for the night so I was reluctant to take pain killers and decided to just put up with it.
Day 6: Snjulttje to Ammarnäs, 51km / 1111m ascent
As I woke up, despite the stunning views over the lake, I quickly realised that it would now be a difficult day. My ankle was swollen and sore and hurt to walk on. We were out in nowhere so there was nothing to do and I was still hopeful of being able to finish the whole trail and get to Hemavan. We had another 125km to go, planned over two days.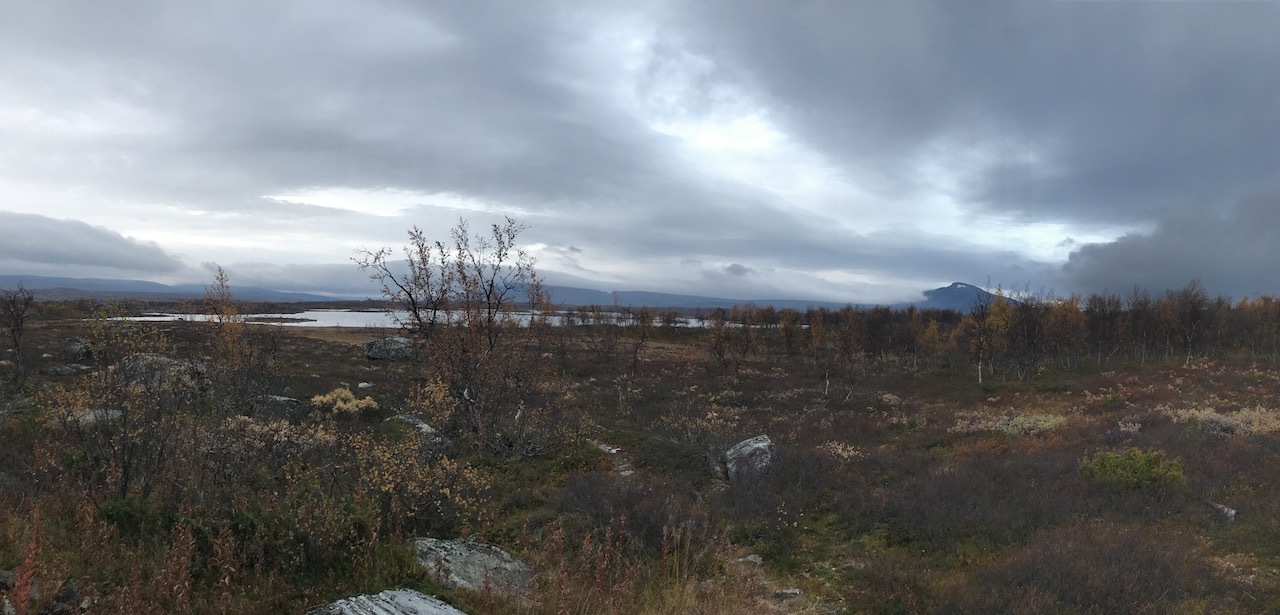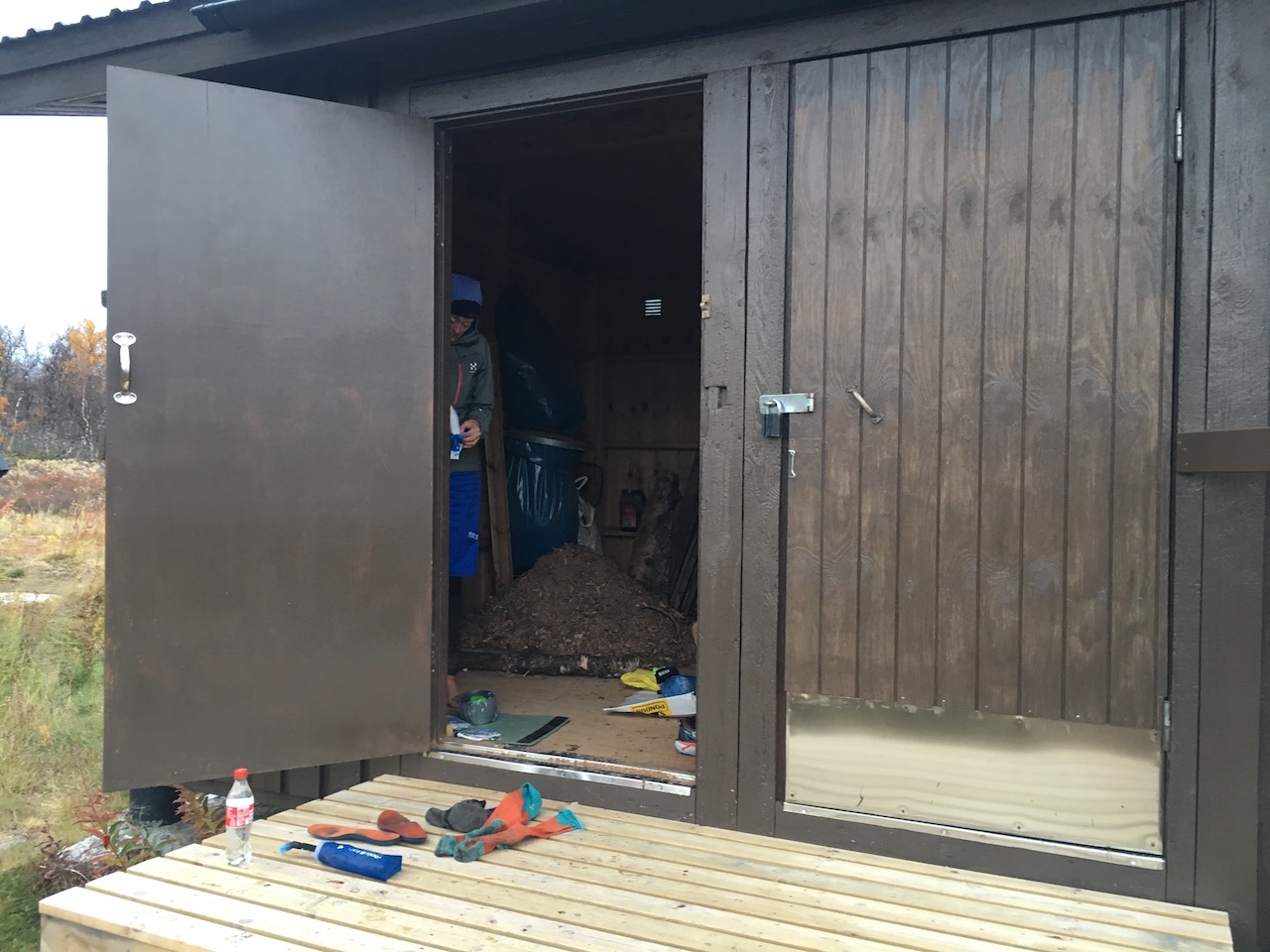 Breakfast consisted of coffee from the recycled Pringles tube and a freeze dried Spaghetti  Bolognese bought the previous day in Jäkkvik. It was freezing. Our clothes hadn't really dried and putting wet socks on was not pleasant. However, I knew they would get soaked within 5 minutes anyway so it was just a matter of persevering.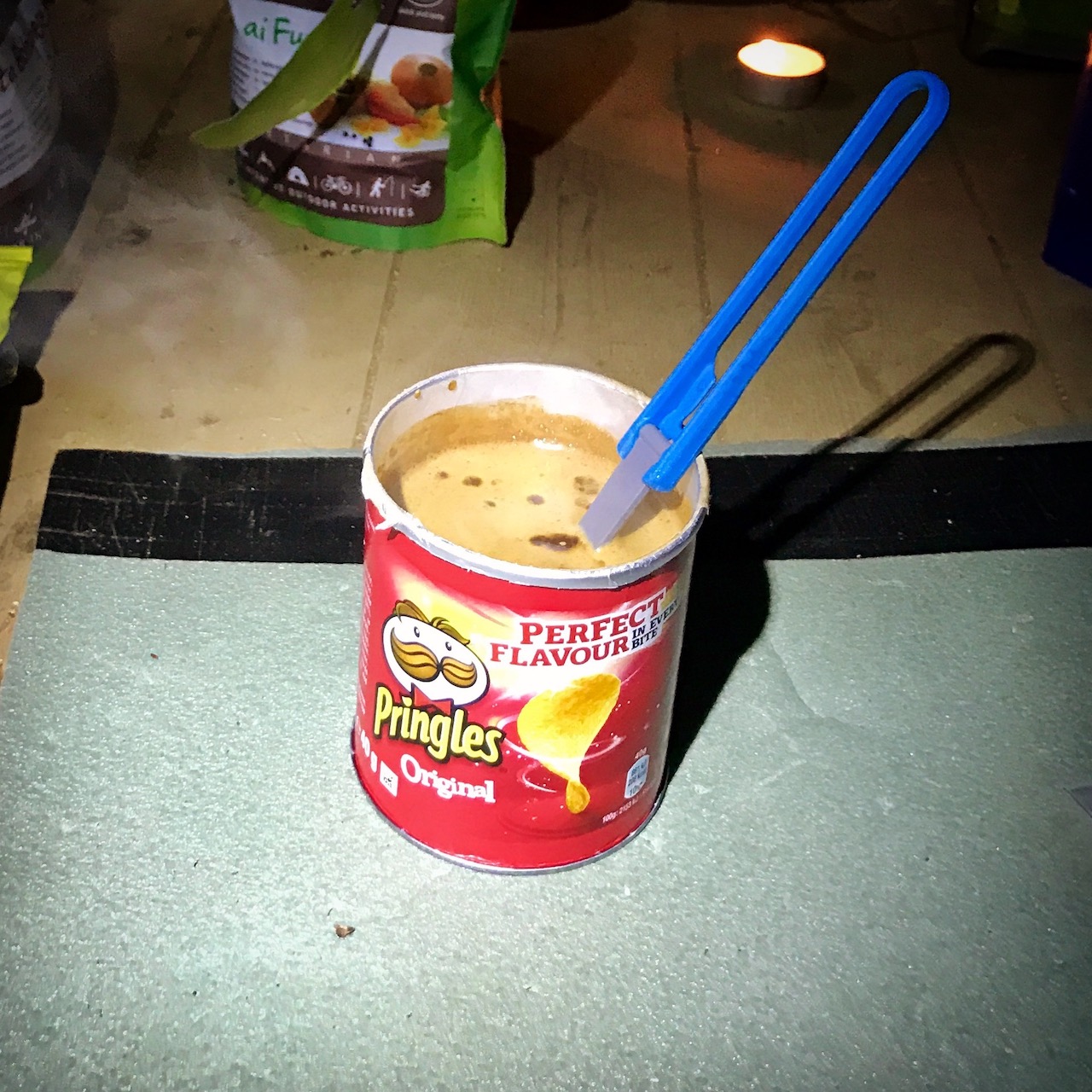 The first stretch of the day was 23km to Rävfallsstugan, a hut along the way with no services. I managed to run as the trail was in ok condition but it wasn't fast and I was worried about the overall progress. Once we got there after about 4 hours we had a quick break and planned how to proceed. Since I could still walk-run, and faster than most regular hikers, it seemed like a waste to call mountain rescue but I realised that I wouldn't make it any further than Ammarnäs, which was now 21km away and over the mountain. I tried to convince Sondre to carry on on his own but he would have none of it. He insisted we couldn't split up before at least we were over the mountain section and this was of course the right thing to do. If the weather would turn I could be in a dangerous situation if I wasn't able to move fast and at this point my ankle was just getting worse. Sondre patiently trotted along behind me as we made our way forward. With 5km to go to Ammarnäs we were in the more protected birch forest again and the weather was good. We agreed that Sondre would now run on so that he could have a chance of finishing the whole trail. To do that he ideally had to make another 32km that same day and it was now afternoon. He set off and I walked the last 5km into Ammarnäs. It was a beautiful afternoon and the autumn colours were vibrant. I soaked it all in and tried to enjoy this final bit.
I was full of mixed emotions. I was disappointed that I couldn't do the last ~80km to Hemavan and complete the full trail. At the same time I was grateful for the fantastic experience I had had the last 6 days, and the fact that I had probably covered the 360km distance from Abisko to Ammarnäs in record time. I always find that being out in remote wilderness, and getting away from the noise of everyday life, helps you reflect on life. This was particularly useful for me at this point in time and something I had neglected for a while. In the final kilometres I passed this little tree.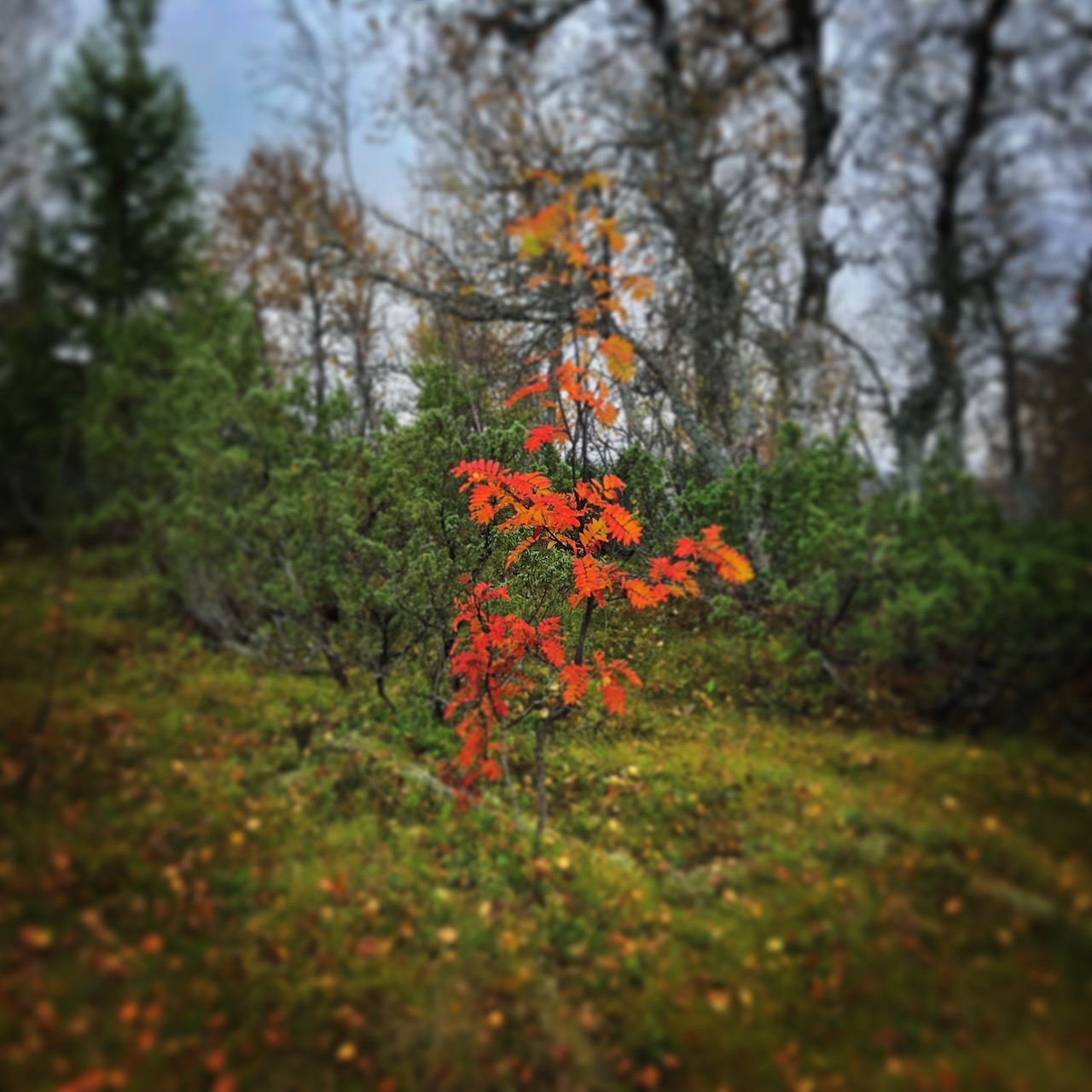 It stood out from the background with it's vibrant red autumn leaves. Proud to be there, not trying to blend in. It was as if this tree said to me: "Be who you are and do what you want. Never change to satisfy someone else." I was grateful for this brief moment of reflection and the clarity it instantly brought me. Whilst physically a bit broken, I reached Ammarnäs with a feeling of renewed strength and motivation.
The rest of the story:
Once in Ammarnäs I hobbled into the "Inn" (Wärdshus). The last kilometre or so, down the steep ski slope, had really not been good for my foot. I had already checked the bus timetable to Hemavan: the only bus would not be until the following afternoon and would take 7 hours with three connections, getting me to Hemavan for Sunday evening at 11pm. Sondre would likely arrive mid-morning which I didn't want to miss, and our flights were booked for Monday morning at 6am. The trail over the mountains is about 80km and of course continuing was out of the question. The drive is a whopping 250km horseshoe shape around the mountains so a taxi, if even possible to find, would take a few hours and with a bill to match. Adding to this it appeared that all obvious accommodation in Hemavan was fully booked. I thought there must still be a solution and sure there was.
The couple who ran the Inn were extremely helpful and eventually managed to find me an apartment in Hemavan. Meanwhile, I had also managed to arrange a helicopter taxi that would come straight away and take me there in 25 minutes. This was not cheap, but weighing up the options it was really the only viable alternative. I probably got hold of them just in time as it would soon get dark.
Experiencing the final bit or the trail from the air was great and an adventure it itself. I really enjoyed it. Ludvig, the pilot, was very helpful and drove me to the apartment once we arrived. By that time my foot had seized up pretty badly so it was a relief. I still had to hobble to the supermarket later for some food but some locals pointed me to a shortcut so that became manageable.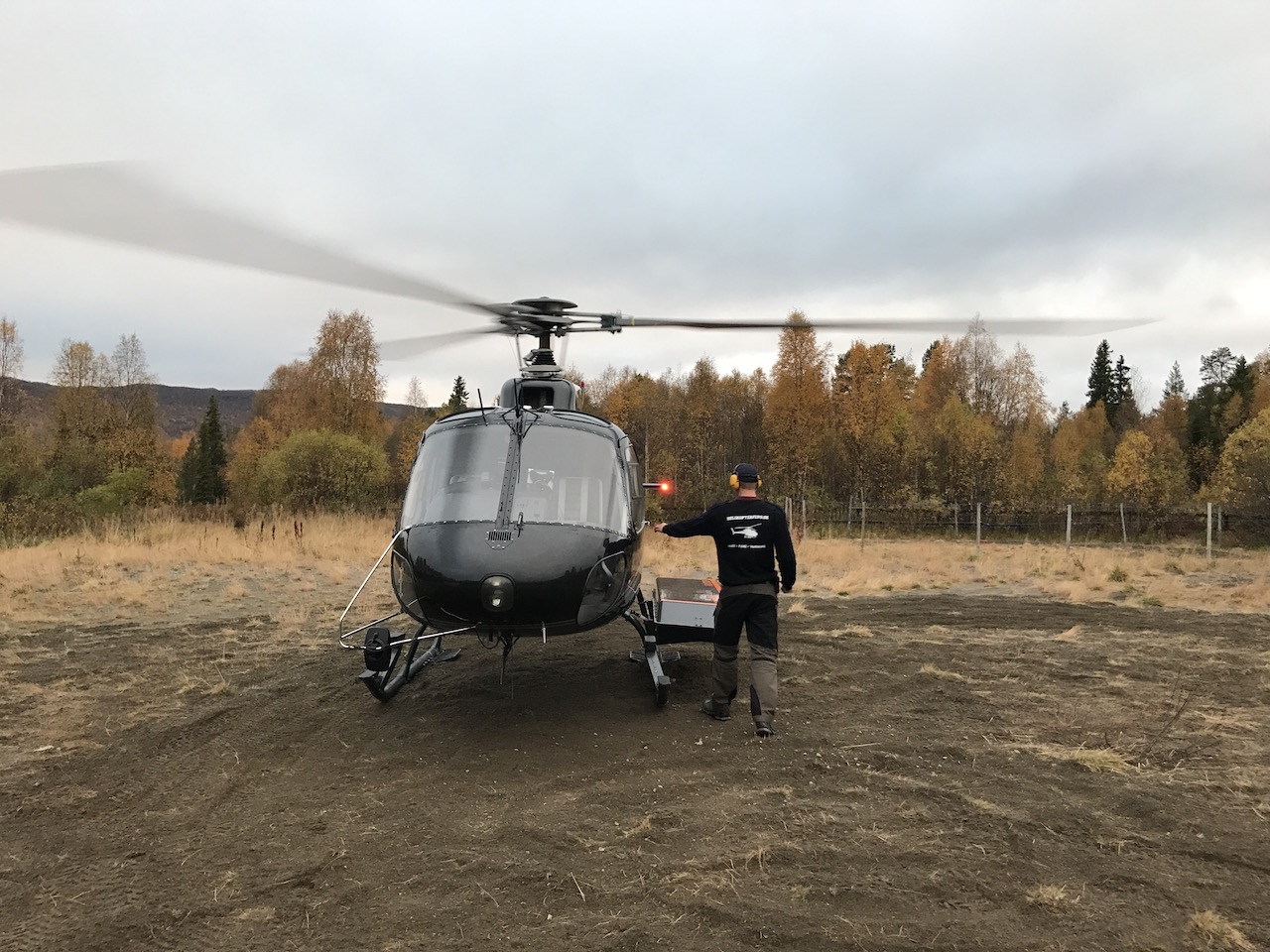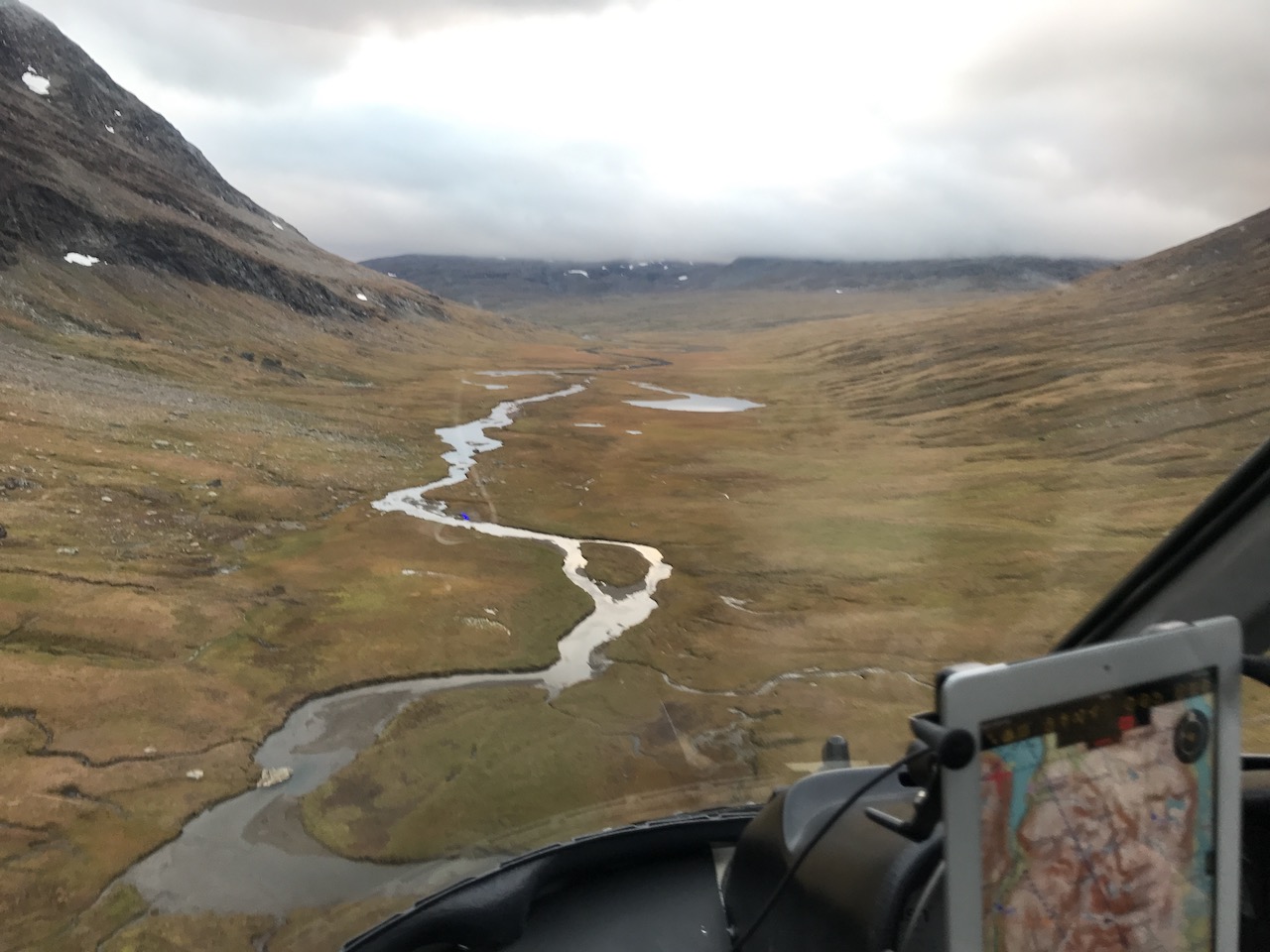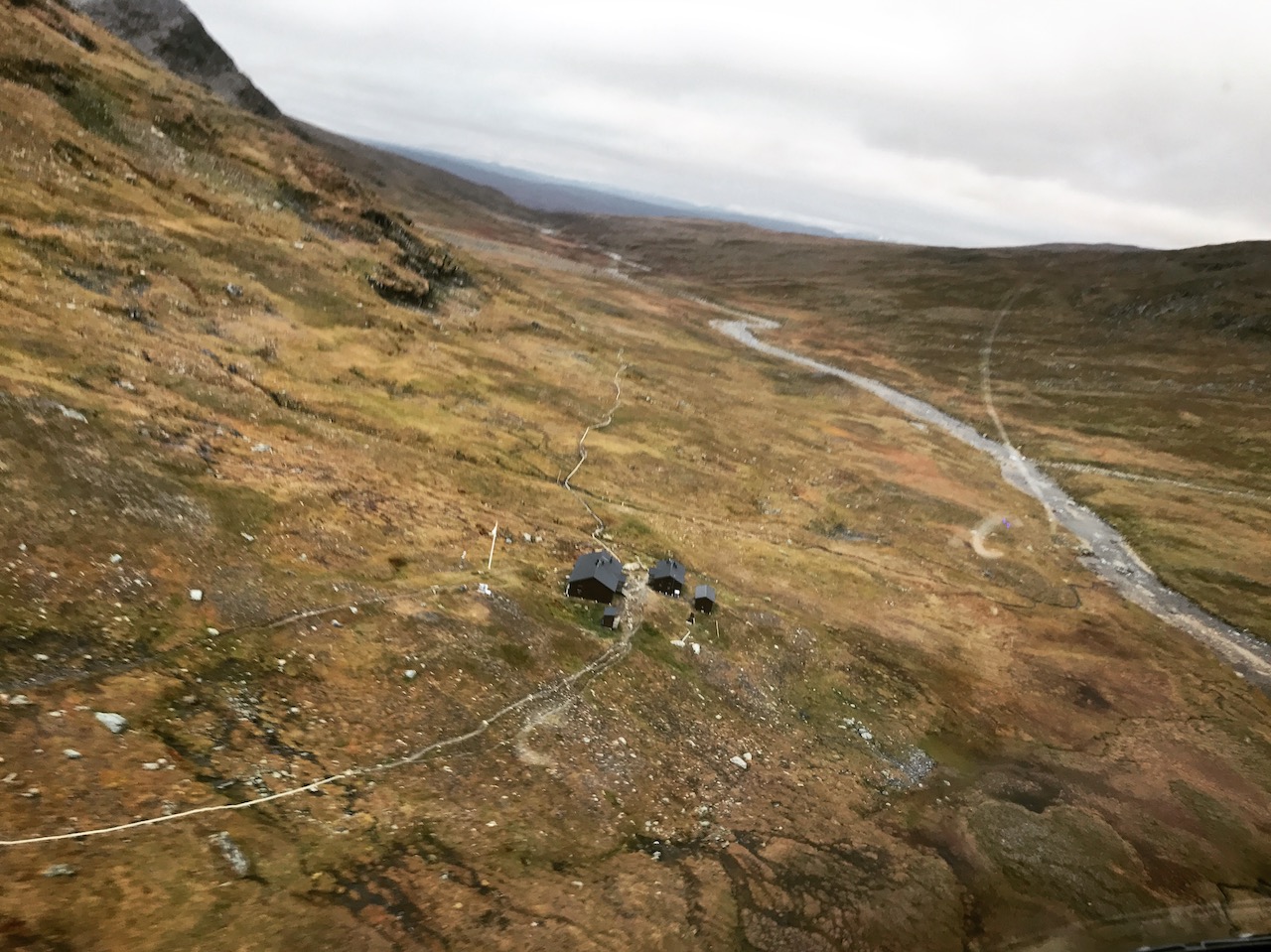 So, everything got sorted and I could eventually settle in for the night in Hemavan. The following morning I walked up to the end of Kungsleden to see Sondre in. He arrived at 11:51 in the morning so he had taken 6 days, 2 hours and 51 minutes to complete the trail, beating the previous record by just over 12 hours. I was so happy that he could finish, whilst also sad I hadn't been able to do it with him.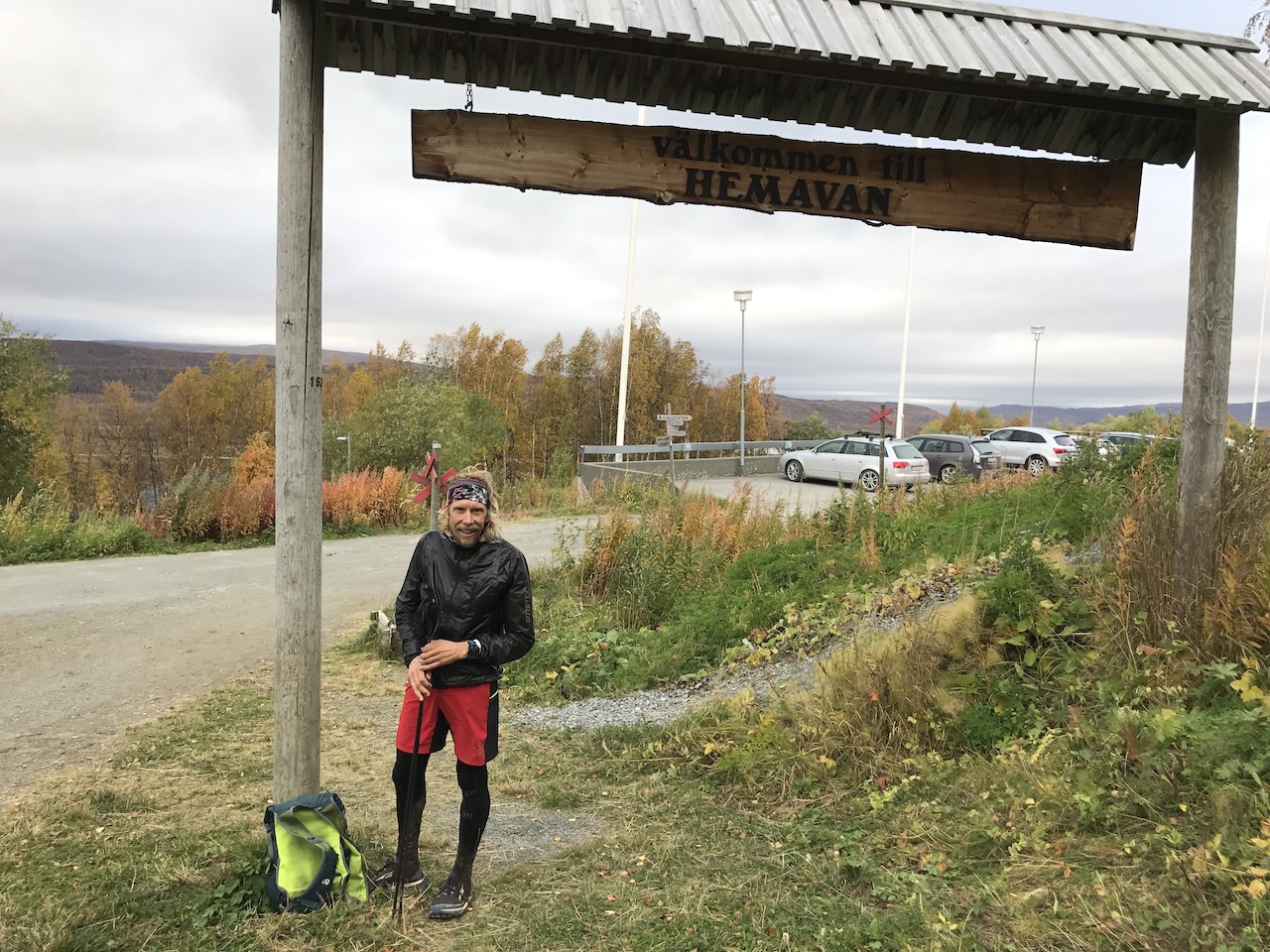 The rest of our time in Hemavan consisted mainly of eating (we had some catching up to do!) before it was time to fly back home on Monday morning. Whilst I am extremely happy with what I experienced in six days, I do feel I have some unfinished business so maybe I'll be back 😉
To everyone we met on the trail, whether hut hosts, boat drivers, shop owners, fellow hikers, and others: if you read this and met us, thank you for being so friendly, helpful, interested in what we were doing and welcoming. We didn't meet that many people, but I was blown away by the hospitality and friendliness of everyone we encountered. This all added to the week being so fantastic.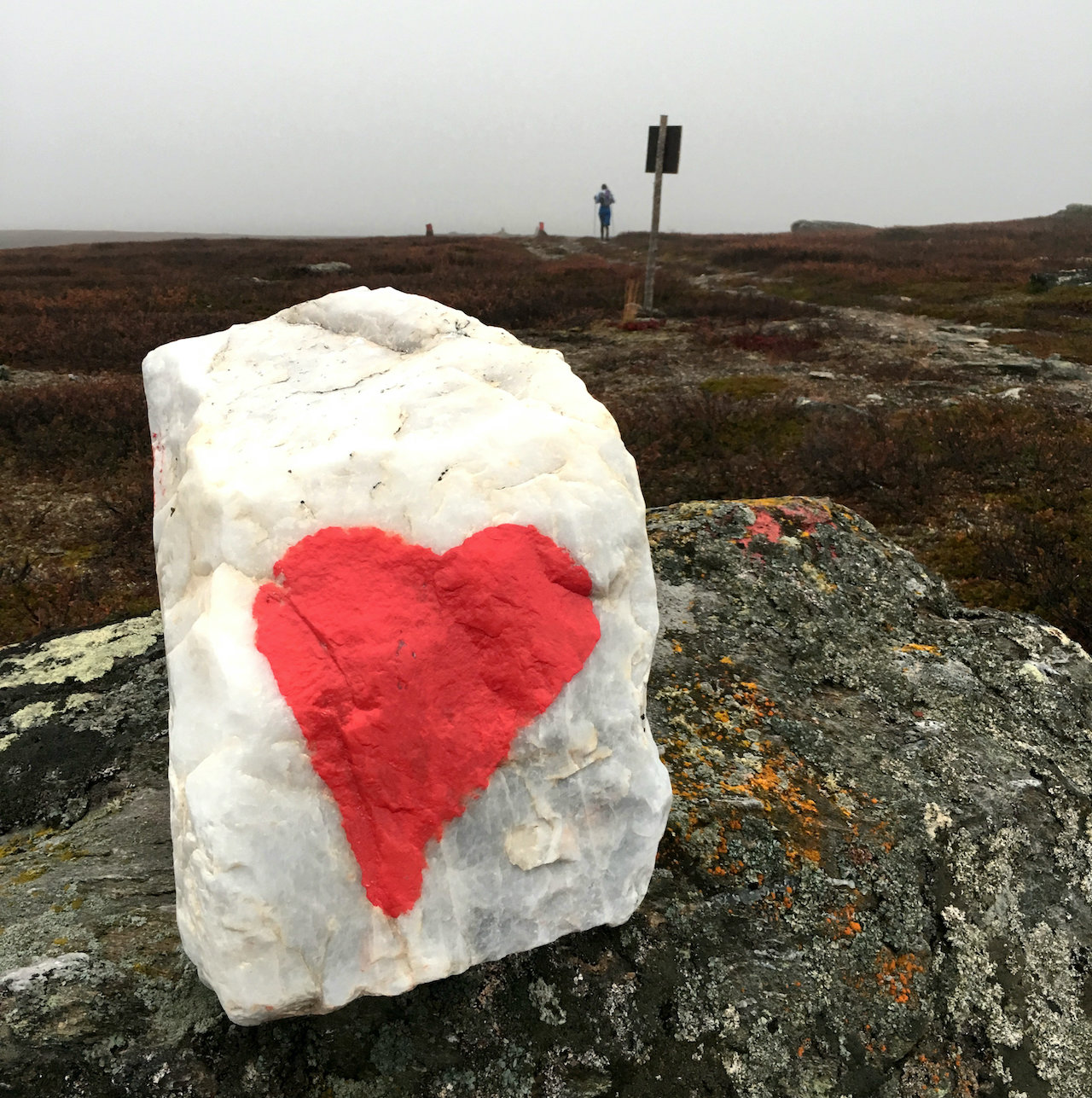 Practical Advice:
This trail, whilst serviced by fairly frequent huts, is very remote. It is possible to buy food along the way, but you can't count on doing it every day depending on what section of the trail you are travelling along.
The huts are open from June to September, see exact dates at the STF website.
You should have a means of communication (we had a satellite phone / tracker) and be able to survive should the weather get bad.
Most huts accept credit cards but cash can be useful for some of the boat transports.
Budget for a helicopter transport should something happen. Unless you are in serious danger you may not be covered by the mountain rescue service and if you have to get out for one reason or another, road transport is only available from very few locations.
The weather and trail conditions, daylight hours, number of hikers, room in the huts, frequency of transports, mosquitos etc all vary based on when in the season you go. Weigh up the pros and cons and decide what you think might work best for you.
You can drink water from the streams, no filter is needed.
Kungsleden is extremely well marked and there are very few places where there is any confusion. That said visibility can get very poor on the mountain if the weather is bad so a gpx track can be a good backup.
There is no electricity in the STF huts, only in the more serviced lodges and some privately run cabins, so if you are relying electronic devices, bring a charge unit.
A mobile phone phone SIM with TELIA (the main Swedish mobile operator) will ensure the most coverage.
Sweden has something called Allemansrätten or "The Outdoor Access Rights" or "The Right of Public Access". This pretty much means that you are free to roam wherever you like, including to camp, as long as you protect nature and adhere to certain rules.
Resources: