"It is not the mountain we conquer but ourselves" (Sir Edmund Hillary, )
The Everest Trail Race (ETR) retraces, in part, the foot steps of the historical Everest expeditions, including the one led by John Hunt in 1953, in which Sir Edmund Hillary and Tenzing Norgay became the first confirmed climbers to reach the summit. Whilst the ETR doesn't take you to the top of the world (perhaps thankfully!), it does come pretty close and allows you to enjoy the breathtaking skyline of Himalayan giants like Everest, Ama Dablam and Lohtse. If you open your mind, this experience can be so much more than a race, and it takes you on an unforgettable journey in a beautiful place on earth.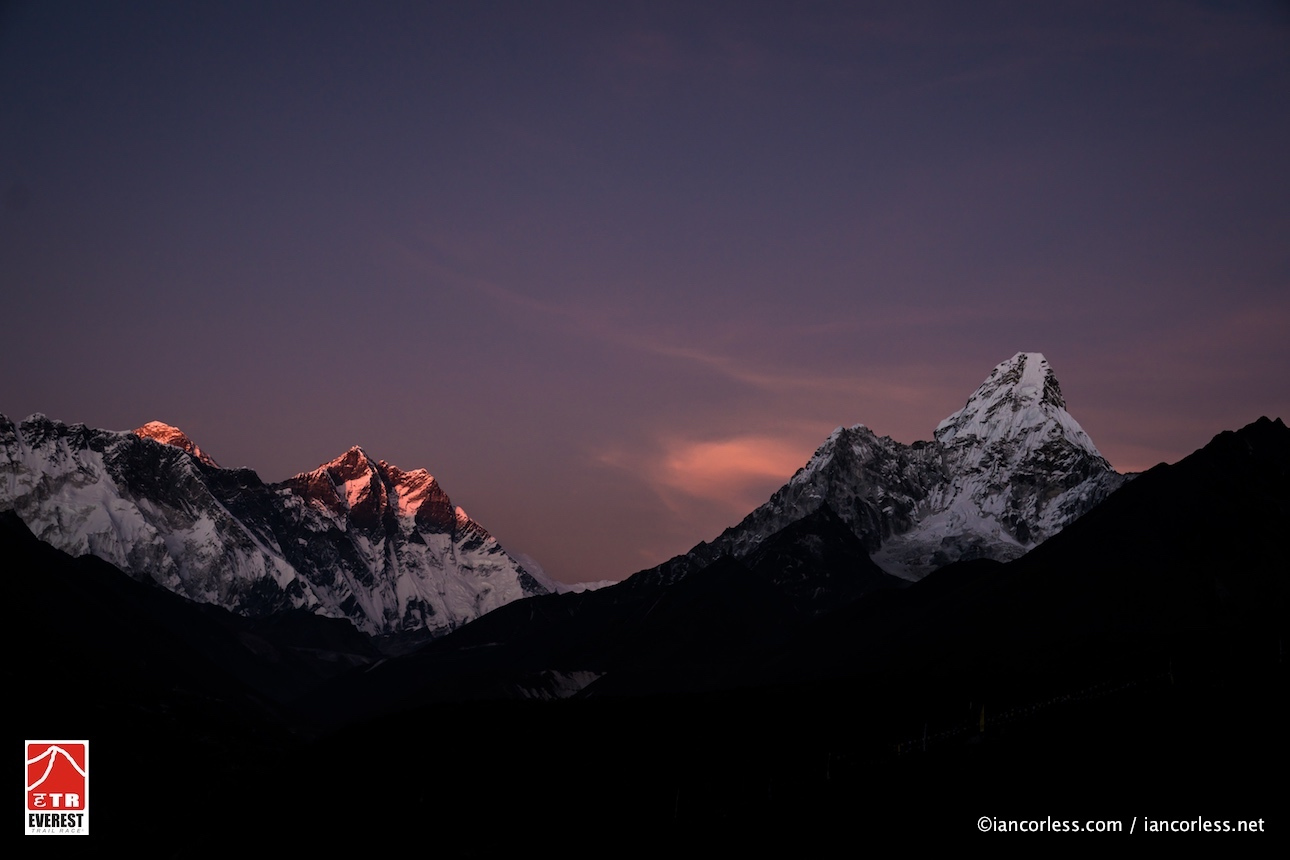 About ETR & Pre-Race
The Everest trail Race is a multi-stage race over 6 days in the Himalayas of Nepal, in the area of Solukhumbu. It takes place in November, and the total distance is approximately 160km. According to the road book the total ascent is approximately 15000m and the total descent about 14000m. My Garmin recorded less of both ascent and descent, but even so the elevation gain and loss is not for the faint hearted. The maximum altitude is at climbing Pikey Peak on Day 2 at 4068m above sea level.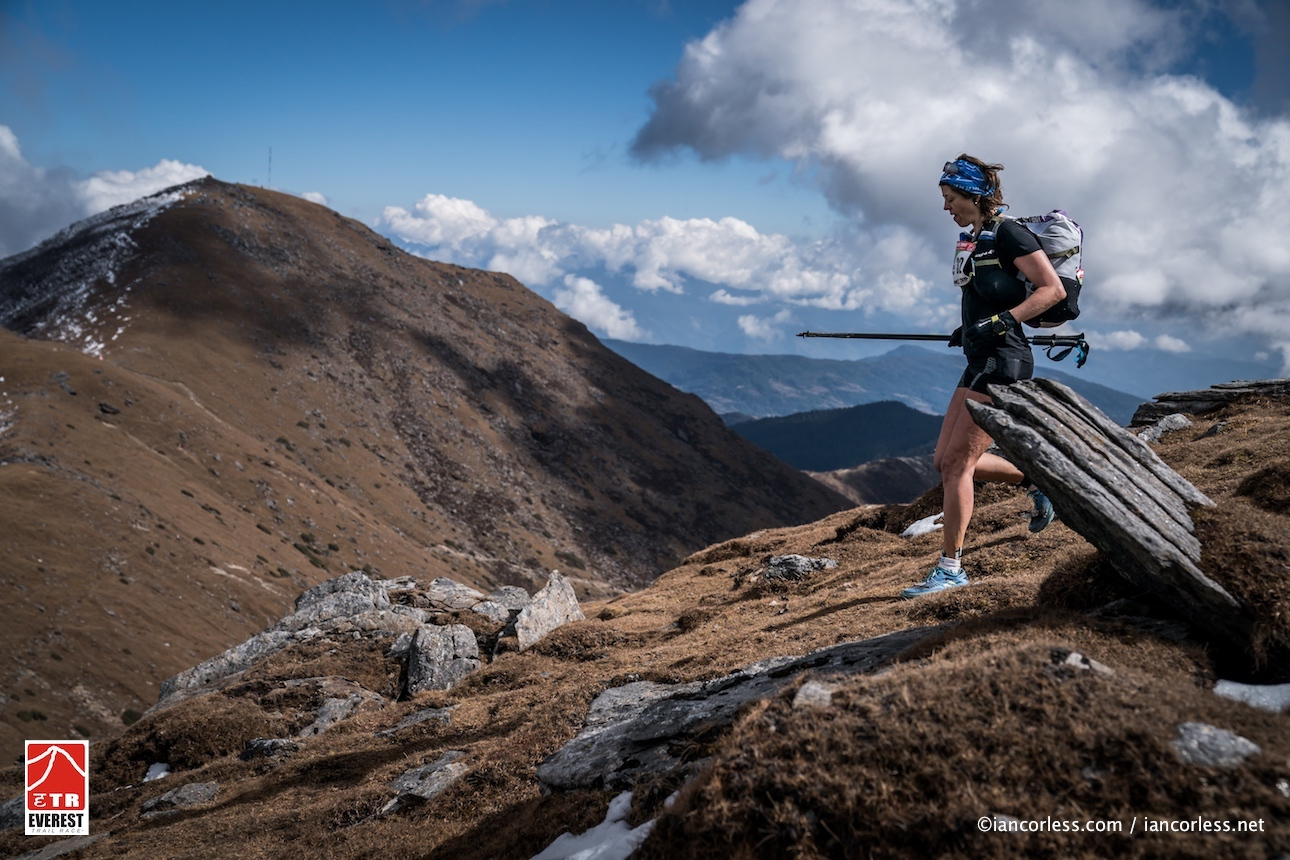 The ETR is performed in semi self-sufficiency. The organisation provide tents, mattresses and all the food, both in camp and at check points. The runners carry all their kit and the backpack must weigh between 3.5 and 7kg. The minimum weight is to ensure that the equipment is adequate for the temperatures in this region, which can get down to -10 degrees C at night time. In contrast, the days are quite warm and shorts and T-shirt are great for the day.
I have a great deal of experience in multi-stage racing so the concept of ETR was not new to me. However, for me, they challenge of this race was in the extensive amount of climbing and descending, the technical terrain and the altitude. I knew that I had to prepare for these aspects if I wanted to have a chance of doing reasonably well. The timing was good in that I ran the Transrockies race in Colorado in August. In the Transrockies I faced 120 miles of mountain running of up to 3800m. In total, before Everest Trail Race, I had spent 10 weeks at altitude between late June and late October, in Tenerife and the Rocky Mountains of Colorado. This was essential preparation. Still, I was rather apprehensive going into the race. Late September I ran on a national trail in Sweden (Kungsleden) and sprained my ankle badly. With 6 weeks to ETR I didn't know if I would recover in time. I had 3.5 weeks completely off running and my form was less than ideal as a result of this. I carried a bit too much weight, my left ankle was still swollen with weak ligaments, and the right felt a bit unstable too. Three weeks before the race I was able to get two weeks of training in Tenerife to reacclimatise to altitude and test the ankles on some technical trails. It gave me enough confidence that things would work as long as I took care not to injure myself again. A few rolls of Rocktape was thrown into the luggage to cater for this and I taped both my ankles every day for extra support.
I was extremely impressed with the organisation right from the start. Runners flew from Barcelona and London and met in Istanbul for a connecting flight to Kathmandu. The arrival in Kathmandu on the Monday morning was chaotic to say the least. However, this was by no fault by the organisation, but by the cumbersome process to acquire a visa before entering the country (see the section on practical advice below).
Once we were all through immigration and had found our luggage, we were on buses to the hotel in Kathmandu, where we would spend two nights before travelling to the first camp site on Wednesday. This was plenty of time to settle in, get over the jet lag, explore the surrounding area, and organise the kit.
Kathmandu is a melting pot of visual impressions, colours, noises, smells, traffic and people. Our hotel was a short walk from the vibrant, buzzing Thamel district which really provided a bit of a shock for the senses. What at first appeared as complete chaos (and pretty overwhelming) seemed after a while to have some kind of system deployed in the mayhem. Maybe because the people are very tolerant, polite, friendly and patient. The air was incredibly bad in Kathmandu and it didn't take long walking around the streets before you were covered in dust, felt pretty dirty and had a cough. Crossing the busier roads required attention in order to not get overrun by cars, motor bikes or the over crowded buses!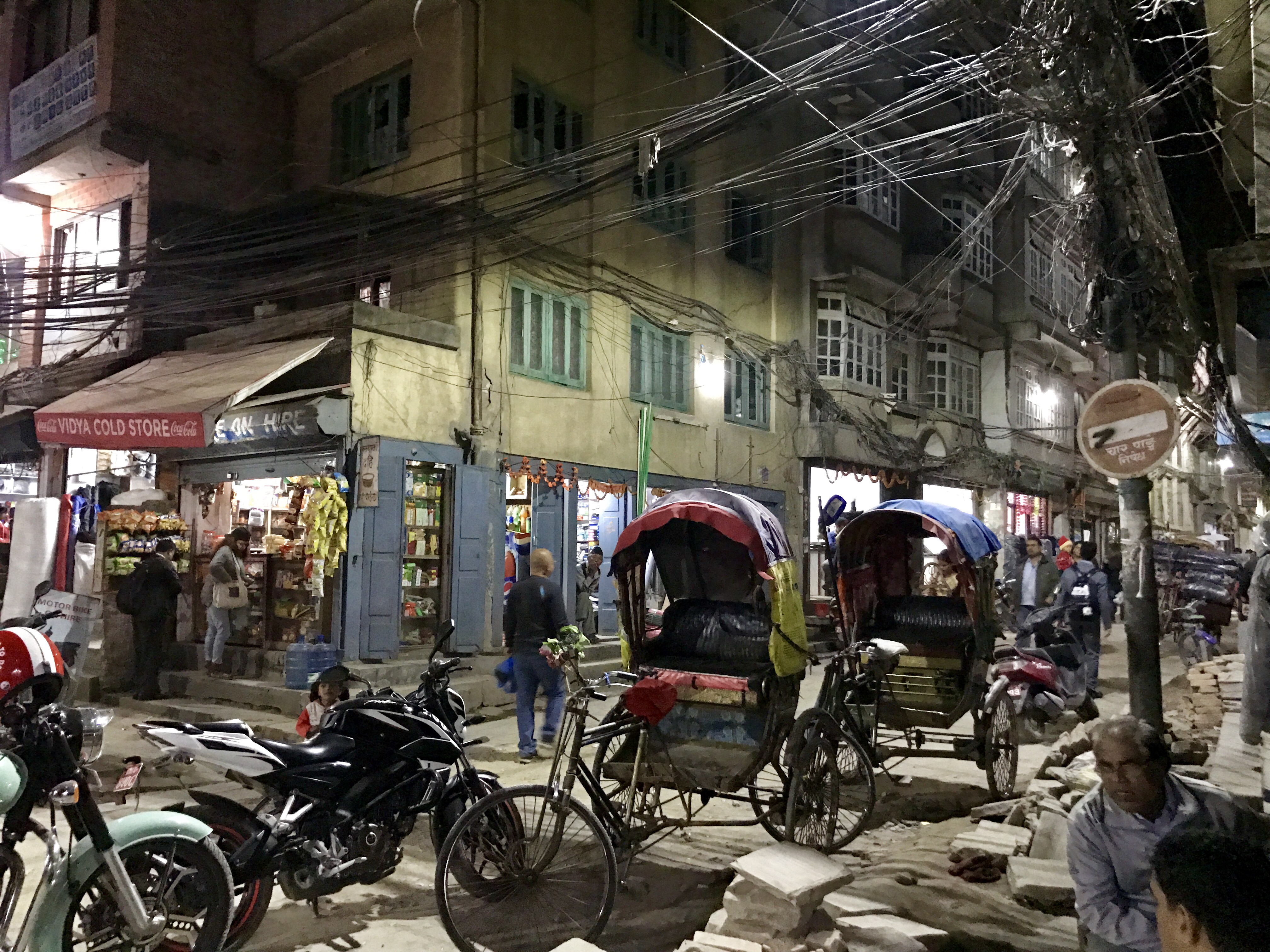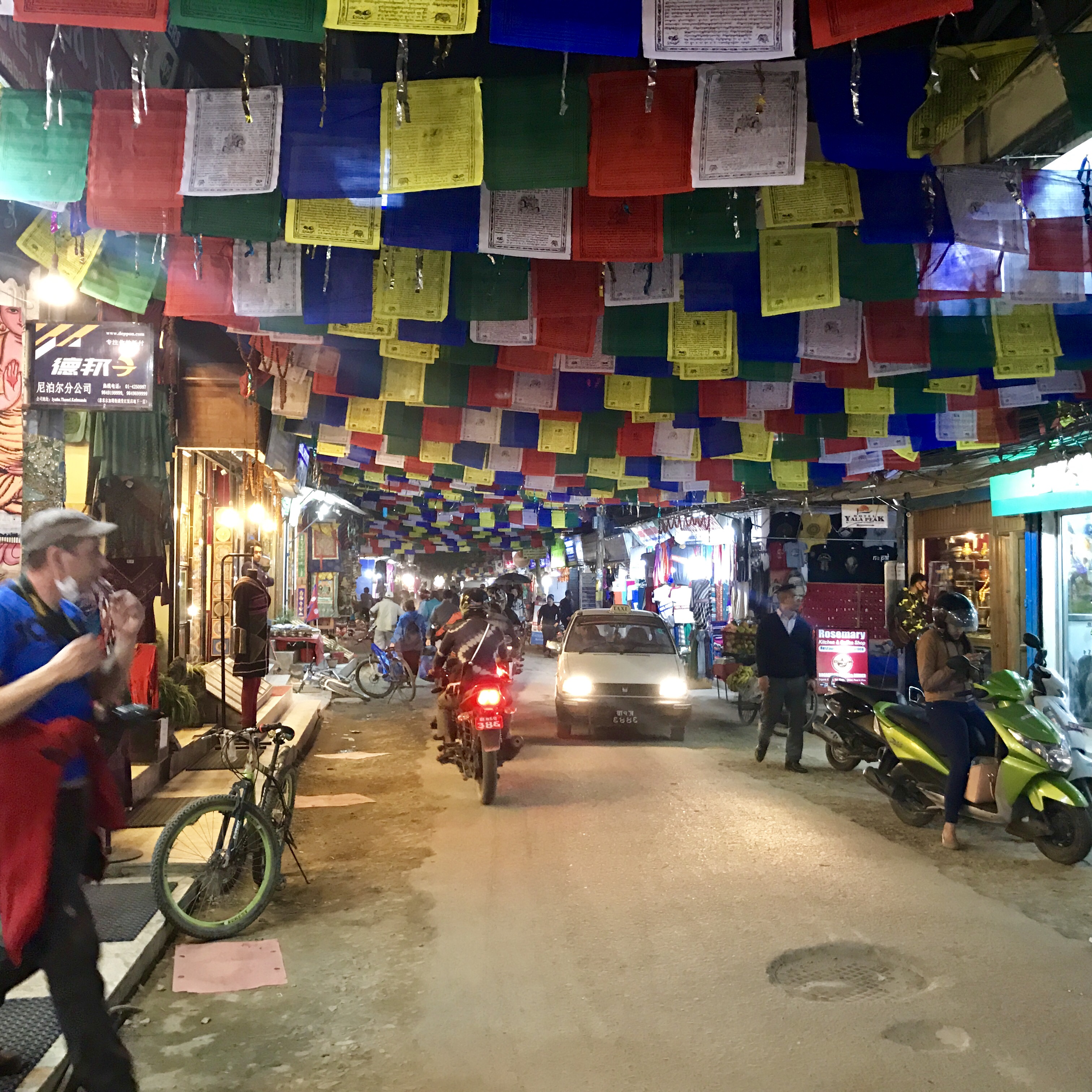 Having arrived on the Monday, we had to go through kit check and hand in our main luggage on Tuesday afternoon. Out kit was weighed and checked and our medical certificates and ECGs checked carefully. We then had dinner together in the evening before setting off to the first camp site in minibuses on Wednesday morning.
The 7-hour or so journey from Kathmandu to Jiri went along some rather winding and narrow mountain roads. I had taken one pill for travel sickness and it completely wiped me out but at least I didn't get sick as we zigzagged our way up the mountains, occasionally daring to look over the steep edges of the roads and praying that we would arrive alive.
Jiri is also called "the Gateway to Mt Everest" and the trek from Jiri to Everest Base Camp is referred to as the classic route to Everest. Although many trekkers now choose to start their Everest trek from Lukla, the early expeditions to Everest all passed through Jiri.
In camp we were allocated our 2-man tents. These were pretty roomy and with very comfy, insulating mats to sleep on. Throughout the week we would sleep in tents four nights and in lodges three nights (including after the finish in Lukla). In the mornings we were woken up by the Sherpas with a hot cup of tea which was a nice way of getting out of bed as it was often quite chilly. We had breakfast and dinner together in a big tent. This was actually a really nice feature of the race as you get to socialise with everyone. The race staff really went out of their way to make sure we were all looked after and everything went like clock work.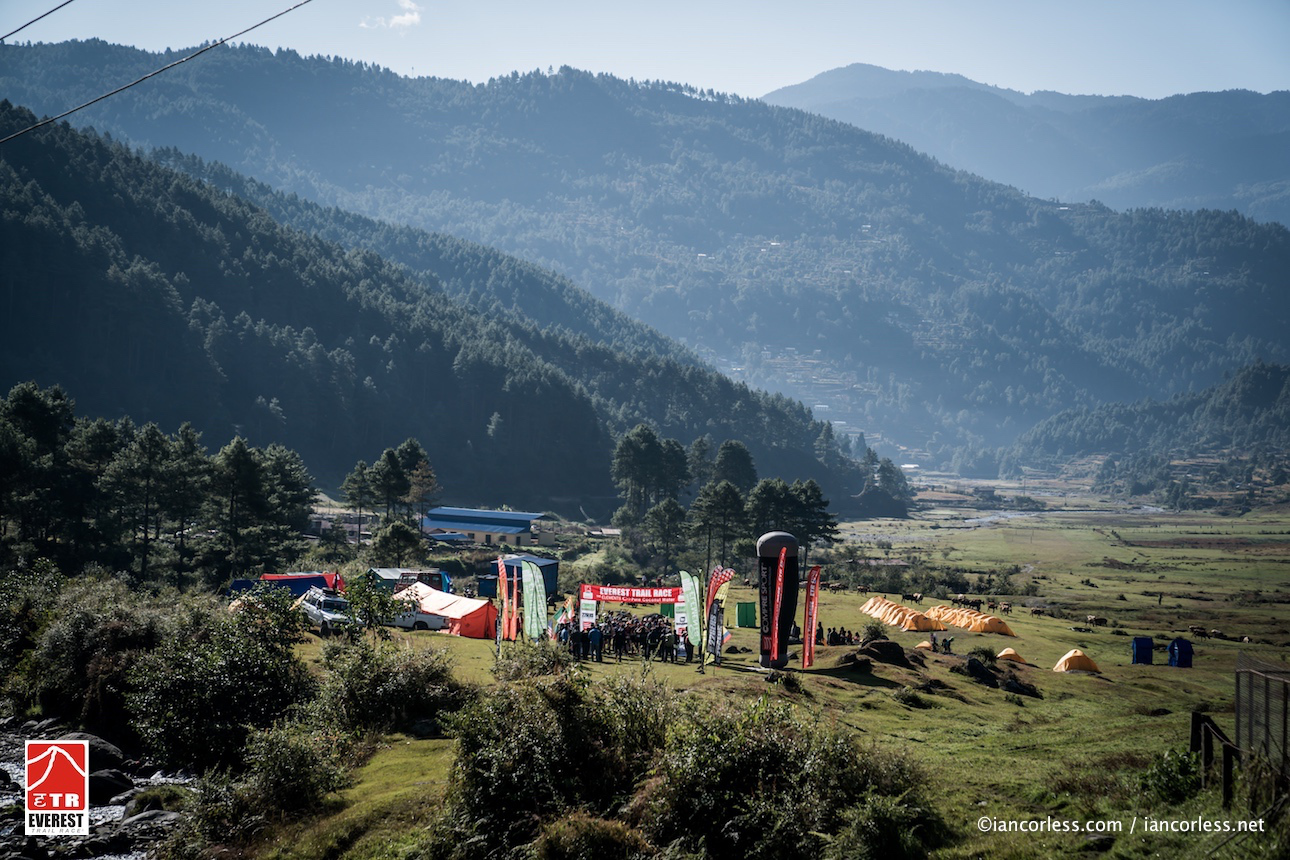 The Race
Day 1 from Jiri to Bhandar was designed to ease us into the race. Starting at 1900m elevation, climbing to 2700m and finishing at approximately 2000m, it was not too challenging as far as altitude is concerned. The distance was also very reasonable with 21km. I managed to miss a marker and took a wrong turn after CP1. This cost me about 10 minutes but I was not the only one who got lost on this stage. It was very warm on arrival in Bhandar. I had a wash, lunch, chilled for a bit and as the sun set went for a recovery walk up the hillside. It was very beautiful and so tranquil. The contrast to the chaotic Kathmandu was striking.
If Day 1 was relatively easy, Day 2 was not! We first descended to 1500m for four kilometres before starting the seemingly never ending climb up to Pikey Peak at 4068m. The beginning of this climb was in parts pretty hot but as we got higher it got a bit chilly and I had to change gloves. At around 3200 meters elevation I caught up with people who were now struggling. To my surprise this included the Nepalese girl Chhechee Sherpa Rai, who had set a blistering pace on the initial downhill section, leaving Ester Alves and myself in her dust.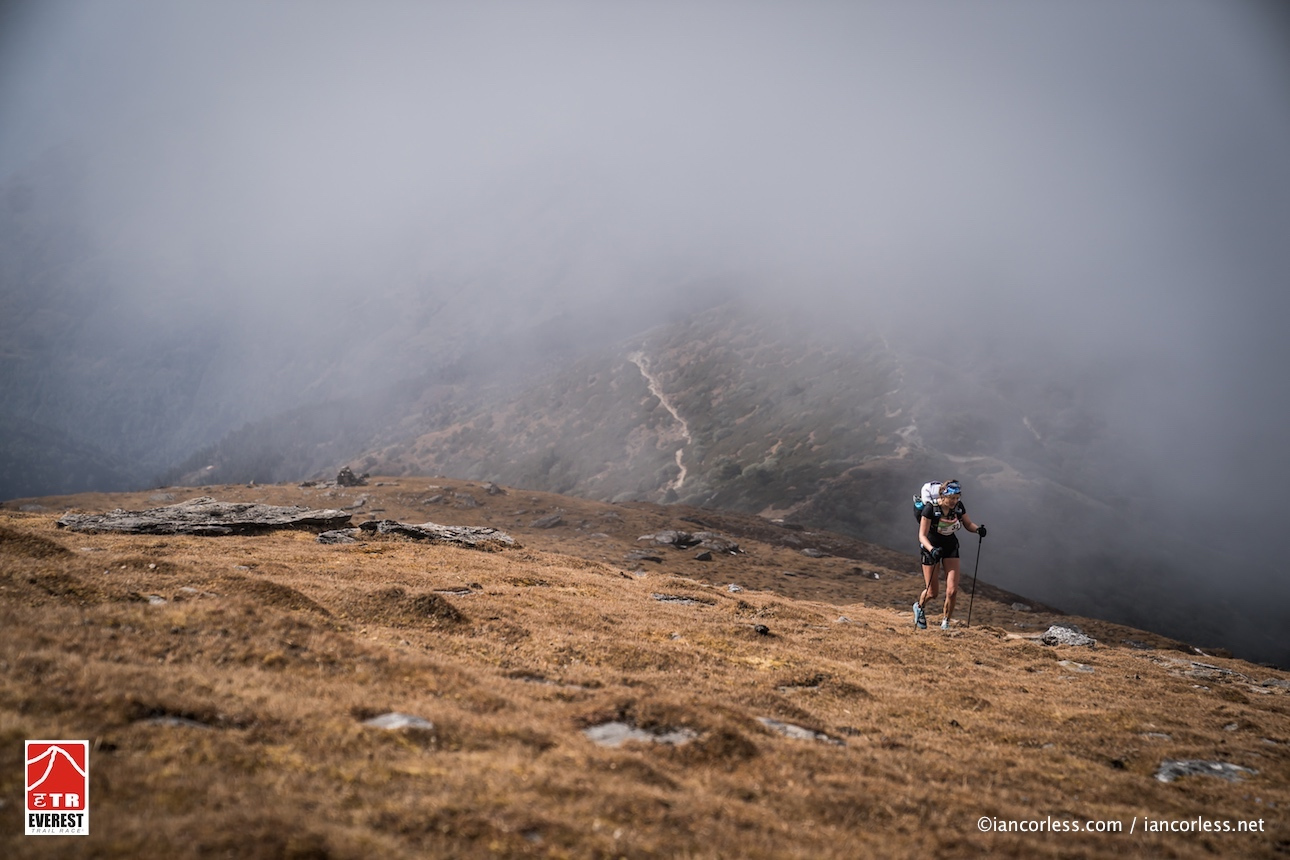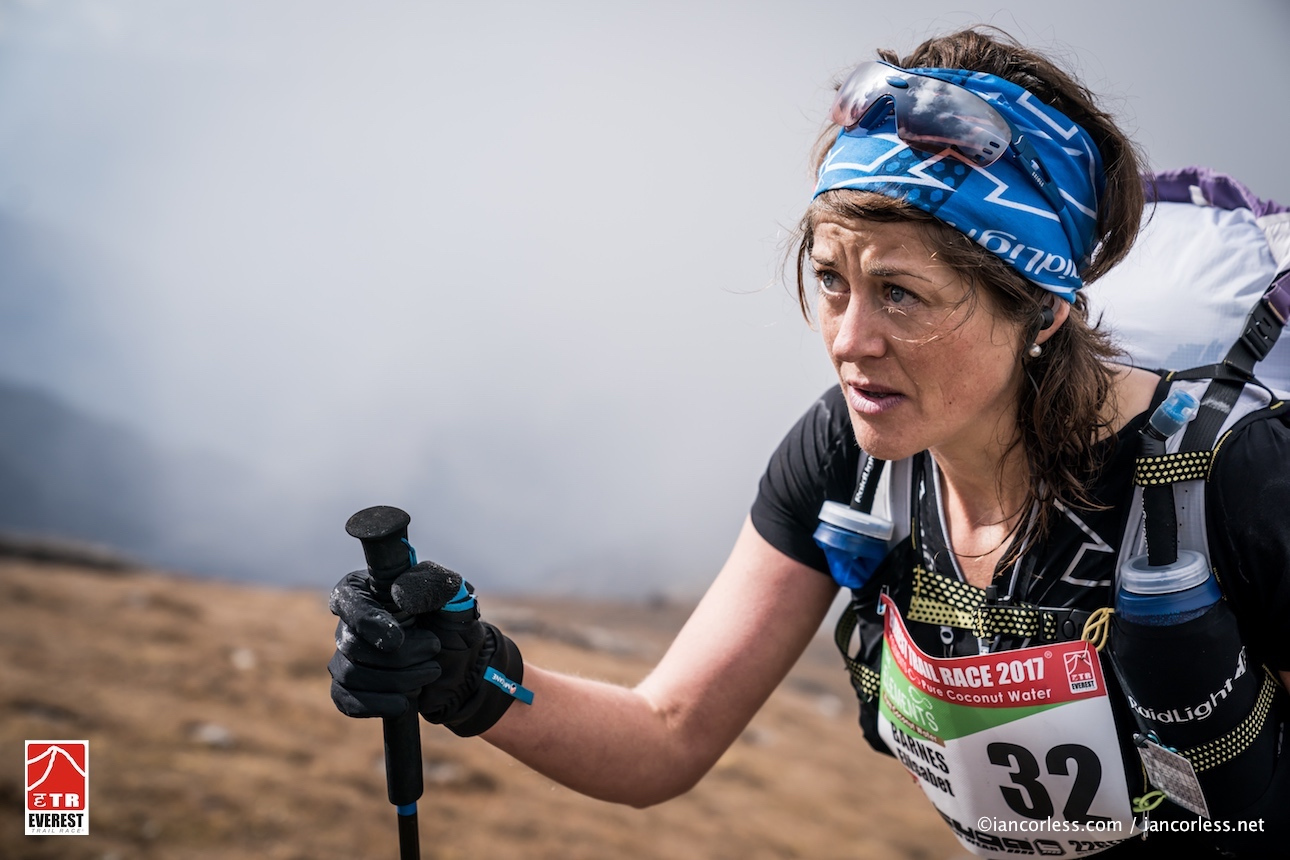 If you have not acclimatised to altitude it is hard work at this elevation. If you have, it still is, but its more bearable. The section from 3200m and up to the peak I found really beautiful and I enjoyed it very much despite it being very steep and challenging. Once past the peak we had a technical descent for a couple of kilometres. This was icy in parts and then turned very steep with loose rock. I sat on my bum a couple of times and there was plenty of swearing going on! Despite the monstrous climb we had already had, I was quite relieved to face a final ascent up to camp which was located at Jase Bhanjyang at 3600m. This was a stunning spot and well worth the effort. It now got a bit colder due to the altitude and I think quite a few people suffered a bit. I had a very warm jacket and sleeping bag and I was thankfully never cold. Rather, I enjoyed the fresh cooler air.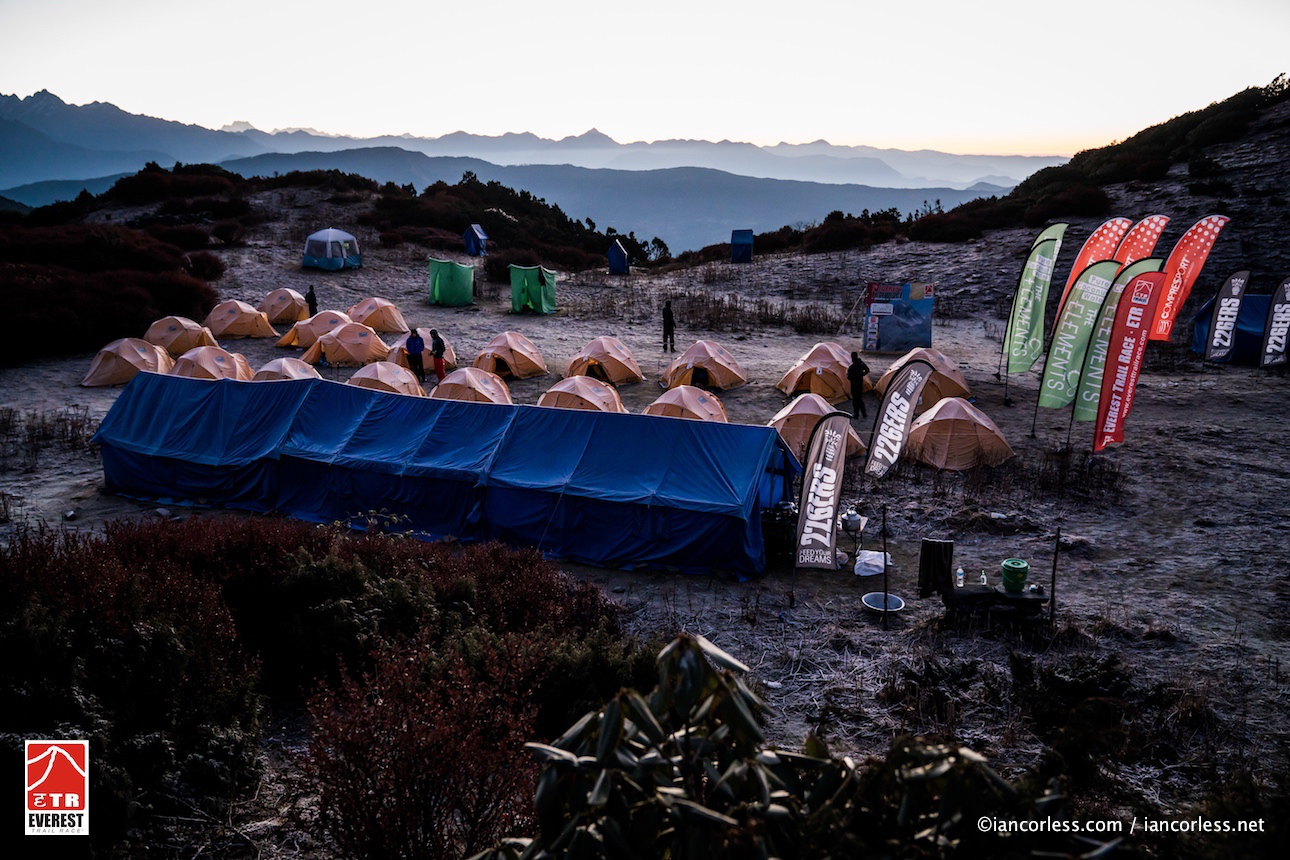 Sleeping at this elevation did affect me somewhat. I got a very slight headache and felt a bit tired in the morning of Day 3. I knew that this would be a challenging day for me. We had a significant amount of descent and this is not my greatest strength. In addition, with a sprained ankle not yet fully healed, I had to be really careful to not cause myself any more damage. I couldn't rush the downhills. The beginning was undulating and runnable but tough due to the altitude.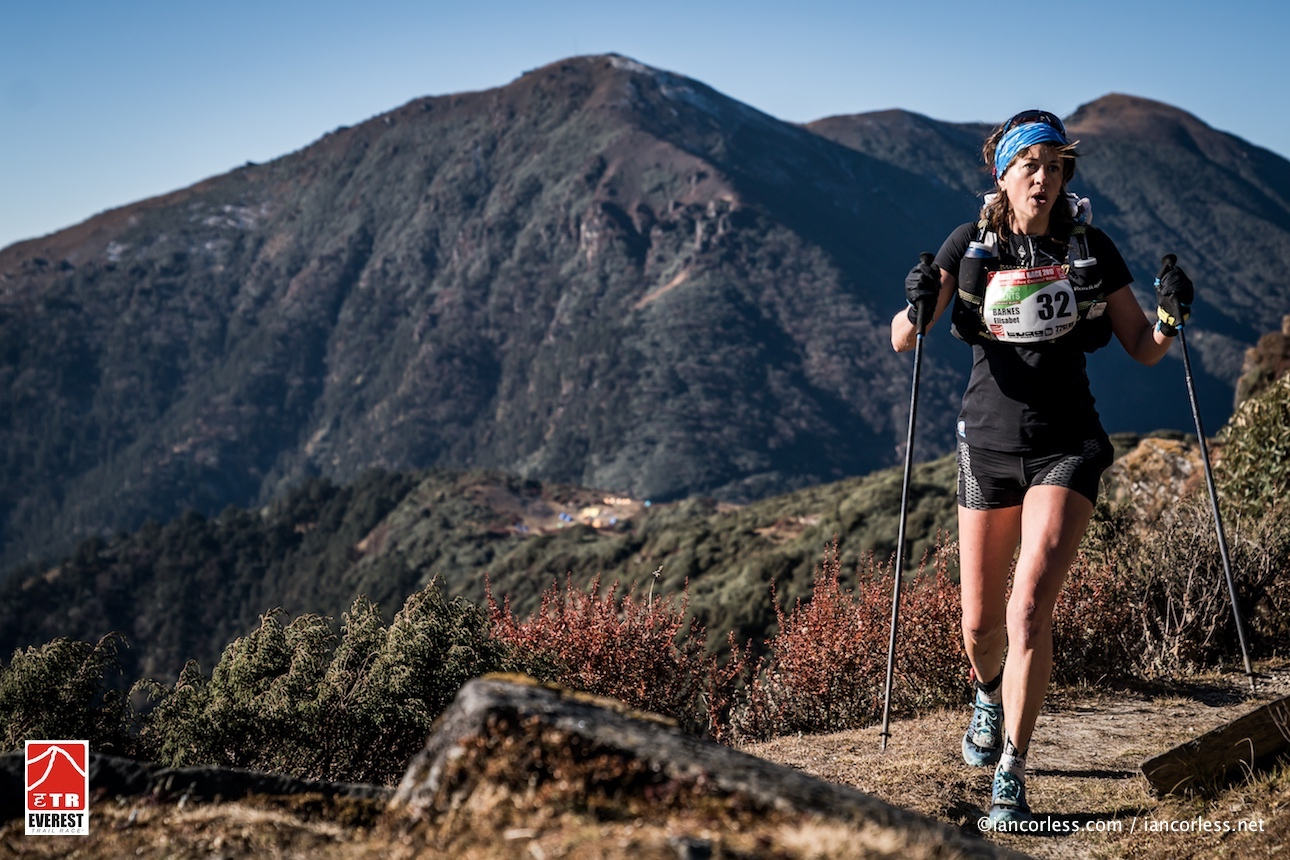 Then followed a steep descent with some loose gravel before more stable terrain. However, coming down a bit it was a wet as we crossed several streams and it was a little bit boggy before we hit the rock and gravel trails. I fell into the same pace as the frenchman Phil and we stayed together for the whole day as the group quickly separated on the initial descent. It was nice to have some company, especially as this day felt like a mental challenge and a bit like "just get it done". In addition to all the descending, we had three ascents to tackle and we also now started to encounter animals on the trail, mainly mules. The mules were friendly but their wide loads made it difficult to pass them sometimes and you had to be patient or you could get knocked off the trail. With mostly a vertical drop on the outside of the trail, this was not an attractive proposition, nor was getting squashed against the mountain side…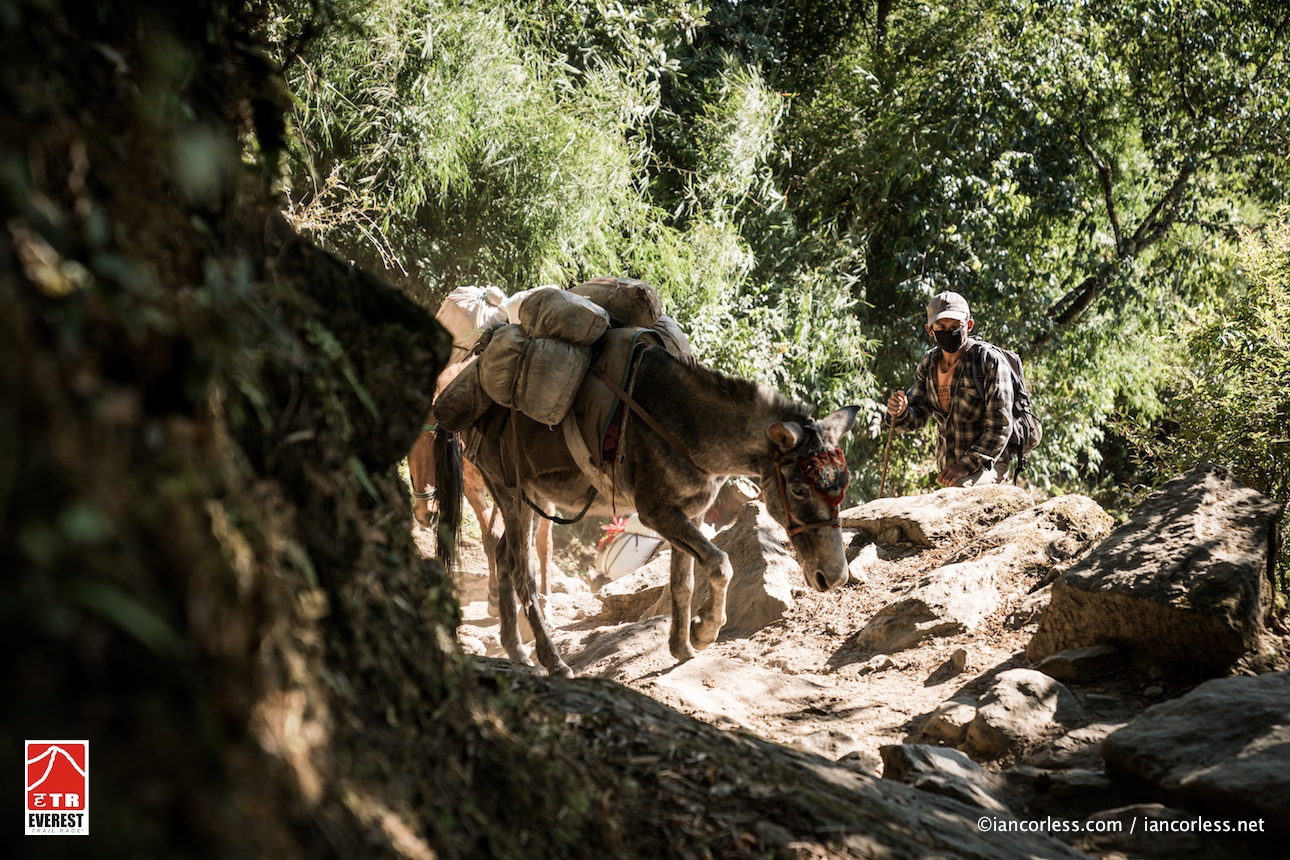 At about 21km, after our second climb, I felt exhausted. To my relief there was a small shop here, and I stopped to buy a Fanta and a Mars bar. I downed the Fanta in a few seconds and this gave me some renewed energy which was probably good as we faced a rocky and in parts slippery descent which required all the focus I could summon. The last check point arrived quicker than expected and as I realised we only had 8km to go I perked up significantly. These were not easy however. We first descended for about 4km on more technical ground, crossed a river, and then started an arduous and very hot, steep ascent to Kharikhola and the beautiful monastery where we would spend the night. Phil was the stronger climber here but patiently waited for me so that we could cross the line together and honour the fact we had stayed together for the whole day. I think we were both exhausted because we literally tripped and fell on the last step of the stairs as we crossed the finish line. I have had more glamorous finishes but it was an opportunity for a good laugh! I lost a fair bit of time on this day so 3rd place was now the realistic place to finish the race in, I just had to put a good effort in on Day 4 to really secure it.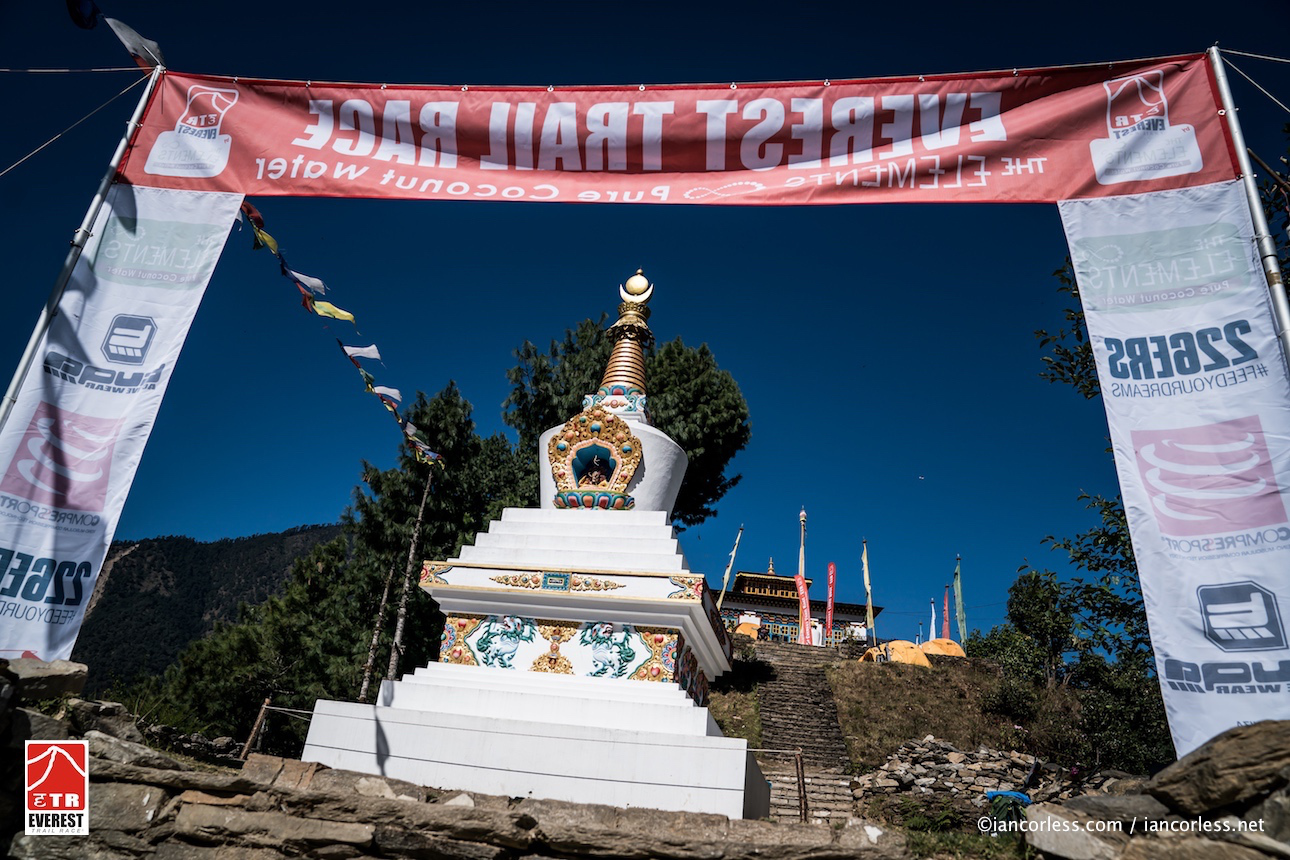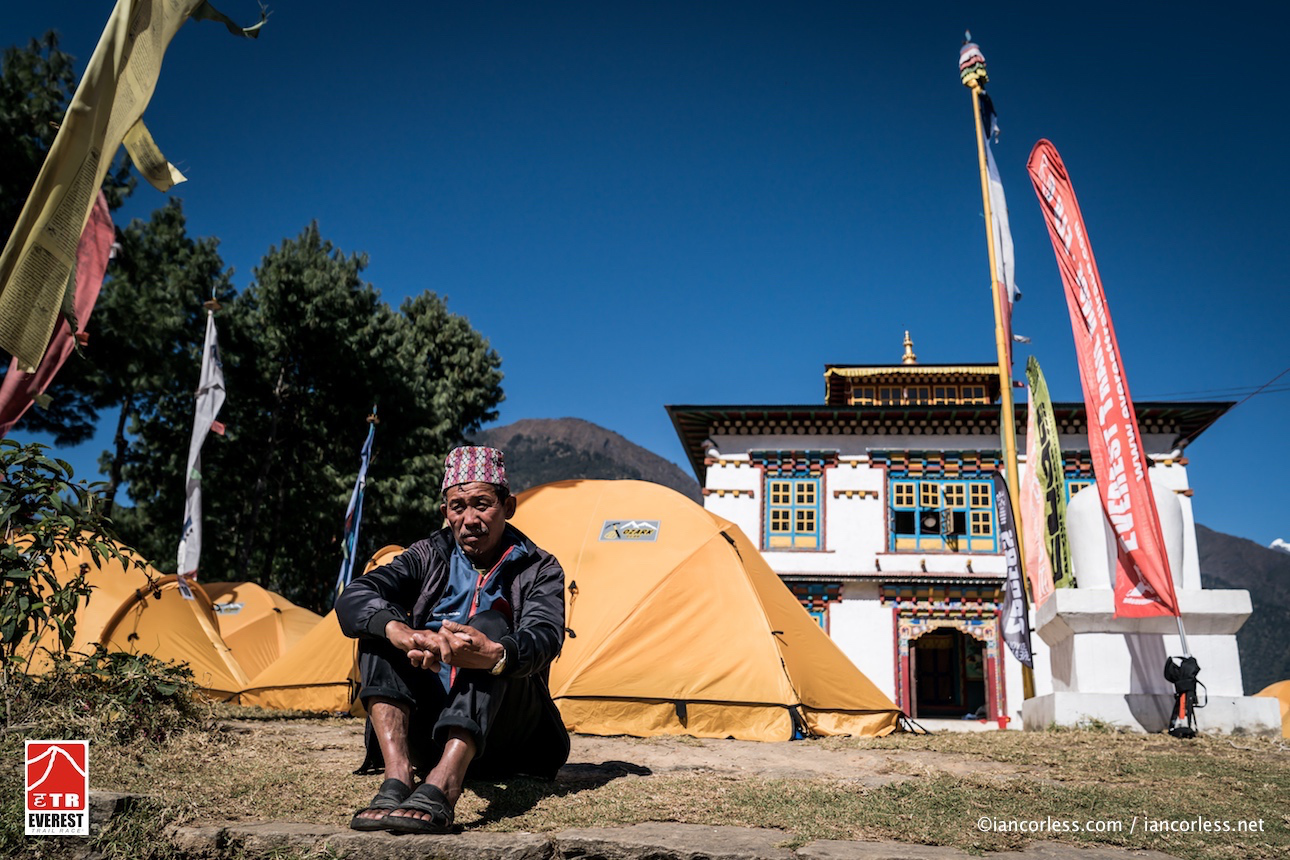 Luckily on Day 4 I felt good. I was motivated, and perhaps preserving my legs a bit on all the downhill the previous day put me in a good place to go a bit harder. This day was varied and undulating though beginning with a 900m climb up to CP1. We now faced a lot more animals on the trail, porters transporting heavy loads (they would have easily outrun us had they carried as little as we did!), and towards the end we also joined the main Everest Base Camp trek route. As such there was also a significant amount of trekking tourists on the trail. Our journey had started on quiet, isolated trails, travelled by few, and now turned into what seemed like a busy highway in comparison. This was an interesting contrast for sure and the tourists were all very excited about what we were doing. The cheering was almost like participating in a big city road marathon at times and it was encouraging. "Excuse me, racer coming through!" became a frequently used phrase as I tried to navigate my way through the larger groups of trekkers. Of course the mules and yaks would have none of it and I just had to be patient. The yaks could also be aggressive and it was essential to not scare them.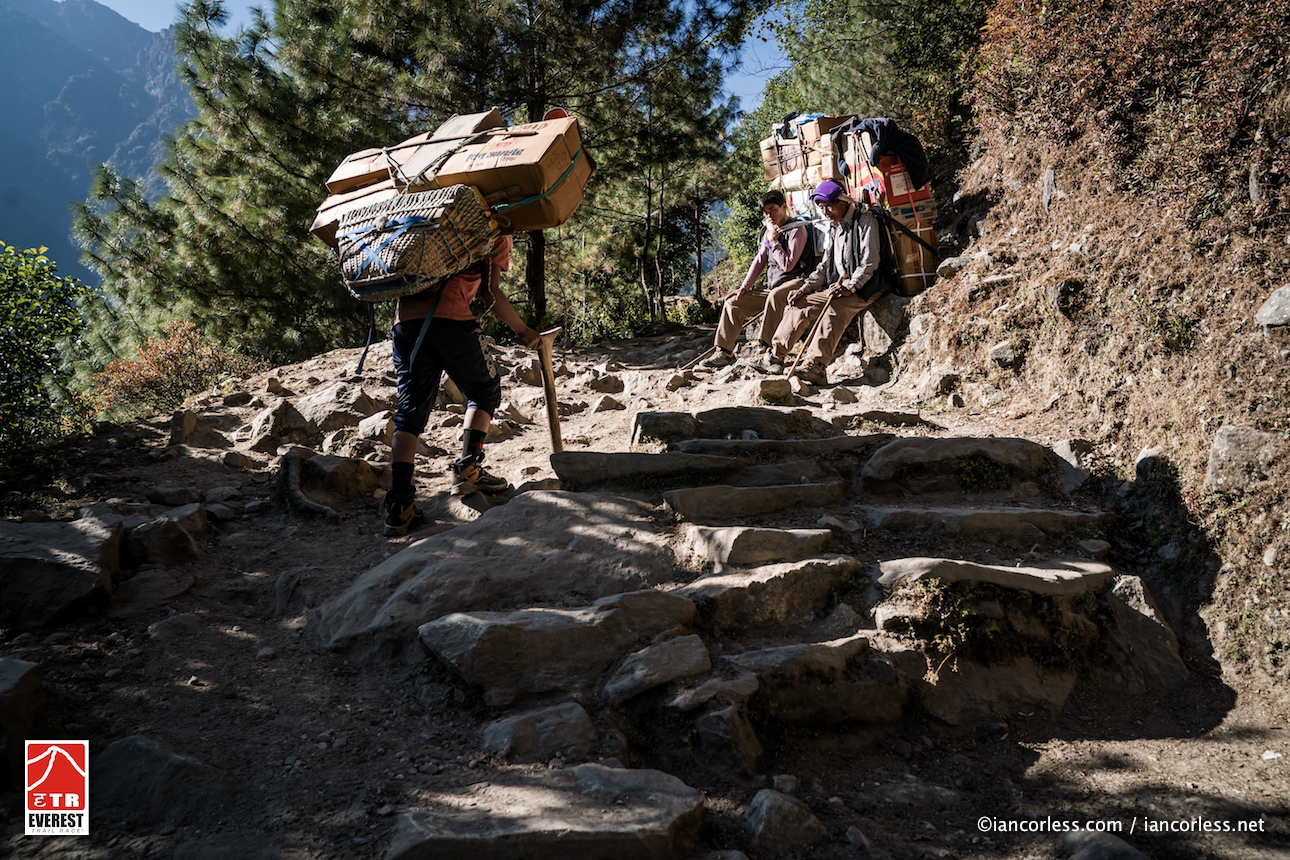 Chhechee had disappeared early on, usual style, and Ester and I kept each other in sight all day. At the last Check Point I got a report that Chhechee had slowed and was only a minute or two ahead. This last section was pretty runnable so I put an effort in to chase. So did Ester, but we never caught her although all three of us finished within a minute of each other in Phakding. Here we stayed in a lodge instead of tents. I am not sure there was any advantage to staying in a lodge except for being able to stand upright in the room. It was no less cold or humid at night and the mattresses were not as comfortable as those in the tents. Still, being able to stroll around the small village and discovering a German cafe serving all sorts of cakes was a nice treat. I had an apple cake with whipped cream and delicious mint tea at Herman's following the now habitual post stage shake out walk.
On Day 5 we continued on the main Everest Trek route with Tengboche at 3860m elevation as our end point for the stage. This once again meant a day of mainly uphill. The final two days of the race were not marked due to following the main trekking route. There were however a couple of places where route options were present and I did manage to take a wrong turn after a bridge. I soon realised as I was on a single track trail deep in the woods and I probably lost 6-10 minutes as a result. This really would make no difference to my position at this point so I was relaxed about it but even so it was annoying. The theme from the previous day continued with mules, yaks, porters and tourists as we gradually climbed up the trekking route. The final climb really was a bit of a push with more than 500m vertical in about 3km and I couldn't be more relieved to cross the finish line, but this was worth the effort. Jordi, the race director, pointed out all the peaks: Everest, Ama Dablam, Lohtse… It was breathtaking. A warm shower was available and the room in the lodge was a bit nicer than the night before. Here I paid a small fortune for a Fanta, Bounty and a tub of Pringles, and was delighted to find another cafe with a great selection of cakes. The afternoon was spent soaking up the views of the magnificent mountains as the sun set. Everyone seemed relieved we now only had one day to go and spirits were high.
The start of the final day, Day 6, was not as cold I had anticipated. I had doubled up with a thin base layer and a T-shirt and Primaloft mitts over my gloves. Although there was some ice on the first descent (the same route that we had climbed up to camp the day before) I got pretty warm and the mitts had to come off on the ascent that followed. The T-shirt came off at CP1.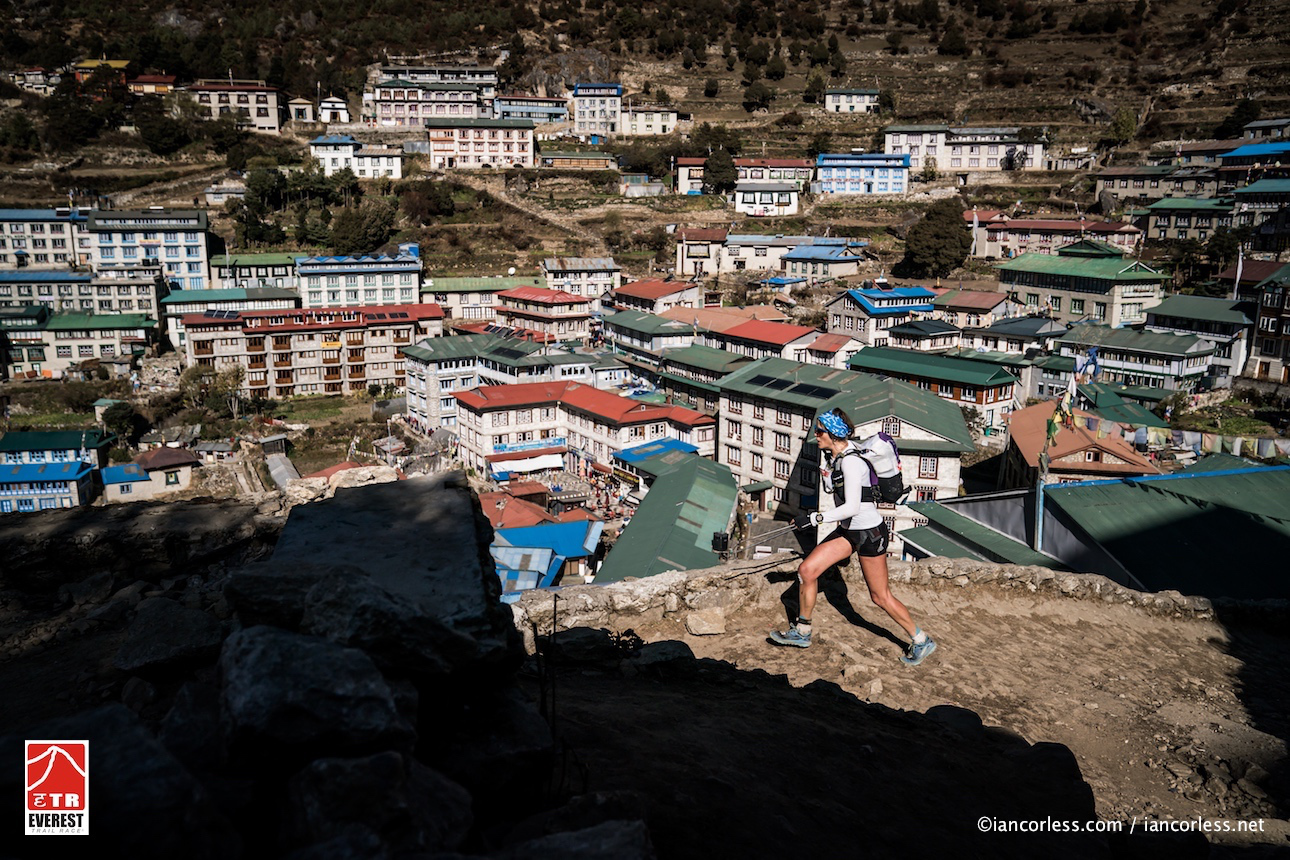 This day we retraced our steps in part from the preceding two days but with some variation as we made our way to Lukla and the finish. Tourists were plentiful as were animals, but for most part the path was fairly wide.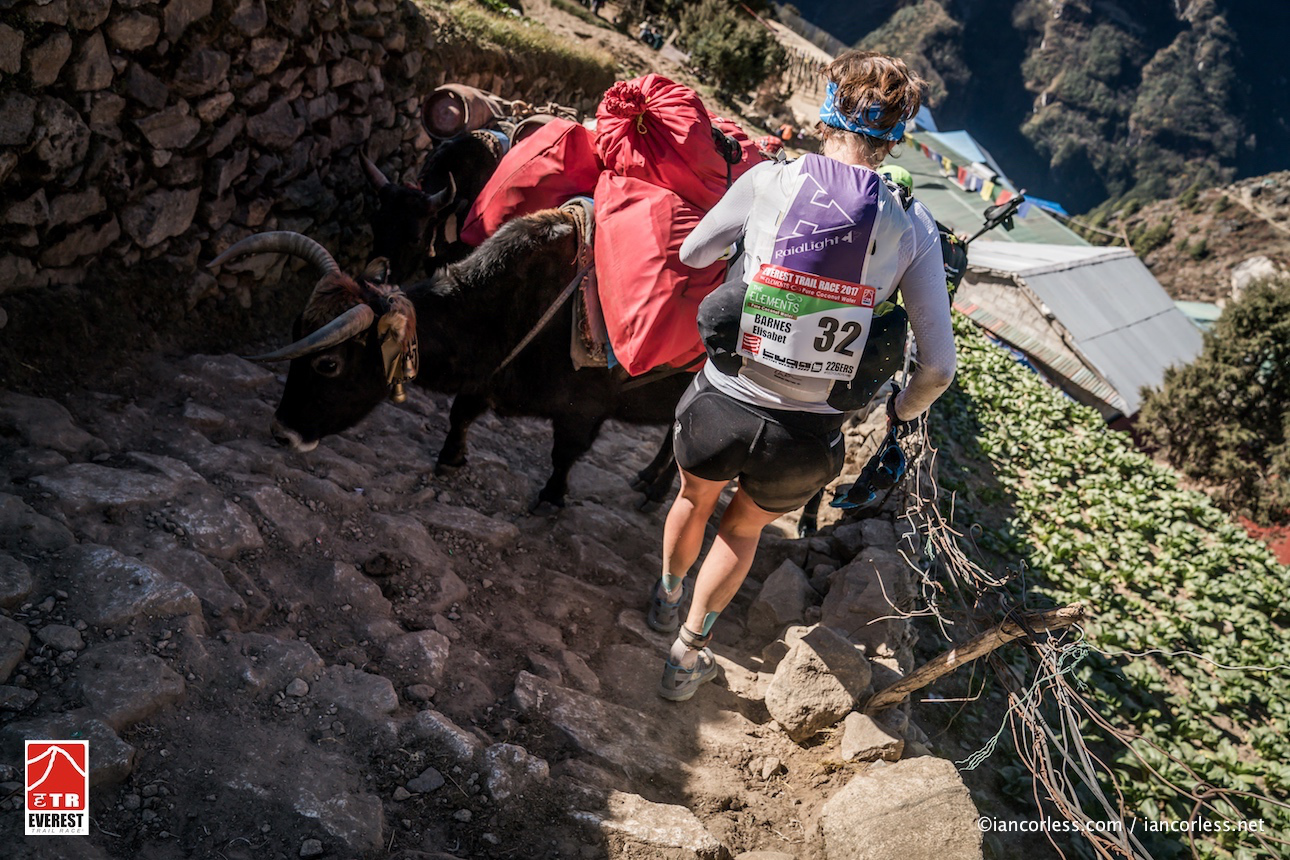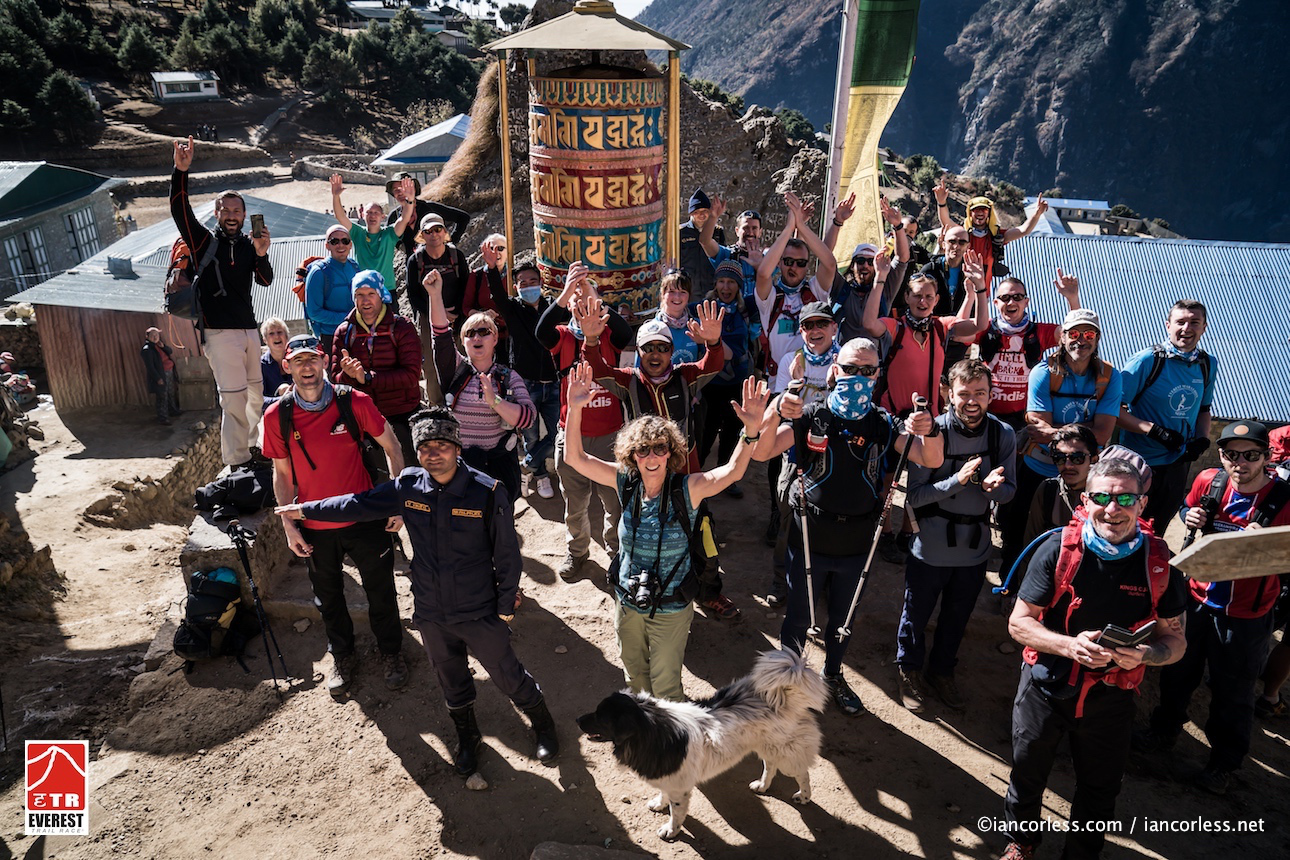 It was a hot and challenging day with a lot of descent but the knowledge that the finish was near helped keeping the spirits up. I was on my own for large parts of the stage and I was relieved to find markers from the final CP into Lukla as I really didn't fancy another wrong turn. From the final CP it was supposed to be 3.5km to the finish but I was delighted that it appeared after only 2km!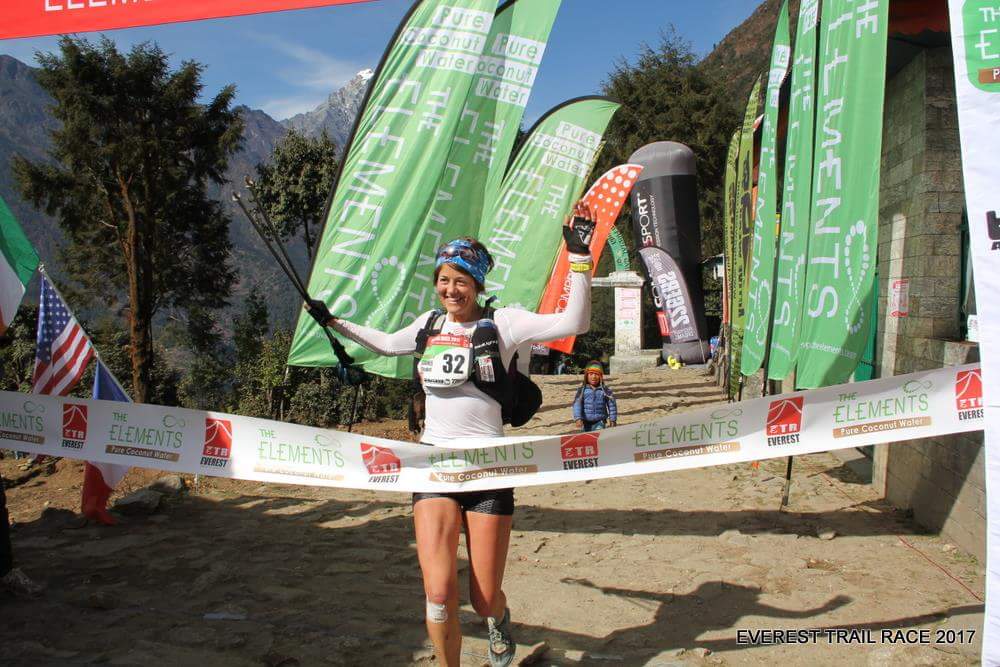 Post-race
At the lodge where we were staying there was only a cold shower available but I was beyond caring at this point and just happy to get one. We received a small drop bag that we had deposited before the race so I could have a clean change of clothes which was nice. The afternoon was spent in a lovely cafe eating cake and burger and taking a look at the airstrip from where we would take off the following day. The airport in Lukla is commonly referred to as the most dangerous airport in the world so the adventure wasn't quite over yet!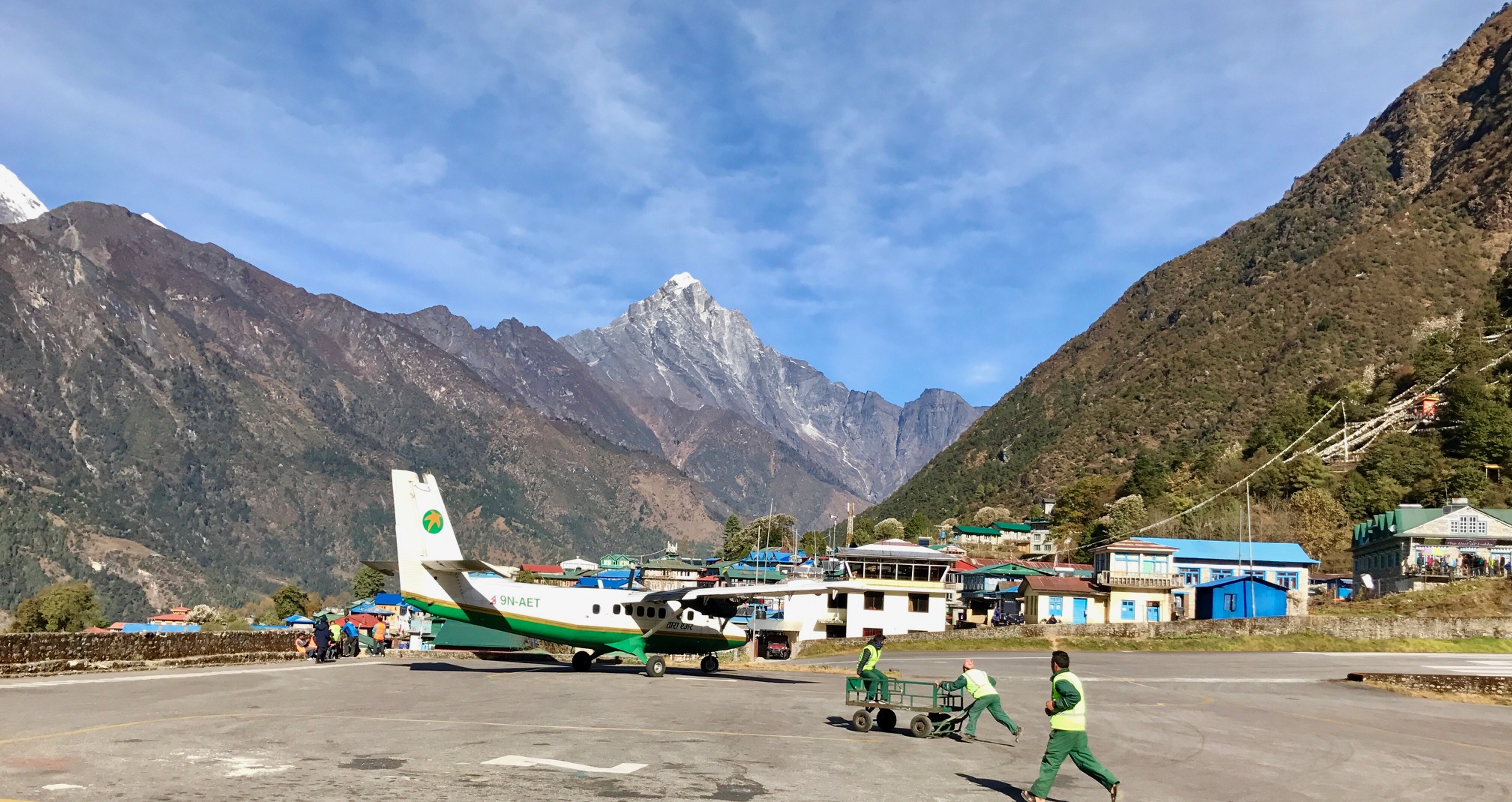 The following day was about having a good dose of patience. The wait at the airport was around 2-3 hours before taking off. The planes are only small so we were on several. On arrival in Kathmandu all went surprisingly smoothly and we could return to the hotel. Our rooms were ready and the afternoon and evening spent at our leisure. The prize giving ceremony and dinner was not until the following day. This was great event and I particularly liked how everyone was recognised individually as we received our medals one by one. Also, the men's and women's podiums were presented simultaneously which was a really nice touch.
The ETR is without doubt one of the best races I have ever done. The organisation is spotless. There is a genuine passion for the race amongst all the staff, and they all went out of their way the whole week to look after us.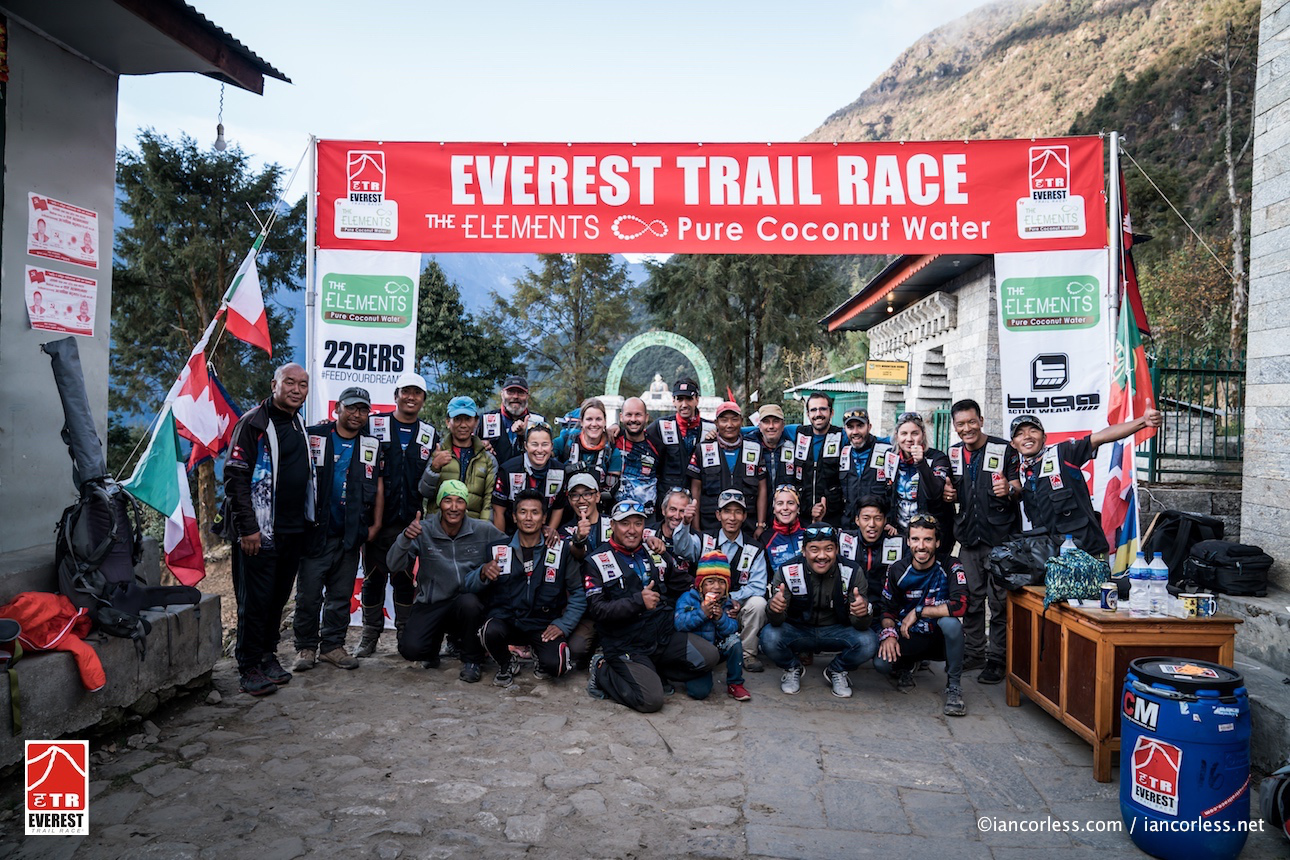 Whilst the race certainly is challenging I believe it is achievable for most with a decent fitness level and the right preparations. The small scale of the race means that you will get to know the other participants and leave with new friends. The mix of abilities, reasons for participating, nationalities and ages is what makes this race really great. So, if you are thinking about it, don't hesitate. It is a beautiful journey in so many ways! To quote Sir Edmund Hillary once again:
"You don't have to be a fantastic hero to do certain things — to compete. You can be just an ordinary chap, sufficiently motivated to reach challenging goals."
Thanks to the organisation and staff for an incredible week, to RunUltra, to Ian Corless for great photography, to Nicky Spinks for training advice, to my sponsors and partners Raidlight, HOKA ONE ONE, Sziols, LYOFOOD. Also thanks to Carol McDermott at Lightwave for great advice on sleeping bags, and of course myRaceKit for completing my equipment. Last but not least thanks to Sondre Amdahl for being a very tolerant tent mate as my kit exploded everywhere in usual fashion and I probably snored as I slept so well in the comfy tents.
Practical Tips:
Visa: Before you travel, fill in and print a visa application form online here. Then bring this form, along with a passport photo. Once at the airport, if you have the form, you do NOT need to go to the machines. Just go straight to the payment desk, pay (approximately EUR 25) in USD, GBP or EUR, and then go through immigration. If you forget the form or photos you have to use the kiosks at arrival. Be aware that scanning the passport does not work, however, you can enter all your information manually. You need to have passport info, address in Nepal, and flight number available. If you have passport photo but not the form, look around or ask an official as there may be forms available. I found some hidden away under a desk in the immigration hall…
All luggage except race gear is handed in on Tuesday afternoon. You then spend Tuesday night in the hotel before travelling to camp 1 on Wednesday and starting the race on Thursday. Therefore, you may want to keep some disposable spare clothing or toiletries for this night and the travel day.
You will be given a small bag that you get access to immediately upon finishing the race in Lukla. Here you can put a change of clothes, some toiletries, a towel etc to freshen up after the race. There is one night in Lukla (if the weather is good) before travelling back to Kathmandu where you get access to your main luggage again. I didn't take my mobile phone with me during the race but I put it in this drop bag.
It is cheap and easy to buy a local SIM card. If you have an unlocked phone it is well worth doing this as data rates are pretty high otherwise. Mobile coverage and quality of signal is very good in Kathmandu and better than the hotel Wifi. A SIM card is approximately 250 rupees and then it's approximately 300 for 1GB of data or 500 for 2GB.
During the race, at least from day 3 onwards, it is possible to buy supplies in shops along the way. The further you get, the more expensive. This is no wonder when you see the porters carrying huge loads up the mountain on foot! Bring some cash as it can be really nice to buy a coke, have a coffee and cake, or supplement the race check point food with a Mars bar or a Snickers. As a guide, a coke is a couple of hundred rupees, a coffee and piece of cake might be approximately 700 rupees.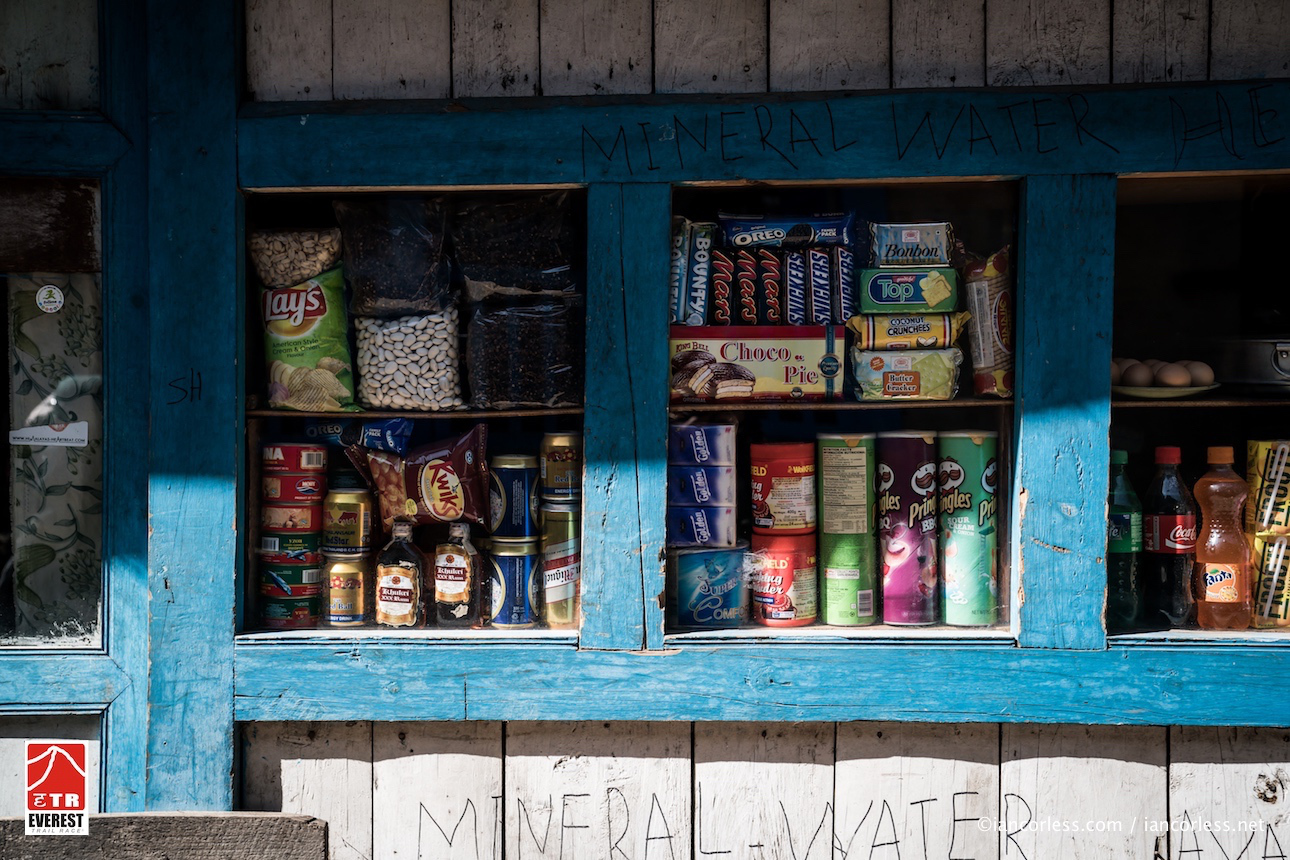 Trekking poles are strongly advised. Train with them and use them during the race. Some parts of the course are undulating and runnable but there is a lot of trekking uphill and on the steep descents you might find poles a useful help and support for tired legs.
You have to carry all your kit but this is certainly a race where packing right takes priority over packing light. At check-in your sleeping bag plus down jacket is weighed and should amount to 1kg (no-one tells you this beforehand but useful to know!). Two of the camp sites are at 3600 and 3800 metres respectively and it can get very cold, so it is for a reason.
Bring hand sanitiser and loo roll and take probiotics for travel. Stomach bugs and traveller's diarrhoea is a high risk but I managed to avoid it. Keep good hygiene and you should be fine.
Altitude: many people neglect the fact that they are travelling to, and racing at altitude. Altitude sickness can have severe consequences and if you are not used to being at altitude you may also find it very tough. If you can acclimatise beforehand, then do. Travelling to somewhere high and training there is the best thing although not practically possible for many. Other options include altitude centres where you can acclimate by breathing though a mask or exercising in a chamber. Sleeping in an altitude tent (possible to rent) is also an option.
Training:
Training is of course much of an individual matter but nevertheless there are some key pointers on how to prepare for this race. Training should always be specific. Therefore, given that you will mostly be moving on rocky ground, and either up or down, think about this as you prepare. Most people will deploy a fast hike uphill, and majority will use poles. So, incorporate this in your training. Whilst some downhill sections are pretty technical, most of them are on fairly stable ground. It does require skill and focus and the more you can practise this the faster you can go on the downhills and this will certainly make a difference. Finally, and already mentioned above, don't ignore the altitude if you have any means of acclimatising. It will make it a lot easier and reduce the risk of suffering from altitude sickness.