Are you embarking on the Marathon des Sables or a similar race? One of the most important aspects of multi-stage racing success is recovery. You get recovery from having good sleep at night. It is therefore no surprise that choosing a sleeping bag for the MDS involves an important decision. In this article I'll go over some points to keep in mind as you make your decision on your sleeping system as a whole, with focus on choosing the sleeping bag.
I'll cover:
Sleeping Bags – Some Technical Stuff
Choosing a Sleeping Bag for MDS
Other Sleeping Accessories
So let's get stuck in!
Sleeping Bags – Some Technical Stuff
You can choose a sleeping bag that's synthetic or one made from down. A down bag will pack the smallest and weigh the least for the warmth that it provides. However, you may want to choose a synthetic bag for ethical reasons or because they are often less costly. If you pick a down bag it's useful to know something about fill power.
Down Fill Power Explained
Down fill power measures the fluffiness of the down or its ability to resist compression. This relates this to how well the down insulates. A Fill Power Rating of 850+ indicates that a 30g sample of down (or an ounce depending on test standard) will occupy at least 850 cubic inches when subjected to a standard compression force. The fluffier the down is, the more air it can trap and the more insulating it will be. What follows from this is that the higher the fill power of the down, the warmer the sleeping bag will be for a specified weight of the down (not taking into account other properties of the bag such as shell fabric, zips, shape, stitch construction etc). If you are chasing every gram this is relevant. You can basically get a lighter sleeping bag with the same warmth as a heavier one if you choose a bag with higher fill power.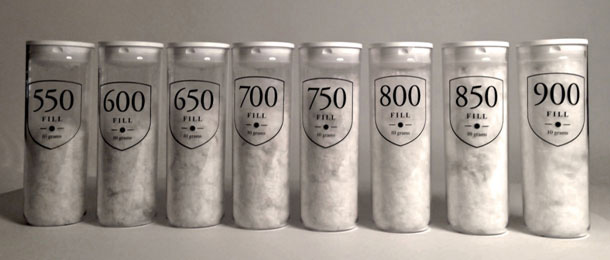 There is one internationally recommended test for fill-power performance. However, some brands and suppliers may conduct their own fill power tests. This, and other factors makes it difficult to actually compare like for like between manufacturers. To keep it simple though, the higher the number, the lighter the bag will be (for similar warmth rating). You need a lot less down in a bag with 900 fill power than one with 600 in order to get the same warmth rating. This is why you need to compare both weight and down fill power rating when you assess a sleeping bag as the weight itself doesn't tell you anything about the quality of the down inside.
Temperature Rating Explained
Most manufacturers will now use the EN 13537 standard which provides three temperature ratings for the bag:
Comfort — the temperature at which a standard woman can expect to sleep comfortably in a relaxed position.
Limit — the temperature at which a standard man can sleep for eight hours in a curled position without waking.
Extreme — the minimum temperature at which a standard woman can remain for six hours without risk of death from hypothermia.

The temperatures assume that the person is clothed, using a quality sleeping mat and is hydrated and nourished.
Not all manufacturers have their bags tested according to the EN standard and there may be varying reasons for this. Some may claim it doesn't provide an accurate picture of the bag's performance, others may find the cost of having the bags tested prohibitive, and some may not want a like for like comparison with their competitors. Where brands have their own way of providing the rating, try to understand how this may compare to the EN rating by reading the small print. Comparing the weight, down fill power and characteristics of the bag may also help.
Choosing a Sleeping Bag for MDS
Weight of the bag
The MDS is a self-sufficient race and you have to carry the bag every day. It's mandatory equipment. I therefore suggest that a sleeping bag for the MDS should not need to weigh any more than 600 grams, unless you have a very large build or are an extremely cold person. It can weigh substantially less than this. My sleeping bag, with some trimming, weighed in at 239 grams at my last race. If you are on a tight budget and really cannot afford a very light sleeping bag, then you might also have to compromise on the weight.
Warm or cold sleeper
Weight is not everything because if you choose a bag that's too cold for you, you are going to lose sleep and that is a false economy. Therefore, when choosing a sleeping bag for the MDS, consider how much warmth you might need to get a good night's sleep. For the Marathon des Sables you should be looking at a comfort rating of about +12 to +14 degrees C if you are the hardy type and want to go light. If you want a bit more comfort or easily get cold you could look at +4 to +9 degrees C comfort rating. You can easily choose a bag of that comfort rating which packs small and meets my maximum weight recommendation above.
Your Height / Size
The closer you can match the size of the bag to your height the better. Both for reasons of comfort (if you are tall) and in order to maximise insulation (avoid excess space in the bag). This also helps avoiding carrying excess weight. A sleeping bag should fit comfortably and not restrict your movement. You should be able to stretch out your toes without the hood coming off. Most brands will indicate what height range their respective sizes are suitable for. If you are very short you could consider having the bag shortened.
Design and materials
You may have preferences when it comes to the sleeping bag's stitching construction, zip length, fabric, or other features. A full zip can provide good flexibility, especially if you are a warm sleeper or if you want it to be easier getting in and out of the bag. Or, you may, for any number of reasons, not want a down sleeping bag but limit your search to only synthetic bags. Some bags have an open bottom which means that you can walk around in them like a penguin lookalike and may not need a down jacket. This is quite practical for stage racing.
Future Use after Marathon des Sables
There is a consideration if you want to use your sleeping bag for anything else after (or before!) the Marathon des Sables. If so you could consider a bag is suitable for the other event(s) you have in mind. Sometimes you need to have several sleeping bags for different purposes, but it depends how similar your events are.
Sleeping Mats for MDS
A sleeping is not just for comfort. Just like sleeping bags, a sleeping mat can also have a rating which indicates how much insulation it provides. Some sleeping mats provide no insulation, whereas others do. Therefore, choosing your sleeping bag for the MDS in isolation from the sleeping mat could mean you ignore other sources that help keep you warm.
The biggest decision is perhaps whether you opt for a foam mat or an inflatable mat. There are pros and cons of each. A foam mat typically must be strapped to the outside of your backpack whereas an inflatable can be packed inside. The foam mat is bulkier but it can't puncture. If you take an inflatable mat you might be more comfortable but you risk a puncture. There are also hybrid mats that are inflatable but that have a thin foam lining inside. They pack a little bulkier than an inflatable without foam, but smaller than a pure foam mat.
Both foam mats and inflatable mats can be insulating or not insulating. Look for the R-value.
Some people opt to go without sleeping mat altogether. This is not only uncomfortable but also colder. Choose your option wisely and based on what is right for you. Practise your combination before you travel.
The added weight of a sleeping mat, whether a hip pad at 50 grams or a ful length inflatable at 400 grams, might be well worth it for the extra sleep comfort.
Your sleeping mat should not need to weigh more than 400 grams and remember that foam can be cut down!
Other Sleeping Accessories
A pillow can be really nice. This can be a small inflatable travel pillow but you can also make use of what you have, like your shoes. If you travel light your backpack will likely be uncomfortable and not make a great pillow but you can try at home. If you think of using spare clothes, consider that what little clothes you may have with you, you might want to wear when sleeping, especially if it gets cold.
A silk liner can add 5 degrees C to your sleeping bag if you are unsure if it's going to be warm enough. These weigh between 100-130 grams and provide great flexibility. Only take it if you absolutely need it though.
If you bring a down jacket you can use it when sleeping for extra warmth if nights are cold or if you have a light sleeping bag. This is a great combination.
Finally ear plugs and some kind off eye cover, like an eye mask or buff can help you find calm from the noises in camp, snoring tent mates and people who shine their head lamp right at you in the middle of the night when they go for a wee.
Also check my blog on How to Pack Light for the Marathon des Sables