Unfortunately many people get their Marathon des Sables training and preparations wrong. As many as 25% of entrants don't make the start line and many due to injury. This can be a result of incorrect training that is not adapted to the individual's specific circumstances and ability. The MDS is a "bucket list race" and I am always sad when I see people pulling out before they have even started.
A race which deserves respect
I have participated in four editions of MDS, I have won two, and I have run the fastest average pace achieved by a woman. I have coached people of all abilities (from walkers to those aspiring to a top 50 finish) for MDS for several years. My coaching success rate is very high with all my clients completing in 2017, 2018 and 2019 (2020 was cancelled due to COVID).
In this article I will share some Marathon des Sables training tips based on my experience as a competitor and coach to help you get to the start line.
Marathon des Sables is 250km in harsh desert conditions and excruciating heat, in self-sufficiency.  Needless to say it deserves respect and requires preparation. However, once you're there, the drop out rate is actually quite low compared to many other ultra marathons.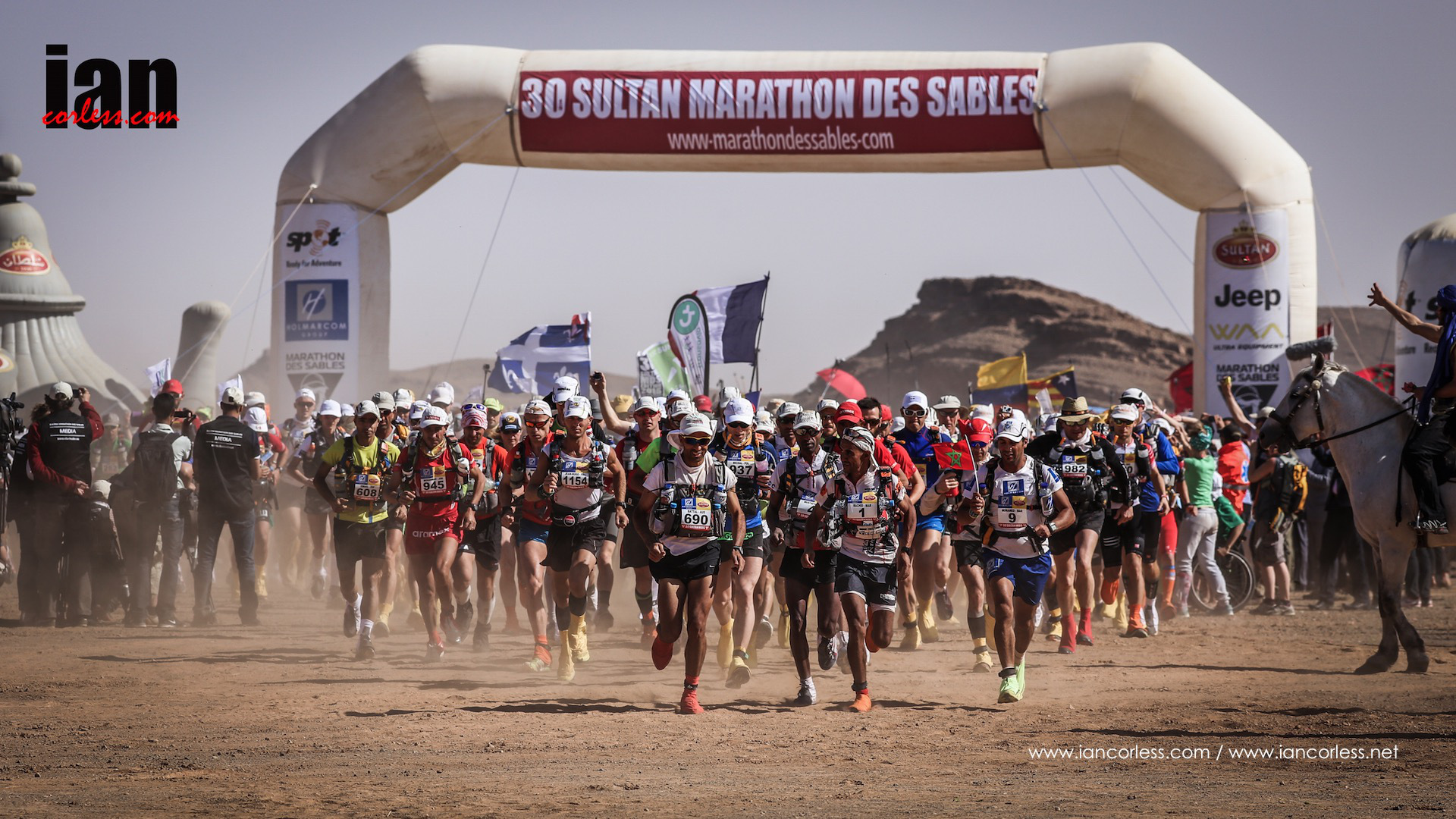 There is no "One size fits all" Marathon des Sables Training
First, let's get one thing clear: there is no one-size-fits-all Marathon des Sables training plan. Many people ask me: "how many miles per week should I be doing?", "How long should my longest run be?", "How many times a week should I run?". Without knowing anything about your goal, your running history, your health, your ability, your lifestyle, and the time you can allocate to training and recovery, it is impossible to answer these questions. The same goes for any ultra marathon training. That said I think there are some principles you can follow to maximise your potential and chance of success. These are:
Identify what type of competitor you are
Understand the race
Set interim goals
Build gradually
Vary your training
Look after yourself
Taper & acclimatise
Let's look at these in turn:
1. Identify what type of competitor you are
If you have looked through any past results for the MDS you may have noticed that the time differences are very big. The front runners finish the race in 19-25 hours, whereas the walkers might take 70-80 hours. This is relevant because if you think you are going to be walking most of the race, then walking should feature extensively in your training. If, on the other hand, you are aiming to be in say the top 50, you really need to focus in on becoming that fast marathon runner who can do well off road whilst also pacing a 50-mile distance well. If you are somewhere in between, like the vast majority, it is a sliding scale and your training focus should reflect what type of competitor you are as well as the gap between your current level of physical fitness and mental preparedness and that required in order for you to successfully complete the race.
2. Understand the race
What do I mean by this you might ask and you are perhaps thinking: "I am going to run 250km in the desert, in soaring heat, on sand. I understand it perfectly!"
Well, that is partially true but there is a very important detail to remember here. There is only one single day that you run more than Marathon distance. This is a multi-stage race and you run (and/or walk) approximately the following distances: Day one to three: 32-41km per day, Day four: 84-91km over one or two days (the long stage), Day six: 42.2km (Marathon stage) and finally a shorter charity stage to finish on Day seven. So, with this in mind, training for the MDS is not the same as training to run 250km non-stop.
If you forget about this very long distance and focus in on training for 30km to Marathon distance, plus building confidence for the long stage, and ability to recover between back-to-back days, then you will be more specific in your training. Also, whilst many of the photos you see are with towering sand dunes, the terrain varies greatly throughout the course of the race so you want to be able to handle a variety of surfaces.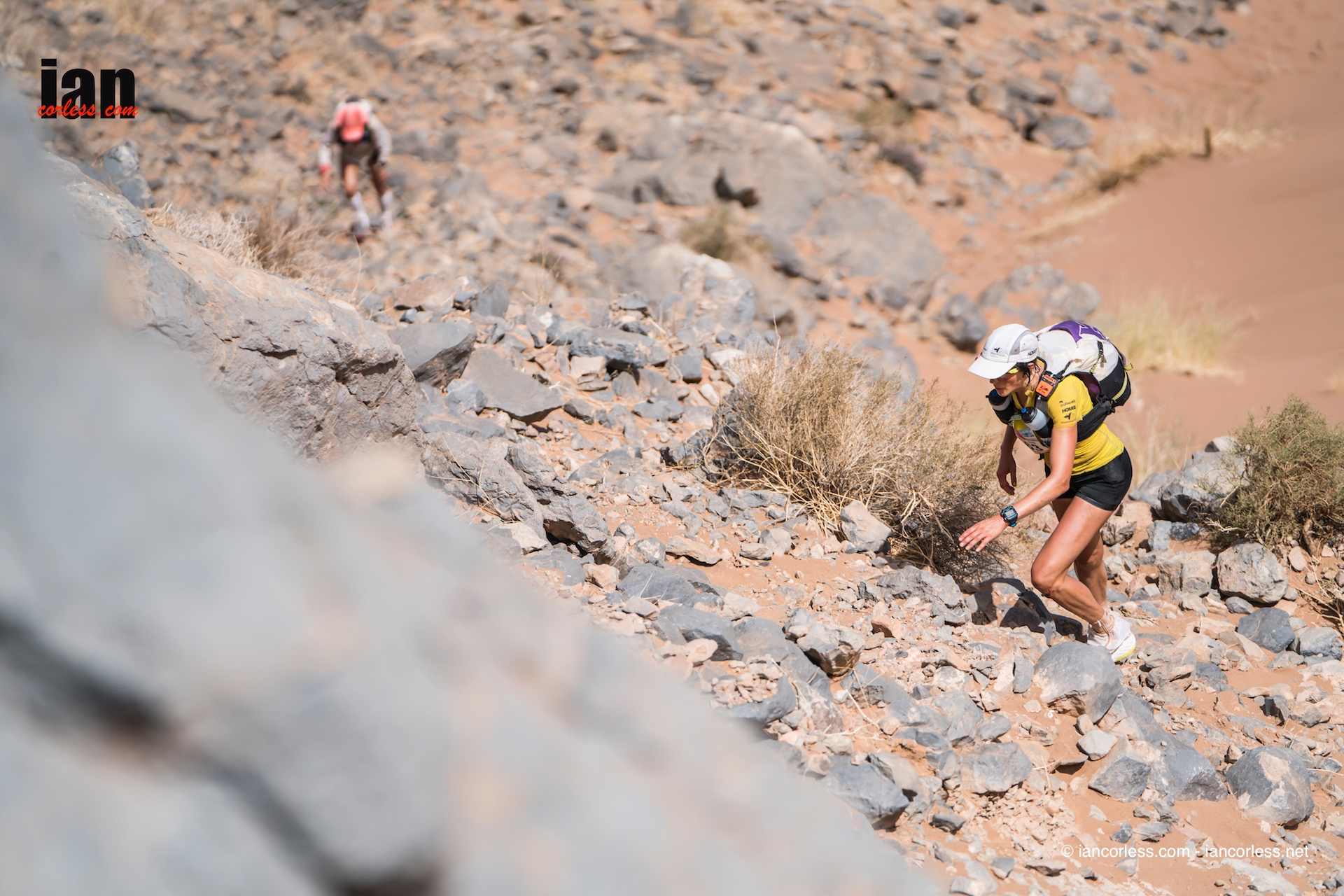 3. Set interim goals in MDS training
Break your main goal (MDS) down into interim goals and periodise your training. For example, if you have not run a Marathon before signing up, a sensible set of interim goals could be as follows.
Marathon,
short ultra of 50km,
short multi-stage ultra over 2-3 days with approximately 30-50km per day,
one longer non-stop ultra of 50 miles to 100km.
This type of build-up ideally requires some time in order for the body to adapt. It could occur over say 8 months to a year. It could be quicker with fewer interim goals or more compressed for the experienced runner. However, see my next point for a word of caution on this. If you already have one or more marathons under your belt, you might jump straight into a shorter ultra and build from there.
4. Build your Marathon des Sables training gradually
A very common mistake made by the newbie ultra-runner is to race too frequently. This breaks down the body and leaves little time for quality training in between races. The result? Weakened immune system, inefficient training, slow progress if any, slower pace, mental and physical fatigue, injuries. Another common mistake amongst Marathon des Sables entrants is to run far too long distances in training with a far too heavy backpack too soon.
The overall load of your training is a function of several factors. Intensity, duration, weight carried, recovery and environmental factors such as heat or altitude all play a role. They need to be taken into consideration and the progress should be appropriate for your individual circumstances. For example if you normally run up to 90 minutes in training, you shouldn't suddenly go out for 5-hour runs with a 10kg backpack.
5. Vary your Marathon des Sables training
Stay motivated and challenge your body in different ways by varying your training. Identify your areas for improvement in relation to the race and work on those. Improved running technique can help you run more economically, conserve energy and avoid injuries. Relevant speed work can improve running form and fitness. Endurance training is critical for success and every runner, no matter how fast, should walk as part of their training. Climbing and hill work will make tackling the jebels easier. Finally, strength training prepares you for the general demands of the race. It can also help you maintain good form whilst carrying a backpack.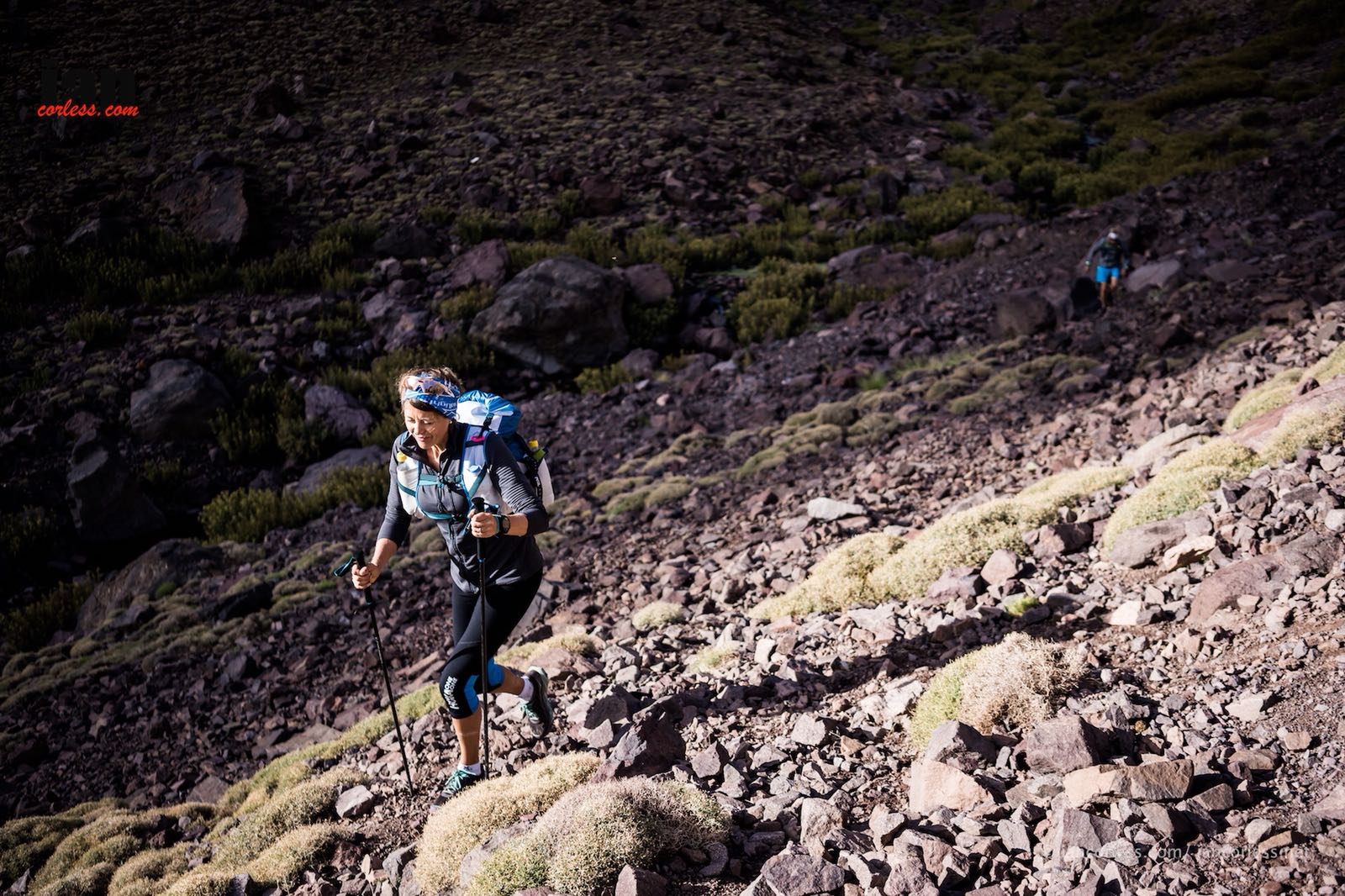 6. Look after yourself
Obstacles are unavoidable. Whether it's work, illness, family issues, injury or general stress, sometimes things don't go to plan. It is imperative to not be a slave to a plan if the body doesn't respond well. Don't be afraid to adapt when needed and accept that there will be bad days. Being tuned into your body is important. It will help you in the race so don't shut off the signals it is sending you. Try to listen and see what you can do to optimise your health and wellbeing, and the results you get from your training.
Good sleep and quality diet play a crucial role in training success, as does avoiding stress. Make sure you carve out time for not only training, but for recovery and for nourishing your body and mind. That likely means that something else has to give for a while. See what you can let go of and say no to things that are not critically important at this point in time, such as extra work commitments, social events etc.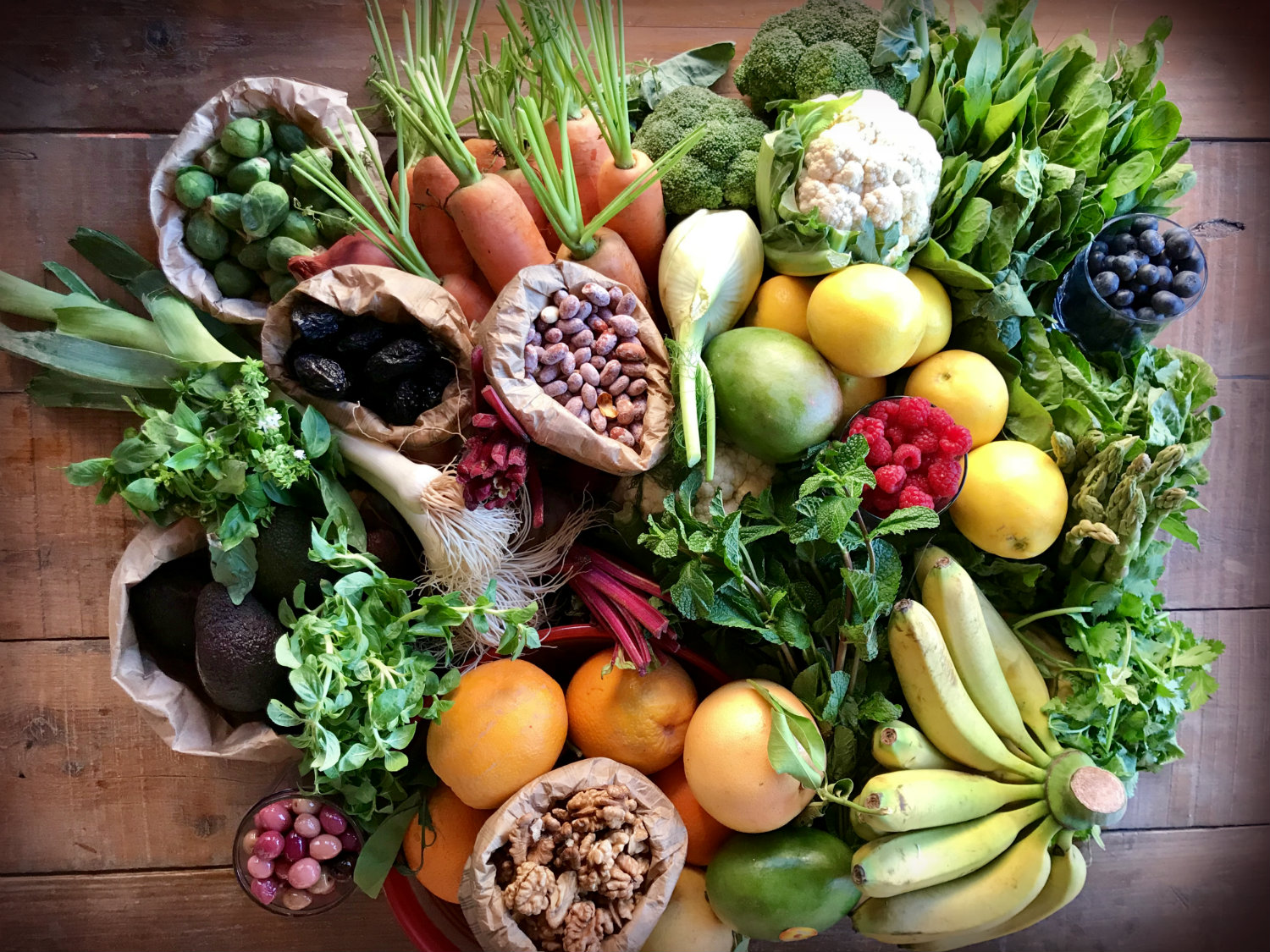 7. Taper & acclimatise
 I always get surprised by the amount of people who do long challenging events last minute in their Marathon des Sables Training. Please do not sign up to a 50km race two weeks prior to the race. All it will achieve is a worse result in MDS. Respect the taper period and come to the start line fresh and rested. Also, acclimatising to the heat (unless you already live somewhere hot) is critical. More articles on that here.
Conclusion
So with that I hope you have a better idea of how to structure your Marathon des Sables training in a safe way. Don't be tempted to copy what someone else is doing as their circumstances may be completely different from yours. Find a level that is right for you. If you read this with just a couple (or a few) months until the race perhaps you are in panic mode in respect to your training. Fear not, these principles are still valid. You don't have as much time to the race. This means you can't do as gradual a build-up as perhaps would be preferred, but you can still get ready. I have coached people with as little as 8 weeks to go, from running only 8km non-stop. It is possible, although not optimal. The more prepared you are, the better the race experience will be.
Tips & recommendations for MDS training
If you would like help with a bespoke training plan see my coaching services here.
For coaching in running technique and movement I can highly recommend Shane Benzie.
Testing your gear is a fun and important part of training. This is something you can do gradually to keep training interesting and learn what works best for you. read my tips on how to pack light here.